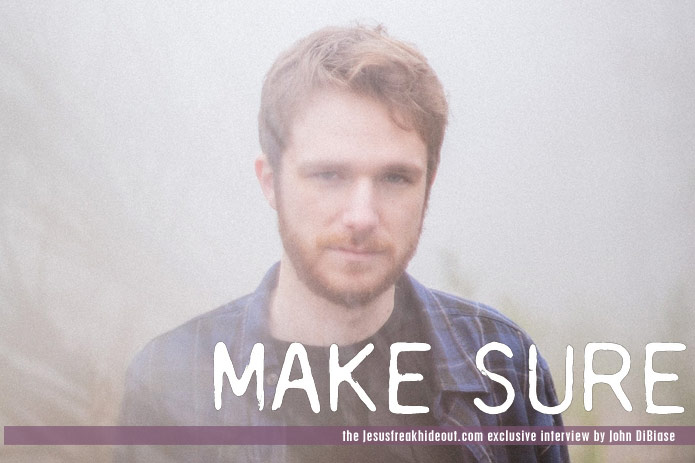 Joshua Aubrey Jackson, the man behind Tooth & Nail's new signing,
Make Sure
, is celebrating the release of his label debut
Ninjutsu
and chatted with JFH recently to answer some questions of the new album and its most memorable songs...
This interview took place in September 2021
Click here for
Make Sure
's Artist Profile page.
JFH (John DiBiase): You have and have been a part of several projects besides Make Sure. What makes Make Sure different? And what's the story behind the name?
Joshua Aubrey Jackson: "Make Sure" is the name of a song I wrote back in 2013, under my old project, Fiery Crash. Around 2016, the name "Fiery Crash" was starting to get tedious to me, so I rebooted the project with a new name. I picked "Make Sure" because it's easy to remember and somehow wasn't taken already! My goal with Make Sure is to make the highest quality music I can... sonically, lyrically, musically... all the stuff that makes for good records. I've recorded under the name "Summerooms" for a few years as well, but those were strictly home-recorded albums. A lot of Make Sure stuff happens in the studio.
JFH (John): Why the album title "Ninjutsu?"
Joshua: Great question! "Ninjutsu" is a form of martial arts that originated in Japan. The album is about navigating the stages of grief, so the title "Ninjutsu" is intended to be a little facetious. I'm basically saying emotional healing is a difficult process and so is training to become a dang ninja. Maybe there's an artistic parallel somewhere in there. The album has a Japanese theme, too. Let's be honest: "ninjutsu" sounds really cool. Why not name an album after it?
JFH (John): Tell us about the album cover art... there's a lot going on there!
Joshua: For sure. All of the artwork for the album and the singles was designed by my friend Jackson Gafford. We grew up playing music together. His creative process for music is so visual and psychedelic. I really admire it. I tried to think like him while I was making this record. I asked him pretty early on to do the artwork for it. He came up with everything and I think it fits perfectly. He releases music as Captain Kudzu, and he has a killer album called "Arboretum" that he did the artwork for as well!
JFH (John): What is the story behind "Girl Drummer"?
Joshua: "Girl Drummer" is about when I tried to win back an ex-girlfriend by playing her a song. One night, there was a jam session going on over at a friend's house, and my ex invited me over. It was supposed to be a casual thing. She was playing the drums, and all of a sudden I got an idea. I remembered a song that we both liked while we were dating, and I figured if I played that song for her with enough conviction, she'd want to date me again. That kind of stuff works in the movies, but not so much in real life. She was nice about it, but it was awkward. I wrote "Girl Drummer" a few months after that night.
JFH (John): In the song, "The Day That I Moved Out," you mentioned seeing a "Captain America" movie on your birthday. Which one did you see? And did you like it? (Do you consider yourself a Marvel fan?)
Joshua: It was Captain America: Civil War. Me and a few friends went to the premiere showing. I enjoyed it! I'm not the biggest Marvel fan, but I've seen most of the movies at least once. I will admit, I'm a shameless Spider-Man fan, so as long as he's in the movie I'm definitely going to be there.
JFH (John): Who is your favorite Spider-Man on the big screen so far? (Holland / Garfield / Maguire, etc), and do you have a favorite Spidey film?
Joshua: The Tobey Maguire movies came out when I was a kid, so I'm going to have to say Tobey is my favorite Spider-Man. The 2002 Spider-Man movie is the movie I like the most. In hindsight, Tobey was clearly a full grown man playing a high school Peter Parker, but he was so relatable. Like, even the bus driver bullies him in that movie. People are so mean to him for no reason! As an audience member, you care about what happens to Peter Parker. I think a lot of people have similar feelings about Tobey's Spider-Man. He's lovable... at least for the first two movies. I hope we see him again in the near future.
JFH (John): Who are your musical inspirations?
Joshua: It varies from album to album. For Ninjutsu, some primary influences were: Sparklehorse, Slowdive, Panda Bear, Captain Kudzu, Into It. Over It., Nick Drake, Owen, Jimmy Eat World, John Van Deusen, Addy, Massive Attack, Zach Winters, The Smashing Pumpkins (particularly the "Adore" era), and one big influence was an artist I played a show with a few years ago, Will Orchard. He put out a record in 2020 called "Old Friends on the Mountain" that really made an impression on me. Will is one of the most talented songwriters I've ever met.
JFH (John): So... why WERE you at the ball field that day? (as mentioned in "Japanese Bonus Track")
Joshua: I like this question! One luxury of being an average looking dude is that there's less of a chance of getting kidnapped if I go to an empty ballpark at night. Sometimes I'll go after sunset, lay on my back in a field and watch the stars. In those moments, I ask God questions, worship him, express my frustrations, or just listen for his voice. There's something about observing an infinite cosmos that I find comforting.
JFH (John): Which song on your new album means the most to you or is the most personal to you? (And why?)
Joshua: I think "Okay Sea" is the most personal one to me. One morning during the writing process of this record, I had breakfast at a friend's house. This friend is known by many to be a "realist," because she tells it like it is. Her house was full of boxes that morning. She was packing up and moving away to Nashville. We shared a quick breakfast because she had to get back to packing, and as she walked me to the door, she grinned and said, "Alright, see you never!" Her comment was blunt, but she was right. I haven't seen her since! She wasn't being a jerk, she was just being realistic. Her words stuck with me, too. I thought, man, that really applies to the whole break-up thing I was going through. I wrote "Okay Sea" some time later, and that's the line I sing over and over again, "Okay, see you never." Someone told me the song sounds like "saying goodbye for good," and I agree with them. It's supposed to. I think the song represents acceptance, the final stage of grieving. It's like, I don't have to like it, but I can live with it. In the background you can hear me singing lyrics from songs earlier in the album. I chose to do that because I wanted to show what the road to acceptance really looks like. Healing will happen, but it's not a linear journey. It's foggy and confusing. It's normal for memories and old feelings to show up all over the place.
JFH (John): What is next for Make Sure?
Joshua: The plan is to keep going! I've been working on another record for a while now, so I hope to do my best with that. Signing with Tooth & Nail has been such a blessing. I feel more creatively inspired than I ever have before.
JFH (John): What do you feel God has been teaching you lately?
Joshua: I'm 26 right now. I live in a sexually saturated culture that says romance is the solution to all my problems, and to be honest, I've bought into that myth for years. I'm in that season of life when all my buddies are getting married, so it's easy to start wondering where I screwed up and why that hasn't happened for me yet. God has been teaching me that even if I got married to the most beautiful woman on planet Earth, her approval of me doesn't actually mean anything. That's not to say marriage wouldn't be worthwhile. I think it is. But I'm learning that God's approval is only the one that counts at the end of the day. I want someone to see me, imperfections and all, and still choose me. Frankly, the only person who can perfectly fulfill that desire for me is Jesus Christ. Who else loves me like he does? Through Christ, God offers his eternal love, acceptance and affirmation. I can't speak for anyone else, but I'm taking him up on that!
JFH (John): And, finally... what are your Season 3 "Mandalorian" predictions? What would you like to see in the new show "The Book of Boba Fett"?
Joshua: Heck yeah, dude. I hope we'll see Luke Skywalker again in Season 3. As far as the Boba Fett show, I'd love to see some flashbacks. How did he get out of the Sarlacc Pit? When did he get that dad bod? We'll just have to wait and see.
Make Sure's latest album, Ninjutsu is available now wherever you buy music!