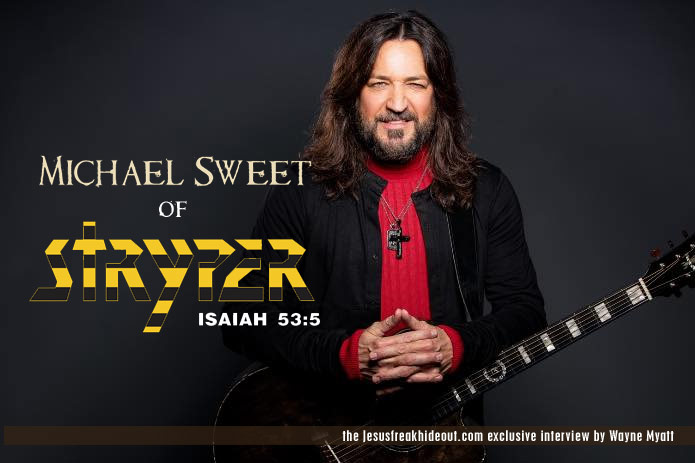 Just before hosting an annual online Christmas event, Michael Sweet of legendary metal band Stryper chatted with JFH's Wayne Myatt about the band's legacy...
This interview took place in December, 2020
Click here
for Stryper's Artist Profile page.
JFH (Wayne Myatt): So, Stryper has been around 37 years, since 1983?
Michael Sweet: Yeah, we formed in '83. We sometimes count by the first album which was in '84.
JFH (Wayne): I remember you guys being on the Dove Awards in 1985. You performed "Makes Me Wanna Sing" from Soldiers Under Command.
Michael: Yeah, that's right. We met Pat Boone during this event. He was very nice and very supportive. Everyone else was there... all of the contemporary Christian stars: Sandi Patty, Amy Grant, Michael W. Smith. They were all there.
JFH (Wayne): I remember begging my Dad, an associate pastor, to get my first album, Soldiers Under Command, from Stryper. He was hesitant based on your appearance. He was later convinced once he heard the lyrical content of your songs.
Michael: I think a lot of parents had a tough time with looks back then. A lot of Christian parents had a tough time with the looks of the band. We had a pretty wild look then. Here we came with the make-up, the hair, tight clothes, and all that stuff. But the kids got it and really loved what we were doing: the message, the look, the sound, and everything. We were able to fill a gap. We weren't like every other secular metal band. We came along and we were singing about God. We sounded like a number of other bands. Kids liked that sound and they were able to relate to what we were doing and how we were doing it. It was really cool.
JFH (Wayne): You guys were doing something else back then with Metal music that no one else really seemed to be doing, and that was harmonizing.
Michael: Not only with vocals, but we did it with guitars, too. Harmony was a big thing for us. We grew up on bands with twin guitars. We loved Iron Maiden and Judas Priest. All of those bands would switch off between guitars; but we took it to a different level. Oz and I, we would write solos that were entirely harmonized. You know, from the first note to the last note, and the vocal harmonies as well. We grew up on The Beach Boys, The Bee Gees, the Beatles, and a lot of other bands that had the harmony vocals like Queen. We used to listen to these bands and I think that somehow translated over to our music. It's really important for us to focus on harmony; it always has been.
JFH (Wayne): The Covering is an album with many covers from classic hard rock to metal bands in the 70s-80s. How did you guys decide the songs? Was it voting or just songs that you knew had an influence on the band?
Michael: Every band on that album was an influence of ours. There's many bands that we did not or haven't covered yet that we plan to that were influences as well, like Journey. There are just so many bands: Styx, Lover Boy, and many others. We love the lighter stuff, too. All these bands really helped to shape our sound. For The Covering, I comprised a list and read it to the guys. They all were saying, "Oh yeah. That's good. Let's try this one." I knew pretty much what everyone liked because we all grew up together listening to the bands, driving, and going to high school. I knew pretty much, for the most part, what everyone was going to say yes to or no to.
JFH (Wayne): Stryper was everywhere once To Hell with the Devil hit in 1986 with Platinum sales. This was something unheard of for rock with a Christian message. How does it feel knowing that you guys paved the way for so many future bands that would have a similar success, like P.O.D. and Switchfoot?
Michael: We just happened to be in the right place at the right time. It was amazing to see that we broke down barriers and opened doors. We took that genre to another level, especially on the Christian side. So, it was really cool to be a part of that. At the same time, we don't sit around and talk about that or think about that. We just continue doing what we feel led to do. We try to do our own thing. If other people are inspired or follow in our footsteps, that's great.
JFH (Wayne): Against the Law was released just before the emergence of the grunge music scene in 1990. I remember that album quite well and still listen to it. What is your input about this album?
Michael: It's a great album. It's got some great songs on it. It had good production, but it's not my favorite. I feel like we changed too much. We dropped too much of our style. Stryper has a very signature guitar tone, vocal approach, as well as songwriting approach, and the yellow and black colors. We just took all that and threw all of that out the window with this album. Even though it's a good album, it feels to me like it wasn't a classic Stryper album.
JFH (Wayne): It was kind of like an experiment?
Michael: Yeah. A lot of fans like it. There's no doubt it. At the same time, you can't deny the numbers because it is, still to this day, our least selling album. In terms of charts and Gold status, it never achieved that and all the other albums did in the 80s. It didn't resonate with everyone; otherwise, it would have achieved Gold or Platinum status.
JFH (Wayne): Stryper was on hiatus for most of the 90s, and you released some solo albums on Benson Records. I remember seeing your band perform in the University Mall (Pensacola, FL) in 1994 sponsored by the Christian bookstore, Heart Dance. You had a super group with artists from known bands like Whitecross and Dennis Cameron from Angelica.
Michael: I had a great time. It was a time for me to spread my wings a little bit. I took some time off to get my priorities in order. It worked because I had a successful album with five #1 hits on the first album. It made a lot of noise and it did incredibly well. It was really cool and it was a great feeling. There was a lot of incredible history there. I'm planning on doing a worship album at some point in time. Maybe that will be a repeat of that again. I felt like, in essence, it was like a super group having these established artists join me on the solo release.
JFH (Wayne): In 1995, you released a solo follow-up, Real, with a completely different sound.
Michael: It was different. I was enjoying doing something other than metal or arena rock. I like doing that because it gave me chance to show a different side. I have the hard rock side and the lighter side. I like to experiment and try different things.
JFH (Wayne): I imagine that releasing the exact same album every time would become pretty boring.
Michael: It's funny because we have a lot of fans. I'll release a song and you get all these metal fans saying, "this sucks because it's not metal". Then when we release a metal song, you get people saying, "when are you going to release something that's lighter?" We have fans that also like both sides: the harder edge and the lighter edge. I listen to the fans and want them to be happy, but I've also got to like something - I've got to feel good about it - that I record or there's no point in doing it. If I got to that point where I was doing material that I didn't like, then I would say it's time to stop. It wouldn't be me.
JFH (Wayne): I'm the kind of person that can appreciate a variety of styles from August Burns Red to Anberlin to Depeche Mode to Steven Curtis Chapman to Stryper, or even a movie soundtrack.
Michael: Yeah, I'm the same way.
JFH (Wayne): Now that we are approaching Christmas, here's an idea that I've had for quite some time. Wouldn't it be cool if Stryper released a Christmas album? Your logo could have yellow and black stripes replaced with red and green stripes.
Michael: We have and we've talked about it. We had some Christmas songs released back in 1984 with "Winter Wonderland" and "Reason for the Season." We've always loved Christmas music. We've never had the time to record a Christmas album once that band took off. We've talked about it ever since and here we are in 2020. Hopefully, we'll be able to get that done in the next few years.
JFH (Wayne): You have a wealth of fans out there, and it's quite an accomplishment to still have young fans too. In fact, my 15 yearr old nephew just started listening to you this year and you are now his favorite band, buying all your music and shirts. What's it like to still have that magic with new fans?
Michael: It's always incredible. We see all the longevity and support in the last 37 years. It's incredible. We really have a lot to be thankful for and we're very blessed. Even though we get frustrated sometimes because we feel like we're not given all the chances that are deserved, like airplay or having placement in the front of a store. But still, at the same time, there have been a lot of accomplishments with the band that hasn't been with a number of other bands. We're the underdog that had broken through and continued to sustain themselves; we're still going. We've got a record deal, videos, and booking events. We count our blessings and we're thankful for all of them.
JFH (Wayne): We appreciate you giving us the time for this interview!
Michael: Well, thank you, man. It's been nice talking to you. Thank you for your time.