Answering the prayers of thousands of loyal fans and fulfilling the dream shared by even some of the JfH staff, Minnesota-raised pop trio PFR has returned to exercise their creativity as a group. Lead singer and guitarist, the great Joel Hanson graciously shared with the Hideout a little on the background of their new album Disappear while diving a little deeper into his thoughts on the growth of this maturing trio.
This interview took place on: 6/12/01.




Jesus freak Hideout: What do you feel you have learned (spiritually, musically, etc) since PFR's official break-up in 1996?
Joel Hanson: Since PFR disbanded in 1996, I've learned a lot about myself. I like control, but lack any ability to really control anything. Also, that God doesn't look or act like I imagine Him to. Musically, I've had a chance to explore different music styles and co-write with a lot of other writers. Lyrical, melodic and chord structures have all been challenged. The great thing about that process is that you find out what you don't like about your writing but also what you really do like as well.
JFH: What made you guys decide to reunite for a song on last year's Roaring Lambs project?
Joel: I think it was a phone call from Mark (Nash), really, that got the whole Roaring Lambs ball rolling for us. Pat and Mark talked, then called me to see if I was interested in the project. There wasn't anything attached to the project at the time. No tour. No lengthy contract. No hoops to jump through really. The song was fairly easy to write because I believe so strongly in the philosophy that was being portrayed.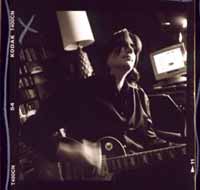 JFH: What persuaded you to officially reunite and release a new album this year after ending your career as PFR five years ago?
Joel: I think the time in the studio doing "Kingdom Come" (for Roaring Lambs) was the catalyst for everything else. Our producer Jimmie Lee Sloas said to us while we were recording "Kingdom Come," 'You guys never broke up. You just stopped making music together.' I think what he meant by that was that the chemistry was still there. That was part of the persuasion. Seeing that there was still something special. Eventually we decided to pursue the idea further so we spent time writing together. One thing lead to another and the next thing we know we're back in the studio working on Disappear.
JFH: Have you approached Disappear differently than previous recordings?
Joel: I think we have approached this recording differently. First of all, we wrote together as a band more on this record more than any other we've done. I mean, just working it out as a band. We used to bring songs to each other on acoustic guitar and then the band would shape them on the road or in the studio. But this time at least some of the songs got the benefit of being drafted as a band -- with all the energy and attitude that brings.
JFH: A minor but distinct change in the band's overall sound can be detected on Disappear. What do you feel has influenced this change?
Joel: I agree that there is a sonic difference. I think all three of us were just more vocal about what we wanted things to feel and sound like. We took advantage of today's technology and edited differently than we have in the past. Also, this recording is really just Mark and Patrick and myself playing and singing everything. That, for better or worse, is what we wanted -- to make the best record the three of us could make.
JFH: Do you feel that you have any regrets in breaking up five years ago?
Joel: I don't think there are regrets in breaking up. After all, it's the making up that's the best part, right? I think Mark and Patrick and I had a chance to do some growing up while we were an ungroup. We had a chance to be just individuals and not PFR. The band had its upsides for sure but we all felt a sense of individual loss for the sake of the group identity. All in all, the breakup has probably been very good for all of us. We are more focused now than ever.
JFH: Do you feel that your experience having your first album on Squint as opposed to Verio is any different than past experiences?
Joel: Working with a different label is always going to be, well... different. Different people, strategies, contracts, distribution. It's all different. Our experience in the past was a good one and we anticipate the same at Squint.
JFH: If you could go back and change anything about PFR, would you?
Joel: I am sure all three of us could come up with things that we would change about the past but you can't. The only thing you can do is learn from it. But that's a choice, too, isn't it? I think we're aware of what was good and not so good about who we've been. Now we're focused on being great at what we do and who we are. Change is in the present, not the past.
JFH: What is the story behind the song, "Amsterdam"?

Joel: Patrick came to Mark and I with this song back in September. The story is about wishing for days gone by because you long for who you were. Patrick said when he started writing this song he was longing for a time in his life when he knew for certain he was doing what he was put here to do. When we were touring in Europe, Patrick definitely had a sense of purpose.
JFH: What is the song "Gone" about?
Joel: "Gone" is simply a song about moving on. Some people have a hard time with that. At some point, even if you were the one hurt in a situation, you have to make a choice. Do you long for what can no longer be or look ahead to all that is still out there to embrace?
JFH: Do you feel that any certain artists had an impact on the sound of Disappear?
Joel: Lots of artists have had an impact on this record. Too many really to name. The three of us have listened to so much different music over the last few years that it would be hard to list. I know. Let's just say that everyone has influenced or impacted this recording in one way or another.
JFH: What is your favorite all-time PFR song?
Joel:Maybe "Fight" off of Them.
JFH: What is your favorite song off of your new record, Disappear?
Joel: "Gone" or "Missing Love."
JFH: What is your favorite movie?
Joel: My favorite movie is "Say Anything"
JFH: What has been your favorite on-the-road moment?
Joel: One of my favorite moments on the road would be driving back from California to Minnesota in a Suburban for four days straight. We went pretty insane. There was nothing to do, no good radio, conversation had basically dropped off. We actually started lighting things on fire and throwing them out the windows of the truck. Did I say favorite? I meant worst.
JFH: The Jesus freak Hideout website was started out of appreciation for good Christian music. We've set a goal to try to use the site to spread Christian music, as well as God's Word, & show others how good Christian music really is. Do you listen to Christian music? If so, what artists?
Joel: I do listen to Christian music as well as others. I like Switchfoot immensely. Nicole Nordeman is also very good.
JFH: I really appreciate you taking out the time in your busy schedule to answer some questions for us. Are there any last comments you'd like to make?
Joel: I just hope people will listen to this record for what it is. It's not a comeback or reunion record. It's just another piece of our (Mark, Patrick and Joel) friendship along the way.