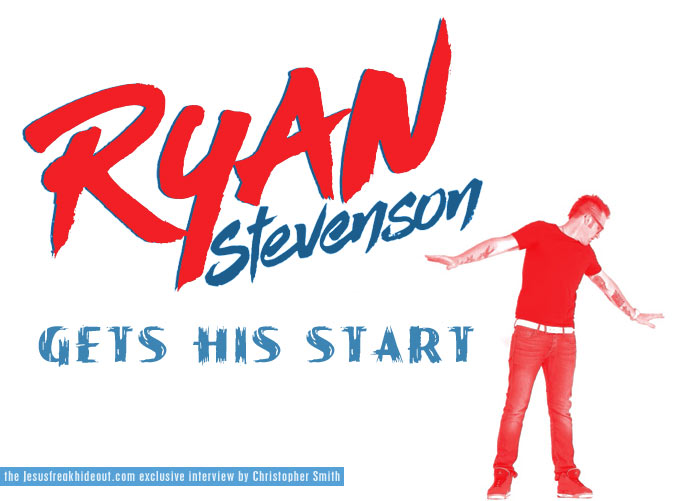 With his first full-length solo album just days from releasing, Gotee Records' Ryan Stevenson chatted with Jesusfreakhideout.com's Christopher Smith about the new record, how he got started, cereal, and more...
This interview took place on: September 16, 2015.
Click here
for Ryan Stevenson's Artist Profile page.
JFH (Christopher Smith): You have a crazy and miraculous story about how you first got into the music industry, can you share it with our readers?
Ryan Stevenson: I was working as a paramedic, managing a 911 frontline ambulance in Boise, Idaho. While I was on shift, I responded to a dispatch for a lightning strike. A 40-year-old lady had been struck in the head by lightning while out hiking in the foothills north of town. Upon my arrival, she was dead, (not breathing, no pulse). Several minutes later, in the back of the ambulance on the way to the hospital, I was fortunate to be able to revive her. Over a year later, she and I met at a banquet, which was the start of a kindred friendship. As we began to know each other better and share our lives with each other, she saw that my passion for music was a huge part of my life. She asked me how I planned to move forward into being a full-time musician. I told her that my first step was recording my songs; I had the songs - I just needed to record them. At the time, I didn't have the finances to record a good quality demo. She immediately stepped in and funded my demo, which ultimately led to my first major label record contract.
JFH (Christopher): How did you get connected with TobyMac?
Ryan: Well, I feel like Ive been connected to Toby my entire life, since I grew up on DC Talk. A few years back, I was going through a very dark, uncertain time. It was during this difficult season that I birthed a song called "Speak Life." The inspiration came from seeing my home church erode and crumble because of gossip and whispering. The Lord used that to painfully show me just how powerful our words are, how they literally can give life or death. I recorded a version of "Speak Life" in a studio Toby owns, not knowing that he was frequently coming into that studio to work on his Eye On It record. Our mutual producer friend showed Toby the music we'd been working on, including "Speak Life." The song struck a chord with Toby and he finished writing it with me and took it to the next level! That was really the beginning of our friendship, and it organically turned into a relationship with his label Gotee Records.
JFH (Christopher): What was that experience like of collaborating with Toby on his recent album This Is Not A Test? Was it similar to how you co-wrote with him on "Speak Life" or your single "Not Forgotten"?
Ryan: Toby and I have now written many songs together. Our song "Lift You Up," on This is Not A Test, is one of my favorites. We wrote it in our dressing room while I was out on tour with him this last spring. I had the music and verses cooking and was jamming in my dressing room. Toby happened to be walking by and poked his head in. Right on the spot, he dropped a HUGE chorus; it was like it was meant to be- like it had always been there. Over the next week or so, we kept massaging it, and getting it all to sit right. Toby is brilliant at taking things to another level. He has a gift of cutting to the heart and saying things in a way that etch them in our minds. He's my favorite person to collaborate with.
JFH (Christopher): If Fresh Start were a breakfast cereal, which one would it be and why?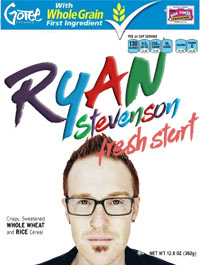 Ryan: Haha! Cinnamon Toast Crunch!!! It's just so good and sweet. There's nothing bad about it. No flaws! It's edgy and gritty, yet easy to digest. And it leaves an amazing aftertaste. It's so good, you even want to chug the milk in left in the bowl. You just want more...
JFH (Christopher): How did you approach writing for Fresh Start compared to your EPs?
Ryan: The songs on my EPs were birthed during a season of uncertainty and deep struggle. It was easy to flesh those songs out of pain, loss and doubt, because I was in the thick of it. For Fresh Start, these songs were birthed during a two-year period of being washed over by the peace and gentleness of the Lord. I felt like I was coming out of a pit, and I could finally see some light. It's out of our pain, failures and loss that our strongest testimony comes. I believe the Lord orchestrates difficult seasons so He can prune our branches. This record is all from a season of pruning, but it's all about Hope and vision. He is our Hope, no matter what our eyes see. He wants to prune us so that good fruit naturally hangs from our branches. That's the foundation of true evangelism.
JFH (Christopher): The overarching theme of the album is about surrendering everything to God as how His grace makes us new. Was this a theme that came together as you started writing for the album or did you go into it knowing that's what you wanted to communicate?
Ryan: I went into the album process with this theme bursting from my heart! It's what I believe the Lord wants me to communicate to my generation. It was amazing to see this heart and theme continue to invade our lives and affect us emotionally even as we worked in the studio. There were days were we would be in tears; we'd be drained and exhausted because we were digging so deep. We would daily have to fight the fear and the temptation to settle for safety's sake. The theme of this entire record is what Jesus has been showing me in my own life...mercy; grace; trust; fresh starts; clean slates; believing what HE says...
JFH (Christopher): "All Yours" does a good job capturing your heart for this album and your "acoustic north-western pop" sound. Can you share a bit about the process of writing that song?
Ryan: I was on a tour called "Rock the Coast" in Oregon when I wrote that. While I was sitting on the beach in Newport spending a few minutes praying and talking to the Lord, I was so blown away with the Truth of His goodness. In that moment, I began to realize how good and amazing He is to me ALL THE TIME, especially when I'm not being good; when I'm making a mess. He is always the same loving, gentle, patient God, even in the midst of my selfish, prideful messes; that fact changes me! It makes me want to bless Him with my life. I don't want to grieve Him! His kindness leads me to repentance, and makes me want to shout "Jesus, I'm all Yours!!!"
JFH (Christopher): I'm really digging the sound of "From the Ground Up (Bonanza)." It's a fun song and the more I listen to it, the more I appreciate all the details like the banjo and the synth-generated horns. Can you tell us about how that song came together?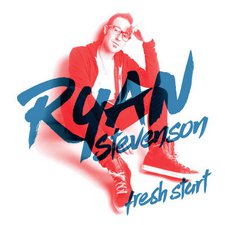 Ryan: It's my favorite song on the record! It came together in a day. It was never even a thought before I went into the studio; it came very late in the fourth quarter. Brad, my A&R person at Gotee, popped into the studio one day and said, "You've got such a unique story, you should write something about growing up in Oregon." I took a stab at it, and we started tracking "Bonanza" the next day. I love it because every word in this song is a direct, picturesque, vivid memory of truth to me. Everything is exactly the way it happened. My producer Bryan and I prayed each day before we started recording; we asked the Lord to remove any fear from us and to enable us to hear HIS sound; that we could dig deep into HIS creativity. I feel like this song, especially, is a perfect representation of how we just dug deep, and made music that is not forced. We rested and had fun with it; we found the joy in making songs and releasing our sound the way we were designed to do it.
JFH (Christopher): "Give It All Away" has a cool retro sound. Were you going for a subtle disco vibe?
Ryan: No, that's just the way it came out. That songs was such a progression and a moment by moment process because it wasn't even on the list. I wrote it the night before we were supposed to be done with the project. We all loved it and knew we needed to put it on the record because it moved us all the same way. As we began to dig in, the more it developed into that Michael Jackson hint of retro-pop, with a Hall & Oates flavor at times. It was cool to see the elements in this song evolve on their own as we kept going.
JFH (Christopher): What song on Fresh Start has the most personal significance to you and why?
Ryan: "Dare You To Trust My Love"-- because it's where I've been lately. I've been reading two books for the past two years (The Shack and The Ragamuffin Gospel). Both books have changed my life; they've changed the way I see God. Brennan Manning gave a sermon about what Jesus will say to us when we meet Him face to face. He said, "Jesus would say, I dare you to trust that I love you, just as you are, not as you should be; because none of us are as we should be."
JFH (Christopher): What is your favorite part of watching your two boys, Keegan and Joey, grow?
Ryan: I love being a dad! I love seeing them develop more into their personalities and getting small glimpses of the desires and interests they already have. I love watching them play together all day long, pretending and imagining together. I love seeing them have a tender heart for the other. It's such a beautiful thing to watch them grow and blossom.
JFH (Christopher): What has God been teaching you lately?
Ryan: He's been teaching me grace and trust. He's been walking me through processes that have slowly begun to unwind old, unhealthy thought patterns of "perfectionist performance." I'd say the main thing He's been showing me is that I don't have a performance-based relationship with Him. He's as full of love for me right now--just as I am--as when I think I'm doing it all right.
Ryan Stevenson's latest album, Fresh Start is available September 18 wherever music is sold!

Faith Artist Agency Launches Speaker Division, Including Members of Kutless
Mon, 30 Jan 2023 21:10:00 EST

Blessing Offor Sets Benchmarks with Full-Length Debut, "My Tribe"
Mon, 30 Jan 2023 18:35:00 EST

Bryan Andrew Wilson Drops Lyric Video for Acoustic Version of Hit, "The Ride"
Mon, 30 Jan 2023 18:32:00 EST

Shane and Shane to Release "Psalms, Hymns and Spiritual Songs (Live)"
Mon, 30 Jan 2023 18:25:00 EST

Bethel Music to Host "Come Up Here Worship Nights" This Spring
Fri, 27 Jan 2023 19:35:00 EST

Fresh Start Worship Releases New Song, "Excellent"
Fri, 27 Jan 2023 17:15:00 EST

Click here All News Headlines
|

RSS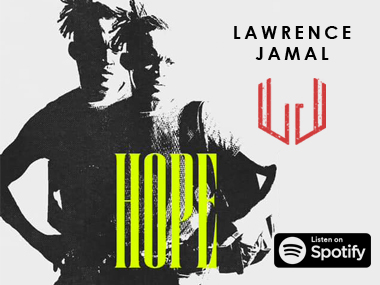 ---
---
---
---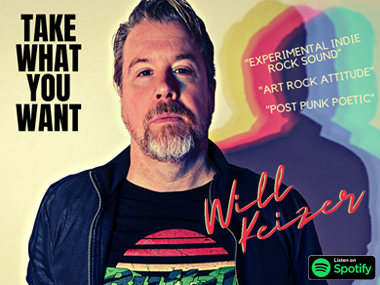 ---
---
---
---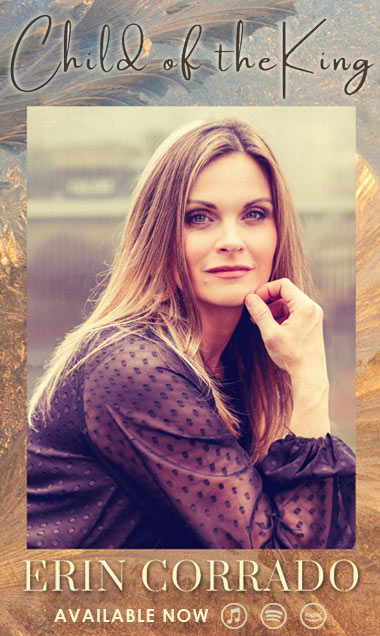 ---