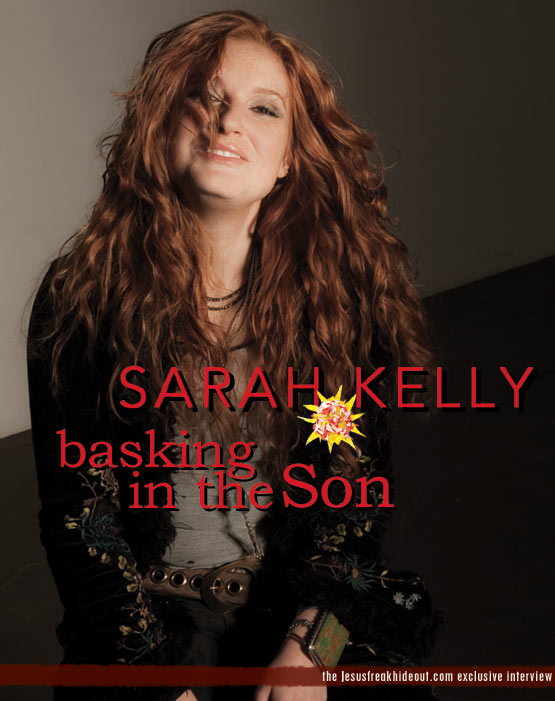 With the release of her fourth album, Midnight Sun, Jesusfreakhideout.com caught up with Sarah Kelly to discuss her new independent project, her spiritual journey, love, inspirations, and what the future may hold...
This interview took place on: 9/15/10.





JFH (John DiBiase): With each of your records, your sound has evolved and taken different tones and even different thematic directions, representing significant chapters in your life. Where would you say your latest album, Midnight Sun was born out of?
Sarah Kelly: The theme, "Midnight Sun," is a reflection of God's faithfulness. People always told me during the harder years, "Just believe in God's promises." I did claw into my faith and worship though some really tough stuff, and His faithfulness was more than I ever imagined! When I was in Northern Sweden last year, I played at midnight, and it was as bright as noon. It's called the "midnight sun," and you can't imagine the feeling of it, until you experience it for yourself. Much like God's faithfulness.

This album is finally a meshing of two distinct sides of my music -- rock riffs and personal love songs tied together with passionate worship. For once, I wanted my American fans, who liked my last album Born to Worship and my Europe fans, who liked Where The Past Meets Today to like the same album; to find a common denominator. I wanted to make an album that would embody both sides of me: the worship leader, and the reflective rock artist. The midnight and the sun....
JFH (John): Can you tell us about the title track, "Midnight Sun?"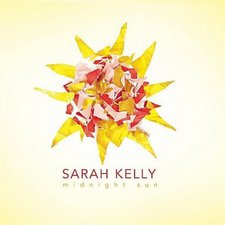 Sarah: The title track, which is your favorite, I know, is actually dedicated to Jonas my husband. It is a tribute to Sweden... and to love! It is a declaration of God's faithfulness! The treasure of missing someone that much, that I would sit in an airport and pen those words on my way out of town, THAT IS A MIRACLE.

"In the northern skies (Sweden), there's no goodbyes, and summer dreams in light, in the land of the midnight sun."

Some people thought this was about being home sick for Heaven, but it was about my husband, who is the love of my life, and the country that gave him to me (Sweden)!
JFH (John): Who designed the lovely cover art and what made you decide to not put yourself on the cover for the first time?
Sarah: I guess I was just tired of seeing my own face on my albums. Don't worry, I haven't gained a million pounds or anything. Hahaha! I just wanted something different. I had Justin Keller submit a ton of ideas on the concept and the paper sun won! I love it.
JFH (John): Do you have a favorite or most meaningful song on "Midnight Sun?"
Sarah: My favorite song on Midnight Sun is "Day and Night." It is basically my story put to music in a worship song. God dwells within our praise. When we choose to worship in the center of our circumstances, His presence fills the situation. Paul and Silas are perfect examples of this as they worshipped in prison, and the walls fell down... The line "Author of Justice, defending the weak" ... I wrote that in Africa after visiting beautiful kids whose parents had died of AIDS. I only thought I knew what injustice was! But God sees them and has not forgotten them.

The bridge is my absolute favorite lines on the whole album:

"like lightning from a clear and blue sky
Painting purpose into my life...
I'M NOT AFRAID TO NEED YOU
I asked for silver You gave me gold
I used to hope but now Lord I know
I'M NOT AFRAID TO NEED YOU..."
JFH (John): Can you tell us about the song "Live Every Love Song?"
Sarah: "Live Every Love Song" is the song I wrote for "Women's Cancer Research Foundation." After talking to a close friend who lost her mom to cancer, I tried to put the experience into music the best I could. The focus is HOPE. The publishing from this song goes to cancer research. I am a firm believer in the purpose of music being to both glorify God and better humanity. I am by no means rich, but it is super important to me to give to things that I believe are in fact important to Jesus -- not just in the words, but in capital raised by the songs themselves.
JFH (John): Who did you work with on this record?
Sarah: I worked with Jeremy Hunter, who works with Jonny Lang, Taylor Swift and Jewel, to name a few. Mitch Dane also produced the more rock tracks on the album. Stephen Mason from Jars of Clay laid down some killer guitar tracks. Matt Slocum from Sixpence None the Richer played some crazy good cello. You know me, I always have crazy good musicians on my albums... too many to mention really. Justin Knox, (Colby Colait) worked on one track as well.

But one thing that was super special was that Libby Ungs, my very first piano student, sang on "How Much You Love." That was a very rewarding moment in my life!
JFH (John): As your first independent release since signing with Gotee and releasing your debut in 2004, how did you approach "Midnight Sun" differently? Did you feel like you had more artistic freedom? Or about the same?
Sarah: Actually, I loved making this album. I took my time and did this one right, where I felt that the last one, Born to Worship, was a bit rushed. Gotee never once made me do anything creatively that I didn't want to do! They are very supportive of their artists! And I am so honored to have worked with them. And, honestly, we may work together again. I just wanted to do one album independently. I have more appreciation for all that labels do than ever before! Hahahaha! It has been so much work! My favorite female artists all did the indie thing for awhile... Sarah McLachlan, Jewel, Amie Mann, Tori Amos. I think it is a natural thing to want to own your own songs. This way, they can support great causes.
JFH (John): For someone who's constantly writing songs -- whether for an album, personal expression, or other reasons -- how do you decide what makes it to an album and what doesn't? Do you ever hope to release some of those songs that haven't made it to an album yet?
Sarah: I take an old school approach to an album... I pick a concept and revolve the songs around this concept. The songs that fit, fit. And sometimes it is heartbreaking because some of the good ones don't. I guess what I am trying to say is that I STILL MAKE ALBUMS. Not 10 singles stuck on the same disc... A story. A theme. A journey. Each album is meant to listen from beginning to end. Midnight Sun is a journey of God's faithfulness. Where The Past Meets Today is leaving the past, moving to the future peacefully. Take Me Away is worshipping through times you don't understand. Born to Worship" was all songs I wrote when I was 7 or 8.

If the songs didn't fit in those concepts, they are still "homeless" and maybe will be on a future album, or maybe just on a demo that Jonas (my hot Swedish hubby!) and I whip up in our home studio.
JFH (John): Who or what inspires you the most as an artist right now?
Sarah: I don't mean to sound redundant, but again, I am still enamored with the faithfulness of God. It is more than I imagined! "Stolen My Heart" says it the best... "I thought that I was too broken to know what love is, to know what life is/ Thought the best came and left me, and I took a fall somehow but I'm standing taller now."

Because of my past, I had disqualified MYSELF from God's call on my life. I had disqualified myself from love. Now I am restored BETTER THAN NEW. I have an awesome husband who loves me so well, two puppies, a home in Texas where I am not scared. Now I am leading worship in an awesome church. Everything I ever wanted, He gave back! BETTER. Joel 2:25 says that He will restore the years that were stolen! And He has!
JFH (John): How about inspires you musically/creatively?
Sarah: Great guitar tone is always inspiring. People who speak the language of music better than English. Who's heart is 100% in, with no regard to record sales. I still am listening to a lot of Swedish bands. Hello Saferide. Anna Ternheim. Aqualung. And I have to admit that One Republic is a guilty pleasure. I am going to a ton of concerts lately. Some are good and some aren't. I'm learning by watching.
JFH (John): How is your music school/teaching going?
Sarah: Just started the Woodlands school! I'm super excited. I have 20 eager students starting September 23! And though I can only teach one day a week, it is still a huge priority. I always write better when I have students. They push me, just like I push them. It is inspiring to see someone's love for music grow. I just taught a bunch of college students tonight, in fact. Worship was amazing, and after, I was just flowing, and a song started to come... I had a few of the students come on stage and help me finish it. You should have seen how excited they were to write! I love seeing that look when someone figures out THEY can write.

I still guest teach at USC as well, and always look forward to seeing the students there.
JFH (John): Now that Midnight Sun is out, what is next for Sarah Kelly? Might you be touring the project in the near future?
Sarah: I recently watched an interview with an artist that said he/she was facing burnout because they had 150 dates a year for 3 years. I almost laughed out loud. Bottom line is that I am ALWAYS on tour. At least, I have been since 2003. And 150 is a low year. So yes, I am on tour. I am gonna cut down a bit and travel only on the weekends, starting in 2011. I like being home nowadays! I will tour Europe all of summer 2011 and play at the big festivals, which I am looking forward to! After that, who knows. I'm sure I'll have the itch again! If anyone wants to see where I'll be in 2010 and 2011, it is on sarahkelly.com. Bookings are going great, and we have no trouble filling the calendar! Live is definitely my best element.
JFH (John): What's the latest on that side project 'band' you were contemplating? (you mentioned it in our last interview with you!)
Sarah: Funny you should ask! It is still a desire for sure! And I definitely have the songs for that. We'll see! Mike Clink expressed interest in producing it. Just need to find the right band family.
JFH (John): Any last thoughts or comments?
Sarah: Just to come to the new website, SarahKelly.com and leave some comments. I love them! Pick up the album on iTunes or Amazon, or order the hardcopy at SarahKelly.com. But for Heaven's sake, listen to the whole body of work. I make albums. Journeys.
Sarah Kelly' new album Midnight Sun is available now at SarahKelly.com, iTunes, and Amazon.com!


Click here All News Headlines
|

RSS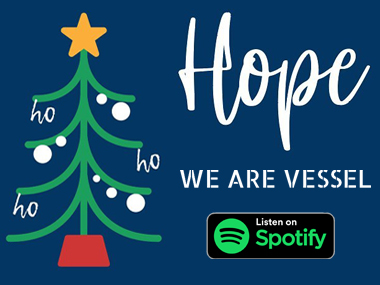 ---
---
---
---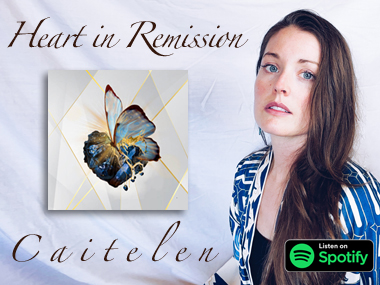 ---
---
---
---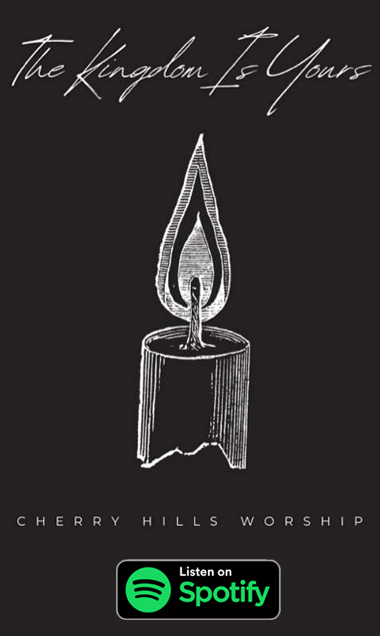 ---