With only days to go before the release of their sophomore album, Rocks Into Rivers, JFH's Jen Rose (with a question or two from John) caught up with Seabird to quiz the boys about the new batch of songs...
This interview took place on: 12/11/09.






Jesus freak Hideout (Jen Rose): So I've always wondered... why the name Seabird? Does it mean something personal, something deep, or do you really just have a thing for birds?
Seabird: We really just have a thing for SEAbirds. It's a fascination with all things aquatic really. Particularly penguins and sea turtles.
JFH (Jen): Tell us a bit about the new album Rocks into Rivers. How would you describe it?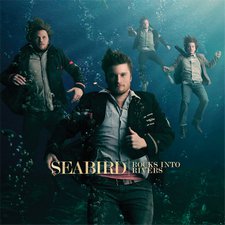 Seabird: First thing that comes to mind is "a natural progression for Seabird." Kings of Leon and Needtobreathe are bands that have successfully made better records as they go on. While each record was great, it seems like they were each better than the one before. As they matured as bands, they kinda came into their own stylistically. We feel like the songs on Rocks Into Rivers have grown from the first record. Not in a forced way but naturally. There are all the same aspects of the first record with much improved production and more of a complete thought. Also, it deals with real life issues like the first record, and though there are dark tones to the songs, there are also many redemptive aspects.
JFH (Jen): How was making the second project different from the first? I know some of the material from 'Til We See the Shore came from earlier EPs, but it looks like this is an all new batch of songs.
Seabird: There are actually several songs on this record that have been around for quite some time. Some just didn't make the cut for the first record, but we still felt great about them. We were able to breathe new life into them by putting them under the microscope with our producers and the label. Probably half of the record was written within a year of the start of production. It felt like a good combination of songs. We definitely didn't want to go into the studio with all brand new material because we still felt like there were ideas for the first record that we wanted to pursue.
JFH (Jen): I also noticed the songs on the first album dealt a lot with relationships... love especially. What would you say is the theme or concept behind Rocks into Rivers?
Seabird: There's definitely a similar theme but told from more experience in more mature relationships. Being a husband and a Dad, for example, makes you reflect on everyday decisions more. We always try to get better at those roles, and that was something in our hearts that came through in these songs. Divorce is a big one too. It doesn't seem like people really talk about it a lot, but since it's something that we have had to deal with first hand, it's made us realize how destructive it is. We know that people need to hear the truth about this topic, so we just kinda laid our experiences out there and hope that people can relate to them.
JFH (Jen): How did the collaboration with Aqualung come about? What was it like working with him?
Seabird: We had met him on a couple different occasions and as huge fans always made it a point to chat with him. Our goal was to make him laugh each time, and we achieved that goal. As a result, he told us he was producing more so we submitted ourselves as candidates. We assumed it wouldn't work out, but he contacted us and said he wanted to work with us. It was an incredible experience. He is very kind, extremely talented and absolutely a blast to work with. We are so flattered that we had this opportunity.
JFH (Jen): "Don't You Know You're Beautiful" is so fun and catchy, but it sounds like there's an interesting story there. What's the story behind that song?
Seabird: It's the story of a girl who carries the weight of her parents' divorce on her shoulders and is reminded by God that she doesn't have to identify herself with other people's shortcomings.
JFH (Jen): I'm also really curious about "Finally Done Right." Kind of like "Maggie Mahoney" on the first album, I'm wondering who this "Michael" character is. What's the story there?
Seabird: How many Michael's are there that are famous for doing the moonwalk? The song was written long before his tragic death. It's about the triumphant return of Michael Jackson. We have always been fascinated with the King of Pop.
JFH (John DiBiase): Can you tell us about the song "Baby I'm In Love?"
Seabird: It's about when Aaron's wife was pregnant with their first daughter London. So many thoughts run through your head when awaiting the birth of your first kid. The song talks about how you can kinda see yourself through the eyes of the baby and how transparent that makes you feel. Also how ultimately you experience love in a whole new way that you could never experience otherwise.
JFH (Jen): Do you have a favorite song on this project?
Seabird: Probably "Rocks Into Rivers." It's a lot of fun to perform live, and I think it has lines in it that everyone can relate to even though there's still some mystery to it. It always reminds me that I need to be more patient and obedient.
JFH (Jen): I love Rocks into Rivers' cover art! At the risk of asking a dumb question... was the photo shoot actually underwater? What was that like?
Seabird: Wow that is a dumb question. Seriously, though, we had this idea of being underwater, and fortunately we worked with an amazing photographer named Caleb Kuhl who turned that idea into reality. We aren't at liberty to share all the details involved. That would be like asking David Copperfield how he walked through the China wall. Fortunately no dolphins or manatees were harmed in the photo shoot. We are also glad that the creative department at the label got our vision and made it happen.
JFH (Jen): What are some of your favorite artists recently?
Seabird: Greg Laswell, Aqualung, Andrew Bird, Needtobreathe, Fiction Family, Kings of Leon, The Civil Wars, Doves, Spoon.....
JFH (Jen): You just wrapped up the Church Music Tour with David Crowder Band and Danyew. I imagine that was a fun bunch to be on the road with. Do you have a fun story from the tour to share?
Seabird: Sorry, but David Crowder told us on day one "What happens on this tour, stays on this tour." Seriously, though, the inside joke of the tour was "Noginosh Maslic." Check out www.noginoshmaslic.com for details.
JFH (Jen): Finally... Christmas is coming! Any fun family traditions you're looking forward to?
Seabird: Uh yeah, presents. Also busting out the old Christmas rap compilation Yo Ho Ho. It's been a family favorite since it came out.
JFH (John): Can you tell us a bit about the two re-imaginations of popular Christmas tunes? Was it kind of scary to change up these beloved carols? What was your inspiration?
Seabird: Christmas spirit was undoubtedly the inspiration. Ryan loves Christmas and has even worked on unique Christmas albums in the past. That's kinda his thing. We were excited to do them and felt strongly that they would have to be completely original arrangements.