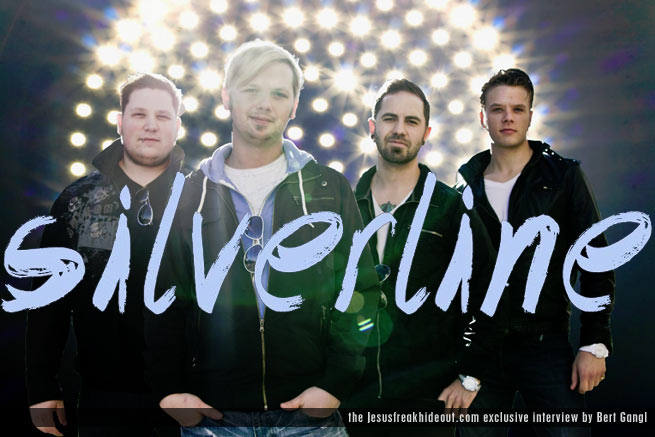 Despite ten-plus years as a musical unit, a fairly substantial touring schedule, three Top Ten singles to their name, and concert appearances with everyone from Switchfoot to P.O.D., the Minnesota quintet,
Silverline
, is still a virtual unknown to vast numbers of Christian pop devotees. JesusfreakHideout.com's Bert Gangl took time to talk with the members of the not-quite-ubiquitous pop/rock band about their surprisingly hard-rocking beginnings, the temptation to lighten things up for radio, and that slightly confusing trip to the Dark Continent...
This interview took place on: 4/4/13.
JFH (Bert Gangl): Hey, first off, let me say thanks for taking the time to answer our questions. So, your freshman effort, Start to Believe, came out in 2009, but the band had been together nearly ten years at that point. Tell us a little about how you got started making music and what kept you going during the extended stretch of time between the early days and the release of the Believe EP?
Silverline: Before Start to Believe, our sound was a bit heavier, and we had a different lead singer. We decided to shift gears a little with the Believe EP. We still wanted to keep our rock roots, but we brightened things a bit and added a tad more pop to the mix. Our lyrics have always been Christ-centered, but the heavier music didn't seem to translate that as well. Silverline, as it exists now, still has the same Christ-driven lyrics, but our newer material is simply more melodic. Our goal has always been to reach the maximum number of people with our music. We want our lyrics to be inspiring, encouraging and truthful. Our plan has been to use our songs as a tool to minister to others wherever we go, and we will continue to do that.
JFH (Bert): Despite the fact that the band has gained some radio success with songs from the first two albums, many a Christian Hit Radio listener is still mostly unfamiliar with the group's work. Has this anonymity been a sort of blessing in disguise in that it has allowed you to create the music you want without any outside pressure to replicate or adopt a certain sound?
Silverline: Yes, it's been nice to be able to play around with different styles, sounds and trends to see what we like, what our fans like, and, also, what doesn't work as well. The production approach for our latest release, Lights Out, was definitely different than on any other album. We had a little experience under our belts, but to have creative minds outside the band bringing things out of us we didn't know we had has been incredible. This album is a whole new experience for us, and we're excited to see it released.
JFH (Bert): The band played in Uganda in early 2010, prior to the release of the sophomore project, Voices in the Night. Describe the musical and spiritual climate there in Africa during your visit.
Silverline: Africa was an incredible experience, although much different than we thought it would be. Most of our time was in a busy city leading worship at a ministry conference. We were shuttled back and forth from the conference to a very nice hotel, and it felt surreal to be treated like royalty and then look out the window and see people standing in ditches with ragged clothing searching for food and money. The speakers at the conferences were mostly trying to encourage the people there to be more responsible and ambitious. There were plenty of resources and jobs available, but so many of the people remained in poverty anyway. The conference was meant to bring awareness to the fact that they could change the way they were living. It was full of ministry, but it was also very businesslike. We left there not knowing quite how to feel. That said, it was still a learning experience for us.
JFH (Bert): The band has never shied away from guitar-based material. Songs like "Stop Me Now" and "Start to Believe" on the debut were positively bracing pieces that skirted what some might even call heavy metal territory. Has there ever been a temptation to tone your harder material down to fit in with the current soft-pop/worship music favored by so many artists currently on the radio?
Silverline: We do have a couple of worship songs and ballads on all of our albums. Ryan wrote "With The Angels" during a time of devotion, not intending it to be on the release. He brought it to all of us and let's just say we loved it. We also included the worship song, "Be Still," on the new project as well. The thing is, it's natural for us to write this way and have those songs be a part of our albums.
JFH (Bert): Given that you guys seem fairly at ease crafting everything from '70s-inflected power pop to pop-metal and emo, can you give us a bit of insight into which artists have been most influential when it comes to your particular sound?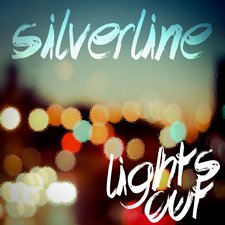 Silverline: Growing up, our biggest influence was dc Talk, hands down! Our heavier inspiration comes from artists like Chevelle, Project 86 and Blindside. And our new style is influenced by bands like Anberlin, The Wedding, The Classic Crime and Thousand Foot Krutch.
JFH (Bert): Nearly three years have transpired since the summer 2010 release of your second EP, Voices in the Night, and the upcoming street date for the new record. That amounts to a near eternity in the music business. What sorts of events took place during the time between the two projects?
Silverline: We didn't just want to pop out another album just because "it was time." We really wanted to pour everything we had into the new release and try some unique writing techniques. So, we prepared a full album and brought it to Ben Kasica (former Skillet guitarist). To make a long story short, not much of what we brought ended up on the album. He wanted to take us a new direction and really pushed us creatively to be better than we had been in the past, and we couldn't be happier with the results. So, that's why there was such a gap; we wanted our listeners to get the very best that we had.
JFH (Bert): While your softer tracks holds their own very nicely, it's still refreshing to see that you guys are more than willing to belt out no-holds-barred rock pieces like "Hold On" and "War." I think the record shows a nice balance of harder and softer compositions. How has your slower material been received in concert over the past few years?
Silverline: We really try to engage the crowd and let them feel where our hearts are before playing our ballads and worship songs. We like to add personal stories to really draw them in so that they can catch the meaning of the songs and appreciate them rather than just chatting with a friend. We love the rockers, but the emotional pockets are our time to share our hearts with the audience. The heart of Silverline is to write songs that can change lives and that can connect on a real level with hurting kids and adults - songs that give them hope in salvation from Jesus and encourage them to keep on pressing in to God even though everything around them seems to be falling apart. The slower songs in our set allow us to convey that to the crowd.
JFH (Bert): I can certainly understand and appreciate that. Hey, thank you for taking the time to answer our questions. Let me finish by offering my kudos on the new record. I've had it on heavy rotation in my mp3 player lately while I run and it always seems to put a pep in my stride when I spin it. Here's hoping that the listening world at large takes a shine to it and that your band continues its music-making and ministry for many years to come.
Silverline: Thanks so much for playing our songs and supporting our band. We really appreciate your interest in our ministry and hope that your audience loves the new album!
Silverline's latest album, Lights Out is available now wherever music is sold!