Since "Kiss Me" propelled this group from the underground to number one in America, Sixpence None the Richer has been making accessible art-pop for the Christian and mainstream scenes alike. We recently talked to a pregnant Leigh Nash, the vocal innocence of Sixpence, who discussed the new record and their stance on being labeled a "Christian band".
This interview took place on: 6/30/03.




Jesus freak Hideout: We all know about your history of getting tied up in record label problems. But we haven?t seen the whole story about why your album was held up for so long. What happened? And have you just not been talking about the situation, or has no one really asked?
Leigh Nash: I feel that we have talked about it until we're blue in the face. It is such a headache to even recall it, that it is not a positive subject to talk about for me. The situation was so complicated that after all this time I have a hard time getting it all straight, so let's just leave it with label problems that had nothing to do with the band.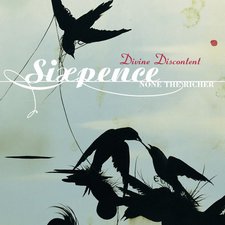 JFH: It's understood that Divine Discontent underwent a series of changes while it was held up before finally going public. If it had been released when intended, how different would that album have been musically and lyrically?
Leigh: The album was just more true to the time it was made before because we had just finished it and it was so fresh to us. I don't think it changed drastically, it just would have had a few different songs and no Crowded House cover obviously :)
JFH: Rob and JD are new additions to Sixpence since your last album. What is Dale Baker doing these days? What happened there?
Leigh: Dale is living in North Carolina with his wife and their new born son. They are doing very well there. Sixpence has been together for many years now and it was time for Dale to make a change in his life.
JFH: As expected, rumors abound on the topic of your status as a "Christian band." Comments by Leigh in an interview with Pulse magazine have made some longtime fans wonder how far the band has come from its Christian roots. How has your view of the Christian music industry changed since The Fatherless and the Widow was released? Have your label woes influenced your personal faith?
Leigh: We have often been frustrated by being labeled a Christian band and have explained why countless times. I am a big fat Christian and do not care who knows that. When it comes to our music we'd just like it to be taken for it's musical value and not lobbed onto a big bandwagon. I'm not concerned with answering to anyone or pleasing anyone but God, so I'm much less affected these days by the negativity that is sometimes directed towards us for being either too Christian or not Chritian enough.
JFH: This album is markedly less technical - many think more accessible - than your last album. Was this change intentional? Any comments on the difference between the two albums as you see them?
Leigh: This record was not changed from the last on purpose. We worked with a different producer and of course recorded different songs, but I think the main goal was just to do the best we could to bring the life in the songs out the most.
JFH: How has your intense pop success ("Kiss Me," "There She Goes") colored your songwriting, if at all?
Leigh: Matt does so much of the writing, fome my point of view it does'nt seem that Matt's writing is different. I think he gets better all the time, but I don't see anything as markedly different than before he wrote "Kiss Me". And I write some too and am not clever enough to change something to make it sound more like a hit :)
JFH: What CDs have been in your stereos lately? What artists do you feel are currently making an influence on you and on the rest of the contemporary music scene?
Leigh: Right now for me it's The Cardigans new record and Fountains of Wayne have a new one that's awesome. I love what Norah Jones has been able to do. I'm so thrilled that people have responded to beautiful music on such a mass level. For a while there I was beginning to think you had to be a stripper to get people to buy your records.
JFH: What keeps Sixpence None the Richer moving forward? Where do you see yourselves in another five or ten years, and how will you get there?
Leigh: What's kept us together so far is a love for and a belief in what we are doing. I would like to have children in five years and still be singing something for someone.
JFH: Leigh and Matt have been making music for more than ten years now. What do you see when you look back? How do you react to your old music?
Leigh: Mostly what I see is how young we were. My voice sounds so frail to me when I listen to it on those first records we did. I was so unsure of myself and what I was doing, but it makes me smile. I'm so thankful God has placed me where He has.
JFH: What is the story behind the song "Down And Out of Time" on your latest record Divine Discontent?
Leigh: That song is about an argument I had with my mom about how I lay all my garbage out for everyone (my family) to help me deal with. I learned a lot about myself, as I always seem to with my mama. We are very close, I guess that's why we're able to argue like that and still be alright.
JFH: What are your favorite songs on this latest album and why?
Leigh: "Tension Is A Passing Note" and "Tonight". "Tension" because of it's brutal honesty and "Tonight" because it is so simple and the music has such a nice drive to it.
JFH: What is your all-time favorite Sixpence song and why?
Leigh: All time favorite Sixpence song is "Tension is a Passing Note".
JFH: What has been one of your most memorable live performance moments?
Leigh: Favorite live moment was playing at Cornerstone for the first time in a small tent. It was raining outside, I was wearing my mom's wedding shoes. I was so happy to sing for that small crowd of people (maybe 50), and they seemed happy to listen.