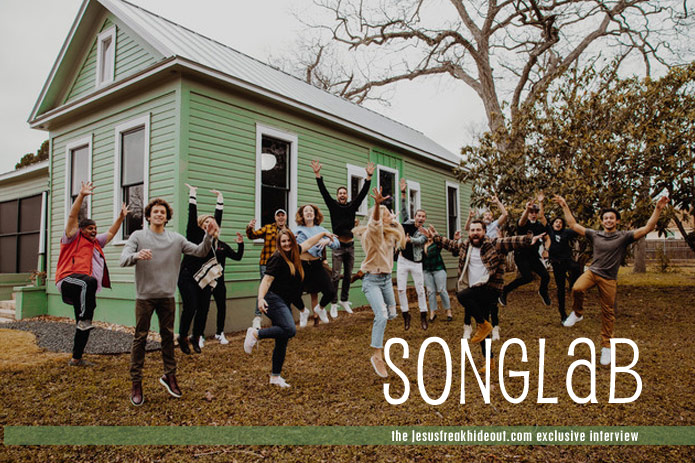 DREAM Records and JFH teamed up for a new interview with DREAM's worship project, SongLab. Their founder, Meredith Mauldin, took some time out to talk about their new EP,
Simplicity
...
This interview took place in August 2021
Click here for
SongLab
's Artist Profile page.
JFH: What is SongLab and how did it get started?
Meredith Mauldin: SongLab started from a desire to see worship leaders equipped to write the songs that are coming from their hearts and their churches. So, I took what I learned from the seven years of leading UPPERROOM and all the writing experience I've had and packed it into a weekend ! It is beautiful to watch the songs written from that weekend and the celebration it creates among the body of Christ. SongLab is two fold-- part workshop and part label/artist/collective.

The workshop is a 2.5 day retreat where worship leaders come together and worship, receive teaching and write new songs together. We started the label because I felt that the Lord told me to highlight the songs that are highlighting Him, so I started choosing songs written by the different worship leaders at the different SongLabs we'd held. And then we came together to worship and record them and we are continuing to do just that.
JFH: How did you come up with the name?
Meredith: When we were at the UPPERROOM, people would sing these spontaneous songs in the prayer room and really sing from their hearts. So, we would take those songs and help build them out through song writing intensives I put on for our worship teams. We'd tell people all the time that it seemed like a songwriting laboratory because so many songs and pieces of songs were coming spontaneously in the prayer room. So when creating these weekend workshops "SongLab" just came to me and made sense :)
JFH: You just released your new album, Simplicity. What is the heart behind the 4-song EP?
Meredith: Worship can be simple. We named it "Simplicity" because life gets complicated but there is beauty in Simplicity. Worship doesn't have to be big and flashy, with fancy light shows and big screens (not that there's anything wrong with that), to be pleasing to God; but that our hearts simply open and devoted to Jesus is enough! We pray that these songs reflect sincere hearts loving our God.
JFH: You also co-founded UPPERROOM (music). How is SongLab different and how is it similar to them?
Meredith: Well, because I helped co-found UPPERROOM music, there is always going to be a similar DNA. But it's different in that I'm just pulling in worship leaders for a weekend and hoping to instill some of the worship and songwriting nuggets that I've learned. My hope is that they can bring it back to their own culture and, not necessarily recreate an UPPERROOM culture, but use some of the tools that we have learned over the last 10 years to help them steward their own culture and their own hearts.
JFH: What are some of your musical influences that have helped shape the sound of SongLab's music?
Meredith: This is always a hard question because our sound is difficult to pinpoint since it's a collaboration of so many different worship leaders coming from so many different places and so many different influences. We are just wanting the worshippers that come to the SongLabs and recordings to bring their heart and their sound so it's a very collaborative sound that may change project to project depending on the artist and worshipers involved.
JFH: What do you hope people take away from the SongLab experience?
Meredith: I hope people are awakened to the hope that they have a song inside of them. That it is so important for them to steward the testimonies and encounters that they've had with the Lord through their music. That we are worshiping the man Jesus and the more we get to know him the more we can write about him from an authentic place.
JFH: Looking to the rest of 2021 and going into 2022, what are your next plans?
Meredith: Well, we will have had 12 SongLabs by the end of this year, so we have so many new songs coming in! We have another EP getting ready to release and we are getting ready to record again! I have been working on my own personal EP and Gideon Roberts, one of our SongLab artists, is also getting ready to put out his own project as well. Lots and lots happening right now :)
JFH: What has God taught you about this experience?
Meredith: When you bring worship leaders and their hearts and sounds together it becomes this beautiful garden of different aromas of sounds, and different blooms of style and music and testimony. We are learning a lot about stewardship and are celebrating where we are but pushing forward to grow better each time. We are also learning a lot of patience and perseverance because there's a lot of things to juggle . But, the Lord never promised easy, only that it's worth it. :)
SongLab's latest album, Simplicity is available now wherever you buy music!