Dallas, Texas pop/rock band The Afters captured the hearts of music lovers (and coffee lovers) abroad with their 2005 debut I Wish We All Could Win. With 2007 being the intended release for a sophomore project, we sat down with the guys to discuss the new album. But the record was pushed back until 2008 with February being the final release date. Now, with Never Going Back To OK finally about to find its way to listeners' hands, here's our candid talk with the guys about the album, making music... and truly BAD hotel experiences.

Elements of this interview took place in Spring 2007 and January 2008




Jesus freak Hideout (John DiBiase): Tell us about your new record, Never Going Back To OK.
Matt Fuqua: Well we've been writing for the last, pretty much year almost, and just really building momentum there. Just writing more songs on top of more songs. We are so excited! I'll let the other guys talk but, the songs are just so much better. One of the reasons why it's taken longer than maybe some bands who put a record out, is we really wanted to make this record awesome! Better than the first, and something that people feel like is worth the ten bucks or whatever they paid for it.
Josh Havens: Twenty bucks?
Brad Wigg: We'll take twentys!
Josh: Anytime one of us says "awesome," like if I say "awesome" ... I always think of the latest episode of The Office.
JFH (John): Yeah? We haven't seen the latest episode...
Josh: Oh OK, cool. There's a real temptation to just put out a record for the sake of, you know, meeting your calendar deadline...
Brad: I thought you were just about to start talking about the office again
Josh: *laughs* No. There's a real temptation to just put out a record because you need a new record. It's important to keep your schedule full. The label always wants it, for their scheduled releases. We really wanted to make sure that our sophmore release was the right album for us to put out. We were committed for our fans to make sure that it was. We weren't just gonna put together a collection of songs and put it out there because we needed to meet a deadline. Our label really supported us, and our management... in taking our time and getting it right. Because you have your whole life to write your first record, and I think that's why so many bands have a sophomore slump. Because they don't take the amount of time they need to write their second album.
Brad: I think its probably a label issue too, because the label wants you to keep going with the momentum you had on the first record. Theres so much pressure from the "higher ups," y'know, "keep goin! put the record out!" I can't say enough about our label that just describes how patient they've been, and how encouraging they've been. They've been so good about just encouraging us and making sure we had the right record. They could've just said, "okay put out another record right now!" (Josh: "We need it!") They could have just taken the songs we already had and said, "okay here's your record!" They just said, "we want you guys to take your time, we want you to get this right. Don't feel any pressure. Just make the record that you want to make, and not something that we feel you need to make right now."
JFH (John): Have you felt any pressure with the sophomore release?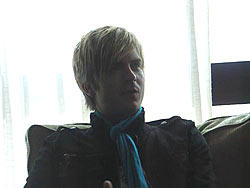 Matt: Theres always pressure.
Josh: Pressure to have a great album, definitely! We definitely want to win the sophomore trust of our fans. There have been bands who I've loved for their first record, and they've put out a second one, and I'm like "what happened?? what happened to the band I love?" We definitely don't want that to happen to us. That's another reason why we're just taking our time. For us, we see the long term. It's definitely paid off to take our time with it, and really take our time writing songs. Because you know you write from experience, and a lot of times that involves digging deep. We've been through a lot over the last couple of years, good and bad. I mean it's been a great couple of years, but it's also been a totally different life for us. Being on the road, away from our families a lot, and that can be really hard. Also on a personal level, we've been through a lot of personal hardships, and just coming through that and seeing God's faithfullness has made for some good content on the record. We can't wait to get it out and let everybody hear it! We've been playing some new songs live, and the feedback has been really awesome.
JFH (John): Who're you guys working with on this album?
Josh: We're working with Dan Muckala. One of my favorite people.
Matt: Yeah he kind of exploded between then and now.
Josh: He recently worked with Nick Lachey, writing his new record.
JFH (John): So is that what we should be expecting from The Afters?
Josh: You should expect something very Nick Lachey-like.
Matt: We've got these dance routines worked out.
Brad: Yeah its a cross between "Backstreet" and Nick Lachey. That's what we're looking for.
Josh: He's amazing to me because he can do anything. He's got great pop-sensibility. He can pull off a Backstreet Boys record, or a Nick Lachey record. He wrote "Incomplete" for the Backstreet Boys, which was a huge hit for them.
Brad: His heart is in programming beats, making really huge bass, danceable stuff. He really knows how to bring out the rock! (Josh: He's got a really eclectic side.) We were in the studio making demos, and we plugged in an amp and a cabinet, and stuck a mic in front of it. I don't know what happened, but that was one of the best guitar tones I've ever heard recorded. It sounded so good!
Josh: I think some of our demos were already an improvement over our last record. (Matt: Oh yeah, the drum tones are sick!) You know what, All American Rejects actually used those on their record. (Brad: The samples?) Yeah. Something else interesting that I just thought of from this whole writing process. Have you noticed that when a band puts out a secord record it's a lot darker?
JFH (John): Yeah, sometimes. Especially in Third Day's case. It's a great record, I liked Conspiracy No.5.
Josh: I did, too. Well, Switchfoot, it wasn't their second album, the one that followed up The Beautiful Letdown. (John: Nothing is Sound?) Yeah. Like the Keane record, the second record was a lot darker. (Brad: Coldplay didn't go that route.) I've noticed a lot of sophmore records can be that way. When we were first putting together our record, we had just gotten off the road. We were so exhausted. A lot of the songs we were coming up with were a little bit darker. We met with our label and said, "oh this is gonna be depressing, this is not The Afters."
Brad: They didn't really like the song with the title, "I Hate The Fan"
Marc Dodd: I hate the "Super-Duty"
Josh: I hate the van. *group laughter* ...Taking that time, and gaining perspective, and seeing even the beauty from the ashes definitely helped. And now the record is definitely very hopeful and optimistic.
Matt: People aren't gonna wanna kill themselves when they listen to it.
JFH (John): What kind of sound would you describe the new songs as?
Josh: Umm...
Matt: .....AN AWESOME ONE! *laughter*
Brad: We've kept kind of a wide range, we've got a couple of songs that are just really in your face, y'know... rock!
Josh: Yeah there are some songs that I think rock harder than anything we've ever done.
Brad: There is gonna be a bit more keys on this record than the last record, and that's nice. (Matt: I think that may be the most noticeable thing.) Yeah, definitely!
Josh: Piano is my primary instrument, and I couldn't afford a keyboard when we first started out, so I mostly played guitar. And we were just a four-piece. So as time went on, we got into doing more piano stuff.
Matt: I think the first record had this wide range of ballads to rock songs, and some of these songs are, y'know, just really poppy, really rocking. Some of them are just really smooth and easy. I think this record widens that even more, the rock songs are even more in your face, and the easy songs are even easier.
Brad: It's kinda like AC/DC and Steely Dan.
JFH (John): So it's extremely schizophrenic?
Matt: I wouldn't say that, but it's definitely got something for everybody.
Brad: It's kinda like Air Supply meets Aerosmith.
Josh: Every song has love in the title. Actually thats one change, I don't think a single song has love in the title.
JFH (John): Are there any particular songs that you are just really excited about right now?
Josh: Yes there definitely are. There's this song called "Keeping Me Alive" that I love playing. And the title track is a rockin song.
Matt: You know what, I think we are just really excited about the new songs that we are playing, the new material that we are actually getting to perform. I think once we start to perform these other songs, we are gonna get equally as excited about them. But right now we have this handful of songs that we are playing from the new album. I think we all get excited about playing the new material.
Marc: It's always fun to play newer songs in your set, let other people get to hear them.
Josh: Well some of those other songs we've played for ya know, eight years. (Matt: Mmhmm) Like the song "You", thats a song that we've played from the very beginning.
JFH (John): Did you sing it to your Starbucks customers?
Josh: Probably so.
Matt: Mostly at Starbucks we sang drink orders, and greetings to customers as they walked in.
Josh: I liked that we would have theme days. Opera Day, Polka Day.
Brad: Broadway Day. Country Day. We had this Belgian manager, and he had this outrageous Belgian-French accent. It was fun to try and get him to sing on country day.
JFH (John): I guess having that now - a country day, polka day - wouldn't go over too well with fans who go to your shows.
Josh: Yeah like one day we do all of our songs country style.
Brad: Oompa style.
Matt: That would be great to do for like a fan appreciation, coffeeshop deal... play all our songs country style.
Marc: Yeah Josh can play the accordion, I'll play the jug.
Brad: We'll put out a special limited-edition, limited-release OctoberFest album.
Matt: Someone's gotta play the accordion, and we all come out in leiderhosen.
Josh: Audience participation with the chicken dance.
JFH (John): Can you talk about the song "Secret Parade?"
Josh: This song was a concept that Brad and I had. We liked the idea of an intro track that was a little out of the box. Started out as a joke based on a fictitious band name we used to spout off—"Sedulous Panoply of Ebullient Valetudinarians" which literally means "the secret parade of happy sick people." We thought that was actually an accurate picture of the church through history. The church been plagued with problems throughout history and we live with the knowledge of our sinfulness... we are ultimately guided by God and covered by His redemption.
JFH (John): What's the story behind "MySpace Girl?"
Josh: When we were writing this album, we didn't want to take ourselves too seriously. We just wanted to have fun and write about all different facets of life. Most of the songs came out of some kind of personal experience. "MySpace Girl" is inspired by the story of how our old bass player met his wife. We were hanging out and a burger joint called In-N-Out after a show in California. And our bass player saw a girl there who was friends with a guy from one of the other bands that played that night. They made eyes at each other all night but he never gathered the courage to strike up a conversation. He was convinced that she was "the one" and was so mad at himself for not talking to her. We just laughed and told him he was crazy to think that he was going to marry her. He did find out her name and searched for her on MySpace. He got to know her first through her profile. He knew her favorite movies, music etc. and thought they had alot in common. They started messaging though myspace, talking on the phone and eventually got rid of their personal myspace sites and started a site together... hence the "ourspace." They are now married and are great together. It was just such a great story I thought there had to be a song about it.
JFH (John): What about "Summer Again?"
Josh: This song is open to interpretation. There were a few different images that we pulled from for inspiration but all seemed to center on a theme of loss and a wish/hope for renewal/redemption. There's the literal idea of changing seasons and the approach of Winter; the idea of watching a friend go through a chain of mistakes and a wish for the return of innocence; the loss of a loved one; Or the thought of an elderly man who looked back on the beautiful times of his life wishing to reclaim the days of his youth but it goes along with the theme of transformation that is throughout the album.
JFH (John): Why the title for "Forty Two?"
Josh: "Forty Two" is basically a song that deals with the meaning of life... why are we here? The name is a reference to the Douglas Adams book "Hitchhikers Duide to the Galaxy." They find out that the answer to the question of the meaning of life, the universe and all that is... is 42... So then they set out to find what the question is. It's amazed me how many people have come up to me after shows and asked if the title was a reference to "Hitchhikers Guide"
JFH (John): Have you ever had any really horrible hotel experiences?
Josh: YES!
Matt: oh YES!
Brad: Yes!
JFH (John): Do tell!
Marc: We're gonna hafta extend this interview for another hour.
Josh: In Minneapolis, Minnesota, there was blood on our wall.
Brad: To preface this, our trailer broke down, we were in Minneapolis desperately trying to find a place to stay, and this was THE last hotel.
Marc: It was like two in the morning.
Josh: What chain was it? (Brad: an Econo Lodge?) Yeah it was an Econo-Lodge.
Brad: There was a rodeo going on, there was a horse show going on. There was some college sports thing going on. (Matt: Family Reunions everywhere!) There was literally no hotel but this one. We pulled in and got our rooms. We went to our rooms, and first of all, it was kinda scary walkin down the hall cuz it just didn't look clean. And we had two rooms, one had blood on the wall, (Marc: Next to the lightswitch). My light was like a bare lightbulb hanging from the ceiling. There was an actual rats nest next to my bed. (Marc: It was disgusting) And I think, to top it all off, the smoke detector kept beeping every five minutes... BEEP! (Matt: The crazy thing about that was, is we couldn't find it. Somebody had taken it off the ceiling and put it outside the window on top of the air-conditioning unit, and had closed the window.) No, that was me!
Josh: It was actually on the wall where it was supposed to be, and it wouldn't stop beeping. So Brad takes it and puts it outside the window, and you can still hear it beeping. (Brad: BEEP!) And he goes and tosses it into the parking lot (Brad: I just hurled that thing as far as I could), and it's still beeping! So he actually walked down to the parking lot and picked it up and threw it even further.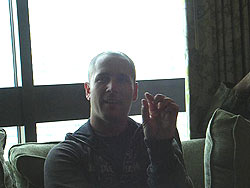 Marc: Not that there's anything wrong with Minneapolis...its just that particular hotel. (Matt: I remember there was a hole in the wall.) We had cigarette butts on the ground. (Matt: It was terrible! And it was the only hotel that had two rooms in Minneapolis. We called at least 20 hotels.) It was just one of those places where you don't take your socks off. You just get into bed with your dirty clothes, because you don't wanna put clean clothes on, cuz ya know those are shot when you wake up. So you don't wanna touch anything.
Brad: I'm pretty sure that if we had gotten any of the other rooms, there would have been bullet holes in the floor. (Marc: Crack pipes...)
Josh: Still one of the all-time worst experiences for me, was when we were still an independent band. We were staying in a host-home somewhere. It was near a college, we had played at some "island party" or something. (Brad: Was it Habitat for Humanity?) Yeah it was Habitat for Humanity. (Brad: We were playing with By The Tree) It was sponsored by this church there or something, it was these college kids that were kinda putting it together through them. So it was up in this host home. I guess there were all these girls that had lived there, but weren't there at the time. There was one that had dropped by, but we walk in and the place was a disaster. So we're all married guys, and we're like, "okay, this is kinda weird."
Brad: First off, disaster is an understatement. It was like wading through like the flotsam and jetsum of the worst flood disaster you could possibly imagine. There were dirty clothes, liquor bottles. (Josh: Yeah there was liquor bottles everywhere!) There was cat and dog hair everywhere. And the worst smell you could ever imagine just exuded from every room. (Josh: It smelled so bad!) There were dishes piled up in the sink, leftovers left out on the counter.
Josh: There weren't enough beds, so I slept on this pull out couch, and I pull it out, and there were so many dog hairs everywhere. Like it was just covered in dog hair. So finally I tried wiping a lot of the dog hair off. And I looked for more sheets, but all their sheets had dog hair on them, even the clean ones. So what happened was, is I fell asleep, and Brad was sleeping on this couch that had this bar in the middle and was really uncomfortable (Brad: Uh-huh.) This dog kept coming over and trying to like, snuggle up with me. And this was this big, nasty shedding dog. I kept trying to push him off. I was so tired, I didn't wanna be there because it was so gross. So finally I wake up, and here's this dog snuggling with me, so I'm just like, "great..."
Matt: My experience was slightly different, because my wife was there. So we actually slept in the bedroom with the bed with the door closed so none of the animals could get in. The only bad part was when we left that room and went into the rest of the house. (Josh: It was actually a great bedroom, it was so clean.) It wasn't! But it was cleaner than the rest of the common areas of the house which is where everybody else was sleeping.
JFH (John): The moral of the story is "Bring your wife with you."
Josh: Yes, bring your wife!
Matt: The moral of the story is "Stay away from college sorority host homes."
Marc: There was this one time that we stayed in LA, and we ended up at this Asian hotel. We were all like, "oh this is gonna be so cool!" So we get there, (Josh: The hotel was actually really nice!) and our manager likes to run a lot. So he says he's gonna take a morning jog, and this place is in the middle of Chinatown, (Josh: Nobody spoke English around there). So he's running around and around, and he's thinkin, "okay this is kind of a shady area. So he takes a corner and he sees people doing drugs right there in front of him. So he comes runnin back to the hotel...
Matt: That whole night I was so worried about someone breaking into the trailer. It was terrible. There was no place to park. When you have a van and trailer in downtown areas, there's very few places to park. In downtown Nashville, it's different because there are vans and trailers and tourbuses down there all the time. But in most major cities it is the biggest pain. (Marc: There aren't any options) Or it'll cost you a fortune. After trying to figure out where to park this thing for half the night, we had to wake up at 7AM to move it because we had it parked at a meter, or it was a tow away zone, and that becomes effective at a certain time. So we had to wake up and move it somewhere else.
Marc: Then when we wake up and go down into the lobby, and there's like 75-100 people all in the same jumpsuits.
Brad: They were like these 20 year old guys wearing these race car looking jumpsuits. It was all these Japanese dudes.
Matt: It was totally like out of a movie.
Marc: All I remember seeing was the elevator doors opens, and Brad's face goes... "whhaaaat?"
Brad: It looked like a scene from a Wes Anderson movie, where it's the most unexpected thing ever. I tried to ask the guys what was going on, but none of them could speak English. There was this one old guy, who also had on his white race car jumpsuit, he was just standing back there, very stonefaced, and obviously did not want any of his guys talking to me.
Marc: We were not welcome there, we'll put it that way. They were welcome to take our money and let us sleep there, that's about it.
Josh: *To Brad* Then there was the hotel where you wandered into their house!
JFH (John): What?!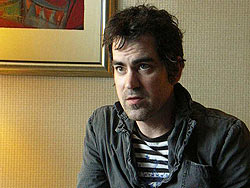 Matt: That was actually in Tennessee.
Brad: No it wasn't. It was in South Texas. (Josh: Oh yeah!) So as we all know, lots of families from East India come over to the U.S., and it's a stereotypical thing for them to buy a hotel. We ended up staying at a hotel that was owned by such a family.
Josh: Wait, let's preface this by saying, my favorite type of food in the world, is Indian food. I love Indian food! (Brad: Why do we have to preface this?) Because when we walked into this hotel, it smelled like Curry and saffron. It smelled so good!
Brad: It smelled like we were walking into an Indian food restaurant. So we get our rooms, we wake up the next morning, and we go into the lobby, and there's a door open that looks like it's leading into a common room of the hotel, where breakfast would normally be served. So I go through this wide open door, and there's this old, Indian woman chasing me out saying, "No you can't come in here, this is my house!!" They had actually converted the breakfast room into their house. I walked in and there's like furniture, and a bed, and their whole kitchen set up. But that was where they were living and they were so mad that I had walked in their house through the wide open door.
JFH (John): Any last comments?... About the record? ...Or?
Josh: THE OFFICE RULES!!
Matt: It's gonna be worth the wait. We're really excited about how the record is taking shape. We feel like it's the best thing we've ever done.


The Afters's latest album Never Going Back To OK hits streets February 26th!