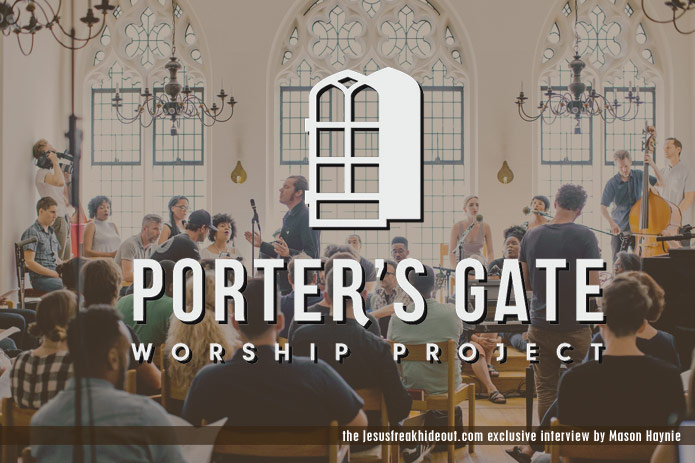 Isaac Wardell took some time to discuss
The Porter's Gate
debut,
Work Songs
, with JFH staff writer Mason Haynie. Aside from chatting about the ins and outs of the record, Wardell also shared the origins of the movement itself, as well as his thoughts on the current state of the Church and worship music in general...
This interview took place on: October 9th, 2017.
JFH (Mason Haynie): Since this is a brand-new collective, the question needs to be asked: What exactly is The Porter's Gate?
Isaac Wardell: I started playing worship music way back when I was in high school -- over 20 years ago. Back then I felt like there were quiet conversations in the margins of modern worship about critiquing some areas of weakness in the mainstream Christian music world. Now I've noticed a new phenomenon of people in Christian music asking questions that go deeper, thinking not just about that 60-minute worship experience on Sunday morning, but how worship and singing are actually forming people over the course of their lifetimes. So fundamentally, The Porter's Gate is an emerging movement of pastors, worship leaders, songwriters, and scholars asking these kinds of questions and creating better resources to help churches better address those questions. Work Songs is our first gathering and recording this year, and I hope to continue to do something like this every year as we move forward.
JFH (Mason): This might be more of a trite question, but is there any particular reason for the name itself?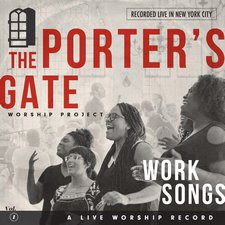 Isaac Yeah, I don't think that's a trite question. As a matter of fact, it really gets at the heart of the project. I've often joked about the job of a worship leader in many ways is sort of the job of metaphor replacement surgery *laughter*. People come to worship with metaphors out of which they're living their lives -- pictures of the good life, commercials, and media outlets that tell us how our lives have meaning. With that in mind, the reason for the name of The Porter's Gate is to bring to our lives a new metaphor. Between all of the difficult conversations that many of us are having about how we can be welcoming even though we are often pictured in the media as "the bad guys," I think that the Church in North America is having something of an identity crisis these days. And when I think about the origins of this problem, I think it has to do with the metaphors with which we understand ourselves as a Church. On the one hand, we have this "closed fortress" mentality where we say that our neighbors, the people who aren't Christian and don't fundamentally think the way we think, are a danger to us and our values. We have to protect ourselves. The other metaphor that Christians operate out of is sort of an "assimilation image" - that we actually have a ton of things in common with our neighbors. The danger there is that we can lose our Christian identity when we embrace everything our neighbors embrace in order to love them. So at my church, we have been talking lately about the image of the Benedictine monastery. This was a movement of Christians that picked up whole Christian communities and made them known for their hospitality. If you were poor, dislocated, or sojourning, you would rejoice to see one of those monasteries because you knew that they would give you shelter and welcome you. They had porters that stood at the gates of their communities, scanning the horizon for guests; it was their job to represent the body of Christ and bow down and kiss their feet, rejoicing that Jesus was there. Jesus had come to them in the form of this guest. So when I think about that image, I think it's both beautiful and powerful, and it provides us an image to reclaim as artists.
JFH (Mason): With the artists that you chose, that image makes a lot of sense. Did you choose people like David Gungor and Audrey Assad for this reason or were there any special connections that made this collective happen?
Isaac: I am pretty open-minded when it comes to people who want to participate in this project. The biggest criterion was probably that I, or someone else in the project, had some kind of relationship with everyone involved. The other qualification was that I respected their Christian dedication to their artistry. We also wanted to have people from differing traditions involved, from Calvary Chapel to Anglican, Presbyterian and Roman Catholic individuals.
JFH (Mason): Yeah, I think one of the things that really makes this album work is that wide range of artists and the cohesion that still persists. That being said, what was the writing process like?
Isaac: We did two things. One: We had a songwriting contest, which had about 300 submissions and helped get the ideas out there. The other thing we did was three songwriting retreats. We would take two or three days to discuss the concepts and just write. Doing it that way made it both organic and highly relational in nature.
JFH (Mason): Is that also the thinking for making the album completely live?
Isaac: Yes, it absolutely was. Instead of making a studio record, we actually taught the songs to everyone in the room, let them add their influence to the songs, and basically just recorded these actual worship services and released them. All of the songs were recorded with a whole congregation gathered in that chapel together.
JFH (Mason): Were there any complications with that kind of recording process then?
Isaac: I mean, we embraced those complications; we embraced the fact that it was going to sound live. Coming from an orchestration background, my impulse is to make things sound big, but doing this record live made us reel it in a bit. It made us ask, "What do people really have at their disposal for Sunday morning worship?" That's why it's mostly about vocals, harmonies, and trying to use limited instruments well. I think that the record still sounds pretty full, but it is pretty minimalist. It made the logistics easier, but it also made things more relatable for worship leaders
JFH (Mason): Why did you decide to place such a heavy emphasis on the theme of vocation?
Isaac: Vocation is one of the areas of the Christian life that is being assaulted. It's a part that we don't have much of a theology for, which is why it's not being reflected in our songs. In some ways, it would have been useful for us to begin with a self-titled theme-less collection of hymns since there's already a lot to explain about the project itself *laughs*. But for a variety of reasons, this theme made a lot of sense to tackle head-on, and I see this as a ten-year project for sure, so we'll have time to explain it all.
JFH (Mason): There's definitely an emphasis on Christianity as a community here. Some may critique this effort as not directly addressing or conversing with God enough, as most mainstream worship does. How would you respond to that idea?
Isaac: I think most of these songs are prayers, so I think that comment has more to do with the prevalence of "leaving your life at the door" and having a spiritual experience on Sundays. Those of us who work in pastoral ministry know that that idea is violent towards our congregants. That's saying, "We don't take your life seriously. We don't take six days of your week seriously; what we do take seriously is you having a spiritual experience with us." Instead of that, we'd rather have our worship leaders say, "Bring your life experience to Jesus," and I think that's what these songs are. Let's talk about what your work life looks like, what it means to bring that to Jesus, and let's sing Jesus' words back through these songs.
JFH (Mason): I think this might connect with an issue in the general worship music industry. Most mainstream worship seems pretty isolated from the rest of life and often comes across as musically uninteresting. Do you have any thoughts on how worship music can or should change?
Isaac: I have a complicated relationship with this question. I know plenty of great people involved in the industry as a worship leader myself. I think the question shouldn't be what's wrong with the worship industry, but how can our worship be more beautiful and biblical? And I think that starts with the Person of Jesus. Asking and answering basic questions about who He is and who He came to serve while looking at your church's Sunday song selections and figuring out where the holes are will open up some pretty beautiful conversations.
JFH (Mason): With Work Songs, do you have any specific goals for the album?
Isaac: I definitely hope that people use these songs in their congregations. Within a couple weeks, we are going to release print materials that are basically suggestions on how churches can better celebrate vocation. It's very much aimed at better equipping the Church. We hope that people will, perhaps for the very first time, ask how we can better see and honor people in their vocations, bring that into worship, and take that back into their work.
JFH (Mason): It's pretty noticeable and exciting that this project is labeled Volume 1. Do you have any concrete plans for future releases?
Isaac: Yeah, I intend for us to start writing for the next volume, which will be about in community, starting in January. We'll hopefully record it around this time next year and maybe release it in January 2019.
The Porter's Gate's latest album, Work Songs: The Porter's Gate Worship Project, Vol 1 is available now wherever music is sold!

Click here All News Headlines
|

RSS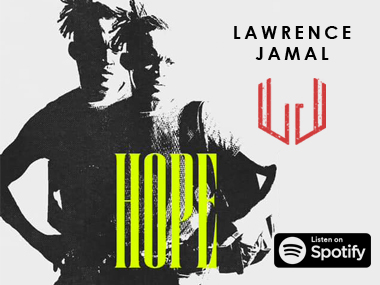 ---
---
---
---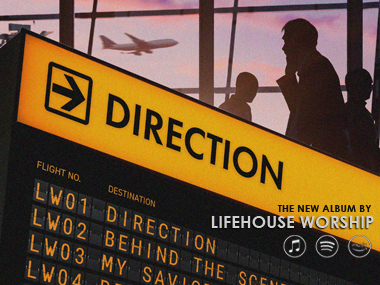 ---
---
---
---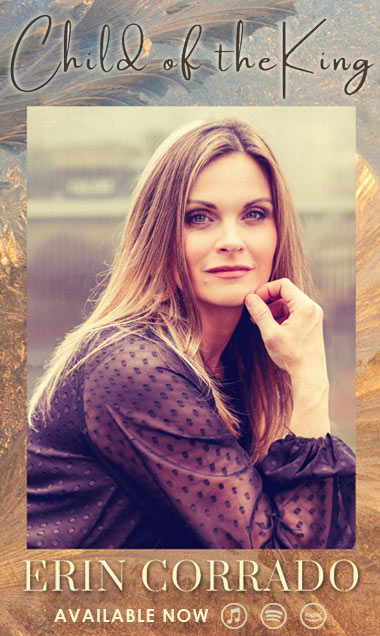 ---