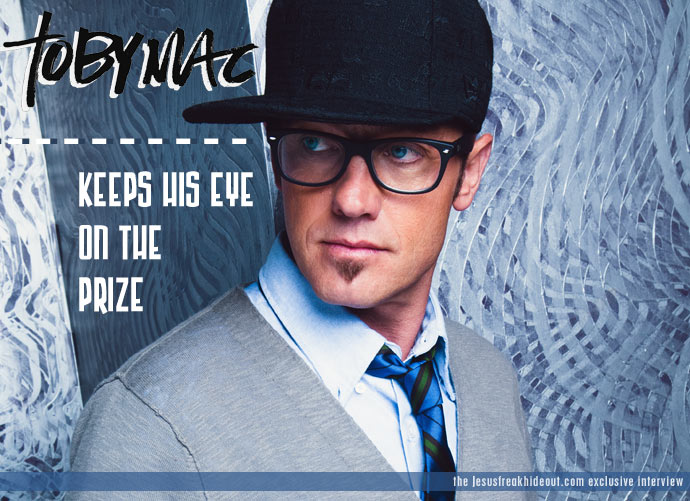 TobyMac
's latest album
Eye On It
shot to the top of the Billboard charts in the U.S. the week it released, breaking records for a Christian artist. JesusfreakHideout.com sat down with TobyMac just before his performance at Uprise Festival in Shippensburg, PA, to talk about the album, its success, and to set some records straight...
This interview took place on: 9/15/12.
JFH (John DiBiase): Congratulations on your number one spot on Billboard for street week. I think that's amazing!
TobyMac: Thank you. Yeah, unexpected to me, for sure! You and I know there are a lot of culminating factors--who else released that week, etc--but I guess it doesn't really matter. It is good. I really was planning a very modest week. I really worked hard on this record, I poured everything into it, but I feel like the market's a little soft. Records don't sell the first week like they used to. So I said, "Y'know, we'll see what happens!" And I [made the record] in two and a half years instead of three, which breaks my mold from the beginning of dc Talk to today. I actually did it six months earlier than I've ever put out a record. So, all that considered, I was like, "Eh, who knows what's going to happen?" But it's an honor, man!
JFH (John): So with that and the fact that Lecrae reached number 3 [on Billboard] this week, what do you think that says about Christian music in the mainstream? Or is it just timing?
TobyMac: No, I think -- we're talking about moving over 70,000 units. That's a lot of units for anybody. Sure there are groups that put out a record and they sell 150,000 units the first week, but for anyone, that will get your attention. I dunno, I think it says, first of all, that there are people that want it. There are people who want to fill their mind and hearts with something wholesome. Something that inspires them about their walk with God. And about Lecrae--I could talk about his thing all day because it's just so exciting to me. I've wanted that movement forever. We got it going pretty good [with Gotee Records] with Grits and Out of Eden and just black culture in CCM to give us something amazing. But with Lecrae, there's something really cool going on there. I love the fact that a lot of the articles in mainstream are saying, 'First there's this TobyMac guy who's been doing this thing a long time and then there's this Lecrae guy who's getting all this mad respect in general market hip hop,' but somehow or another the fact that we're coupled together makes me feel good. Y'know, I've been doing it a while, he's been doing it a shorter time, but the fact that it's hip hop and I've been trying to break hip hop here for a long time...
JFH (John): It's gotten so much better.
TobyMac: Yeah, I mean, there's been good moments. I think Grits is undoubtable.
JFH (John): Oh, yeah! They definitely helped pave the way.
TobyMac: Yeah. But Lecrae definitely grabbed the baton and is in full sprint. I was glad to have him on my record and the timing was good. ["Forgiveness" is] probably one of my favorite songs on the record for sure. I want to say my favorite, but--
JFH (John): Yeah, it's got a dc Talk feel to it I think.
TobyMac: Oh, yeah?
JFH (John): I think it's got a little old school feel to it.
TobyMac: Maybe "Socially Acceptable" kind of vibe?
JFH (John): Yeah, maybe a little bit, yeah. I like that. *laughs*
TobyMac: You can't do a song and it not have a dc Talk feel to it. We did every style of music possible! *laughs* Whether it's four on the floor, "Say The Words," remix, or-- *laughs*
JFH (John): There's a song on Eye On It that I'd say doesn't sound like a dc Talk song. It might be "Thankful For You" or even "Made For Me."
TobyMac: Yeah, that's true. "Made For Me" has kinda got a little island thing. "Thankful" is funk rock. It's got that American funk feel, like Grand Funk Railroad or Creedance Clearwater Revival, y'know, African American girls singing the chorus with me -- that whole vibe of that. Gabe's all over the track and Nirva's on it. I like that, it's like good times funk. It's like past the disco era into mixing rock with groove. There's something cool about that.
JFH (John): Besides doing the record in a shorter amount of time than previous albums, did you approach this record any differently?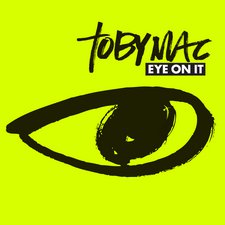 TobyMac: No, I think I just really tried to write songs about what I've been going through, whether good, bad or ugly. The things I'm going through, the joy that I have, the passion, the times when the ugly side comes out, and just write about 'em. Things my friends are going through if I'm involved in it, and I take those thoughts and I really begin to write melodies and lyrics at the same time; no music. That's just how I've always done it, even [back in the days of dc Talk]. I mean, "Just Between You and Me" was written with no music; I just wrote the melody. That's how I write a lot. So I try to grab the emotion of what's being said, whether it's "It starts tonight!" or whether it's *singing* "Tonight's the night," and I just try to write a melody that supports what I'm trying to get across and how I would say it. You would expect on a song like "City On Our Knees" for there to be this promising, warm melody. You would expect "It starts tonight," the dedication, the passionate cry, to be intense. So I really write melodies, which is a little weird for most people. Cuz I'll walk in the studio, not every time, but a lot of times, and I'll say, "OK, let's go, here's the melody," and the dude just gets on the guitar or keyboard and starts chording this melody I've written. And he might tweak it some, I'm not taking any credit or whatever, but the emotion of the song is already "packaged," sort of. And it's based on what is being said based on what I'm going through.
JFH (John): So you have a writing team as far as pulling the songs together?
TobyMac: Yeah, I mean, they're producers, usually. I write a lot with Cary Barlowe. He doesn't produce, but he and I will write just with guitar. Or Cary and Jamie Moore. Obviously, I'll write a lot with my producers - Davy Garcia, Chris Stevens, Dave Wyatt, Jamie Moore produced on this one. So, most times I'm in [the studio] with one person. A lot of times, it's just me and a person--a producer, a songwriter--just going at it: challenging each other, pushing each other.
JFH (John): You feel more comfortable with collaboration?
TobyMac: I need a collaborator. I think that's one of the things that I'm more comfortable with than ever before is I'm very aware of my need. I'm very aware of needing to collaborate with people. If you look at my history, I've never been a one-man show. From dc Talk to today, I need people and it's more fun that way. I'm glad that God didn't say, "Alright, you're going to be an amazing guitar player or an amazing pianist," because then I think I would try to do it on my own, and I don't think it would be as interesting or as fun. Sometimes people ask me, "Is it different doing it as TobyMac as it was with dc Talk?" and I'm like, "Of course it is." I mean, the three of us [in dc Talk] packed up a U-Haul, left college campus and moved down to Nashville and said, "Let's make a go of this." There's nothing more vulnerable than that; just being raw, barely scraping by the first three years making a living. People act like we just shot to the top. I know all three of us made under $12,000 our first three years doing it. *laughter* We were barely making rent, just like a lot of people! But we were together and had a vision and seeing cause and effect of climbing this mountain together. There was something really special about that. But, it's interesting cuz if you look around me, it's the same people you saw with me ten years ago. Well, Barry Graul moved to MercyMe and Tim stepped in seven years ago, and Shonlock is doing his thing -- which, of course, I'm elated for him, like a proud uncle or something. *laughs* But it's not like we didn't have a vision here, otherwise there's no way we could stay together. So we are also climbing a mountain -- me and Diverse City. And I think that God wired me for showing me something and me sharing it with people and moving together and appreciating people's roles and not acting like it's all about me, cuz I'm very aware that it's not! I'm just so aware of my shortcomings and my weaknesses and so aware that God has given me all these great people to work with and cover me.
JFH (John): With a title like Eye On It, and that song and "Unstoppable" and "Thankful for You," there's kind of a retrospective to this record? Would you say, in a way, you're kind of encouraging yourself [to press on]?
TobyMac: *laughs* That's interesting. I'm kind of looking back a little bit and feeling blessed. I'm looking back a little and appreciating and remaining thankful on this journey as I look back, but at the same time, yeah, I think maybe "Eye On It" and stuff like that is saying I forge on with this calling.
JFH (John): But you're also passing those anthems on to us as listeners, y'know what I mean?
TobyMac: Yeah, there is a determination in this record that I like. Even though it's a very different than, say, Momentum. It's very different, sonically. But I hear the determination in this record that I hear in Momentum. Like, "It's on. It's time. Let's go. I'm determined!" Because of the sense of calling. It's not because Toby is determined, it's because the sense of the calling is so clear to me.
JFH (John): But you're leading a charge, too.
TobyMac: Yeah. But just not letting up.
JFH (John): And it's easy to let up. I've had friends over the years who were SO on fire and then they just go completely the other way...
TobyMac: So, yeah, in that regard, I think maybe you're on to something there. I think you have to remind yourself to be determined. *laughs* To not let up. To keep your eye on it!
JFH (John): OK, I've got a weird question. And it's only because I've been getting this from some readers for some time. Between -- and I know this was a Soul-Junk cover song -- but between "Ill-M-I" from Welcome To Diverse City and then the eye graphic on the cover of Eye On It, some people have made some accusations about you and the Illuminati. We know you have nothing to do with it, but can you just set the record straight for those folks?
TobyMac: Yeah, that's a pretty easy one. I don't even know enough about the Illuminati. I know I'm a follower of Jesus Christ and I don't even know enough about that to comment, other than the fact that the eye on the album cover is simple. The title of the record's Eye On It, so I'm staying focused on what matters to me: building God's kingdom. The "Ill-M-I" song, that was a Soul-Junk song, as you know. And I talked to Glenn [Galaxy] a lot before I put that song on the record, because I wanted to know exactly what he was talking about. It's the only song I've really ever covered. I mean, I've done choruses of songs. I've never done a straight cover, but I loved that song, so much as the feel of it. I love the hip hop of it; it's just raw hip hop. But I think what people don't realize is it's a song where you're saying "ill am I," meaning "broken am I," "and you, illuminati coming through" and what Glenn told me was "look it up in the dictionary." So I looked up 'illuminati;' there are several, several definitions, but one of them is "superior spiritual enlightment." So, it really is talking to Pharisees. So it's saying, "ill am I," "broken am I," "and you, illuminati coming through," you're spiritually enlightened, you have it all together. But I don't even know enough about the Illuminati. Why would I? It has nothing to do with me or my world or following my Jesus or raising my kids and loving my wife.
JFH (John): Yeah, totally. One last question: you think you'd ever do a TobyMac, Newsboys, Audio Adrenaline tour?
TobyMac: You never know.
TobyMac's latest album, Eye On It is available now wherever music is sold!