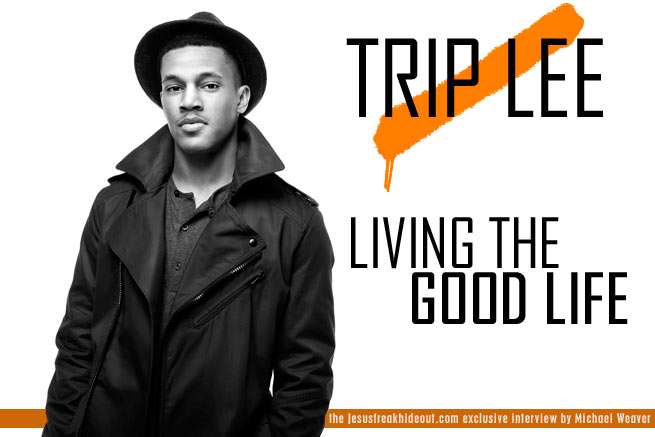 Jesusfreakhideout.com's Michael Weaver recently chatted with Reach Records rapper Trip Lee about his new album,
The Good Life
, the Man Up campaign, and pending fatherhood...
This interview took place on: April 2, 2012.
Jesus freak Hideout (Michael Weaver): I just want to talk a little about the album to start with. Can you tell me what The Good Life is all about?
Trip Lee: The Good Life is my fourth album and it comes out April 10th. What I wanted to do with this album was [I know all of us have an idea of what we think the good life is] to challenge the lies of what we've been taught about what the good life is. I wanted to challenge those and I wanted to paint a new picture of the good life; you know, believe in God and embrace all that He has for us in Christ. There are songs where I talk about being free from living a life of lies --s ongs like "I'm Good" that talk about a being anchored in Christ. You know, 'You take my money or even my life' and those kind of songs to kinda illustrate a new picture of "the good life."
JFH (Michael): Being that I'm a Florida guy, and Lecrae mentions him in "I'm Good," I gotta ask you... Are you a Tim Tebow fan?
Trip: *laughs* I am a Tebow fan, man. I really like Tebow. I really enjoyed watching him with the Broncos last year; he had me on the edge of my seat with those games. I'm excited to kinda see what happens with him in New York and see what they do with him. But yeah, I am a Tebow fan.
JFH (Michael): Yeah, I like the fact that you see someone who's out in the secular media all of the time and he refuses to back down from his stance and his beliefs. It's good and refreshing to see that.
Trip: Yeah, absolutely; it's very encouraging. I actually have an event that I'm doing with him in a couple of weeks. I'm looking forward to that.
JFH (Michael): What's that called?
Trip: Rock the Desert. It's a new festival and I guess he's the speaker for the event, and I'll be doing a concert along with some other people…
JFH (Michael): That sounds good; I'll look into that. One song I thought was interesting was "iLove." Is that song circling around maybe a personal struggle you have [or have had], or is that just something you've taken in general from today's society and people's addiction to technology?
Trip: When I think about my cell, I think about my own struggle to make sure that I'm not, you know, controlled by my technology or my iPhone specifically. It's easy to just fill up every little open moment of your day with looking at Twitter and looking at e-mail, looking at whatever. It was something that was personal that I know is a struggle and I think it's a struggle for a lot of us being that so much is so accessible through our phone.
JFH (Michael): Yeah, man. You can get whatever you want to. Like you said, Twitter, Facebook, sports scores, or anything like that; it's all right there. I find the same thing where I have trouble. I keep, "Let me look this up," "let me look that up," or "let me check this" and the next thing I know my battery is dead. I get it.
Trip: Yeah.
JFH (Michael): Moving on about another song... I think the song is phenomenal and it's my favorite one: "One Sixteen." Just kind of curious… Why the choice to go with KB and Andy [Mineo] versus some of the bigger names, so to speak, in the 116 Clique, like Lecrae and Tedashii? I think you made a great choice with the end product, but just curious what your thought was going into it.
Trip: I chose to have them two on it because: one, I've done 116 songs with everybody else in the crew and these are two newer guys and, you know, we're all three young dudes around the same age. I just thought it would be a cool way to collaborate with us three. It would be the first time I've had them on my albums, so I thought it would be a cool way to do that and they both did a phenomenal job, so I was real pleased with how the song came out.
JFH (Michael): I agree with that. I was excited to see a song that was actually about what 116 is all about and to actually hear the finished product was well worth it.
Trip: Yeah.
JFH (Michael): It seems like "Heart Problem" was maybe a response to some kind of negative feedback you've gotten to something like "Cash or Christ" or one of your other songs. I like how you were able to respond to it with an answer based out of scripture. Is this something that's been on your heart, been on your mind, for a little while?
Trip: Well, yeah. When I think about the good life, over the years hip-hop culture has had such a strong glorification of stuff and money; we've spoken strongly against that. And I know some people have taken that to mean that we think money is bad. What I wanted to do with that song is to take three things like money, sex, and power… Three things that we know can be abused and are usually apart of some of the false things of the good life, but these are actually good gifts from God. Money, sex, and power are good gifts from God. The problem is not those things. The problem is actually in our heart, because instead of using those things for God's glory, we end up worshipping them and making our whole lives about those things. So, I think it's better if we think about it more biblically that way. And think, you know, the main problem is our hearts and if we would trust Jesus, He would give us a new heart and we can begin to use those things the way we were meant to use them for His glory.
JFH (Michael): I agree with you there. It's like you say in the song, "The gift and the Giver are good." It's the Giver that gives everything to you, so He has to come first.
Trip: Absolutely.
JFH (Michael): You already mentioned about KB and Andy and how you hadn't had them on your album before. It seems like you started collaborating with a lot of people you haven't before on your own albums. Were you just looking to do something new, or were you just trying to give listeners something different overall in your sound?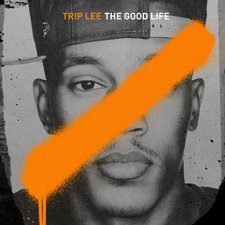 Trip: That's mainly it. I don't want to give people the same kind of album time and time again so it's good to switch up the kind of people that I'm working with and even get some [artists] that people don't know as well more of a platform to do their thing. Anybody that I do something with is somebody that I'm supportive of their ministry. It's always good to give them a platform and point the people who listen to me their way as well.
JFH (Michael): Talking about collaborations. The chorus on "War"… Is that a sample from something else, or if it's not, who's singing that?
Trip: Yes, it is a sample from something else and I cannot remember the name of the song off the top of my head. Sorry about that, but yeah it is… It's a sample from something else.
JFH (Michael): Again, continuing on the question about collaborations. I've listened to a lot of hip-hop albums lately and it seems like it's become a trend to pick out a pop artist or a contemporary artist to collaborate with. Quite honestly, a lot of them don't seem to pan out, but Jimmy Needham's got this soulful sounding voice that seems to fit right in. What drew you to Jimmy?
Trip: Me and Jimmy… We've been friends for a while. I met him a couple of years ago because I liked his music, reached out, we started to build a relationship, and that song "Take Me There" is one of many times me and him have collaborated. We did stuff on each other's last albums and he did this one and I gotta joint on one of his new projects. He's a good friend of mine, man. A like-minded dude who I'm grateful for. I love his music and I love his heart. And, yeah, I love his sound because he has a cool, kinda soulful, thing going on.
JFH (Michael): Yeah. I haven't paid much attention to him, but that song has got me looking into him.
Trip: Yeah, yeah. He's a good artist.
JFH (Michael): Alright, kind of a question about the industry… It seems like rap and hip-hop artists are pretty much the most prolific writers out there and everyone seems to be dropping a new album like every year. It's been two years since Between Two Worlds and that's kind of what you've been on: a two year clip. Do you ever feel any kind of pressure to push something out faster or are you just comfortable with what you got?
Trip: No, I don't feel pressure to put stuff out quicker, man. I usually kinda know when it's about time to start working on new stuff. When I have stuff I wanna say and the time looks right, I talk to Reach [Records] and put 'em out, but I never feel pressure to put stuff out. I usually have to hold myself back from trying to put stuff out, particularly just to let the stuff that I've already put out, to let people, you know, marinate on that and let that do work and continue to push that before putting more stuff out. So, I don't feel pressure, no. I'm always excited to put new stuff out.
JFH (Michael): That's good. I'm a big proponent of quality over quantity. Sometimes it's better to wait and kind of think about it and really put out something that's on your heart versus something that you just put out that kind of sounded good.
Trip: Absolutely.
JFH (Michael): Getting away from the album a little bit. Can you tell our readers a little bit about "Man Up" and what it's like to be a part of that movement?
Trip: We at Reach Records, we noticed that there is a crisis of manhood, where most young men just don't know what is actually means to be men. Of course, we don't think that we have all of the answers, but we know what God in His word has told us what it looks like for us to be men. So, we wanted to address that crisis and we wanted to do a campaign around biblical manhood. So, we did a short film about it and we did a soundtrack for the short film, a short album, Man Up, with everybody on the Reach Records label. We did a concert series last year and we're doing a conference for it April 13th and 14th in Atlanta. We're just talking about the major things that relate to manhood. So, we're just praying that God would use us to raise up Godly men who glorify Him in the world.
JFH (Michael): Once I started really getting into what that was about, I was really interested in it and started doing a lot of looking; loved the soundtrack.
Trip: Thanks.
JFH (Michael): Is this conference something you think might start doing every year, or is it just something you're going to put on for right now and see where it goes?
Trip: Well, this conference is kind of the climax of this Man Up campaign that we've been doing for the past couple of years. We're not going to stop trying to point to what it means to be a man in our music, but I don't think we'll do another Man Up conference. You know, we never know what the Lord may lead us to do, but at this point we think this will be the only Man Up conference we'll do; but not the only conference we'll do. We plan on trying to start doing conference stuff.
JFH (Michael): Can you tell our readers what God has put on your heart lately, what's He been teaching you? Anything in particular?
Trip: Right now, one of the things that's really been on my heart is I've been married for three years and I have a son on the way, and one of the main things that I've been thinking about a lot lately is what's it going to mean for me to be a good father. The Lord's been teaching me a lot of things about who He's been as a Father to me and how gracious He's been and how patient He's been, how caring He's been, how attentive He's been, you know? He knows every hair that's on my head. He's cared for me so well and He's been so patient with me when I've been slow to grow and slow to obey Him. I've been so grateful for that. One of the things He's been teaching me a lot about is how good of a Father He's been to me and my prayer is that I can in some ways resemble the kind of father that's He's shown me.
JFH (Michael): I have a four-year-old myself, so it's a new world.
Trip: Yeah. *laughs*
JFH (Michael): You're looking to a good example I think.
Trip: Yeah, absolutely. I'm very excited.
JFH (Michael): You'll enjoy it. Any last thoughts you want to leave with our readers?
Trip: Last thoughts? More than anything, I think the main push for me during this time is encouraging people to look beyond the stuff that's right in front of our faces sometimes and to look to what God has said in His word, you know? Believing in God is gonna be the key to us living the kind of life we were made to live. That's how we lost it in the first place: Adam and Eve believed over God. I wanna encourage people to believe God and that's my album, The Good Life. It's really just trying to point people towards [God].
Trip Lee's new album The Good Life is available now on Reach Records!