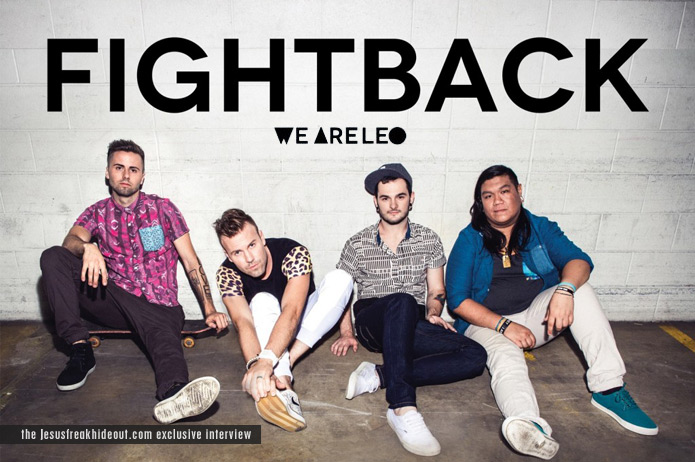 With the release of their label debut,
Fightback Soundtrack
, We Are Leo's vocalist David Duffield caught up with Jesusfreakhideout.com to talk about the new album, their favorite kinds of music, and working with Skillet's ex-guitarist Ben Kasica...
This interview took place on: 10/30/14.
JFH (John DiBiase): So, introduce yourselves to those who haven't heard of "We Are Leo" before -- what does the name mean?
David Duffield: Leo is Latin for lion: our name is all about our aspiration to be Lionhearted and our journey to overcome fears and live by faith as God's love makes us brave.
JFH (John): What first got you interested in music?
David: My parents have this picture of me--I must have been like a year old--and I was lying on the floor in a diaper with these huge studio headphones on and the biggest smile you've ever seen. So I guess I've been into music for as long as I can remember. Listening to great songs has always made me feel like I could fly.
JFH (John): How did you get connected with the DREAM Records family?
David: I had heard good things about DREAM from our radio promoter. Then, one day, I was talking to the guys from Indie Vision Music and they were asking what our label situation was... They were friends with DREAM and they ended up passing my number to DREAM who called me like 15 min later. We felt like DREAM really understood what we do with music and message and that working with DREAM could really help us get our music out.
JFH (John): One time we saw you at Uprise Fest, you covered a DC Talk song. Did you guys grow up listening to Christian music?
David: Haha, yes we sure did. Well, technically, it was a We Are Leo cover of a DC Talk cover of a Doobie Brothers song. LOL! But, yeah--when we were little, we listened to a lot of DC Talk & Newsboys. As a teenager, I got into Common Children, Switchfoot, & Skillet. We like to throw it back and keep things interesting on stage, especially if you're a newer band that people haven't heard of.
JFH (John): What do you feel like you learned from making your first project, "Hello" that helped shape your new album?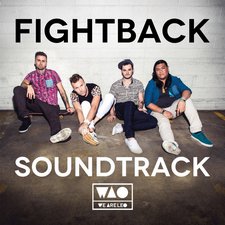 David: Great question. Working with Ben Kasica, who produced Hello, was an incredible experience. I learned so much about the way work-flow should be: organization in the studio, the "to-do" lists, if you will, of how to build a song and put the puzzle pieces together. Also, I learned a ton of stuff about how to add texture and layers, which kinds synth or guitar parts work and what to do to really make them shine. A lot of times, I'll start with a really basic idea riff or chord progression, having been thru the process of making Hello, I think, helps you learn to trust yourself cause you've been thru that unknown, like the not knowing how it will turn out, but you start to trust yourself that if you've got the first part of an idea, the rest of it will make it into your head eventually.

Ben really attacks things. I mean, like, he's not afraid to just dive in and give a song a try. I think before working with Ben, I often struggled to find a starting place for songs. But I think I learned how to just get a song up and running and then "fix it" once we have a rough lay-out.

The other thing is like, now that we know how people have responded to our songs from our first record, it's easier to trust yourself. Cause, like, if I like myself and can be passionate about a sound or an idea, I know that most of our fans can get behind it and have that same kind of emotional reaction to it as I do.
JFH (John): What was the inspiration behind your album? Tell us about the title "Fightback Soundtrack." What are some of your favorite and most inspiring "fight back" moments in films that your album could be a soundtrack for?
David: Fightback Soundtrack is like a metaphor for the song that's in our hearts & playing in our heads, reminding us to be courageous, reminding us to keep our heads up, cause God's true love is surrounding us even when we can't see it or feel it. And yeah, there are some film & cinema references. I think it's about the realization that our lives are part of a bigger story and we can play an active part in fighting to put right what's wrong with the world, injustice, darkness, the lies that keep people locked in depression and fear and insecurity the lies that keep people to scared to step and who they were born to be.
JFH (John): What song on Fightback Soundtrack was the most challenging to write and record?
David: Well, I will say "Epic" was the easiest. Um, "Fightback Soundtrack" and "Northern Lights" we're the most challenging lyrically. I did probably 20 or 30 pages of notes for "Fightback" trying to figure out what I wanted to say on the verses. I was really trying to tell a meaningful story that sounded fresh and really expressed my heart. Musically, it normally flows pretty quick to get the structure and then it's just a matter of sitting down and taking the time to polish the song and make it shine and really feel good. "Yours4Sure" was like this giant saga. I wrote this awesome hook, and took it into practice and Doug was like "I love it, what's the chorus?" and so we changed what I thought was a chorus to be the verse. But then we had to try and come up with a new part to be the chorus. We ended up recording it and then not being pleased with the new chorus, so then we wrote another chorus that finally worked, but it was in a different key, so we had to go back and re-record it. It was exhausting, but the end product was what we wanted.
JFH (John): Your sound is very electronic-based. What artists inspire you most musically?
David: I think its gonna be different for each band member; our record was a really good mix off all the creative minds involved. For me it's LIGHTS!, The Pyschedelic Furs, The Cure, Angels & Airwaves, Owl City & current top 40 stuff, EDM stuff, any original New Wave from the 80's and all this indie New Wave stuff that's coming out now.
JFH (John): Favorite song on your album? (Or one that's especially personal to you?)
David: If I'm in the mood to rock, I'm playing "Yours4sure" or "Epic." Most meaningful: Props "Fightback Soundtrack," "Diamonds in the Dark" or "Phoenix." On repeat most: "Amnesia" and "Northern Lights." Late night drives, thinking thru life, or super chill: "Until Forever."
JFH (John): What has God been teaching you lately?
David: Right emotions follow right choices. If you wanna walk on water, you have to step outta the boat. Life is often about childlike faith.
JFH (John): Name 5 to 10 artists who absolutely HAVE to be on a playlist you'd make for your own listening pleasure. And, if you're really up to it, feel free to name specific songs.
David: When I don't have Fightback Soundtrack in the CD player, I put in Fading West by Switchfoot. My fave Christian Artists are Switchfoot ("Slipping Away," "Saltwater Heart), Hillsong Young and Free ("Alive," "In Sync"--not to be confused with N-Sync LOL), Family Force 5 ("Sweep the Leg," "BZRK," "Glow in the Dark"), Rapture Ruckus ("Everybody Get Up"), Britt Nicole ("The Sun is Rising," "Ready or Not"), Owl City, SKILLET, & Shonlock ("We Walk on Water"). Also, I like to listen to eclectic mixes for different moods (work-out, hipster, chill, worship, 80s) that I put together on my iPhone.
We Are Leo's latest album, Fightback Soundtrack is available now wherever music is sold!

Click here All News Headlines
|

RSS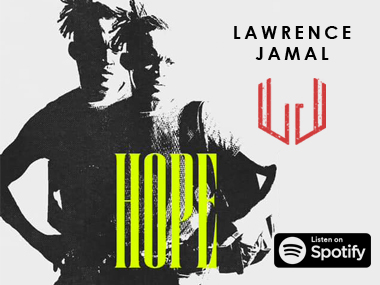 ---
---
---
---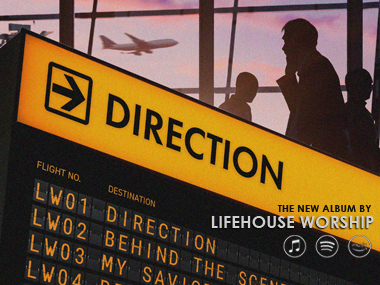 ---
---
---
---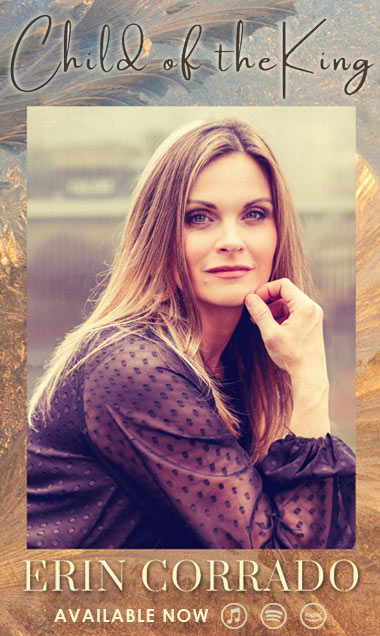 ---