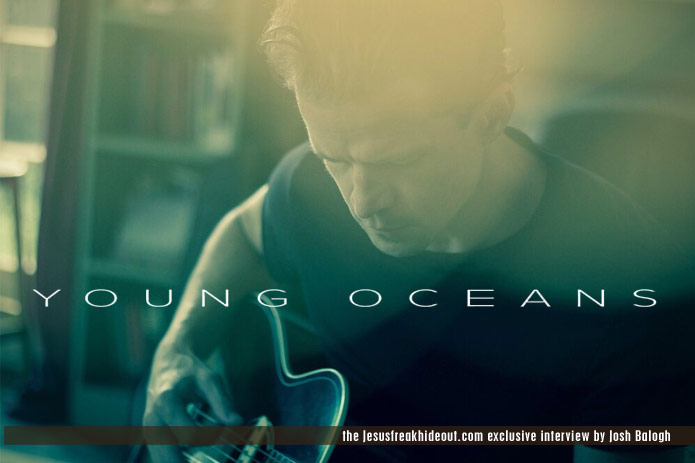 With the release of
Young Oceans
' latest project,
You Are Fullness
, just a couple weeks away, JFH's Josh Balogh chatted with Young Ocean's frontman Eric Marshall about the new album, the band's evolution, and more...
This interview took place in December, 2020
Click here
for Young Oceans' Artist Profile page.
JFH (Josh Balogh): What have been the highs and lows of the evolution of Young Oceans these past seven years?
Eric Marshall: Well, the lows always seem to come right when we're about to record a record. The week we went in to make our Advent record years ago, Hurricane Sandy hit New York and knocked the city on its heels for weeks and weeks. We recorded that whole record without heat in the building. During the first week of tracking I Must Find You, we got news that my wife's mother had died unexpectedly which set the whole album on a different course. This year, we were set to track You Are Fullness the week after the whole world shut down for COVID-19 and had to scrap the whole session. So, we've gotten used to working under less than ideal conditions. But, the highs have come in the midst of all that. There's something about this music and the process of making it that is resonating with people. For me, it's always a highlight to learn that even one person is touched by the art we're making.
JFH (Josh): Were there any unexpected obstacles to overcome in the recording of this project?
Eric: I had planned to make this new album the most 'live' recording to date. So, when we learned that the COVID lockdown was gonna keep us all from traveling, let alone making a record in the same studio together, it was quite a surprise. But, I'm so glad we went forward with it. We ended up recording all the parts remotely, spread out over the country. And I think we got something unique in the process.
JFH (Josh): What was the inspiration for the theme of this album?
Eric: The phrase 'You Are Fullness' is taken from St. Augustine's Confessions. Each of these new songs is an intimate prayer. In the past, I've created something more like concept albums, where each song plays its small part in the larger arc. But this is really more of a collection of love poems, directly oriented to God.
JFH (Josh): What Scriptures and liturgies do you return to most often in your personal time with Lord, and how have they in turn shaped your music?
Eric: I am in the Psalms daily. And I'm always finding new things. Things I've not seen before. To me, there is no better source for worshippers, seekers, [and] poets. Psalm 23, 90, 139, 40, 46... sometimes even the number itself reminds me of the incredible poetry and sharpness of these ancient prayers.
JFH (Josh): Who are your musical influences and how have they shaped the sound of your music?
Eric: I listen mostly to the kind of stuff my dad grew up with, and the kind of bands and artists that live in that tradition. Some of my favorites are artists like Dylan, The Beatles, Tom Petty, Neil Young, Otis Redding, Pink Floyd. New stuff like Radiohead, Mason Jennings, Sufjan Stevens, Phoebe Bridgers. Sometimes, I put on a Beatles song and the beauty and immediacy of it makes my cry. How did they achieve that? I want to achieve that.
JFH (Josh): What makes this album different than most in the "worship" genre? Different than the other Young Oceans albums?
Eric: I don't know if it is different, but I prefer to call it 'prayer music.' The names we give things usually feel innocuous at first, but over time they take on a meaning of their own... usually different from the original intent. I've noticed that when you say the words 'worship music,' many people in the west call to mind a huge megachurch stage with fog and lights and young, beautiful, swaying people in hats. It's gotten kind of silly. So I call what I make 'prayer music.'
JFH (Josh): You're releasing several singles before releasing the You Are Fullness album... What was the thought process behind this approach?
Eric: Well, I love full-length albums. But with barrage of media we all encounter daily, it's just not feasible to drop an album without any lead up and hope that people find it, or even notice it. So I've learned to make peace with it all. It's honestly been fun to feature one song at a time and let folks marinate on it for a while.
JFH (Josh): What's the story behind the song "You Are Not Far?"
Eric: Almost two millennia ago, the apostle Paul spoke to the people of Athens, Greece. He said that, "[God] is actually not far from each one of us, for 'in Him we live and move and have our being'. He went on to declare the gospel of Jesus Christ to the people. It says that some believed and some mocked. I want to be a person that believes. And I wanted this song to be an encouragement to all people about God's nearness.
JFH (Josh): What's next for Young Oceans? For you personally?
Eric: Well, I'm writing new songs, always thinking about what's next. But who knows? We might do a VOICES Volume 2, might do another concept record. Maybe it's time to see what a pop record would sound like for Young Oceans. I'm trying to be more childlike, more free as the years stack up.
JFH (Josh): Is there anything else you would like to share with our JFH readers about your music, or you personally?
Eric: Just that it's an honor to share these little songs with folks. It's my favorite thing in the world to create and to swim in the mysteries of our Lord and Creator.
Young Oceans' latest album, You Are Fullness is available January 15, 2021 wherever music is sold!