We're happy to say that the second addition to the JfH interview archive is with the lead vocalist of one of our favorite bands, Grammatrain (may they rest in peace). Pete Stewart took the time out of his busy schedule to answer several questions for us. Be sure to check out Grammatrain's debut album, released in late '95, Lonely House & their Flying, released June 17, 1997, both on Forefront Records.




Jesus freak Hideout: What does the name "Grammatrain" mean?
Pete Stewart: It came from a poem that our drummer wrote about his grandma when she died. It was around the time the band was starting, and when he showed it to me, I thought it was really cool, so we went with it.
JFH: How would you describe your sound & why did you choose it for Grammatrain?
Pete: I really just think of us as a rock band. There's certainly elements of alternative rock in our sound, and more 70's classic rock influence. We didn't really set out with an agenda musically, we just played what was natural for the three of us to play, and what you hear is what happened.
JFH: What bands have influenced your sound?
Pete: Led Zeppelin, Rush, the Beatles, the Doors, Nirvana
JFH: Would you ever consider going into the mainstream market if you didn't have to compromise your message?
Pete: Well, we certainly wouldn't compromise our message or what we do. I think we'd be happy to have our music spread to the mainstream market, if that ever happens. We've played quite a few "secular" concerts since we started, and a lot of non-Christians have told us how much they like our band, so I think we could do fairly well. We're not worrying about whether that will or won't ever happen, though. It's not really the kind of thing you can make happen, it's gotta be God's will (and probably a little luck, too).
JFH: Where do you get the ideas for writing your songs?
Pete: I constantly think about life, and issues in my own life dealing with doubt, faith, struggle, peace, and joy. The songs are mere reflections of my own thoughts and process of growing as a Christian and human being.
JFH: Your 1st album, Lonely House is still one of my favorite CD's. You seem to cover a lot of topics on the album? Could you please explain "Sick of Will" & What influenced you to write the anti-abortion song, "Execution"?
Pete: "Sick of will" is a song about dying to human nature and sin. To me, that's a constant struggle, which is why I relate to the writings of the apostle Paul so much. With "Execution," we just decided as a group that abortion was something we wanted to take a strong stand about, and we collaborated to put that song together. It's a very graphic and harsh song, and even offensive. But, I think it's very effective to make its point.
JFH: Your latest album, Flying was just released June 17th. What goals did you have in mind when you were making this album? And where did you get the title?
Pete: The title track is a song that tells the story of the gospel in a sort of parable, children's story style. Our goal musically with this record was to write the best songs we could, and really show our diversity more with this album. Lyrically, I wanted to say something more with the songs than Lonely House may have. Lyric-writing is really an art, and I think I may have reached another level of not only expressing myself with this album, but also really having a message that's perhaps more pronounced than the last record was. I'm always trying to grow as a lyric writer and a communicator, so with "flying" that's what I wanted to do.
JFH: Do you guys have any videos planned to be made for the new record?
Pete: Yes, we're planning on doing 2 videos for this album.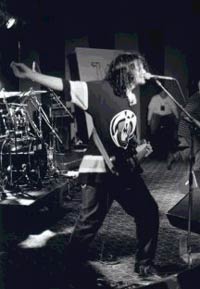 JFH: My Dad is in his forties, and Grammatrain is one of his favorite bands. Does Grammatrain's appeal to an older crowd surprise you?
Pete: Yes, it does. In some ways I understand--I've been into a lot of the same music that that age of people have been, but I've met some 40 and even 60-year old parents at shows who are practically as much into us as their kids are.
JFH: How important do you think it is for fans of Christian music to attend Christian concerts?
Pete: I think it's more important for Christian musicians to put on the best quality concerts they can, so fans will want to come. We need to do what we do in excellence.
JFH: Is a tour being planned for the new album and if so, are you touring with any other groups?
Pete: Yes, it will be this fall, and we're looking at several different bands, so I'm not allowed to say which ones yet!
JFH: What's your favorite movie?
Pete: Recently, it would be Star Trek: First Contact.
JFH: The Jesus freak Hideout site was started out of appreciation for good Christian music. We've set a goal to try to use the site to spread Christian music, as well as God's Word, & show others how great Christian music can be. Do you listen to Christian music? If so, what bands?
Pete: My favorite Christian band is poor old lu. I also love Larry Norman's records, POD, Jeremy Enigk, Soulfood 76, and Christafari. I listen to a variety of music, and Christian music is part of it. I really enjoy listening to bands that can express the gospel and/or their love for Christ in a very artistic and excellent manner. I think we're starting to see more and more really good quality christian bands arise, which I totally applaud. etc....