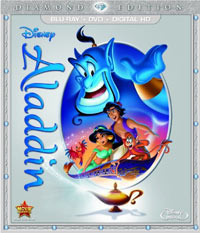 Aladdin


Director:
Ron Clements & John Musker
Starring:
voices of Robin Williams, Scott Weinger, Linda Larkin, Gilbert Gottfried, Jonathan Freeman, Frank Welker, Jim Cummings
Running Time:
1 hour, 30 minutes
Theatrical Release Date:
November 11, 1992
Blu-Ray Release Date:
October 13, 2015 (
Amazon.com
)
Plot Summary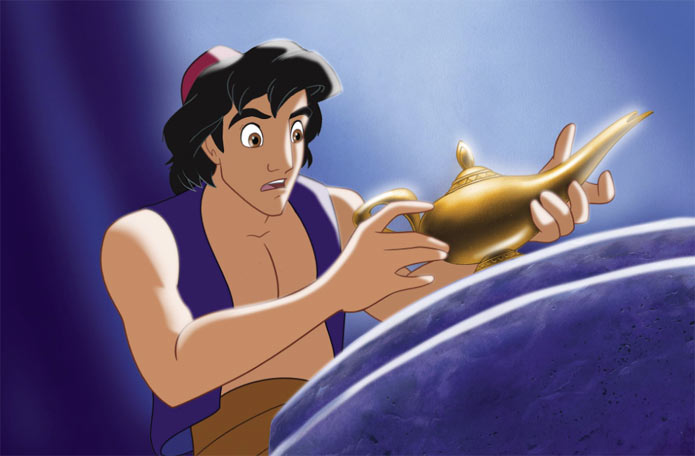 Disney's beloved masterpiece will make your heart race and your spirit soar. Experience the laughter, adventure and Academy Award®-winning music (1992: Best Music, Original Song, "A Whole New World," Original Score) for the first time on Blu-ray and Digital HD. And now Aladdin shines even brighter with never-before-seen tributes to the enchanting talent of Robin Williams, the genius behind the Genie. (from Walt Disney Pictures)
Film Review
It's been over two decades now since Disney's Aladdin hit theaters. It was during a time when--like Pixar that followed--every Disney animated feature seemed to be box office gold. The story of the Arabian peasant who finds a lamp with a magical genie and ends up going toe-to-toe with a nefarious sorcerer named Jafar, Aladdin quickly became an animated favorite for fans young and old. Personally, for some reason, Aladdin was never one of my favorites, but still, with its debut to Blu-Ray on the cinematic horizon, I decided to revisit this now-classic Disney tale.
It's common for stories to mimic or even copy each other, but one funny thing I observed while watching Aladdin again is how familiar some of the plot elements involving the character of the genie were. Then it dawned on me: A lot of the same things that happen with a hyperactive and spunky genie and two masters--one good, one bad--all happened before a mere two years earlier in Disney's own film, DuckTales the Movie: Treasure of the Lost Lamp (One of my favorites as a kid). In that film, Uncle Scrooge and his nephews find a lost lamp which contains a fun and lovable genie who is almost as crazy as Robin Williams' genie here. Furthermore, the genie expresses a deep desire to be free from his lamp, and the promise of the genie being set free is also presented. Heck, the palace is even torn from the ground and elevated into the sky in both films. I'm not sure how these two stories ended up so similar, or what the inspirations for these films were individually, but it's truly uncanny how similar the events of the two films are.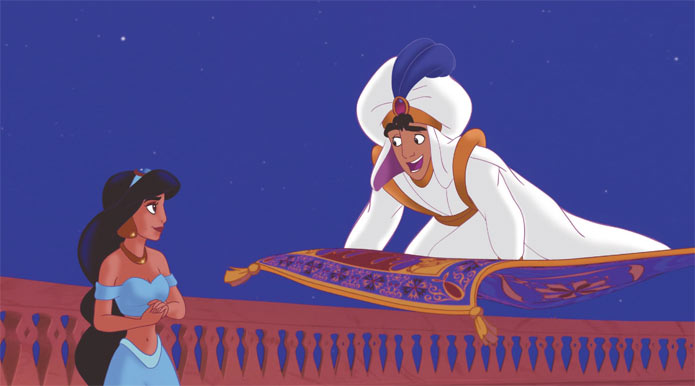 With that aside, Aladdin gets its fame from Williams' memorable and trademark spastic performance and its award-winning songs. The character of Aladdin is kind of basic (and he rivals only Tom Cruise with the toothy-grins-per-minute), and Jafar is kind of a common evil villain who just wants the magic lamp so he can rule the world. There are some certainly scary elements -- like a gigantic supernatural lion's head that speaks and swallows a thief at one point, or a large snake in the finale. Also, Jafar gets pretty scary and intense at times, and the imagery in the film gets kinda dark and ominous. If you're sensitive to sorcery or magic, this would be a film to avoid, too. The genie is a fun character and the wish-granting is also enjoyable stuff, but any scenes with Jafar and conjuring up magical stuff is kind of dark. The finale is a bit intense for younger viewers, too.
Otherwise, Aladdin is a pretty decent Disney film. It's got classic Disney animated film elements for sure, and the near-almost-all-CG magic carpet is a unique evolutionary step in animation for the studio. To think that only 3 years would go by before Pixar would debut the game-changing Toy Story (though nearly killing hand-drawn animation altogether), is surprising. It does make these films feel even more classic and old-timey, but there's such a charm to hand-drawn animation - and a warmth - that is often missing from all of the computer-generated animation.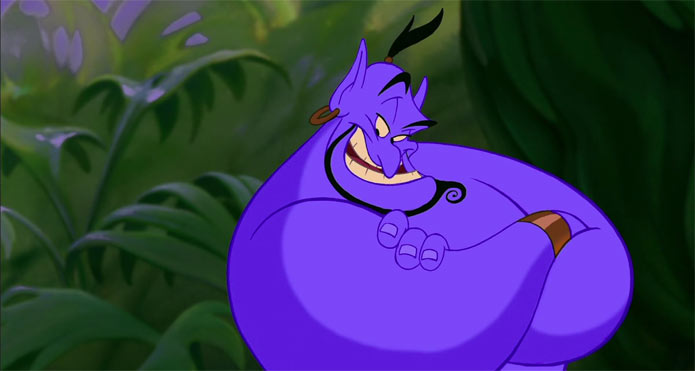 For the most part, the content isn't too rough, but there is some of the scarier stuff I mentioned to consider. I'm not sure how my 5-year-old would handle it (I'm always surprised at what he CAN handle or does like), but I think the film is surprisingly violent or creepy at times. There's a moment where Jasmine is in the marketplace and gets accused of stealing, which leads a merchant to hold her arm down on the table and threaten to cut off her hand before someone stops her. The final battle with Jafar may be too much for younger viewers, especially when he turns himself into a gigantic serpent, which Aladdin attacks with a sword, but it's the kind of big, magical action finale that many of the Disney movies have been telling and retelling for years now.
Aladdin is a modern classic Disney movie that stands the test of time, not feeling too dated or past its prime. If you like Disney movies, you probably already have seen this one, but if you haven't and typically enjoy these magical tales, Aladdin on Blu-Ray is the best way to get acquainted with this (almost) whole new world.
-
John DiBiase
(reviewed: 10/9/15)
Blu-Ray Special Features Review
Aladdin
is available in a Blu-Ray/DVD/Digital HD pack, a single-disc DVD release, and through the usual digital services. The Blu-Ray disc has a few brand new bonus features, as well as the original features from the original DVD release, while the feature film looks really crisp, colorful and vibrant in HD. The extras include:
The Genie Outtakes (8:53) - This is the real gem of this release. With the tragic passing of Robin Williams last year, the filmmakers dedicate this featurette to him. Here, they sit around and reflect on working with Robin and how much he put into his role. This features many adlibs and outtakes of lines he recorded for the Genie to speak. We then see these lines illustrated roughly in unfinished storyboard-style drawings. It's really wonderful!
Aladdin: Creating Broadway Magic (18:53) - This is a bit of a commercial for the Aladdin Broadway show that is going on right now in New York City. This featurette is a documentary focusing on how they adapted the story for Broadway. We find out here that they actually had a lot of trouble translating it to the stage. We hear from the writers, director, and even stage actors about the production. They also express a lot of excitement about putting the song "Proud of Your Boy" -- which had been cut from the feature film -- back into the production here.
Unboxing Aladdin (4:40) - Joey Bragg from Disney Channel's Liv and Maddie hosts this really goofy segment where he takes a look at some easter eggs and little trivia hidden in Aladdin. This is aimed mostly at kids, so Joey's a bit annoying here.
Genie 101 (3:59) - The voice of Aladdin, Scott Weinger, highlights the different impressions Genie makes of famous actors or characters, so if you feel a little lost (or too young) to get all of Robin's impressions in the film, Weinger helps clear things up a bit.
Ron & John: You Ain't Never Had a Friend Like Me (5:36) - The film's directors sit on a bench and reminisce about meeting each other and working together through the years.
Classic Bonus Features - The original DVD bonus features, all presented here in standard definition, include: deleted songs, deleted scenes, music videos, Disney song selection, Inside the Genie's Lamp: Guided Tour, the Genie World Tour, audio commentaries, A Diamond in the Rough: The Making of Aladdin, Alan Menkin: Musical Renaissance Man, The Art of Aladdin: Our Review with Filmmaker's Commentary, and publicity.
-
John DiBiase
,
(reviewed: 10/11/15)
Parental Guide: Content Summary

Sex/Nudity
: During a song, Aladdin falls into the arms of a very large woman who comments that he's very tasty; During a song the Genie sings, we see a bunch of dancers in two-piece belly-revealing outfits; Genie tells Aladdin, "I'm getting quite fond of you" meaning as a friend, but jokes, "not that I want to pick out curtains or anything;" Jasmine wears a two-piece, showing some cleavage.

Vulgarity/Language
: A character says "How in the he--" but is cut off before finishing the profanity.

Alcohol/Drugs
: We see wine splashed in Jafar's face.

Blood/Gore
: As a gag, the Genie decapitates himself and we see the blood-red neck on his body before he reattaches his head;

Violence
: We see Jafar summon a gigantic, mystical lion's head in the middle of the desert. It has a deep, scary voice, and as a thief approaches to try to retrieve the lamp from within it, it swallows him (presumably killing him); Iago pulls out his own feathers in anger; Aladdin is chased through the city by guys with swords and knives, swinging them at him and throwing knives at him. At one point, they run through a flock of sheep and throw them aside as they chase him; A rich man makes a move to whip some poor children who he found to be pests, but Aladdin steps in before he can. Aladdin gets thrown aside into the mud; Jasmine takes something in the market place and almost gets her arm cut off by the merchant, but Aladdin intervenes; Iago is walking on a gear, which makes it turn, but slips and spins on it and is thrown against a wall (played for laughs); The guards chase Jasmine and Aladdin and they jump out a window. They still get caught but she reveals who she is and she insists they are released; Jafar slams a door on Iago. He then kicks the bird through the door so it will fully close; We see Aladdin shackled in a dungeon. There, he meets a really creepy old man (who we then discover is just Jafar in disguise); The temple melts and falls apart after Abu touches a jewel; Jafar raises a knife to Aladdin but Abu bites his arm. They fall. The lion's head temple collapses; During a song, we see some explosions as well as Genie's head singing/talking apart from his body, as well as just his floating hands; As a gag, the Genie decapitates himself and we see the blood-red neck on his body before he reattaches his head; Aladdin is tied up and knocked out and dumped in the water (But Genie saves him); Aladdin smashes Jafar's staff. They try to arrest him and he escapes; Genie, under Jafar's control, picks up the temple as he makes Jafar sultan; We see Iago stuffing cracker's into the old sultan's mouth (in a mean-spirited way); Jafar circles Aladdin with fire and turns into a giant snake. Aladdin then fights it, stabbing with a sword; We see Jafar become a huge, red and terrifying looking evil Genie.
Disclaimer: All reviews are based solely on the opinions of the reviewer. Most reviews are rated on how the reviewer enjoyed the film overall, not exclusively on content. However, if the content really affects the reviewer's opinion and experience of the film, it will definitely affect the reviewer's overall rating.
To find out why we don't typically review R-rated movies,
click here