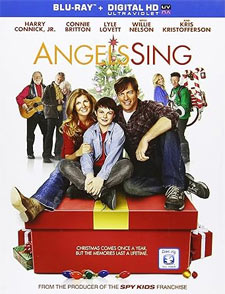 Angels Sing


- for mild thematic elements and brief language.
Director:
Tim McCanlies
Starring:
Harry Connick Jr., Connie Britton, Chandler Canterbury, Fionnula Flanagan, Lyle Lovett, Kris Kristofferson
Running Time:
1 hour, 27 minutes
Theatrical Release Date:
November 1, 2013
Blu-Ray Release Date:
December 10, 2013 (
Amazon.com
)
Official Site
Plot Summary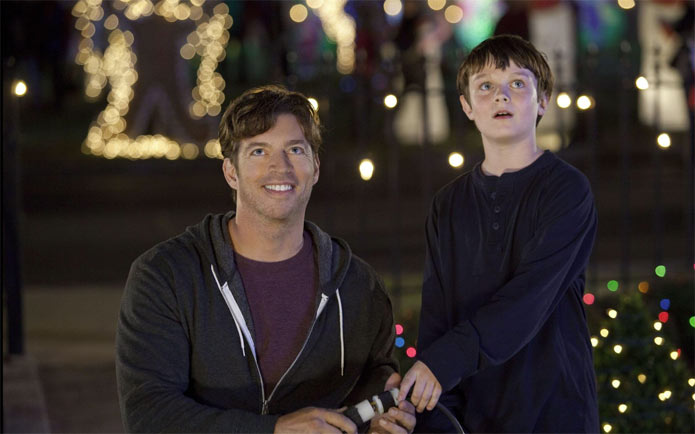 ANGELS SING tells the story of Michael Walker (Harry Connick, Jr. - Dolphin Tale) who wished every day could be Christmas …that is until a tragic accident crushed his holiday spirit. Thirty years later, Michael still can't muster any joy for the holidays, despite encouragement from his playful wife (Connie Britton - Nashville, Friday Night Lights) and well-intentioned parents (Kris Kristofferson and Fionnula Flanagan). But when his young son (Chandler Canterbury) faces a tragedy, Michael needs to make amends with his past. A mysterious man named Nick (Willie Nelson) gives Michael a gift and instills in him the courage to find the joy that he lost. (from Rogers & Cowan PR)
Film Review
I can't speak for all viewers, but when I think of Christmas movies, films like Elf, White Christmas, The Santa Clause, and A Christmas Story usually come to mind. Over the years, many films have come and gone, trying to become a new annual favorite, and many have failed miserably (Four Christmases, Surviving Christmas, Christmas with the Kranks, to name a few). Still, some Christmas films take on a more serious feel to drive home a meaningful message, and have cemented themselves as classics, like A Christmas Carol and It's A Wonderful Life. In 2013, the offbeat dramedy, Angels Sing, seems to want to be a little bit of everything for everyone but struggles to do so in the process.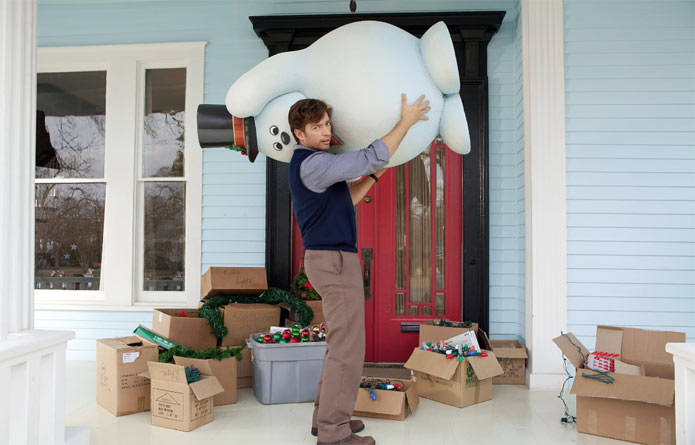 Angels Sing takes more of the Grinch/Scrooge approach to Christmas with the lead character, Michael Walker (played by Harry Connick Jr.), being a guy who has become known for hating Christmas and really wants nothing to do with the whole season. However, his wife Susan (Connie Britton) and son David (Knowing's Chandler Canterbury) feel differently about the beloved holiday. When they visit Michael's parents for Thanksgiving, they encourage him to bring the family for Christmas, but once they start singing Christmas carols together (yes, on Thanksgiving), Michael decides that he cannot bear spending another Christmas there. Just as this starts to really feel like a grumpy, fun-free Christmas movie, Michael pulls his son aside and explains just why he hates Christmas so much. When Michael was a child, he and his older brother (who is also named David) had gotten ice skates for Christmas one year and went ice skating on a frozen-over pond. As he relays the story to his son David, he explains that they had been racing, and he was actually ahead for a change, when his brother called after him to stop. Assuming it was just his brother trying to trick him out of being in the lead, he didn't heed his sibling's warning. So when his brother pulled him away from danger, David fell through the ice and was gone. At this point in the film, you realize you certainly can't blame Michael for hating the season. But what continues is an uneven and schizophrenic Christmas tale that isn't sure if it wants to be a musical, drama, or comedy. And in the end, it tries too hard to balance it all but it just fumbles and falters instead.
Shortly after this revelation, the Walkers continue the hunt for a new house to buy (which feels a bit too drawn out in the beginning of the movie), and while on a bike ride, Michael finds himself in front of a mansion in Austin, Texas. A mysterious old man named Nick (played by Willie Nelson) welcomes Michael into his house, which proves to be an absolutely gorgeous old home that is well above the Walkers' price range. Nick ends up selling the home to Michael for the amount he can afford and makes him promise to keep up with the house's, and neighborhood's, "expectations." What the Walkers don't realize is that the house they just bought is on the world famous Live Oak Lane in Austin, a street known for being a huge attraction at Christmastime. Even more shocking to Michael is the news that the house he just bought is meant to be the centerpiece of the celebrations. And this is about when Angels Sing switches to full-blown comedy for a time, as a silly montage of over-the-top neighbors begin bringing by Christmas lights and lawn decorations as house warming gifts, all while singing or performing songs on Michael's doorstep. The film then takes an even sillier turn when we see Michael trying to shove a plastic snowman through a small space into his attic and the big smile on its face briefly changes to a frown when it's out of Michael's view. At the height of Michael's Grinchy behavior, the film makes two more very sharp turns.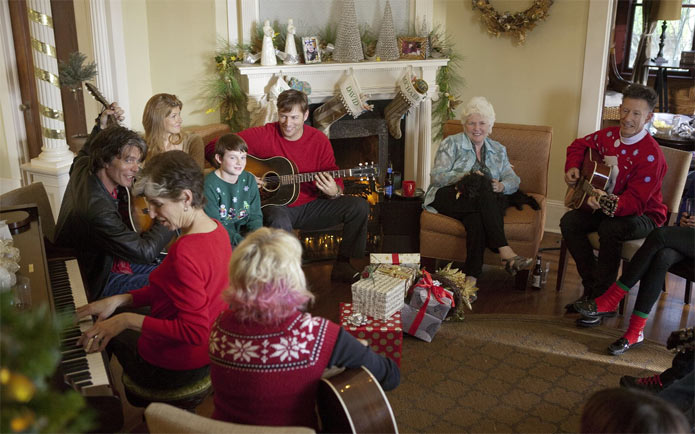 It's tough not to critique the film without delving into a spoiler that really shapes what Angels Sing is about. So, if you don't want to read about a big plot point, please skip this paragraph. Basically, Michael agrees to let his son David spend some time over at his grandparents' house to put up lights and decorate their house. After David and his grandfather (who is Michael's father, played by Kris Kristofferson) finish the lights, David begs his grandfather to let him stay until it gets dark out so he can see the lights. His grandfather reluctantly negotiates that they'll wait till dusk and then go home afterward. A scene or two later, we see a panic-stricken Susan telling Michael that there was a car accident involding David and his father and both were in critical condition. While David is unconscious, we soon find out that Michael's dad doesn't make it, and when David is on the mend, he reveals how he now hates Christmas too and blames himself for what happened his grandfather. This double-whammy of drama (from Michael struggling with losing his brother and now his father--complete with his son's overwhelming guilt) is meant to mirror what Michael went through as a child and help him move past the horrible event of losing his brother, but it begins to feel like the viewer is on the losing end of a brutal snowball fight. At this point, it's over an hour into a movie that runs less than 90 minutes and it's been more about dealing with grief and loss around the holidays than the whimsical spirit that the cover art and trailer suggest.
While it's very real for families to deal with heartache and drama around the holidays, it seems as though Angels Sing isn't the right way to approach it. Actually, the indie dramedy The Fitzgerald Family Christmas (which, coincidentally, also stars Connie Britton), seemed to fair much better in its attempt to portray a flawed family trying to overcome internal drama to find forgiveness for the holiday. Angels Sing ends up having a warm ending, but it feels a little laborious getting there. The only saving grace is a cast that gives genuine performances. While it'd be super easy for an actor to slip into autopilot mode or, worse yet, deliver an amateur performance, Britton and Connick, Jr. actually turn in pretty good performances. Britton's approach is fairly more convincing and believable than Connick's, but the two together carry a story that otherwise probably wouldn't work too well at all (due to its approach). Connick can be rather hit-and-miss with his movies, but he does a decent job here. And while Chandler Canterbury isn't the strongest child actor, he's a watchable one, and he pushes himself here further than I've seen him do before.
Angels Sing may end on a note that embodies everything one may want in a Christmas film, but it's a hard road to get there. The cast make this uneven film watchable, but it's not one that makes the grade for being one worth revisiting each year. It's short on the heart warming, fireplace, cup of cocoa spirit of the season, but it serves better as a sort of grief-counseling look at approaching the season with the right, healthy attitude. Angels Sing is flawed but well-intentioned and a passable seasonal film.
-
John DiBiase
,
(reviewed: 12/12/13)
Blu-Ray Special Features Review
Angels Sing
is available in separate Blu-Ray and DVD releases, with both coming with Ultraviolet digital copies. The Blu-Ray disc looks great and the film especially shines during the bright, Christmassy moments (even if those are few). There are actually
zero
bonus features, with only a handful of trailers (like
Blue Like Jazz
and
Not Today
) attached to the beginning. I'm rather surprised there isn't even a single making-of featurette included. -
John DiBiase
,
(reviewed: 12/12/13)
Parental Guide: Content Summary

Sex/Nudity
: None. We briefly see the 'leg lamp' from
A Christmas Story
displayed in Griffin's home window.

Vulgarity/Language
: 1 "d*mn" when a man is singing in a pub.

Alcohol/Drugs
: Nick takes Michael to a pub.

Blood/Gore
: None.

Violence
: Michael tells the story of how, while skating with his brother David, David threw Michael to the ice (where he slid across it on his face) to move him out of harm's way. David then fell through the ice and drowned. We just see the hole in the ice and not the actual action of David falling through; Michael sees a reindeer in the road while biking and swerves to miss it, being thrown from his bike into the woods in the process; We hear about, but do not see a car accident that leaves two people hospitalized. We then hear that a child in unconscious and an older man has died; In a fit of anger and frustration, Michael trashes a room full of Christmas ornaments, throwing ornaments and lights against a wall, with them shattering, and kicking/throwing boxes.
Disclaimer: All reviews are based solely on the opinions of the reviewer. Most reviews are rated on how the reviewer enjoyed the film overall, not exclusively on content. However, if the content really affects the reviewer's opinion and experience of the film, it will definitely affect the reviewer's overall rating.
To find out why we don't typically review R-rated movies,
click here