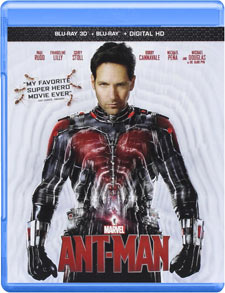 Ant-Man


- for sci-fi action violence.
Director:
Peyton Reed
Starring:
Paul Rudd, Michael Douglas, Evangeline Lilly, Corey Stoll, Michael Peņa, Judy Greer, John Slattery, Hayley Atwell, Anthony Mackie
Running Time:
1 hour, 57 minutes
Theatrical Release Date:
July 17, 2015
Official Site
Blu-Ray Release Date:
December 8, 2015 (
Amazon.com
)
Plot Summary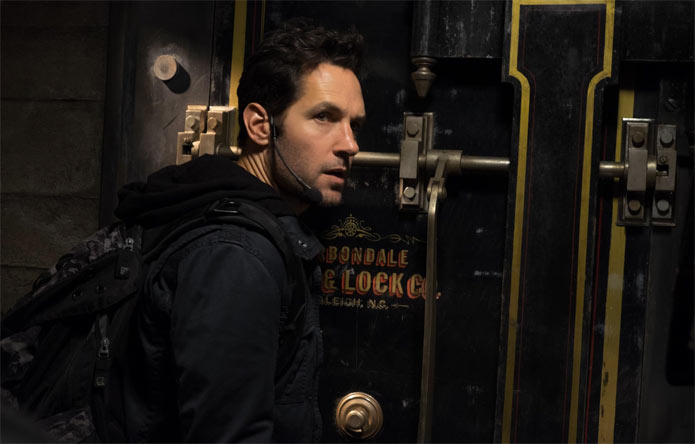 Armed with a super-suit with the astonishing ability to shrink in scale but increase in strength, con-man Scott Lang must embrace his inner hero and help his mentor, Dr. Hank Pym, plan and pull off a heist that will save the world. (from IMDB.com)
Film Review
You gotta love an underdog. At the risk of upsetting passionate movie fans, I feel like it's rather easy to draw more than just a few comparisons between Marvel's latest entry, Ant-Man, and its first big hit, Iron Man, which launched the current cinematic universe in 2008. Iron Man, too, was an underdog of a film in its day, and it went on to become a smashing success, making its titular hero a household name and a favorite superhero among many. Ant-Man seems to have so much going against it. With its corny premise about a hero that can shrink to the size of an insect at will--and command ants to boot--to the fact that he's quite the little-known superhero, I've heard more negativity about Ant-Man than enthusiasm. Still, with a great cast assembled and Marvel having yet to really submit a truly awful film (even the ones people dog as being "bad" or "disappointing" are still pretty good movies when stacked up against a lot of big budget cinema these days), I myself actually had pretty high hopes for Ant-Man. After feeling extremely skeptical following the first trailer for Guardians of the Galaxy and then finding myself absolutely loving the film, I was more than ready to make my final judgments about Ant-Man from my seat in the theater on release day.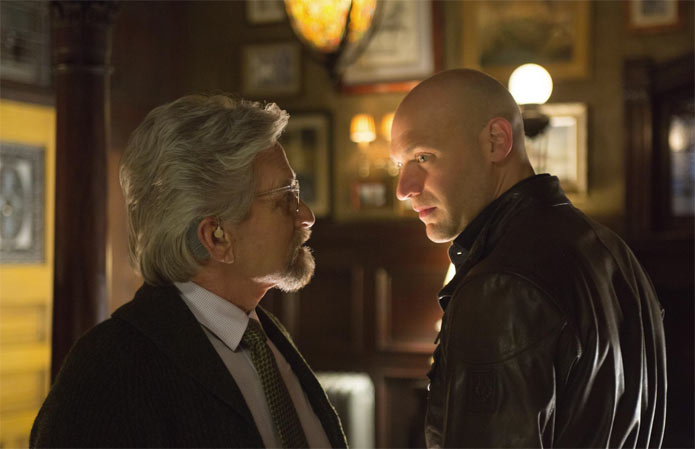 The tone that was being given off about Ant-Man from the trailers was light and fun, and to this reviewer, that sounds like great entertainment. What made Guardians of the Galaxy so much dang fun was how funny it was at all the right moments while still being imaginative, thrilling, and a strong sci-fi film. Casting comedic actor Paul Rudd in the lead as Ant-Man was a strange but bold choice, and it turned out to be inspired. But matching him alongside dramatic actor Michael Douglas was also a bold move, with LOST talent Evangeline Lilly serving as a strong female co-star. All of the ingredients were there for something unique, and the end result is a delightful concoction.
Director Peyton Reed (Yes Man, Down With Love) is no stranger to comedy, although one could argue he's a stranger to action. Still, Peyton finds a pretty good balance between comedy and action here. Some will likely argue that it may be too funny at times (an argument I've heard about Whedon's Avengers films, but I must disagree). This film feels more appropriate for being more comedically driven and I think it works wonderfully. There are still dramatic beats throughout the film that turn it serious when it needs to be--even if it means Rudd's Scott Lang disrupts these kinds of moments in wonderfully inappropriate ways. It's not crass, just silly, and it adds to the charm of the film overall. Even the grand finale action scenes are peppered with outrageous comedic moments and it makes the story about a guy who can shrink to the size of a bug all the more acceptable.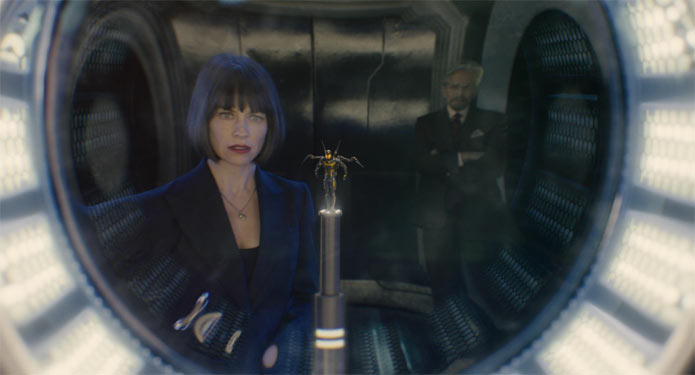 If there's one thing that works against Ant-Man at times, it's pacing. But I'd also argue that it's something that works for the film as well. We're getting an origin story here--like with Iron Man--so the film takes quite a long time setting up who Scott Lang is and how he comes to be the Ant-Man. In Iron Man, we saw how Tony Stark was an egotistical billionaire who then has his life turned upside down when he's injured in a terrorist attack and held prisoner in a cave. Much of the first film is about Stark becoming Iron Man, and we don't really get to see him much as just Tony Stark: The Hero or in the suit until the end of the film and its following sequels. The same kind of goes for Scott in Ant-Man as we spend a great portion of the film watching him mature from "burglar" into a hero. And like with Iron Man, the finale comes as a major pay-off after we see so much set-up for much of the film before it. So while it may grow weary for some viewers to have to wait through the story being pieced together, Reed and the Marvel team are giving us an action movie that's driven by story and character instead of just spectacle for spectacle's sake, and the movie is better for it.
Marvel also spends plenty of time in Ant-Man reminding you that it's a Marvel universe film. Personally, I really enjoyed all of the references because it's like introducing a new character and a whole new standalone film to the audience while grounding it as part of this bigger cinematic world. Yes, at times it does feel like it's trying too hard--like when Hank Pymn makes comments about how the Avengers are "too busy dropping cities out of the sky," which is a reference to Avengers: Age of Ultron--while other times, it simply reminds the viewer that Pym and Lang exist in this same "Marvel Cinematic Universe" as the rest of these characters. We even get to see a Marvel favorite made up to look a little older, while a character's one-time appearance in Iron Man 2 briefly makes a cameo here as well. Furthermore, when Scott is tasked to break into a facility that turns out to be something from Age of Ultron and he runs into a recognizable face, it's too much fun to ignore and it sets things in motion for introducing Ant-Man as part of the Avengers in coming films. In fact, it's already been announced that Rudd is to star in Captain America: Civil War (out next summer), so this just lays the groundwork for that (Oh, and please stick around for the bonus scene after the credits. It's an even clearer bridge between these two films).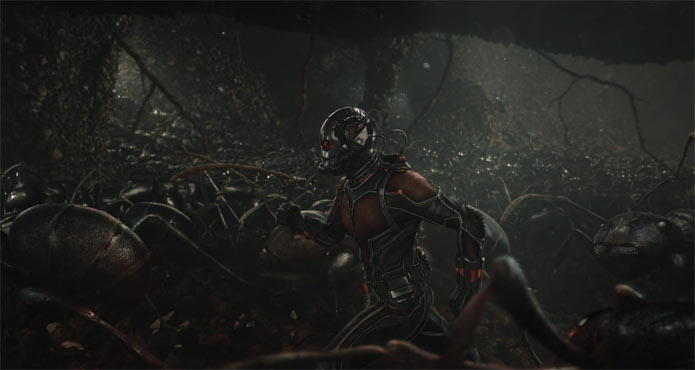 The content of Ant-Man keeps up with the PG-13 banner the Marvel films have been flying under. There's a little rough violence in the film, mostly with a ray gun reducing people (and animals) to a tiny blob of fleshy jelly, but more than that would be some profanity. There are about 4 uses of the "S" word, about 11 uses of "d*mn," a couple uses of "God" or "Oh my God," about 6 uses of "*ss," and a handful of other mild profanities. I suppose it's a tad tamer than some of the Iron Man movies or even the Avengers movies, but it's also not exactly a kids movie or family film--and the language just plain isn't necessary.
Overall, I thought Ant-Man was a blast! It was clear that the filmmakers merely set out to craft a fun action comedy and that's exactly what they delivered. If the premise scares you off, then chances are it's just not your cup of tea, but if you're open to a lighthearted superhero action comedy that includes scenes where a tiny guy rides on the back of an ant and even lovingly calls one "Ant-tony" (instead of "Anthony"), then Ant-Man is exactly the popcorn movie you can sit back and enjoy...and smile the whole way through (and those two end credit scenes left me pumped for what's next!).
-
John DiBiase
(reviewed: 7/17/15)
3D Blu-Ray Special Features Review
I have to admit I seem to have a growing appreciation for at-home viewing of movies in 3D. It's nice to have the
option
to view films in 3D at will, and it somehow feels less obtrusive than when you're viewing it in 3D in the theaters.
Ant-Man
was a fun one to watch in 3D at home. I saw it in 2D in the theaters and knew certain scenes would be fun in three dimensions. However, the only scenes that seem to just beg to be shown in 3D are the ones when Scott is miniaturized as Ant-Man. From longviews down a drain pipe to punching and fighting with Yellow Jacket, those are the best scenes shown in 3D.
The 3D Blu-Ray set comes with a 2D Blu-Ray disc and a digital download of the film (but no DVD). The 2D Blu-Ray disc offers the following special features:
Featurettes:
Making of an Ant-Sized Heist: A How-To Guide: (14:34) - Director Peyton Reed, actor/co-writer Paul Rudd and some of the cast and Marvel crew talk about bringing the comic book hero to the big screen and how it fits into the Marvel Cinematic Universe. Reed describes it as a heist movie, a comedy, and how it differs in tone from the other Marvel films yet still fits into the series. We also get a glimpse into how some stunts were done, including when they shot a tank out of a wall using blue screen. They also talk about Paul Rudd's training for the character, and how he spent a year before filming losing weight and getting into shape -- and taking 5 inches off from his waistline! They also briefly touch on the future of Ant-Man in the movies...
Let's Go to the Macroverse: (8:06) - This featurette focuses on the world around Ant-Man when he's tiny. Apparently, the crew used the tiniest cameras to capture real places and spaces and views to use as the background for Ant-Man. It also talks about the different types of ants and how different the movie is from other Marvel ones.
WHIH NewsFront: (9:12) - The last featurette isn't really a featurette, so to speak. It's a series of four news-style pieces that utilize actress Leslie Bibb as her reporter role from Iron Man and Iron Man 2 as she reports on Scott Lang in prison in "WHIH Promo" and then show some surveillance footage of Scott actually robbing Vista Corp in "Vista Corp Heist" (which is also a little boring to watch). "Darren Cross Interview" sees the character being interviewed about his role in Pym Tech, and finally "Scott Lang Live" has Paul playing the character of Scott being interviewed from prison. The two interviews are sort of worth watching, but overall, this "featurette" is the most dismissible of the Blu-Ray extras.
Deleted and Extended Scenes (8:39) - Here we have 8 deleted or extended scenes with optional commentary from Rudd and Reed. The first one shows Scott casing Hank's home as a cable guy. It's the longest of the scenes here and worth checking out. It's an alternate way of showing off that Scott has burglary skills, and it also would have been our first introduction to present-day Hank (who is pretending here to be older and more senile than he actually is). The second scene briefly shows 1989 Hank putting the Ant-Man suit into his vault. Next is a brief scene that just shows the two cops talking about how Scott could have escaped. The following scene shows Hank and Hope talking about Scott and their plan. The fifth scene appears to be an alternate take of Scott and Cassie sitting and talking at her party before he gets kicked out. The sixth scene is a short shot of Scott helping the boys rig gambling and coming out as big winners (their dancing here is hilarious!). We then get an alternate version of Darren revealing his new plan for the company--with unfinished effects in the scene. Lastly, we see an alternate/extended version of Hank giving Scott some history of Ant-Man's origin. Oddly enough, the two quips from the trailers (and the trailers themselves) about Scott knocking the "Ant-Man" name are absent from this release.
Gag Reel (3:25) - Last, but certainly not least, is a gag reel that shows some ad-libs, goofing up and goofing off on set from the cast. There's a little bleeped language (mostly from Evangeline), and some great improv lines during the Baskin Robbins scenes.
-
John DiBiase
,
(reviewed: 12/5/15)
Parental Guide: Content Summary

Sex/Nudity
: While telling a story, Luis makes a comment about how a girl was the first pair of "boobs" he'd ever touched; When Scott is shrunken down to the size of an ant in his bathroom, Luis comes in and is standing over him. We hear the sound of a zipper and Scott exclaims "I do NOT need to see that!" and then we see a belt buckle hit the floor. (We don't see anything else though)

Vulgarity/Language
: 4 "S" words, 11 "d*mn," 7 "h*ll," 6 "a" words," 3 "G-d," 1 "p*ssy," 1 "S.O.B," 1 "Oh my Lord"

Alcohol/Drugs
: Darren and Hope have champagne; We see Scott drinking a beer from the fridge; There's other miscellaneous drinking in the film.

Blood/Gore
: Hank punches a man in the face and we see a lot of blood coming out of his nose; Scott has some blood above his eye after being punched while in prison; A man shoots another man with a zapper-style gun that shrinks the person down to a tiny blob of red goo. The man then wipes it off the floor; A lamb is walked into a test chamber and shrunken down into just a blob of red goo; A man who's been shot has some blood on their clothed chest; Scott has a big bruise or abrasion on his forehead after battling an Avenger

Violence
: Lots of action violence; A man insults Hank's deceased wife, so he punches him in the nose; Scott and another man punch each other in prison, but it turns out to be friendly; A man shoots another man with a zapper-style gun that shrinks the person down to a tiny blob of red goo. The man then wipes it off the floor; A lamb is walked into a test chamber and shrunken down into just a blob of red goo; We see some training fight scenes between Hope and Scott. She punches him in the face a couple of times; We see an extended scene where Scott falls through various surfaces and items while being bounced around; Yellowjacket's suit shoots blue lasers out of it that we see impaling people in a helicopter and blowing through various objects. Yellowjacket and Ant-Man have a big brawl during the finale of the film; and other action violence.
Disclaimer: All reviews are based solely on the opinions of the reviewer. Most reviews are rated on how the reviewer enjoyed the film overall, not exclusively on content. However, if the content really affects the reviewer's opinion and experience of the film, it will definitely affect the reviewer's overall rating.
To find out why we don't typically review R-rated movies,
click here