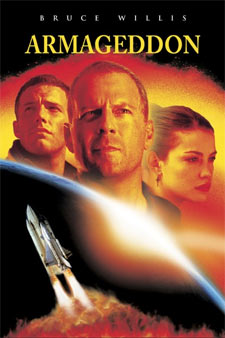 Armageddon


- for sci-fi disaster action, sensuality and brief language.
Director:
Michael Bay
Starring:
Bruce Willis, Billy Bob Thornton, Liv Tyler, Ben Affleck, Owen Wilson, Steve Buscemi
Running Time:
2 hours, 24 minutes
DVD Release Date:
January 5, 1999 (
Amazon.com
)
Plot Summary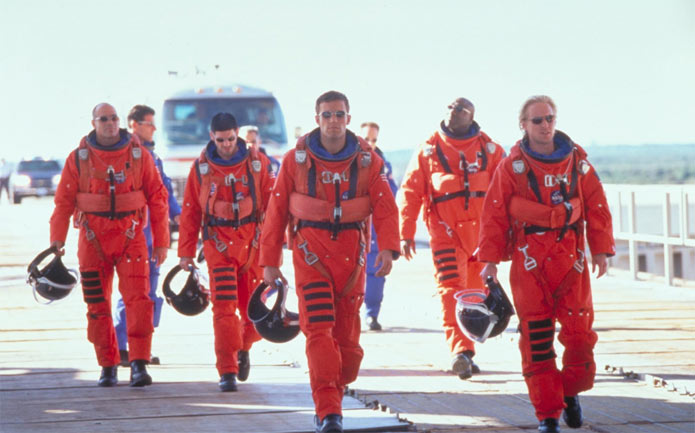 A huge asteroid is heading toward earth and it's the size of Texas. But before it hits, the Earth gets a devastating meteor shower. New York, Paris, & part of China are demolished. The asteroid must be stopped, so NASA hires "roughneck" oil driller, Harry Stamper (Bruce Willis) to lead up a crew of astronauts to land on the big bad rock & drill a hole in it... to plant a nuke inside, & blow it off course & out of harm's way. Stamper realizes he must have his oil-drillin' buddies along & brings his crew including his daughter Grace's (Liv Tyler) fiancÚ' A.J. (Ben Affleck), and a strange geologist, Rockhound (Steve Buscemi). So it's up to 2 shuttle crews to stop the last days of the earth from coming...
Film Review
When it comes to end-of-the-world summer blockbusters, Armaggedon exceeded expectations! It's the second meteor-to-end-all-life-on-Earth movie to drop this summer (I'm looking at you, Deep Impact), and it's easily the better of the two. Michael Bay's latest is an edge-of-your-seat action thriller that doesn't take itself too seriously, making for great fun at the movies!
The story centers around a crew of oil drillers who are drafted into the space program to help stop a meteor hurtling toward earth. Bay doesn't let the doom-and-gloom of the plot weigh the tone down, however. This is one disaster movie that starts off funny and ends funny, while trying to keep a serious tone and remain an "end of the world" picture. The movie that comes to mind when I watched this film was 1996's Independence Day. However, Armageddon totally blows Independence Day out of the water in my book. This movie was funny, romantic, very sad at times, and very suspenseful, offering a little something for everyone.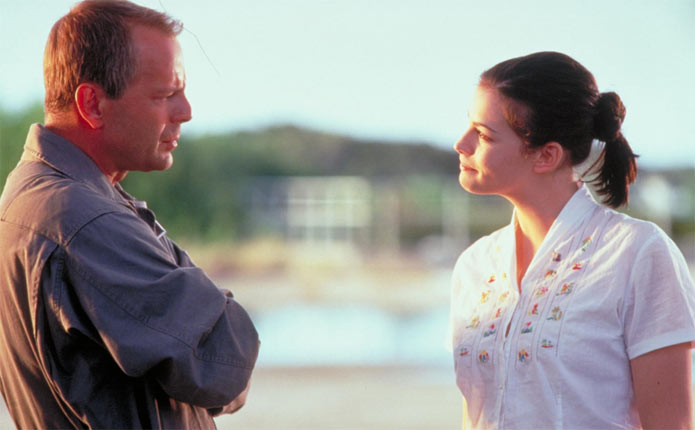 When it comes to content, there were some questionable Christian references in the film -- questionable because of some of the surrounding content. While some of the characters mention praying to God--and in one scene one even says, "Thank you, Jesus! Thank you, Lord! Thank You!"--there still is talk of premarital sex, lots of blasphemy spoken in the movie, and some of the characters go into a strip club. So whether this is a pro-Christian movie or not (it's unlikely, though), the presence of blasphemy alone would probably answer that question clearly.
Regarding other content, there isn't any nudity or sex in the film, but there is reference to sex. When a few crew members are in the strip club, there are a couple female dancers that are revealing quite a bit, but aren't really nude. Also, when A.J. is playing with animal crackers on Grace as she's lying on the ground with her shirt open, there isn't any nudity (just Grace's black bra is shown) or sex, but there is a little spoken innuendo. There are also a few sexual references by Rockhound during the movie, and also by some crew members referring to Grace. On the topic of language, it's moderate, but there is 1 "f" word, 6 "s" words, and 1 "S.O.B." For violent/graphic content, there isn't much, mainly just some scratches and bloody scrapes on a couple dead characters' faces.
Overall, I really enjoyed Armageddon. Except for some of the content, I really enjoyed the film. Due to the innuendo, language, and sensual content, however, I can't give it any higher than 3 stars. - John DiBiase (reviewed: 7/13/98) (Re-edited for grammar and such on 4/13/18)
Parental Guide: Content Summary

Sex/Nudity
: When in A.J.'s room, Harry finds Grace under his bed sheets, implying the two of them had sex; about 6 or 7 sexual references; A.J. sensuously kisses Grace's back (with the strap of her dress down off her shoulder); As Grace lies on the ground with her dress undone (exposing her belly and black bra), A.J. playfully moves some animal cracker figures across her body, acting like a nature show. He touches her chest with one & partially puts the other inside the top of her underwear; We see Rockhound and some of the other guys in a strip club where we see some scantily clad women dancing sensually about; In another scene, Rockhound is taking ink blot tests where he claims that he sees breasts in all of the inkblot figures.

Vulgarity/Language
: 1 "f" word, 6 "s" words, 16 h*lls, 8 "g*dd*mn," 8 "a" words, 8 d*mns, 1 S.O.B., 4 "Oh my G-d," 3 "G-d," 2 "Swear to G-d," 2 "Oh J-sus," 1 "J-sus," 2 "Oh G-d," 2 "For God's sake," 1 "My G-d," 1 "By G-d."

Alcohol/Drugs
: People drink alcohol in a strip club.

Blood/Gore
: In two different instances we see a dead man with some blood on their face.

Violence
: Heavy violence. Three different cities are demolished; Large amounts of people die; Harry shoots a shotgun at A.J.; there's some punching; Harry catches a man's neck in a big wrench but doesn't kill him, etc.
Disclaimer: All reviews are based solely on the opinions of the reviewer. Most reviews are rated on how the reviewer enjoyed the film overall, not exclusively on content. However, if the content really affects the reviewer's opinion and experience of the film, it will definitely affect the reviewer's overall rating.
To find out why we don't typically review R-rated movies,
click here