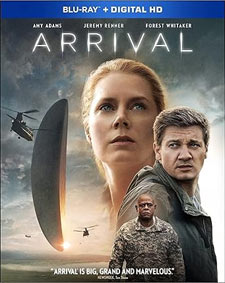 Arrival


- for brief strong language.
Director:
Denis Villeneuve
Starring:
Amy Adams, Jeremy Renner, Forest Whitaker, Tzi Ma, Michael Stuhlbarg
Running Time:
1 hour, 56 minutes
Official Site
Theatrical Release Date:
November 11, 2016
Blu-Ray Release Date:
February 14, 2017 (
Amazon.com
)
Plot Summary
A linguist is recruited by the military to assist in translating alien communications. (from IMDB.com)
Film Review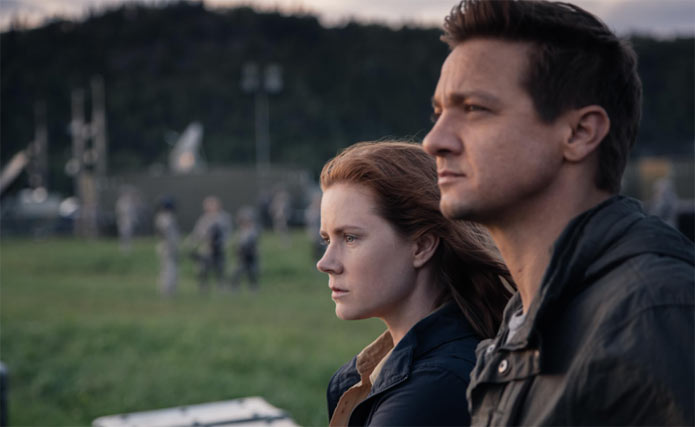 Sci-fi stories are anything but in short supply these days. It seems like half of the new movie previews take place in, or have something to do with, space or aliens or superheroes in space, etc. When seeing Arrival in theaters, I believe at least two of the previews before it were sci-fi films set at least partially in space. Arrival is of a different breed, however. The story follows Dr. Louise Banks (played by Amy Adams), a seemingly troubled and lonely professor of language. When alien spacecraft touch down in various locations across the globe, the Army enlists her help in an attempt to decipher the alien race's language. A mathematician named Dr. Ian Donnelly (played by Jeremy Renner) becomes her partner in this mission to try to communicate with these new visitors to figure out why they're here.
Director Denis Villeneuve (Sicario, Prisoners and the upcoming Blade Runner sequel) helms this artful and thought-provoking film that delves far deeper than just your usual alien encounter film. Right out of the gate, the movie feels like an indie, arthouse flick and not like a big Hollywood blockbuster. The special effects are many and quite good, but the story doesn't revolve around them. Where last week's Doctor Strange is more of a popcorn movie that prides itself on spectacle (but is still a great film), Arrival is more carefully paced to methodically tell a more emotional story. The themes get pretty deep at times too -- from love and loss to a sense of destiny and purpose, as well as fear of the unknown and how we react to it. It's eerie that this film released the same week as the 2016 presidential election where city streets are being lined with protestors and riots are breaking out. Seeing similar reactions to the alien arrival born out of fear suddenly isn't so much science fiction.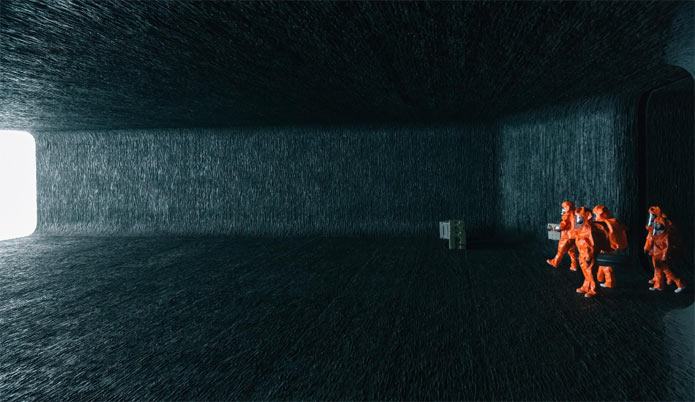 Amy Adams is such a versatile talent. Adams has run the gamut of acting genres -- from appearing in a couple episodes of TV's The Office very early on, to playing the lead in Disney's Enchanted, Lois Lane in Man of Steel and more mature-themed films like American Hustle. These are just a few of her many roles, too. She delivers a powerful performance as Dr. Banks and it's her range and committment to the performance that make it work as well as it does. Villeneuve tells the story in such a twisty, fragmented way that it often feels like a Christopher Nolan or even M. Night Shyamalan movie (when he's good, that is). I don't want to give anything away, but there are some surprises herein and the way it's done is a real treat. It's not quite the "spinning token" in Inception or anything; the ending is definitely satisfying, but it is a bittersweet story.
Arrival is a movie that's tough to review without giving stuff away, so I'll do my very best to dance around things without spoiling anything for you. The start of the film will be alarmingly slow and sluggish for some viewers. That kind of thing doesn't typically bother me, but it can hinder the desire to rewatch the movie. However, it's a slow build overall. The tension ratchets up as the story unfolds, to the point where you might not even realize you'd begun scooting to the edge of your seat. The aliens are completely CG, and while it's obvious, it's still done pretty well and the "humanity" of these visitors comes across in a unique and tangible way. Some of the film's best moments are when Adams and Renner are trying to communicate with these visitors. In fact, the chemistry between Adams and Renner is great; it's this kind of chemistry that helps make a good movie all that much better.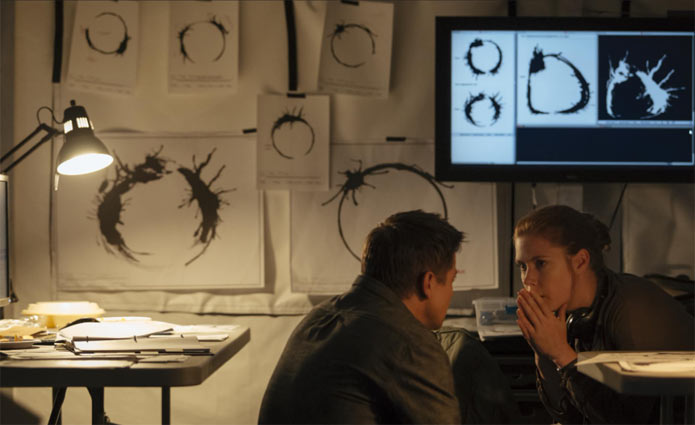 The content is surprisingly mild. Renner's character exclaims a completely unneeded "Holy f---!" when he experiences the gravity anamoly of the alien ship, but that's pretty much the extent of the language. It's one of the cleanest films I've seen in quite a while. There are just a couple exclamations of "Oh my G-d" or "Oh G-d," but it's all done in a non-offensive way. There are also just single uses of "d*mn" and "h*ll." There is no blood or gore or extreme violence in the film either. The story is thematically mature, so it's not exactly a family film, but content-wise, it's not rough.
Arrival isn't a movie for everyone. In fact, it might not really even be for the general audience. Blockbuster movie fans will likely find it boring or not absorb the emotional punch of the story. It's not quite Interstellar or Gravity when it comes to audience appeal, but the human element is still very much there, and like those films, it's really the center of the story. The only real downside to the film is that some of the points it tries to make aren't fully fleshed out. I saw the film with a friend and he left feeling frustrated that some of the bigger questions weren't answered very well. It didn't really bother me as much as it did him (I was still thinking more about the emotional element), but I think it's a fair complaint.
As far as sci-fi, alien encounter films go, Arrival is topnotch. It'll be interesting to see how it holds up with repeat viewings and such, but overall, it's an unexpected fall release that definitely should be checked out by fans of the genre as well as Adams and Renner.
-
John DiBiase
(reviewed: 11/11/16)
Blu-Ray Special Features Review
Masterminds
is available in a Blu-Ray/DVD combo pack and in a 4K UHD/BD/Digital HD combo pack, on single-disc DVD and from the usual digital movie sellers.
There are over 80 minutes of featurettes, which are on the Blu-Ray disc as well as on iTunes:
Xenolinguistics: Understanding Arrival (30:01) - Arrival is a rather cerebral sci-fi film, and all of the special features follow this feel as well. This first, half-hour featurette is about how they adapted the short story, "The Story of Your Life," into Arrival. We get to hear from the author about how he never imagined the story as a film but was happy with the treatment it was given. The featurette also talks about how Amy Adams was their first and only choice to play Louise and how they were thrilled they were able to get her. It also covers how they built and filmed with real sets, the studying of linguistics, trying to keep the whole film grounded in reality and looking gritty, and how they set out to create an alien no one's ever seen before.
Acoustic Signatures: The Sound Design (14:00) covers how they approached the way the movie would sound - from the alien's noises to how they recorded all device sounds using their real audio recordings. It also covers mixing the sounds, and how the artists ventured out into nature to record and mix real bird and animal sounds.
Eternal Recurrence: The Score (11:25) - Arrival composer Jˇhann Jˇhannsson delves into how he tried to make the score different, using weird vocal noises and other odd sounds to create a mood. While I love movie scores, I think the score works great with the movie, but it's not something I'd like to listen to apart from the film (And I later found out the key melodic piece of music is an entirely different composer). This is still an intriguing dissection of the film's score.
Non-Linear Thinking: The Editing Process (11:20) focuses on the unconventional storytelling from the point of view of the film's editor. They talk about the unique way the movie approaches time and how that presented a challenge when it came to editing.
Principles of Time, Memory, and Language (15:24) is a headache-inducing philosophical look at time -- past, present and future -- with theories about how time relates to the mythical "Big Bang" theory. The author of the short story the film is based on also talks about structuring the story and deliberately choosing a character who is a linguist to serve the story best.
Overall, there's a satisfying amount of bonus content on Arrival included with the film for fans to dive into -- just don't get too lost in the theoretical musings toward the end of the features.
-
John DiBiase
,
(reviewed: 2/1/17)
Parental Guide: Content Summary

Sex/Nudity
: None.

Vulgarity/Language
: 1 "F" word, 1 "d*mn," 1 "h*ll," 1 "G-d," 1 "Oh my G-d," 2 "Oh G-d" (mumbled)

Alcohol/Drugs
: We see Louise drinking wine in her house in one scene.

Blood/Gore
: None.

Violence
: As Dr. Banks walks to her car after pandemonium strikes upon the alien arrival, we see a car hit another car (very mildly) as the other call pulls out in a parking lot; We see some TV footage of riots and panic; We hear some gunshots from the military off screen; An explosion throws a couple people (but no one is hurt); We see a person sick and dying in a hospital bed a couple of times; We see the military surrounding some of the alien crafts, with soldiers grabbing rifles to arm themselves.
** Disclaimer: All reviews are based solely on the opinions of the reviewer. Most reviews are rated on how the reviewer enjoyed the film overall, not on content. However, if the content really affects the reviewer's opinion of the film, it will definitely affect the reviewer's rating.
Disclaimer: All reviews are based solely on the opinions of the reviewer. Most reviews are rated on how the reviewer enjoyed the film overall, not exclusively on content. However, if the content really affects the reviewer's opinion and experience of the film, it will definitely affect the reviewer's overall rating.
To find out why we don't typically review R-rated movies,
click here