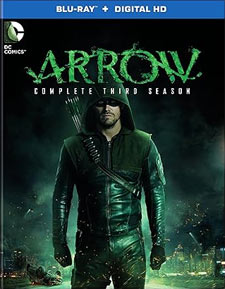 Arrow: The Complete Third Season

Starring:
Stephen Amell, Katie Cassidy, David Ramsey, Willa Holland, Paul Blackthorne, Emily Bett Rickards, Colton Haynes, John Barrowman, Brandon Routh, Caity Lotz
Running Time:
Blu-Ray 4 discs: 976 minutes
Blu-Ray/DVD Release Date:
September 22, 2015 (
Amazon.com
)
Plot Summary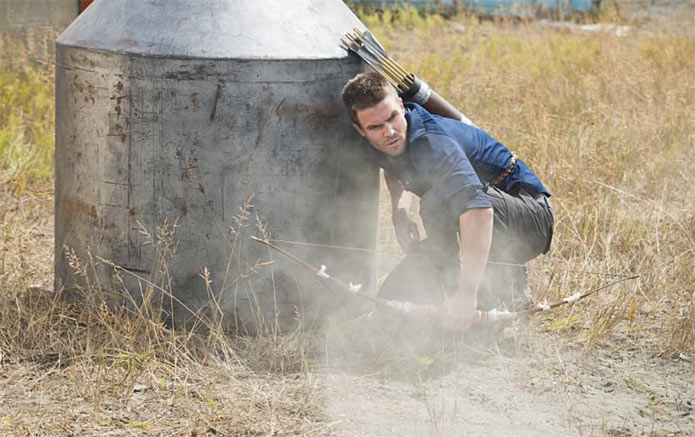 Oliver Queen's Arrow has become a hero to the citizens of Starling City - but he will quickly discover that doesn't mean he can lead a normal life in the spectacular third season of the hit series based on the DC Comics character. A new wave of diabolical masterminds - including the insidious and pervasive havoc wrought by the lethal and secretive League of Assassins - threatens all he holds dear. Team Arrow has grown into a powerful force, but the dangers and secrets that bind them together often put them at odds with each other, as the shadows cast by Malcolm Merlyn and the omnipotent Ra's al Ghul trigger shifts in loyalties and alliances that test them to their core. For matchless heroism under fire, this action-packed 5-disc, 23-episode Season Three can't be beaten! (from Warner Bros.)
Season Review
As Marvel Studios have arguably reigned the big screen, DC Comics have slowly been taking over the small screen. Sure, Marvel has branched out with the mediocre Agents of S.H.I.E.L.D. and the far more promising Agent Carter, but DC Comics and Warner Bros. have been creating hit shows in Arrow, The Flash and Gotham, with more on the way. As we grow closer to the fourth season of the modern retelling of superhero The Green Arrow on Arrow, Warner releases last year's third season to DVD and Blu-Ray.
I started watching Arrow just before its third season, so this was my first experience of seeing it week-to-week as the new episodes debuted. I thought season one was OK at best (the youthful romantic drama was exhausting), but I felt the show had really come into its own in season two. Unfortunately, season three doesn't fare quite as well. It starts to feel a little too big for its britches, and I found myself getting frustrated all too often week after week. It wasn't quite enough for me to stop watching the show, but it was a bit aggravating at times.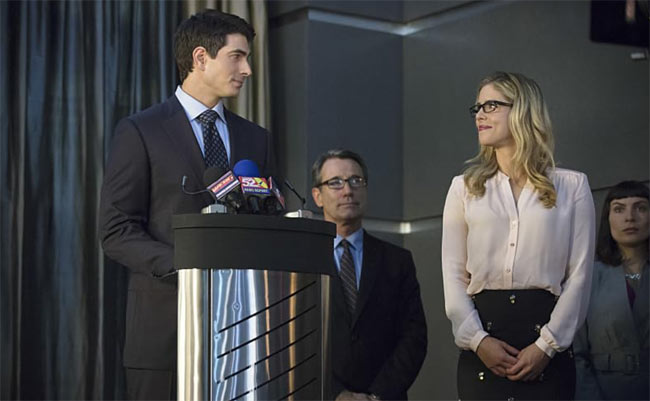 The story in Season Three picks up 6 months after the events of Season Two, with Deathstroke having been defeated and imprisoned, and things sort of getting back to business-as-usual for Team Arrow. But while the first episode of the season, "The Calm," is a strong one that has Oliver literally battling himself as he comes to the decision that he cannot live as himself and The Arrow at the same time, the episode ends with the death of a sort-of main character. This sends a ripple throughout the rest of the season that really shapes the entire run. It starts out pretty bleak and depressing as we just had ridden the fan high of seeing these characters in action again, and now they're mourning the loss of someone they cared about. It causes one character to push themselves toward crime fighting, it causes others to lie to hopefully save others "unnecessary" grief, and it kind of sets the team back as they drop everything to hunt down their friend's killer. Some characters make questionable decisions, new characters force their way into the mix, and Ra's al Ghul ends up pulling a lot of strings throughout the season. As more of a positive, we're also introduced to a new DC Comics character in Ray Palmer. Played by Superman Returns' Brandon Routh, Palmer poses some competition for Oliver (and even takes over his company), but is kind of the opposite of Ollie. Ray's a little goofy yet charming, and it isn't long before we learn that he's trying to design a suit in order to be a hero himself. And, before you know it, The ATOM is born. Routh ends up bringing a lightness and fun to Arrow that is definitely needed this season due to its constant drama.
One thing that bugged me about this season, too, is the continuation of the flashbacks to where Oliver was before coming back home to Starling City. As each season pushes the story ahead roughly a year, we get "5 years ago" style flashbacks that continue the road that Oliver took to becoming The Arrow. This season, we have Oliver spending a year in China being forced to work for A.R.G.U.S. against his will. However, watching the episodes week-to-week while they air -- including weeks to months off for breaks at a time -- makes the continuity of these China sub-story lines seem really superfluous. But as I re-watched the season on disc, these little storylines made a lot more sense--especially in retrospect. In fact, the season as a whole works so much stronger the second watch through than the first time. From "The Calm," you can really see some groundwork being laid for the whole season that follows. The chapters in China are a little tedious to endure, however, since the storyline the audience really cares about is the current one unfolding presently, with Oliver's disgruntled hitman adventures being far less interesting or enjoyable. One thing these flashbacks do accomplish, however, is to illustrate how versatile Amell is as an actor. He's able to play younger Oliver as more reckless and grumbly (and lively) than the more reserved and troubled present-day Arrow Oliver. But just like the Slade flashbacks affected (and often paralleled) the present in previous seasons, we see the events and characters in China make an impact on the present as well. So while these stories seemed far more pointless the first time around, I have to admit they tend to land better on the second trip through.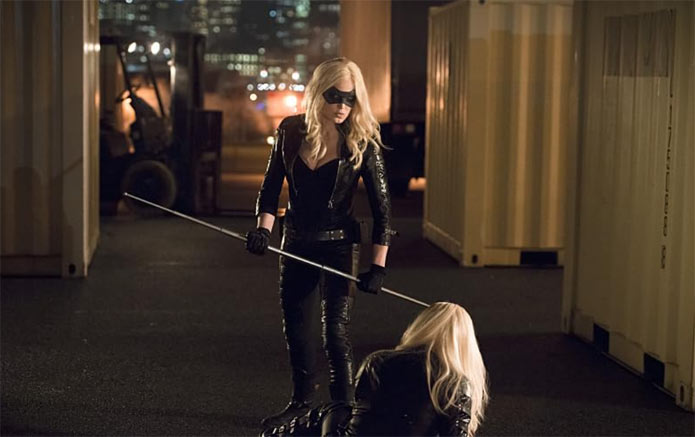 There's a lot to like about the show, but in addition to the arduous flashbacks, this season especially sees multiple characters meet violent ends with emotional shockwaves that radiate throughout multiple episodes, only for those characters to get saved or literally resurrected. In fact, due to the popularity of the show, a new spin-off show from Arrow and The Flash is set to debut next year, called Legends of Tomorrow. In it, one of the major deaths from this season of Arrow is brought back to life for that show. While I'm sure that excites some fans, it cheapens the weight of this season and also made us endure watching the characters wade through needless grief (and conflict). So by the time yet another main character is skewered and left for dead in a puddle of their own blood, you can't help but roll your eyes and rest assured the impossible will save them. Finally, the latter half of the season is very much "League of Assassins"-centric and the lines between hero and villain are greatly blurred, while Felicity is reduced to an emotional blubbering mess who cries every episode and Captain Lance (who has always been one of my favorite characters) becomes a Grade-A jerk. They even go so far as to severely damage the bond between two other main characters. It's frustrating enough to make you wonder how the show managed to take such a drastic descent into mediocrity and disappointment. Again, I have to say it all plays out a little better when you're binge-watching as opposed to having to deal with the new episodes each week, but it still is frustrating either way.
The content of Arrow is dark and violent at times, especially this season, so there are more than just a couple bloody violent moments this time around. Season opener "The Calm" ends with a character being impaled with arrows and then falling to their death, with blood on and around their head. "The Climb" shows a couple characters being impaled with swords with a considerable amount of blood. Two characters have a duel while shirtless and we see some blood as one of them is sliced and stabbed a couple times. "Guilty" shows some victims hanging upsidedown with blood on their faces and "Broken Arrow" shows two major characters getting stabbed and bloodied (with varying results). Those are just a few examples as nearly every episode has some degree of such content. Language is mixed, with several episodes using at least one "S.O.B," while the occasional "h*ll," "d*mn," "*ss" or "Oh my G-d" is also used. Sexual content is infrequent, but some characters sleep with each other on a whim. Thea hooks up with a DJ from her club, for example, for a one-night stand, while Oliver and another character share a really passionate and heated encounter near the end of the season. There are the occasional remarks too, like in "The Secret Origin of Felicity Smoak" when a villain makes a comment about a girl he "used to screw." Overall, it can be a kind of edgy show, so it's definitely not suitable for younger viewers.
Overall, when it comes to superhero television, Arrow is still pretty good even when it's falling short or seemingly dropping the ball. While season 3 was a disappointment in some ways, it's still got its moments, and it still has some solid standout episodes (mostly from the first-half of the season). If you're a fan of the show already, season 3 is still worth checking out, and if you're a fan of The Flash, the crossover episodes alone (like in "The Brave and the Bold") are worth watching at the very least.
-
John DiBiase
(reviewed: 9/19/15)
Blu-Ray Special Features Review
Arrow: The Complete Third Season
is the first season to release with the DVD discs not being included with the Blu-Ray discs (which does save some shelf space), but the HD transfer for the show is really fantastic. It's super clear and vibrant and the nice thing about HD discs is you don't have to worry about having a great signal or a streaming service being unreliable or inconsistent. Along with deleted scenes for select episodes, and commentary on "The Calm" and "The Climb" are the following extras (which are all on Disc 4):
The Man Beneath the Suit: The Atom's First Fight (7:17) - This featurette has the show runners talking about choosing Atom for the show, and we hear from Brandon Routh himself (while wearing some of the suit) about his character and the suit's design. Routh also discusses the growth of the character and how he fits in with the rest of the show.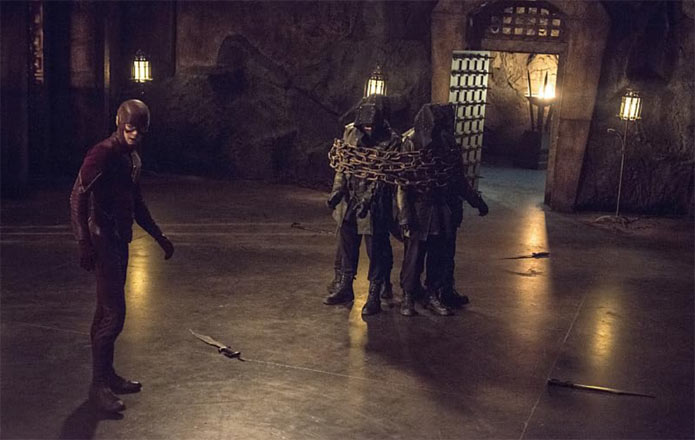 Nanda Parbat: Constructing the Villain's Lair (22:48) - This lengthy featurette is a detailed look at designing Ra's home base. We hear from the actors about their thoughts on the set and its design, as well as from the designers about its intent. The producer admits that the Nanda Parbat design was meant to feel like it's from an entirely different show. We then see the designers giving us effects shot passes with added digital effects (which are breathtakingly seamless! Really, really impressive), and how effects fleshed out everything to make it appear bigger in scale. I found this featurette to be far more intriguing than I thought it could be.
Second Skins: Creating the Uniforms of Arrow (17:12) - Here the actors talk about how the uniforms change how they feel when they suit up and empower them to feel and act like superheroes. We then hear from the costume designer about the accents and designs to all of the major costumes, to the evolution and changes in Oliver's suit, and more.
Gag Reel (3:57) - This is a standard gag reel, but there are some really, really funny moments -- like when John Barrowman as Malcolm purposefully overacts in a scene to ham it up. Several times, however, there is some obvious bleeped strong profanity -- which is especially surprising to find coming from Felicity's character.
Arrow at Comic-Con 2014 (28:54) - I love that Warner puts these on their TV box sets. It's an intimate roundtable of sorts with key cast members, so it's a real treat to find content like this on disc. (And hey, if you were at Comic-Con, now you get a highlights reel to keep!) In this assembly of the cast (which is only missing Emily Bett Rickards who plays Felicity), the cast talk candidly about the season before it and some teasers of this season (Season 3). One of the most interesting pieces of info, however, was hearing the producer say that two things they talked about at the time of the pilot was that Sarah was not dead and the idea of having Oliver wake up in Hong Kong at some point (both of which happened in Season Two). There's also a fun moment near the end where each cast member tells the cast member next to them what their favorite scene of theirs was so far.
Overall, the special features were pretty good and the deleted scenes are fun to check out. The only thing I thought seemed missing was a featurette about how they created the Hong Kong flashbacks. I actually kind of expected something about that on here. Regardless, though, they put a solid effort into what is included.
** Disclaimer: All reviews are based solely on the opinions of the reviewer. Most reviews are rated on how the reviewer enjoyed the film overall, not on content. However, if the content really affects the reviewer's opinion of the film, it will definitely affect the reviewer's rating.
Disclaimer: All reviews are based solely on the opinions of the reviewer. Most reviews are rated on how the reviewer enjoyed the film overall, not exclusively on content. However, if the content really affects the reviewer's opinion and experience of the film, it will definitely affect the reviewer's overall rating.
To find out why we don't typically review R-rated movies,
click here