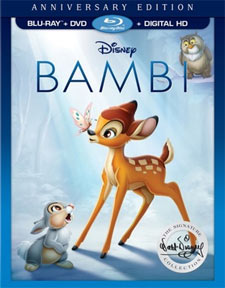 Bambi


Director:
David D. Hand
Starring:
voices of Hardie Albright, Tim Davis, Donnie Dunagan, Sam Edwards, Ann Gillis, Otis Harlan
Running Time:
1 hour, 9 minutes
Theatrical Release Date:
August 11, 1942
Blu-Ray Release Date:
June 6, 2017 (
Amazon.com
)
Official Site
Plot Summary
The story of a young deer growing up in the forest. (from IMDB)
Film Review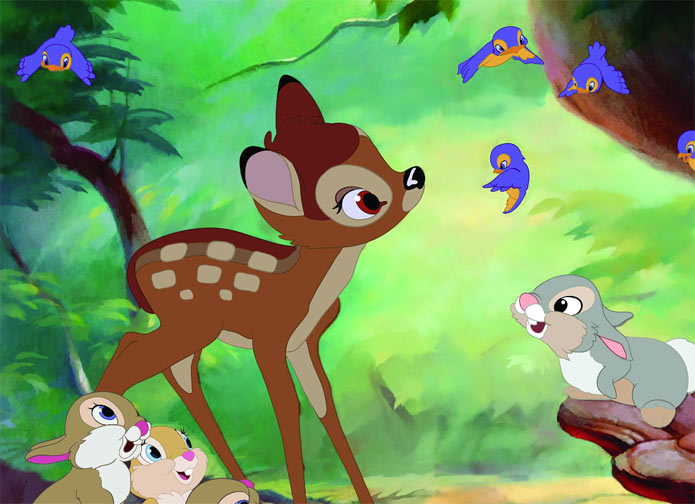 Everything we know and love started somewhere. The evolution of technology has brought us some great things, but it's often intriguing to look back and see how it began. If you watch Disney's 1942 animated classic, Bambi, for the first time now in 2017, chances are you'd find it to be drastically slower than what you're akin to. For example, you shouldn't watch the action-packed and hyperactive LEGO Movie and then Bambi. Bambi, at just over an hour in length, feels really, really long and is extremely slow-going. The story begins with the birth of a baby deer named Bambi that the forest considers a "prince," and we see him slowly meet other animals in the forest, learn to walk and eventually speak. It's all cute stuff and, when you take a moment to consider the technology of its day and the animal animations, you realize it's impressive work. In the special features on the Blu-Ray disc, they reveal that Walt had brought real animals to the studio to have the animators study them for this film. They also learned to use multiple layers in the background to simulate moving through the forest. And Walt also had his team study effects like water, fire and snow so they can take the realism to the next level. This, folks, is Disney changing the game and laying the groundwork for what you know and love now in animation!
I was most interested in revisiting Bambi now to witness the classic animation and learn about it in the special features. I really only remember the harrowing, emotional aspects about the story from when I saw it as a kid, and I was curious as to what the full story looked like again. It holds true that it's a sweet and cute film for roughly half of the story... until "man in the forest" infamously shoots and kills Bambi's mother. It's such a famous movie moment (and one that Animaniacs skewered in a spoof that also examined the effect that has on a child viewer) and, honestly, one of the biggest blows to the enjoyment of the film. (Then again, I had a hard time when Littlefoot's mom died in the original The Land Before Time, too.) I didn't realize this movie had been based on a famous book, or that her death was part of that story, but Walt's own daughter even asked him why he couldn't have changed it. So, I'd hate to say it, but I don't feel like Bambi translates well to today's movie watchers. After "man" is villainized by killing Bambi's mom, his presence causes a forest fire, further driving home how evil humans are. Then the story shifts gears to show Bambi growing up under the guidance of the "Prince," and after fighting with another deer over who gets to have his love, Fauline, the story soon ends where it began, and she's giving birth to Bambi's child. There are some pretty dark and intense moments and with the sluggish pace added in, it just doesn't seem like a movie many of today's kids are going to like all that much.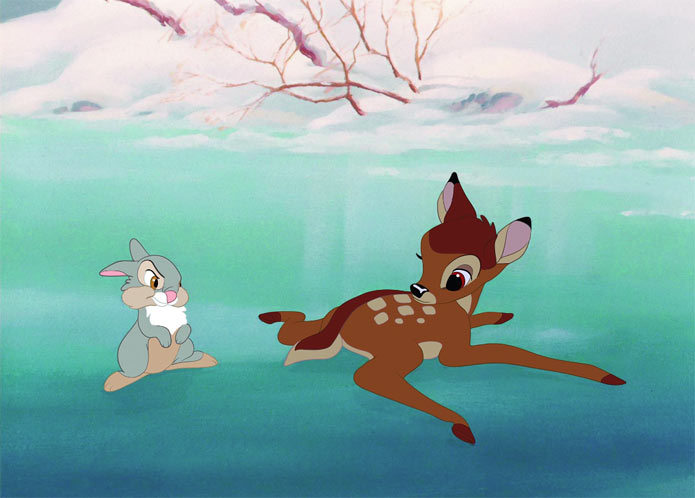 The film is rated G, but I think PG would be a more fair rating. The animals flee due to an unseen hunter on a couple of occasions, and then Bambi's mom is shot and killed off screen. It's pretty heart-wrenching just seeing him wandering around calling for her, too. Another attack from the hunter leaves animals panicking. One bird takes off against the advice of others and we see it get shot and fall to the ground (Does that mean The Bourne Ultimatum ripped off Bambi?! Ha!). Later, the scene where Bambi battles another adult stag is really dark and ominous. A fire also tears through the forest too, after having originated from man's camp. And Bambi even takes a bullet at one point (although it's not really addressed and he clearly recovers). There's also a semi-lengthly sequence where the owl tries to teach the teenager animals about love and how they'll be "twitterpated" when they meet the right girl as a mate. It's cute, but it's also a little "birds and the bees" type stuff. Overall, this stuff is still pretty mild, but perhaps in the context of such a sweet-natured film, they seem a bit dark and out of left field (especially when the whole movie feels very "La-dee-dah-dee-dah la la la Life is grand!" and then "BAM!" Bambi's mom is shot dead).
Diehard Disney fans won't want to miss this beautifully mastered Blu-Ray release of Bambi. It's been on Blu-Ray before, but it makes its Digital HD debut release with this "Signature" re-release. Fans of animation and animation history would also do well to add this to their collection!
-
John DiBiase
(reviewed: 6/3/17)
Blu-Ray Bonus Features Review
Bambi
is back on DVD and in a Blu-Ray/DVD/Digital HD combo pack. The Special Features include:
Disneyview - You can view the whole film the normal, theatrical way, or in this special widescreen, letterbox format where art is filled in on the sides (instead of black bars) to go with what's happening on screen.
Inside Walt's Story Meetings: Extended Edition (1:35:55) - This is pretty cool. If you'd like, you can re-watch the film with reenacted conversations from Walt Disney's own production notes (from between 1937 and 1940) being read over the film, with photos flashing on the screen and the movie reduced to a picture-in-picture. It's really cool and a must for fans.
Studio Stories: Bambi (4:56) - This is an archival clip of Walt Disney speaking from 1956. They show some cool behind-the-scenes footage of the studio from back then, where they brought real animals in and studied them!
Deleted Scenes - "Play All with Introductions by Animator Floyd Norman" (7:25) These short scenes are presented by a longtime story artist who had actually worked on Jungle Book with Walt Disney. The first sequence is an alternate version of Bambi discovering snow. It's presented by way of old sketches. They had cut it because they felt it had slowed the story down too much. The second one is interesting because it removed a few characters entirely from the film, including a grasshopper, an army of ants, and a rabbit named Bobo.
Oswald the Lucky Rabbit: "Africa Before Dark" (5:50) - This is a corny bonus cartoon featuring Oswald as he interacts with animals in Africa and runs away from lions.
The Bambi Effect (3:00) talks about how this film influenced later movies - from studying live animals, to creating impressionistic style backgrounds and nature effects.
Bambi Fawn Facts (3:34) is a video for the kids that names some facts based on the animals in the film. (Also, the music is way too loud in it; it drowns out the narrator at times.)
Collectible Lithograph - There's also a collectible lithograph from artist Tyrus Wong that comes inside the Blu-Ray case. It's pretty small, but it's also neat that they included it. It comes with a pop-out prop up piece on the back so you can display it if you wish like its own frame.
-
John DiBiase
,
(reviewed: 6/3/17)
Parental Guide: Content Summary

Sex/Nudity
: Owl warns the young animals about falling in love, calling it being "twitterpated." We then see some scenes where the animals are courting and flirting.

Vulgarity/Language
: None.

Alcohol/Drugs
: None.

Blood/Gore
: None.

Violence
: We hear a gunshot in the woods and mom tells Bambi it's "man in the woods"; We hear more gunshots as Bambi and his mom flee an unseen hunter. With one of the shots, we don't hear from Bambi's mother again as she obviously was killed and won't be coming back; Bambi locks horns and fights another stag over possession of Fauline. It's rather dramatic. It ends with Bambi tossing the other down a hill into a stream; A bird panics and flies off. It's then shot and falls behind some brush, lying dead. We see feathers fly when another animal is shot. We hear more shooting as animals run; We see a horde of vicious hunting dogs chasing deer; Some falling rocks wipe out the dogs; Bambi appears to get shot while jumping through the air; Fire spreads at man's camp and ignites the forest.
Disclaimer: All reviews are based solely on the opinions of the reviewer. Most reviews are rated on how the reviewer enjoyed the film overall, not exclusively on content. However, if the content really affects the reviewer's opinion and experience of the film, it will definitely affect the reviewer's overall rating.
To find out why we don't typically review R-rated movies,
click here