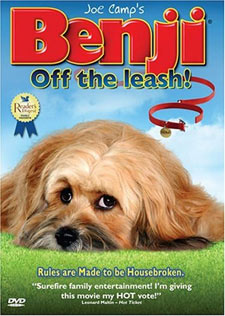 Benji: Off The Leash


- for Thematic elements and some mild language.
Director:
Joe Camp
Starring:
Nick Whitaker, Chris Kendrick
Running Time:
1 hour, 38 minutes
Theatrical Release Date:
August 20, 2004
Official Site
Plot Summary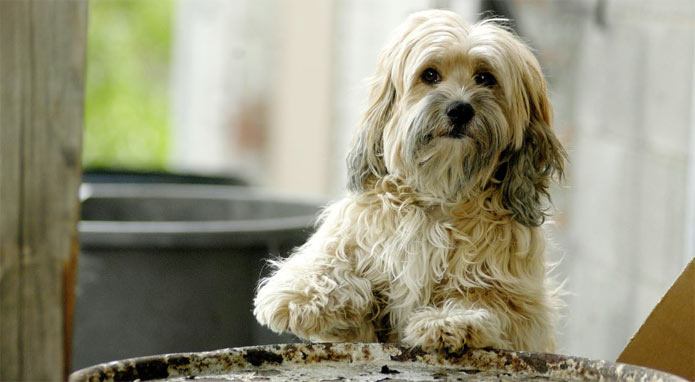 As with previous Benji movies, the film is told from the dog's point-of-view with no gimmicks -- no talking dogs, animation or narration. The story of this new Benji's early life is the backdrop for "Benji: Off The Leash". In what may be the first true "mutt buddy" picture in feature film history, the storyline finds Benji in an unwanted partnership with a hapless but loveable stray dog. The unlikely duo struggle to save Benji's mother from the dangers of a greedy and irresponsible backyard breeder. (from MovieWeb.com)
Film Review
I remember being a kid and enjoying the Benji films. Considering how the original Benji film released a staggering thirty years ago, and considering how I'm only twenty-four, I'm more familiar with the later Benji efforts, namely Disney's Benji The Hunted from 1987. So when I heard director and creator Joe Camp was releasing yet another Benji project, I must admit it was quite a surprise.
I'll admit I barely remember the earlier Benji adventures. The images I recall most, however, are that of a tired and tattered, adventurous little mutt. Benji: Off The Leash is throwback to the days when cinema was a lot less vulgar - a time when families could all go to the theaters together for some good clean entertainment. The film introduces a whole new Benji to a whole new generation of viewers. But does Benji: Off The Leash succeed as film for both kids and adults alike?
Off The Leash opens with a young boy named Colby taking care of some new pups that his father is raising as part of his dog-breeding business. The new Benji character is presented as the outcast - the mutt deemed to be without value (by Colby's father) due to his mixed breed. Colby rescues Benji from doom and the story unfolds from there. As Colby struggles with his heartless and abusive father, Benji becomes determined to see his mother set free from the clutches of Colby's father. Along the way, we're introduced to the highly campy buffoons Sheldon and Livingston who are local Animal Control agents trying to track down strays. The film loses some credibility with these cheesy, cliche-driven characters. You've seen their antics before, whether it's Abbott & Costello or Laurel & Hardy, and they're never anywhere near the entertainment value of such greats. Interestingly enough, Duane Stephens, who plays Sheldon, resembles the late comedian John Candy in voice and deed so much that it's eerie. Again, unfortunately, Stephens never compares comedically.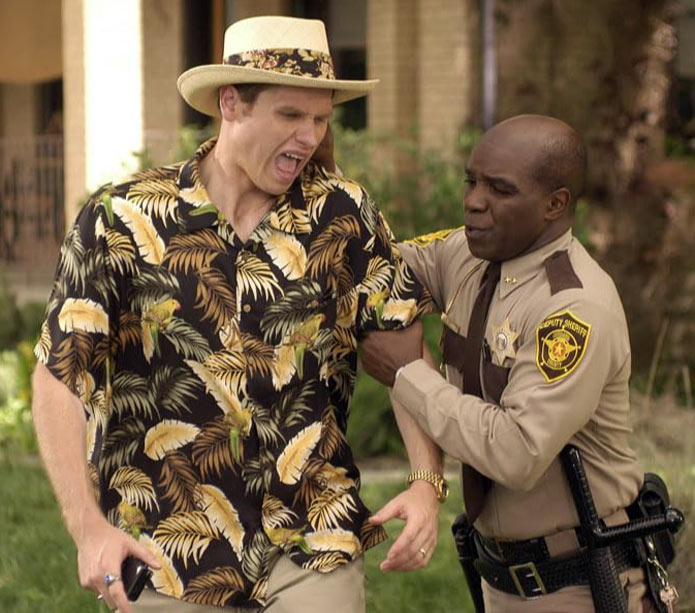 The themes that permeate the central story of Benji: Off The Leash are surprisingly heavy. While many younger kids may not fully grasp the extent of the abusive nature of Colby's father Terrence, any adult may be surprised that such a dimension to the story is present. It's implied, but never showed, that Terrence hits his wife and potentially even Colby. He's abusive to them verbally and emotionally to the point of striking fear in them. The problem with Hatchett being the film's main villain is we're handed the heavy, sad, and real concept of the dysfunctional family -- right smack-dab in the middle of a children's film. So if good is to prevail, evil must be stopped, leaving the family broken in the end, resulting in one indeed bittersweet resolution. The picture Camp paints of Hatchett is an essentially evil one as well. There's more of a cartoonish portrait of him painted here with no explanation given to why he might be so abusive. Why would Colby's kind and submissive wife ever marry this guy in the first place? The story is basic, but then again it's merely a vehicle to bring about the real reason for even making this film - bringing Benji and company to the screen again!
The dogs did an impressive job holding their own in this film as well. While the dog filling in for Benji may have been a wee bit too shaggy to really pass as Benji, the film did take an imaginative approach to explaining why Benji looks different. But my wife and I both agreed while watching the two central dogs who looked relatively similar (with just one considerably more shaggy than the other), we struggled on deciding who was supposed to be Benji. The name "Benji" wasn't even really mentioned until the film was ending and it just seemed odd given the movie is about the dog Benji.
Beefs about the themes aside -- while I had trouble getting past the heavy themes, and I worried how kids would receive it, I was pleasantly surprised to hear the few children in the theater with me and my wife exclaim how much they loved the movie. There really aren't many films you can take your kids to these days and it's nice to have Joe Camp sticking his neck out to get some truly decent family entertainment on the silver screen. It's not a perfect film by any means, but it's got plenty of fun for the kids, and if it does nothing else for a parent, it should give them peace of mind that they made the right decision in taking them to see Benji over a lot of the other Hollywood tripe available.
All in all, I wasn't especially enchanted by Benji: Off The Leash, but I am appreciative of it. The film is a mixed bag of heavy thematic issues and silly comedic elements, but the end result still works well enough. Some more attention to the script and character development could have really sharpened up this film, but regardless Benji: Off The Leash is a fine late Summer afternoon escape you can take your kids to without a shred of guilt.
-
John DiBiase
(reviewed: 8/25/04)
Parental Guide: Content Summary

Sex/Nudity
: None.

Vulgarity/Language
: None.

Alcohol/Drugs
: We see a garbage with empty beer bottles on top. Hatchett has a couple beers at dinner.

Blood/Gore
: Colby's mother has a bruise on her forehead from where Hatchett had apparently struck her (unseen).

Violence
: Mostly comedic violence. In one scene we see a man toss a dog across the floor (he's okay); it's implied that Hatchett is an abusive father and husband (and to the animals).
Disclaimer: All reviews are based solely on the opinions of the reviewer. Most reviews are rated on how the reviewer enjoyed the film overall, not exclusively on content. However, if the content really affects the reviewer's opinion and experience of the film, it will definitely affect the reviewer's overall rating.
To find out why we don't typically review R-rated movies,
click here