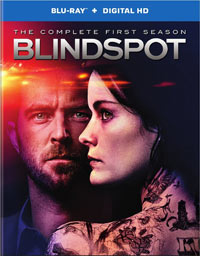 Blindspot: The Complete First Season

Starring:
Jaimie Alexander, Sullivan Stapleton, Rob Brown, Audrey Esparza, Ashley Johnson, François Arnaud, Marianne Jean-Baptiste
Running Time:
Blu-Ray - 4 discs: 978 minutes
Blu-Ray/DVD Release Date:
August 2, 2016 (
Amazon.com
)
Plot Summary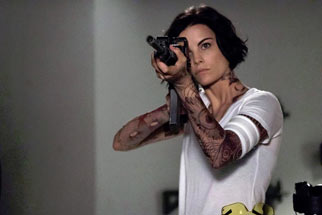 Sullivan Stapleton stars as hardened FBI agent Kurt Weller, who is drawn into a complex conspiracy when a mysterious woman (Jaime Alexander), is found in Times Square covered in a series of cryptic tattoos … including his name on her back. As Weller and his teammates at the FBI - among them, wartime vet Edgar Reed, the secretive Tasha Zapata and Assistant Director Mayfair (Marianne Jean-Baptiste) - begin to investigate Jane Doe's tattoos, they are drawn into a high-stakes underworld that twists and turns through a labyrinth of secrets and revelations - and the information they uncover might ultimately change the world. (from Warner Bros.)
Season Review
Every year, TV stations debut new series -- basically throwing them against the wall to see which stick and which do not. Some gather loyal followings right away and still aren't able to survive -- like Firefly or, more recently, Forever and Almost Human. And then there are those like Blindspot, which after a few episodes, get a full season order and then a season renewal before its first season even concludes. So what makes a show like this one stand out from the pack enough to make the cut -- and not only make the cut, but thrive?
Blindspot is a little bit like a Jason Bourne-style television show with aspects of National Treasure, and the Liam Neeson thriller Unknown. A woman wakes up in Times Square in the middle of the night in a duffle bag with no recollection of who she is or how she got there. To make things even more perplexing, she's stark naked and has tattoos all over her body. One of the biggest of these tattoos is a single name - Kurt Weller, an FBI agent. Before long, she's in the FBI's custody and they start decoding the many tattoos on her body. Each puzzle starts leading to locations and people who end up being a threat to the nation's securtiy. Meanwhile, the woman--now dubbed "Jane Doe"--is struggling to remember who she is and where she comes from. And to complicate things further, she realizes she can speak foreign languages and has serious combat training. Who is Jane Doe?!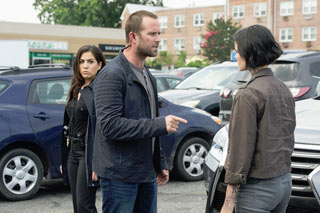 As a fan of the Bourne films, the premise and direction of the show is intriguing and entertaining to me. After an episode or two, I wasn't quite sure whether or not I was interested enough to stick with it, but the mystery surrounding Jane had me coming back. Some of it felt a little contrived when they began hinting at connections she might have, but it all started to fall into place as the episodes began stacking up. And so Blindspot quickly began to prove its worth. At first, it felt like each episode was going to be like "Oh, it's just a week-to-week puzzle solving of a tattoo, I get it...", but as the season revved up, the overall story arc became clearer, the drama more intense, and the mystery that much more engrossing. But the episodes that stand out most from the whole season are ones that deviate from the norm. "Authentic Flirt" finds Weller and Jane undercover in a Bond-esque scenario, pit against a crazy foe; Agent Zapata gets the spotlight as she infiltrates a trafficking ring in "Rules in Defiance;" the agency HQ is compromised in an exciting way in "Of Whose Uneasy Route;" while possibly my favorite episode of the season is "In the Comet of Us," where the team are caught in a shootout in a school and the story is told from multiple perspectives in segments, adding to the tension and deviating from the norm (it's just a little bit like the movie Vantage Point in its storytelling technique, but not quite as tedious). But there are quite a few highlights in the season, and the more mysteries start to unfold (or seem to), the easier it is to keep coming back for the next episode.
Jaimie Alexander (Thor) is perfect as the lead, Jane Doe. She's able to be vulnerable and tough at the same time, and she's believable in each situation. You can really feel for her. Sullivan Stapleton is the rugged FBI agent Kurt Weller, and I have to admit it's difficult to warm up to him at first. In fact, I felt as though he was one of the weakest links at first. But, as the season progressed, I found myself growing to like each character -- even Zapata, who seemed really bland at first too (except Mayfair... I never cared for her). Stapleton does seem to loosen up Weller in later episodes, however. I don't know if they decided he needed to ease up a bit and stop mugging in every shot, but he does become more likable with each episode. On the flipside, there are some side characters that come in and out of the show that are either entirely annoying (usually for good reason), or just aren't as missed as they're supposed to be when they are exited from the show. But the series does feel like it's still developing, so there's a good chance its evolution will only grow stronger in Season 2.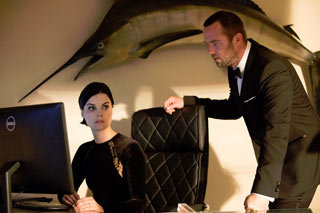 Now, the content's a bit tricky. There is some mild language in most episodes--with the worst being the occasional use of "S.O.B,"--but violence is usually the show's biggest setback for some viewers. There is some sexual content, as well, however. The pilot episode shows most of Jane's nude body several times, in order to illustrate that her entire body is covered in tattoos. We see her cowering in Times Square with her hands up and only some dim light and a glare to disguise any explicit nudity, but also the tattoos themselves cover up anything really explicit. In the first few episodes, we see Jane either topless and covering her chest as she looks at her tattoos in the mirro, or in small shorts and a tube top to show off the tattoos (to the audience). In later episodes, we seldom see them as she often wears long sleeves and pants. There are a few surprising sex scenes too, including Agent Reade in the shower with a woman he's dating, a steamy scene between Jane and another man (as they tear at each other's clothes while making out), and a scene with Weller and a girlfriend. There's also a very funny, but often crass, character who goes by the name "Rich dotcom" who often flirts with Jane and Weller, and makes suggestive remarks to both. In one scene, he even kisses another guy. On that note, they reveal one of the main characters is a lesbian and we see flashbacks of her with a girlfriend and in a later episode, she picks up a girl at a bar and goes back to her place (but nothing happens). It's one of those shows that rides the line of violence and sexuality at times, unfortunately. There's a great deal of action violence, but it's seldom graphic (again, it's along the lines of a Bourne film). However, it can get pretty bloody at times--not quite like The Blacklist or 24, but it is more intense than some other action shows.
Warts and all, I enjoyed Blindspot's first season for the most part. It's certainly not perfect, and I have my own feelings about plot elements and characters and the way things have played out, but I'm also eager to see where it goes next. While some shows get tedious or maybe even boring as a season progresses (Arrow and Scorpion are guilty of this, to a degree), Blindspot became a show worth anticipating each week.
-
John DiBiase
(reviewed: 8/2/16)
Blu-Ray Special Features Review
Blindspot: The Complete First Season
is available with all 23 episodes in a 4-disc Blu-Ray set (with Digital HD) or a 5-disc DVD set. The special features are pretty solid for this set, as they work hard to introduce a new series to new viewers. In addition to audio commentary for the show's pilot on the first disc are the following extras...
Casting The Team (9:54) features the producers and cast talking about conceptualizing the show. And the show creator reveals that they were able to get all 6 cast members they really wanted. This featurette goes through each member of the main cast and their character and how their characters relate to each other. We also get some great cast interviews here. (1 "a" word)
Oscar: The Handler (5:15) is all about the mystery and complexity of the character Oscar, casting him and how he fits into the show and story. We also get to hear from François Arnaud directly about his thoughts on his character.
Weller Takes Action (3:23) - This one is about Sully's fight scenes on set and how he has previous training from other films he's made.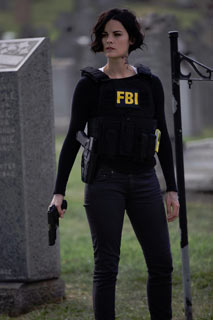 Double Vision (3:39) is dedicated to Jaimie's stunt double, Ky Furneaux, who she's worked with for 10 years now! We see both Kylie and Jaimie doing stunts while both talking about letting each other do certain fights they know the other is better at.
Rich dotcom (4:43) - The show's creator/executive producer invited his friend Ennis Esmer to play Rich in an episode that he had envisioned as a Bond movie (with Rich dotcom like a Bond villain, but a different kind of one), and decided to bring him back later in the season again. He reveals that he hopes to bring him back in Season 2 as well.
Make It GO Boom! (4:55) is all about the stunts and explosions in the show. This breaks down a moment where Reade jumps away from a real explosion and shows us how they did it. (1 "a" word)
Tattooed Clues (7:08) - Here, the show runner talks about how he really wanted to do a puzzle show, and had originally envisioned a man defusing a bomb in Times Square, only to find it was a beautiful woman in a bag. He then talks about Jane's tattoos and how the show runners know what about half of them are, while the other half were designed generic enough to use for the future. (1 "a" word)
Deleted Scenes - Spread out across the four discs, there are deleted scenes for episodes 1, 2, 6, 7, 8, 9, 10, 12, 14, 17, and 21. For example, in episode 21, it's just a brief moment between Jane and Patterson, talking about tattoo removal, that was cut out.
Bound and Gag Reel (4:26) is a fun, albeit standard, gag reel. There's qute a large amount of bleeped out profanity from Sullivan, while all of the cast is shown goofing off on set and messing up lines.
Blindspot: 2015 Comic-Con Panel (15:27) - Before the show even aired its first episode, Jaimie Alexander and the show's three executive producers attended San Diego Comic-Con for a Blindspot panel. Here, they talk about the show's concept, what viewers can expect, shutting down and shooting in Times Square, NY, the application of the tattoos, and more. (1 "a" word, 2 "J-sus")
Disclaimer: All reviews are based solely on the opinions of the reviewer. Most reviews are rated on how the reviewer enjoyed the film overall, not exclusively on content. However, if the content really affects the reviewer's opinion and experience of the film, it will definitely affect the reviewer's overall rating.
To find out why we don't typically review R-rated movies,
click here