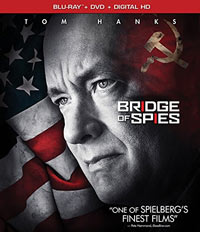 Bridge of Spies


- for some violence and brief strong language.
Director:
Steven Spielberg
Starring:
Tom Hanks, Amy Ryan, Mark Rylance, Austin Stowell, Will Rogers, Billy Magnussen
Running Time:
2 hours, 21 minutes
Theatrical Release Date:
October 16, 2015
Official Site
Blu-Ray Release Date:
February 2, 2016 (
Amazon.com
)
Plot Summary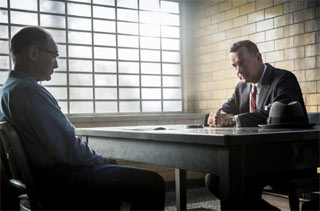 A dramatic thriller set against the backdrop of a series of historic events, "Bridge of Spies" tells the story of James Donovan (Tom Hanks), a Brooklyn lawyer who finds himself thrust into the center of the Cold War when the CIA sends him on a near impossible mission to negotiate the release of a captured American U-2 pilot. High stakes and suspense power a story inspired by true events that capture the essence of a man who risked everything and vividly brings his personal journey to life. (from Click Comm.)
Film Review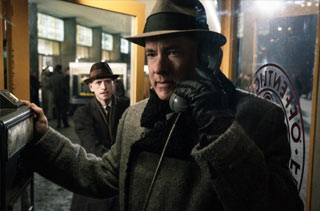 When renowned and celebrated director Steven Spielberg puts his name on any film, it's guaranteed to get attention. In recent years, Steven seems to have left the realm of huge blockbuster films to tackle large scale stories, often rooted in historical fact to some degree. Following an account of Abraham Lincoln's life in his 2012 film Lincoln, Steven has set out to tell the real life story of Jim Donovan, an insurance lawyer who was tasked in the 1960s of representing a suspected Soviet spy that no one else wanted to defend. Donovan's support of this spy gets down to the humanity of the man and destroys the barriers of politics and countries to take a deeper look into the moral behaviors of our society.
For fans of Spielberg's big stories and action-packed outings - like Jurassic Park, Indiana Jones, Jaws, or the War of the Worlds remake, to name a few - a movie like Bridge of Spies is something completely different. The film is a drama first and foremost, and Spielberg lets stellar acting and a slower pace carry the story forward in detail, very slowly building up tension and suspense. There's very little action, just one scene really, with the core of the story spending most of the time on Donovan and Abel and the great lengths Donovan has to go through to not only save Abel's life, but to then leveraging his imprisonment to secure the release of an American P.O.W.
While a great story in and of itself, Bridge of Spies isn't for everyone. Spielberg doesn't rush the story, giving it a 2-hours-and-21-minutes running time that sometimes feels far too slow or overlong. If the story weren't compelling, and if the acting wasn't topnotch, the film would just drag. But this is the kind of movie where chunks of it contains just two people talking in a room about how to handle spies, court cases, or securing the release of captives. The climax of the film -- what everything is building toward -- is really the encounter on the famous bridge (which was later dubbed "The Bridge of Spies"), so that kind of gives you an idea of the tone and feel of the film. It's not an action movie; if anything, I see this film making it into classrooms one day (alongside Lincoln).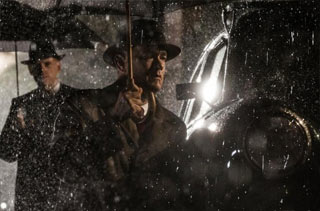 The content for the film isn't too harsh. However, one scene has an agent warning Donovan that he's going to "f---" it all up, to which Donovan protests that he has it all under control before admitting he might "f---" it all up if it doesn't work out. It's totally unnecessary to have in the film, and it feels out of place especially when Donovan's character doesn't really swear much in the film. There's some violence, but not a whole lot, but the most disturbing part about it is that it's inspired by real-life events during the Cold War. For one, the story takes us to Berlin as the wall is being built between East and West Berlin, and it's a bit harrowing to watch this realistic representation of such an awful true-life event. A related scene has Donovan watching out a window as a few people in Germany try scaling a wall and are gunned down in the process. Another scene shows a plane getting shot out of the sky as the pilot struggles to get out, and another scene shows a man being intimidated by a gang on the Berlin streets to give up his overcoat during the dead of winter. Lastly, we see a girl watching TV when her house starts getting riddled with bullets. No one is harmed, but it might be a scary scene for some viewers.
Bridge of Spies is an excellent drama and a great snapshot of a tumultuous time in our history. It's certainly not for everyone, but those who enjoy historical films and period dramas should enjoy Spielberg's approach here. It also offers some enlightenment into some of the atrocities of our past, in hopes that we may learn from them to not make the same mistakes in the future.
-
John DiBiase
(reviewed: 1/31/16)
Blu-Ray Special Features Review
Bridge of Spies
arrives on Blu-Ray in a DVD/Digital HD combo pack, on DVD, and through the usual digital providers. It's crisp and clear and looks vibrant in high definition. The special features include the following: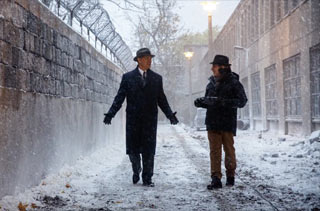 A Case of the Cold War: Bridge of Spies (17:45) - The film's main featurette reveals that the movie was inspired by a story Steven Spielberg's dad told him when he was a child. We see some great behind-the-scenes footage, interviews with the cast and the family of Powers, as well as the real Frederic Pryor. (1 "g*dd*mn," 1 "h*ll")
Berlin 1961: Recreating the Divide (11:35) features some people retelling real-life stories from this time period. We also get a look into how they recreated the building of the wall in 1961 and how they used a street in Poland to represent Berlin at that time in history. The featurette also talks about the costumes that were made to aim for period accuracy.
U2 Spy Plane (8:45) covers the U2 spy plane as we hear from Powers' real life son (who also had a cameo in the movie) and they reflect on Powers' legacy. Finally, we get a neat look behind the scenes of how they filmed the plane crash.
Spy Swap: Looking Back on the Final Act (5:42) - The special features conclude with a piece that's dedicated to the climactic finale on "The Bridge of Spies" where they filmed on the actual bridge used in that encounter.
-
John DiBiase
,
(reviewed: 1/31/16)
Parental Guide: Content Summary

Sex/Nudity
: We briefly see Abel in just a shirt and his briefs in his apartment.

Vulgarity/Language
: 2 "F" words, 3 "g*dd*mn," 4 "S.O.B," 3 "h*ll," 1 "d*mn," 1 "In G-d's name," 1 "J-sus," 1 "a" word"

Alcohol/Drugs
: Jim and Vogel have drinks together; We see a bottle of alcohol and glasses on the table with Jim and another agent. They talk about drinking it.

Blood/Gore
: None.

Violence
: A couple government men bust down the door to Abel's apartment; We see what looks like historical footage of an atomic bomb destroying buildings while kids in school watch; Someone shoots through the windows in Jim's house. His daughter drops to the floor to seek cover while we see the furniture get riddled with bullets; Missiles explode near a jet and then hit it. We see the pilot eject and struggle to hit the self-destruct button on the jet. We find out later that the plane crashed and the pilot was taken hostage; As they build the Berlin wall, we see people frantically escaping through windows on the other side; A soldier elbows a man in the stomach; A gang of Germans surround Jim and make him give up his overcoat; Some German soldiers throw buckets of water on Powers as they interrogate him in a chair; We see some people trying to climb over the wall get shot down.
Disclaimer: All reviews are based solely on the opinions of the reviewer. Most reviews are rated on how the reviewer enjoyed the film overall, not exclusively on content. However, if the content really affects the reviewer's opinion and experience of the film, it will definitely affect the reviewer's overall rating.
To find out why we don't typically review R-rated movies,
click here