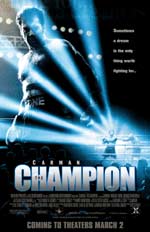 Carman: The Champion


- for street and ring violence, and for drug content.
Director:
Lee Stanley
Starring:
Carman Licciardello, Patricia Manterola
Running Time:
1 hour, 22 minutes
Christian Film Database Page
Plot Summary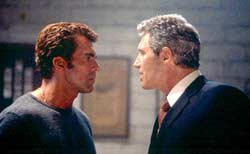 Former cruiserweight champion Orlando Leone (Carman) runs a youth center and works as a security guard for a local hotel. He finds himself in a confrontation with the current cruiserweight champion when responding to a complaint of too much noise in the hotel. The boxing promoter hearing of this and the publicity it brings blackmails Orlando into a must fight situation.
Film Review
I'm going to come clean and be completely honest with this review... (not that I'm usually not, but this one will be more detail-oriented than usual I suppose) For starters, Carman was one of the first Christian artists I started listening to when I first got into Christian music. Although I'm no longer a fan, I was into him when I was 13. And when I heard about this film, I feared it'd be a corny Christian-made film with Carman singing throughout it. Boy was I dead wrong.
Carman: The Champion is a well-produced Christian film that I think will surprise a lot of viewers. Although not completely original or new to the screen, the film has its moments and is definitely a worthy Christian production. As compared to Left Behind, this movie's music was better-- featuring songs by Skillet, Luna Halo, Living Sacrifice, Delirious, KJ-52, Pax217, and Carman himself. Also, the acting was better to a degree, and the production was just as good as the theatrical release of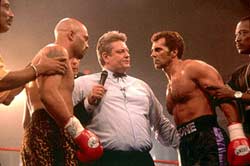 Left Behind or maybe even a little better. Carman did a surprisingly good job acting in the film as well. Playing a former boxing champ-turned-pastor, he seemed at home in the role. He was built amazingly well physically for role, too.
The story was overall pretty good. The drug-centered subplot revolving around a street kid who was mixed up with some drug dealers didn't seem to fit perfectly, but it still managed to work well enough regardless. The romance between Orlando and Allia seemed mildly unrealistic, but it didn't hurt the film. The film's strength lied within Carman's character Orlando and his struggle to fulfill his dreams by purchasing a large building to pose as a youth center. He then gets blackmailed, although retired, to fight the current cruiserweight champ. Although it's no modern Rocky film, it's quality entertainment with a good message about keeping the faith and doing the right thing.
Content was pretty decent, but definitely PG-13 material. There's quite a bit of 'boxing violence' including a good amount of blood on the boxer's faces. Also, there's plenty of violence when a pair drug dealers try to kill another person in a car chase. Language was very mild with a couple spoken and written examples of a product Kershon (the other champion) endorsed called "Whoop *ss," 1 "h*ll," and 1 "cr*p." And sex/nudity was mostly nonexistent except for a really passionate kiss between Orlando and Allia, as well as some outfits she wears has a low-cut neck, and Kershon starts to get a little fresh with a girl at his party while there is a lot of 'dancing' at this wild party. There is also drinking at the party and there are a couple incidents involving some men dealing crack.
Overall, the movie was much better than I anticipated. This film as well as Left Behind show a considerable rise in the production and overall quality of Christian films these days. This movie is overall pretty wholesome and positive PG-13 movie that may be a bit too violent for the younger ones. Catch it on the big screen if it's available in your area, and if it's not, then feel free to catch it on video if you're looking for some good Christian entertainment. With that, I give the Carman's first attempt at a theatrical release, Carman: The Champion a 3 out of 4.
-
John DiBiase
,
(reviewed: 3/22/01)
Parental Guide: Content Summary

Sex/Nudity
: Orlando and Allia passionately kiss for a moment. Some people at a wild party are dancing 'inappropriately' and are dressed immodestly.

Vulgarity/Language
: 3 "a" words (as "whoop *ss," also seen written a couple times), 1 h*ll, and 1 cr*p

Alcohol/Drugs
: Two kids have to get crack for some drug dealers; People at a party drink & Keshon is drunk; one of the drug dealers drinks from a bottle in a paper bag.

Blood/Gore
: The faces of 2 boxers are bleeding; Orlando has a bandage on his head with a small bloody stain on it; 2 boxer's faces are quite swollen and bloody during another fight; Although not bloody or gory, we see a person get hit by a car and fly up over it and land on the ground (and apparently dies).

Violence
: Boxing violence; some kids break a truck window, some guys with baseball bats attack a van while a person is inside; a car explodes with 2 people inside; a person is hit by a car and killed
Disclaimer: All reviews are based solely on the opinions of the reviewer. Most reviews are rated on how the reviewer enjoyed the film overall, not exclusively on content. However, if the content really affects the reviewer's opinion and experience of the film, it will definitely affect the reviewer's overall rating.
To find out why we don't typically review R-rated movies,
click here