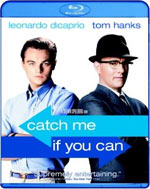 Catch Me If You Can


- for sexual content and brief language
Director:
Steven Spielberg
Starring:
Leonardo DiCaprio, Tom Hanks, Christopher Walken, Amy Adams, Elizabeth Banks, Martin Sheen, Jennifer Garner
Running Time:
2 hours, 21 minutes
Theatrical Release Date:
December 25, 2002
Blu-Ray Release Date:
December 4, 2012 (
Amazon.com
)
Plot Summary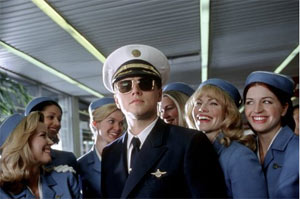 The extraordinary true story of a brilliant master of deception and the FBI agent hot on his trail makes its high definition debut when CATCH ME IF YOU CAN arrives on Blu-ray December 4, 2012 from Paramount Home Media Distribution. Oscar®-nominee* Leonardo DiCaprio and Academy Award®-winner** Tom Hanks star in the "supremely entertaining" (New York Times) tale of Frank W. Abagnale, Jr. as he successfully passes himself off as a pilot, a lawyer and a doctor-all before his 21st birthday. Directed by Academy Award-winner*** Steven Spielberg, CATCH ME IF YOU CAN is a "flat-out-fun movie" (Associated Press) that lets viewers join in on a truly incredible game of cat and mouse. (from m80)
Film Review
It can be interesting to note that some of the best stories aren't necessarily the best -- or favorite -- movies. Steven Spielberg is a celebrated director and when he followed up his action thriller
Minority Report
with a drama in
Catch Me If You Can
, it was a movie that represented an entirely different kind of film and audience. I remember seeing the film in the theaters ten years ago, and when the opportunity arose to revisit it on its 10th Anniversary debut on Blu-Ray, I decided to take the chance.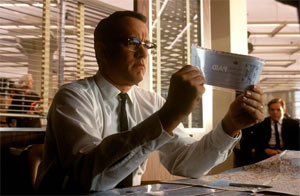 Catch Me If You Can is about a teenager, named Frank Abagnale Jr, in the 60's who decides to run away from home as his beloved family life begins to fall apart. His dad is a war veteran who met and married his mother while in the service in France. Frank sees his parents as the perfect couple, but when financial hardship comes to them, he finds his mother beginning to cheat on his father and it all ends in divorce. Frank flees his home, and soon discovers his gift for bank and check fraud, as well as assuming identities in different careers in order to "get back" all of the things his family lost through the years. At first, Frank's exploits seem glamourous, but Spielberg is careful to show that all of the young boy's choices have significant consequence, so it never seems like Frank's criminal acts have been worth what he had to sacrifice in the process.
Chasing Frank across the globe through all of this is an FBI agent named Carl who knows a thing or two about losing his family. He's stubborn and maybe not all that bright, but he sympathizes with the kid as their cat-and-mouse chase turns from months to years. You might think that this would make Carl hate Frank, but for some reason, it seems to only make Carl pity him more. Spielberg decides to tell the story of Frank in an almost Christopher Nolan-esque way. It's not quite Memento of course, but Spielberg opens the film with Carl visiting Frank in a foreign prison, and we then see the beginning of Frank's story as a flashback. Eventually the film catches up with "present day" story and goes from there, but until then, there's some periodical jumping back and forth between the flashbacks and the current (i.e. in the '70s) part of the story. It's a little unnecessary to have the jumping around so much, but it does add a bit of extra spice to what would otherwise be mostly a standard drama.
Ultimately, Catch Me If You Can has a lot to do, thematically, with family. The destruction of Frank's family causes him to take to the road and live a lie of other identities while stealing from banks via check fraud. The only constant during this time is the FBI agent chasing him, Carl, who ends up strangely becoming a sort of father figure to him. Meanwhile, his father is too prideful to dig himself out of his own financial problems, while his mother has moved on to a new life entirely. Frank keeps insisting he's trying to "get it all back," but he's so addicted to making money and being on the run that he doesn't really know what else to do with himself. Even when he tries to settle down, he discovers that it's impossible to escape the lies he's spun.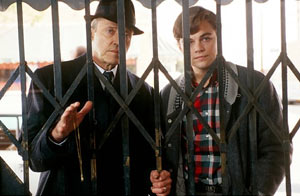 The content may be a little strong for a PG-13 film. With Frank being only sixteen or seventeen through much of the story, he ends up sleeping around with a couple of girls. As such, there's one moment where he woos a flight attendant with a necklace and we see her responding "No, no, no..." before it cuts to a shot of food on a cart being shaken to the floor as she cries "Yes! Yes! Yes!" as they're having sex in a hotel room. We then see him on top of her in bed (she's topless, but the shirt he's wearing blocks any of her nudity) as he tells her this is by far the best date he's ever been on. Later, while posing as a doctor, a girl comes on to him in his office and they passionately make out before being interrupted. In a later scene, we see the two in bed, but she stops them from going any further (she's in a bra and panties, he's shirtless) as she tells him she's had an abortion before and her family has disowned her (and therefore she's not sure she can sleep with him). There's also a handful of profanity - most of it blasphemy (like "g*dd*mn" and Jesus' name), but Hanks does utter the lone "F" word in an unexpected moment where his character is telling a "joke."
Catch Me If You Can is an expertly acted and executed drama that may suffer at times for being a bit too serious or heavy thematically, and also a little too long for its own good, clocking in at just under two and a half hours. Therefore, the film is kind of an acquired taste; it's not really one of those movies you'd probably rewatch over and over and over again. There's a recurring theme of Christmas that comes up during the movie, but it's often so bittersweet, that the movie is anything but festive. It's wonderfully directed and acted, but it isn't exactly a feel-good movie. And with the content being edgy at times, it's not really one you can sit down and watch with the family as well either. But while it may not be one of Spielberg's best, Catch Me If You Can is still a solid drama, even if it trips up a few times along the journey.
-
John DiBiase
(reviewed: 12/2/12)
Blu-Ray Special Features Review
2012 sees the debut of
Catch Me If You Can
on Blu-Ray. It's been ten years since it first released--and Spielberg's latest film,
Lincoln
, is in theaters now--so it's more than appropriate to release the movie for the first time in high definition this month. The movie looks great in HD, but the film is still a little grainy at times, although still very clear. It's not one of the better HD transfers I've seen, but it's still good and the best transfer of this film you can see. The Blu-Ray release includes some bonus features, but all of them are presented in standard definition and were previously found on the original DVD release.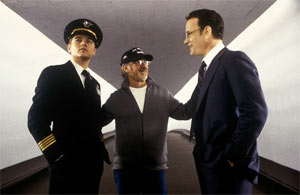 Catch Me If You Can: Behind The Camera (17:09) - This is a standard definition behind-the-scenes featurette for Catch Me If You Can that first appeared on the original DVD. It's a little disappointing that it isn't in HD, but it's still a great making-of look at the movie. In watching these extras on a widescreen TV, you'll notice that the video just floats in the middle of your screen since the resolution is so low.
CAST Me If You Can - The Casting of the Film is a series of vignettes that focus on the casting of Leonardo DiCaprio as Frank Abagnale, Jr; Tom Hands as Carl Hanratty; Chrisopher Walken and Nathalie Baye as Franks Parents; Marin Sheen and Amy Adams as The Strong Family; and Jennifer Garner as Cheryl Ann. They're great and insightful little looks into the assembly of the cast.
Scoring Catch Me If You Can (5:25) - Iconic composer John Williams talks about how he scored the film, what he was going for with the music, and how this was his twentieth scoring project with Spielberg!
Frank Abagnale: Between Reality and Fiction - This is another series of featurettes, this time dedicated to the real Frank Abagnale, Jr. who wrote a book about his own life that inspired the film, Catch Me If You Can. He recounts some of his life stories here first-hand, which is quite intriguing!
The FBI Perspective (7:07) reveals that Spielberg had a real retired FBI agent consult on the film. It gave the film an authenticity, and it helped Hanks represent the Bureau accurately.
Catch Me If You Can: In Closing (4:59) has the cast, crew, and Abagnale himself talking about the movie and story after it was finished.
A series of photo galleries round out the extras. They're all great bonus features, but it's just disappointing that none of them are in HD and none of them are new to this release. A tenth anniversary look back at the movie from cast and crew would have been cool, or at least some of the features being in HD.
-
John DiBiase
,
(reviewed: 12/3/12)
Parental Guide: Content Summary

Sex/Nudity
: Frank comes home from school to hear a record playing and a man, fully clothed, emerge from his mother's bedroom (she's also fully clothed). She begins to act nervous and Frank realizes that his mom is cheating on his father; Frank finds another coat and hat on the couch when he comes home another day, but it turns out to be that a divorce lawyer is there; Frank woos a flight attendant with a necklace and we see her responding "No, no, no..." before it cuts to a shot of food on a cart being shaken to the floor as she's shouting "Yes! Yes! Yes!" as they're having sex in a hotel room. We then see him on top of her in bed (she's topless, but the shirt he's wearing blocks any of her nudity) as he tells her this is by far the best date he's ever been on; Frank flirts with a female bank teller and she flirts back. At one point, she's explaining what the numbers on a check mean and he points to them as she holds it in front of her clothed chest (he's doing so innocently). She then pulls the check away so his finger is pointing at her chest and he pulls his hand back and she laughs; Frank and a girl named Chery Ann meet at a hotel and go to his room. She then asks him how much he'd pay for her if she was a trinket in the hotel gift shop and she strikes up a deal with him for her to sleep with him (we just see some kissing before the scene ends); Frank leans in to kiss Brenda and then backs up. She's shocked and he's about to apologize when she lunges at him and they start making out. He's then paged to come to work and he asks if he should go and she insists he should. The scene ends there; We see Frank under the covers, shirtless and Brenda starts crying. We see her in bed with him, she's in her bra and panties, and she says she can't do it. He says it's okay if she's a virgin, he can wait, and she insists she's not and that she's actually had an abortion.

Vulgarity/Language
: 1 "F" word, 2 "J-sus," 3 "S" words, 4 "g*dd*mn," 1 "Oh my G-d," 2 "G-d," 3 "h*ll," 1 "d*mn," 2 "p*ssy" (quoting the James Bond movie and character), 1 "Chr-st," 1 "t*ts"

Alcohol/Drugs
: We see Frank's mom dancing with a glass of wine and she accidentally spills some on the floor; We see some other miscellaneous drinks throughout the movie, including at a party

Blood/Gore
: When Frank is posing as a doctor and goes to see a kid with a bicycle accident wound, he walks towards the patient's bed and we see nurses walk away with a very bloody sheet. We then see the kid's shin with some nasty cuts/scrapes and a lot of blood all over his leg and the bed surrounding it. Frank then leaves, feels sick, and pukes into a sink in a nearby janitor's closet (not seen in detail); We see a little bit of blood on the side of Frank's head from when he was in a foreign cell.

Violence
: Carl is often seen carrying his gun, but he never fires it; A kid shoves Frank up against a locker in school; A group of squad cars surrounds Frank and Carl after Frank surrenders; Frank slams his head repeatedly on a wall out of frustration.
Disclaimer: All reviews are based solely on the opinions of the reviewer. Most reviews are rated on how the reviewer enjoyed the film overall, not exclusively on content. However, if the content really affects the reviewer's opinion and experience of the film, it will definitely affect the reviewer's overall rating.
To find out why we don't typically review R-rated movies,
click here