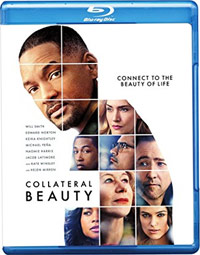 Collateral Beauty


- for thematic elements and brief strong language.
Director:
David Frankel
Starring:
Will Smith, Edward Norton, Kate Winslet, Helen Mirren, Keira Knightley, Michael Pena, Naomie Harris, Jacob Latimore
Running Time:
1 hour, 36 minutes
Theatrical Release Date:
December 16, 2016
Official Site
Blu-Ray Release Date:
March 14, 2017 (
Amazon.com
)
Plot Summary
Retreating from life after a tragedy, a man questions the universe by writing to Love, Time and Death. Receiving unexpected answers, he begins to see how these things interlock and how even loss can reveal moments of meaning and beauty. (from IMDB)
Film Review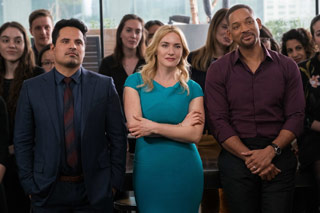 Star power doesn't necessary guarantee a film's success. When you see a cast list that boasts the likes of Will Smith, Edward Norton, Kate Winslet, Helen Mirren, Keira Knightley, Michael Pena and Naomie Harris, you'd expect nothing but box office gold. Sadly, Collateral Beauty failed to make an impact when it released this past Christmas (and on the same day as the newest Star Wars entry), barely breaking 10% "Fresh" on Rotten Tomatoes and not making much of a mark at the ticket booth. But the trailer intrigued me -- especially with this cast -- and I wanted to see what all the negativity was about. And without reading details as to why reviewers found it to be such a stinker, I went into watching Collateral Beauty with a mostly open mind.
If you're prone to empathy and like a good tearjerker, Collateral Beauty is pretty much tailormade for you. The story revolves around Will Smith's character, Howard, the co-owner of a large advertising firm who has slipped into a crippling depression after losing his six-year-old daughter to a rare disease. His business partners, which include characters played by Edward Norton, Kate Winslet, and Michael Pena, worry about the company's future and are desperate to get control of the company away from Howard (who's basically letting it tank). After learning that Howard has been writing letters (as a coping mechanism) to time, love, and death, Norton's character, Whit, devises a scheme to hire a trio of actors (played by Helen Mirren, Keira Knightley and Jacob Latimore) to pose as these things in human form and try to get Howard to cope with the tragedy in his life. Whit successfully puts his plan into motion and we start to see Howard take steps forward in the healing process, even deciding to start attending a grief counseling session.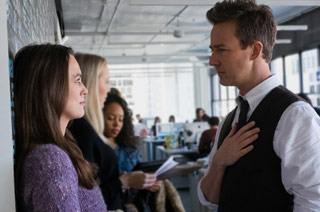 Right off the bat, I can see why Collateral Beauty isn't for everyone. But the acting is pretty on point--especially from Smith--and the filmmakers have approached it like a self-proclaimed, traditional "fable," even if that doesn't come across clear enough to the general audience. The tone of the film is rather serious, but director David Frankel and his team make sure to inject some humor here and there to keep it a little lighter (Howard's response to Love sitting down across from him at a diner is priceless). Still, there are serious themes about death and dying, the loss of a child, and divorce all due to tragedy. Whit's character is even struggling to win back the affections of his daughter after having cheated on his wife (his daughter's mother), and breaking up the family. There are a lot of side stories that converge with Howard's main crisis in the center. And, in the end, it's brimming with drama that may be just too much for some viewers to digest. Furthermore, the plot developments can be a bit predictable. My wife and I both called a few of them out either early on or just before they happened (she even caught the reveal at the end when I just hadn't even thought of it). It's all a kind of silly premise in a way, but the issues are serious and real, and it's enough to give some people food for thought, especially for anyone struggling with depression or pain. This doesn't mean it isn't affecting, though. We both found the story to be touching. Still, there are some characters -- or more so, moments and dialog, that don't feel as genuine. And when you really stop to think that these friends would try to dupe their friend for the sake of the business, it's hard not to think that that seems a bit underhanded to do.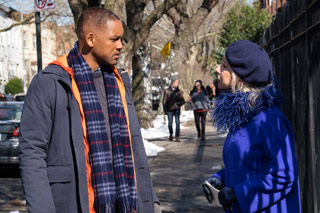 The content is pretty heavy thematically. For the most part, there's also just a handful of language, including 1 use of the "F" word from Smith when he's telling off Death about his pain. There's a little bit of dialog that revolves around Whit's infidelity, but that is about the height of the objectionable content. For the most part, the film tries to be a "magical" holiday-driven fable about love and loss and taking strides out of depression to return to the land of the living -- but it's much to weighty to be a family film (or even one you'd want to watch at Christmas each year).
Collateral Beauty is hardly the dud that the critics have condemned it to be. It's not quite a perfect holiday film either, and there are moments in the film that feel as though they were accomplished more weakly than they could have been - even if it's tough to pinpoint just exactly when those moments were. If you're a fan of any of the central cast, and you like a good tearjerker, Collateral Beauty shouldn't be missed. However, if you like your dramas grounded entirely in reality and don't like your emotions manipulated, you'll be among the majority of Rotten Tomatoes critics who just couldn't find the merit in this humble little film.
-
John DiBiase
(reviewed: 3/19/17)
Blu-Ray Special Features Review
Collateral Beauty
is available on single-disc DVD or single-disc Blu-Ray with a bonus Digital HD copy. The Blu-Ray disc offers the film in a really crisp HD presentation, as well as with the following behind-the-scenes featurette.
A Modern Fable: Discovering Collateral Beauty (15:03) is the single special feature here and does its best to cover all of the main production aspects in its fifteen minute runtime. Here the filmmakers talk about the story as a "fable" and in the same magical holiday spirit as It's a Wonderful Life. They also talked about filming on location in New York City and how important that was to the story. Finally, we get to hear from all of the central cast about their parts and working with each other, while also seeing some really fun behind-the-scenes footage.
-
John DiBiase
,
(reviewed: 3/19/17)
Parental Guide: Content Summary

Sex/Nudity
: Whit and Claire talk about the fact that Whit cheated on his wife (not with Claire); Whit's daughter calls him a philanderer; Whit asks Amy if he can kiss her and she says not to sexualize their relationship. He insists he's not, and insists further that he has even no sexualized sex.

Vulgarity/Language
: 1 "F" word, 10 "S" words, 3 "G-d," 2 "Oh my G-d," 3 "h*ll," 2 "s*cks," 1 "b*tch," 1 "p*ssed off," 1 "friggen," 1 "J-sus"

Alcohol/Drugs
: None.

Blood/Gore
: We see a tiny bit of blood on a towel after a man coughs into it.

Violence
: Howard rides his bike head-on into traffic at least twice; We learn that a man is dying of a disease.
Disclaimer: All reviews are based solely on the opinions of the reviewer. Most reviews are rated on how the reviewer enjoyed the film overall, not exclusively on content. However, if the content really affects the reviewer's opinion and experience of the film, it will definitely affect the reviewer's overall rating.
To find out why we don't typically review R-rated movies,
click here