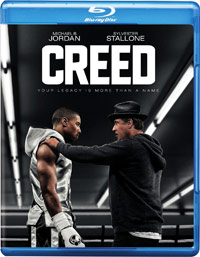 Creed


- for violence, language and some sensuality.
Director:
Ryan Coogler
Starring:
Michael B. Jordan, Sylvester Stallone, Tessa Thompson, Phylicia Rashad, Tony Bellew
Running Time:
2 hours, 13 minutes
Theatrical Release Date:
November 25, 2015
Official Site
Blu-Ray Release Date:
March 1, 2016 (
Amazon.com
)
Plot Summary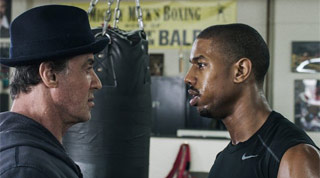 Adonis Johnson (Jordan) never knew his famous father, world heavyweight champion Apollo Creed, who died before he was born. Still, there's no denying that boxing is in his blood, so Adonis heads to Philadelphia, the site of Apollo Creed's legendary match with a tough upstart named Rocky Balboa. Once in the City of Brotherly Love, Adonis tracks Rocky (Stallone) down and asks him to be his trainer. Despite his insistence that he is out of the fight game for good, Rocky sees in Adonis the strength and determination he had known in Apollo-the fierce rival who became his closest friend. Agreeing to take him on, Rocky trains the young fighter, even as the former champ is battling an opponent more deadly than any he faced in the ring.
With Rocky in his corner, it isn't long before Adonis gets his own shot at the title…but can he develop not only the drive but also the heart of a true fighter, in time to get into the ring? (from Warner Bros.)
Film Review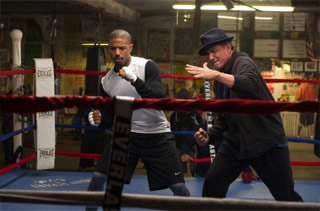 When Rocky Balboa hit theaters 10 years ago this year, it sure seemed like the final chapter in the long-running Rocky series that began in 1976 with Sylvester Stallone's tour de force, Rocky. For generations, the Philadelphia boxing hero has been inspiring athletes and sports fans alike, and it really isn't surprising that a project like Creed might come to light. The film was co-written and directed by Ryan Coogler, a fan of the Rocky films who grew up on watching the franchise and came up with an idea to continue the story himself. Creed answers the question: what if Apollo Creed had fathered a son before dying in the ring in Rocky IV... and what if this son had been conceived outside his marriage (so the world doesn't know a son of Creed exists). And then, what if that son had decided to follow in his father's footsteps?
Upon hearing about the basic premise for Creed, it's tempting to want to dismiss the film as nothing more than Hollywood trying to cash in on yet another recognizable property's name and serving as otherwise an easy "cash-grab" of sorts. Even more cynically, one might feel like it's just Stallone trying to relive some of his glory days again as he edges toward 70. However, Creed really feels nothing like any of that. Coogler approaches the project with grand ambition and appreciation for the Rocky legacy. The fact that it's about the son of Apollo Creed merely brings a fresh angle and a new approach to the story. It also allows Rocky to face the demons of his past--like the guilt he feels over the way Apollo died in the ring--and it gives him more of a mentor role this time around.
Stallone hardly phones this in either; I was shocked to hear he was nominated for an Oscar for his supporting role here, but after viewing the film, it makes total sense. An aging Rocky Balboa is a rich and engaging character, and Stallone delivers one of his best performances in years. In fact, it's so much so that he truly outshines and overshadows Michael B. Jordan as the title character, Adonis "Donnie" Johnson Creed. Jordan is good in the role, but he's rather dry and sometimes kind of lifeless. Moreover, his character is mostly angry and bitter, so when he spits some cheapshots at Rocky during a tense and sensitive moment, it doesn't feel like regretful words spoken defensively, it just sounds like words spoken in anger by a bitter person. Donnie does have his moments, but I found it really tough to warm up to him. If it weren't for him being a Creed, I'm not sure he'd be enough of an underdog to root for. He's a fighter from the start of the film, and pretty over-confident. Rocky has more of a rounded story arc, surprisingly--and it's not even his film. Rocky goes from a lonely, retired old fighter who feels forgotten and obsolete, to a fighter once again, but this time it's a different kind of fight in his life. It's a rewarding arc and one that packs an emotional punch in the story. When Donnie loses things because of his short temper and bruised ego, it's tough to feel for the guy; he can be a real jerk when he wants to be.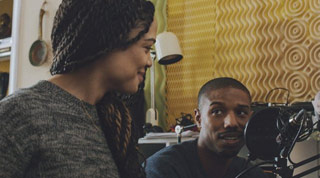 The content of Creed is pretty rough at times. Admittedly, while I've seen the original films, I don't remember how "clean" the content was, but there seemed to be more language and sexual content this time around. For example, Donnie uses the "F" word pretty clearly twice with an arguable third use potentially heard in another altercation at a club. Otherwise, there are quite a few uses of the "S" word, as well as other colorful words. Also, Donnie and Bianca share some pretty romantic moments, including one on the couch in Rocky's house right after the beloved boxer turns in for the night. Bianca straddles Donnie on the couch as they kiss and they start disrobing before lying down and the scene ending. Otherwise, there's the usual boxing violence, with a few scenes showing blood splashing out of the boxers' mouths during the fight and Donnie having a grossly swollen eye in a prolonged scene. There's also the theme of a character having cancer and dealing with chemo treatments that may be intense for some viewers and adds to the emotional weight of the story.
Creed is an excellent addition to the Rocky legacy. While Jordan doesn't quite embody the charisma that Carl Weathers had as Apollo Creed, Stallone's return to the Balboa character makes the film well worth watching alone. It's not a knockout, but Creed does pack a winning punch.
-
John DiBiase
(reviewed: 2/28/16)
Blu-Ray Special Features Review
Creed
arrives on Blu-Ray in a DVD/Digital HD combo pack, on DVD, and through the usual digital providers. It's crisp and clear and looks vibrant in high definition. The special features include the following:
Know the Past, Own the Future (14:49) - Here we find out that director Ryan Coogler grew up on the Rocky films and actually came up with the idea for Creed himself. He even met with Stallone to pitch the idea to him (who initially thought it sounded kind of crazy). This featurette covers all the main Rocky movies (particularly the ones that involved Apollo Creed) and the legacy of both Rocky and Apollo.
Becoming Adonis (5:46) is about Michael's training and diet in preparation for the film. We hear here that he spent about 8 months training to become Donnie!
Deleted Scenes (19:36) - There are almost 20 minutes of deleted moments here. Most of them are pretty decent too, filling in little details in the story, but nothing is especially crucial -- just proverbial sprinkles on top of the sundae. It opens with Donnie, after having gotten a black eye in a match, viewing his dad's trophies and magazine covers hanging in his stepmother's mansion. He sees a picture of Rocky with Apollo and then we see him on the way to Philly to meet Rocky. The next scene shows Donnie moving into his small Phildelphia apartment. The following scene shows Rocky looking out his window at a snow-covered backyard and an old punching bag. We then see him go down to his basement and dig out an old VHS tape of Apollo fighting (which he briefly watches). Rock then brings a box of old stuff upstairs and pages through a photo album. Next, we see Donnie and Bianca walking around Philly and talking. She tells him what she believes to be the real theory behind what the show Fresh Prince is about (Which is kinda funny. And there's 1 "S" word here). Then we see the twosome in the stairwell of their apartment as they talk about being nervous when they do their respective projects--boxing and singing on stage, and then kiss passionately there before the scene ends. Next, we briefly see Bianca in concert with Donnie in the audience. The following scene shows Rocky taping up Donnie's hands as they talk about shadow boxing. Next, Donnie asks Rocky if he knew Apollo had cheated on his wife. Then the following deleted scene shows Donnie calling his stepmom and they talk about the Conlan fight. Following that, Rocky goes to visit Adrian's grave and tells her about his struggles and working with Donnie. The second to last deleted scene is Bianca and Donnie lying on a bed clothed, talking about their future (and she tells him to focus on the fight). Jordan seems especially bland in this scene, so I'm glad they cut it. Finally, we see Conlan and Donnie getting their hands taped up and both prepping on either side for the big fight.
-
John DiBiase
,
(reviewed: 2/28/16)
Parental Guide: Content Summary

Sex/Nudity
: We see Bianca singing sensually in a night club; When Rocky gives Donnie Paulie's old room, Donnie picks up a magazine called "Swank" that has a suggestive image of a woman on the cover and Donnie laughs; Rocky, Bianca and Donnie are watching a movie on his couch at his place when Rocky excuses himself upstairs to bed. Bianca and Donnie start making out and as it escalates, she expresses her concerns about it being Rock's house. But she soon straddles him and removes her shirt (we see her back with the bra strap) and she pulls off Donnie's shirt. They then lay down as they're kissing and the scene ends; Bianca asks how many girls Donnie has ever been with and he dodges the question; We see Donnie in bed shirt-less sitting behind Bianca who appears topless with just a bed sheet wrapped around her chest. During this scene, he's grooming her dreadlocks.

Vulgarity/Language
: 3 "F" words, 12 "S" word, 2 "S.O.B," 3 "h*ll," 3 "d*mn," 1 "J-sus," 8 "a" words;" 1 "*ssh*le," 3 "N" words, 2 "Oh my G-d," 1 "My G-d," 1 "G-d," 1 "Oh G-d," 1 "Swear to G-d," 2 "b*tch"

Alcohol/Drugs
: Rocky puts a bottle of liquor at Paulie's grave on his birthday.

Blood/Gore
: Two kids exchange a lot of punches to each other's faces and they're a little bloody; Donnie has a blood-red eye and bruised nose the day after a fight; Donnie has a bloody eye during a fight, which Stitch cuts; After sparring, Rocky throws up; Donnie's eye is bloody during the climactic fight; Conlan has a bloody cut on his cheek that worsens during the fight; We see close-up footage of both boxers spitting blood during the final fight, and sometimes in slow motion. We see the blood splashing onto the mat or into a bucket or on the ropes; Donnie's eye is seen severely swollen shut

Violence
: We see a couple kids punching each other in the face. Bloody faces; We see quite a few boxing fights, including archive footage of Rocky and Creed fighting; We also see boxing fight practice in the gym in several scenes; After sparring, Rocky throws up; Donnie and a musician he gets into an argument with backstage at the Electric Factory get into an argument and Donnie slugs him; The final boxing match is pretty intense.
Disclaimer: All reviews are based solely on the opinions of the reviewer. Most reviews are rated on how the reviewer enjoyed the film overall, not exclusively on content. However, if the content really affects the reviewer's opinion and experience of the film, it will definitely affect the reviewer's overall rating.
To find out why we don't typically review R-rated movies,
click here