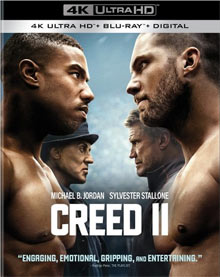 Creed II


- for sports action violence, language, and a scene of sensuality.
Director:
Steven Caple Jr.
Starring:
Michael B. Jordan, Sylvester Stallone, Tessa Thompson, Dolph Lundgren, Florian Munteanu, Phylicia Rashad, Brigitte Nielsen
Running Time:
2 hours, 10 minutes
Theatrical Release Date:
November 21, 2018
Official Site
4K/Blu-Ray Release Date:
March 5, 2019 (
Amazon.com
)
Plot Summary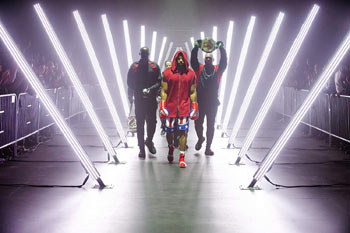 Life has become a balancing act for Adonis Creed. Between personal obligations and training for his next big fight, he is up against the challenge of his life. Facing an opponent with ties to his family's past only intensifies his impending battle in the ring. Rocky Balboa is there by his side through it all and, together, Rocky and Adonis will confront their shared legacy, question what's worth fighting for, and discover that nothing's more important than family. "Creed II" is about going back to basics to rediscover what made you a champion in the first place, and remembering that, no matter where you go, you can't escape your history. (from Warner Bros.)
Film Review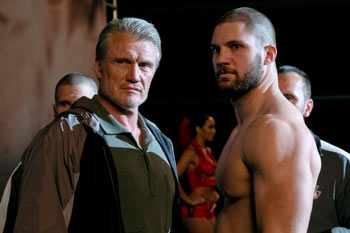 2015's Creed expanded the beloved Rocky franchise by following the blooming career of the son of one of Rocky Balboa's greatest adversaries and friends, Apollo Creed. Michael B. Jordan stepped in the ring as Adonis ("Donny") Johnson, an angry young man who loved to fight but wanted to make a name for himself apart from his father's legacy. He had grown up without a family, but Apollo's widow, Mary Anne Creed, took Adonis in to raise him and give him the love and support he needed. The 2015 film also saw Adonis seeking out his father's old rival-turned-friend, Rocky, and enlisted his help to train him and shape him into a winning fighter. The first film ended with a draw between Donny and an undefeated champ, proving his potential for bigger things.
Creed II opens up some time later. We don't really know exactly how much time has passed, but it's been just long enough for Donny to win the title as the new Heavyweight Champion of the World. This kind of success doesn't go unnoticed, and a ghost of his father's past comes to haunt him in the form of Ivan Drago (played once again by Dolph Lundgren)--the Russian who had not only defeated his father in the ring in 1985's Rocky IV, but had killed him in the process. In recent years, Ivan has been training his own son, Viktor, to be strong enough to change history and take on the Heavyweight Champion. What's interesting about how the Drago story is handled, too, is that we learn that Ivan had been disgraced by his loss to Rocky in the 80's. He lost everything, including his wife (Brigitte Nielsen reprises her role here too), and he used that motivation to turn his son into an intense 6-foot-4" fighting machine. Donny barely has a chance to enjoy his victory before Drago challenges the belt.
Newcomer Florian Munteanu portrays Viktor Drago, and what's interesting about this character is he is not just an adversary to fight; Viktor carries with him a great deal of expectation and baggage. He's been trained by his father mercilessly for years to shape him into a weapon to win back--not only the title--but the family's dignity. Ivan has all the while been fueling Viktor's rage with a sense of guilt and obligation, using the fact his mother left them both as some reason to fight for the belt. But Florian actually wears the pain and disappointment believably. Munteanu actually makes you feel for Viktor. If anything, he comes off as an abused pet that exists only to fight and win, whereas Donny carries around this arrogance that is hardly becoming. But that isn't to say Donny doesn't finally learn his lesson.
I rewatched the first Creed in preparation for watching Creed II, and I found myself liking it a lot more the second time around. I'm still no fan of Michael B. Jordan--in fact, he was by far my least favorite aspect of Black Panther--but he gives a far more rounded performance as Adonis. And in Creed II, at first, it seems like he hasn't really grown much. But he does soon get his rear end handed to him, so to speak, which forces him to grow up--a lot. In fact, Creed II is a great story about fatherhood, family, and what that means to us. Not only is Donny learning about what it means to be a man for his fiance Bianca, but he's getting ready for his own little family, while also having a father/son relationship with Rocky. Meanwhile, Rocky views Donny like a son and is trying to figure out how to patch things with his own estranged son, who he hasn't seen in far too long. Then we have, on the other side of the spectrum, the unhealthy father/son relationship within the Drago family. There's a lot to chew on here thematically, and director Steven Caple Jr. does a really good job balancing all of it. Of course, there's plenty of predictability here, too, leaving some things to need to be neatly wrapped up at the end, and not sooner, but Caple handles it well regardless.

The content of Creed II is somewhat on par with the first film, but is also lighter in some ways. The profanity is still there, but there are no uses of the "F" word this time around. Also, there's once again no blasphemy, which is a refreshing change of pace. There's a brief sex scene early on in the film when Donny and Bianca share a romantic moment and then they kiss passionately as he climbs on top of her. During this, they're moderately clothed, and the scene ends before anything is shown. The rest of the content is mostly the expected boxing-related sports violence, with plenty of bloody cuts, swelling, and the other kind of brutality we see in any given boxing film.
Creed II is a worthy follow-up to its predecessor. It was great seeing Stallone reprise his iconic role for yet an eighth time, and he once again brings a lot of heart, charm, and class to what otherwise might just feel like another modern Hollywood cash-grab. The Creed films feel a lot more than that, however, and they're definitely worthwhile additions to the genre. And if you've ever been a fan of any of the Rocky outings, don't hesitate to check these out. Creed II might not be quite as good as the first Creed entry, but it's a great continuation of it.
-
John DiBiase
(reviewed: 3/2/19)
4K UHD Special Features Review
Creed II
arrives on 4K UHD, Blu-Ray in a DVD/Digital HD combo pack, on DVD, and through the usual digital providers. It's crisp and clear and looks vibrant in high definition. The special features on the Blu-Ray disc include the following:
Creed II in 4K UHD - The 4K format still intrigues me, but I have continued to notice that it isn't worlds removed from the Blu-Ray format. (However, it's leaps and bounds above a standard DVD release.) The biggest difference--like with many 4K transfers--I noticed with Creed II is in the wide and scenic shots. The clarity is breathtaking, showcasing the tiniest details in a cityscape or night sky, and the colors are vivid. Otherwise, I would say it's just not that noticeably different from a normal Blu-Ray release.
Fathers & Sons (7:16) - Dolph Lundgren talks about how he received a text from Sylvester Stallone asking him if he'd be interested in reprising his Rocky IV role, and said that the theme of this film would be "sins of the father." They talk here about the relationship Ivan Drago has with his son, and how Adonis deals with the legacy that his father left behind, while having a surrogate father in Rocky.
Casting Viktor Drago (5:43) addresses casting Florian Munteanu as Viktor, and how it took looking through "hundreds" of guys to find him. Florian talks about this being a dream role for him, and how he was such a fan of Sly before even getting a chance to meet him. He also talks about being new to acting and how the director really helped him prepare for his scenes.
The Women of Creed II (5:51) - Tessa Thompson talks about playing Bianca and how she's in the ring with Creed this time around, so to speak. They also talk about the relationship between Creed's mother and Bianca and how the filmmakers chased after authenticity in these relationships. (1 "b*tch" from the film)
The Rocky Legacy (15:01) - This is a documentary hosted by Dolph Lundgren about the Rocky franchise. It covers the first four Rocky films, featuring interviews with the cast, and legendary boxer Sugar Ray Leonard. Dolph and Sly even sit and reminisce about their fight in Rocky IV. (1 "h*ll")
Deleted Scenes (9:46) - There are four deleted scenes, which are only viewable together and not individually. "Rocky's Eulogy for Spider Rico" is the first sequence, and it shows Rocky sitting in a small, near-empty church for the funeral of fellow boxer, Spider Rico. He then decides to get up and give a few words, candidly recalling their history together. It's a neat scene, but I can see why it was cut. "Max's Cheesesteak Restaurant" is an extended version of Donny and Bianca going out on a date after he wins the belt. They even entertain a guy who tries snapping a photo of him while they're eating. This leads to the two talking about fame just before someone asks him if he's going to take the Drago fight. (1 "a" word, 1 "s" word) "Rocky Trains Kids" is a little scene where we see Rock giving a group of young kids pointers. One of them asks if he's going to train Creed again. They then argue amongst themselves about who fights more like Creed. "Locker Room" is a really interesting scene. After the climactic fight at the end of the movie, Creed goes to talk to Drago in the locker room. He sits down next to him and tells him that he knows they are more than just one fight. It's a touching scene. Creed then leaves, and Ivan walks in. Rocky walks by and everyone exchanges glances without saying a word. I kind of see why it was cut out, but it was definitely an interesting series of interactions between these iconic characters.
-
John DiBiase
,
(reviewed: 3/2/19)
Parental Guide: Content Summary

Sex/Nudity
: After a romantic exchange, Donny and Bianca kiss passionately and they start to undress. Bianca was in a bathrobe after her shower, which she removes and we just see her bra. Donny removes his shirt as he gets on top of her on their hotel bed and they continue kissing. The scene ends there. There's no nudity and the way it's filmed is obscured a bit; Bianca and Donny evaluate a pregnancy test and discover Bianca is pregnant.

Vulgarity/Language
: 15 "S" words (2 of these are in a song. 1 is in subtitles); 1 "d*mn," 2 "h*ll," 1 "b*tch." A song in the closing credits has the following: 16 uses of the "a" word in the chorus, 1 "h*ll," 2 "d*mn," 1 "My G-d"

Alcohol/Drugs
: Donny nervously drinks a lot of champagne; We see a bottle of liquor next to Paulie's tombstone; Donny, his mom, and Bianca have dinner with some wine. At one point, Bianca spits her wine out back into her glass; There is drinking at a fancy banquet/dinner party involving the Drago family.

Blood/Gore
: During the opening boxing match, we see just a little blood on a fighter's face; We see some vintage Drago versus Rocky footage on TV that is a little bloody; Drago and Creed fight and Creed gets pretty beaten up. We see blood on Donny's nose and some bloody water in a bucket. Blood sprays from his mouth when he's hit in slow motion; We see Donny's face very swollen and discolored, with one of his eyes almost completely swollen shut; Donny gets up to go to the bathroom in the middle of the night and we see him peeing into the toilet. He groans as we see bloody urine hit the toilet bowl; We see a closeup of Donny's torn open knuckles from training; There's quite a bit of blood on both fighters' faces during the climactic duel. We see bloody noses, swollen eyes, blood on Q-tips, gauze and towels, as well as blood on the canvas.

Violence
: We see a boxing match between Creed and another fighter; We see some brief boxing action between Viktor and another fighter; We see a short, but brutal, boxing fight; We see some training scenes with Viktor and Donny (independently); There's a long and intense training sequence where we see both Donny and Viktor rigorously training in various ways (including pounding the desert ground with a large hammer); We see a closeup of Donny's torn open knuckles from training; The climactic boxing match is pretty rough, with some blood on both fighters.
Disclaimer: All reviews are based solely on the opinions of the reviewer. Most reviews are rated on how the reviewer enjoyed the film overall, not exclusively on content. However, if the content really affects the reviewer's opinion and experience of the film, it will definitely affect the reviewer's overall rating.
To find out why we don't typically review R-rated movies,
click here