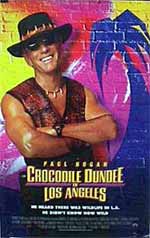 Crocodile Dundee in L.A.


- for some language and brief violence.
Director:
Simon Wincer
Starring:
Paul Hogan, Linda Kozlowski
Running Time:
1 hour, 32 minutes
Plot Summary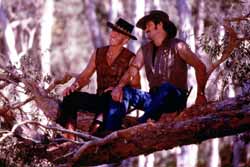 Mick Dundee, the famed crocodile hunter, resides in Australia with his girlfriend Sue, and son Mikey. When Sue's newspaper publisher father needs her to temporarily replace one of his employees who was mysteriously killed in a car accident, the family must relocate to Los Angeles. From there, it's an entertaining experience as Mick and Mikey adjust to like in L.A. and help Sue unravel the possible dirty work behind the mysterious possible "murder."
Film Review
It's funny-- all the sequels they've chosen to do as of late. A couple years ago was Blues Brothers 2000 (which flopped), the Star Wars prequels are being made, this summer is Jurassic Park 3, and Indiana Jones 4 is still heavily being planned. And this spring, our favorite Aussie hero from the mid to late 80s returns for a third adventure in the states. Mick Dundee returns in Crocodile Dundee in Los Angeles. Paul Hogan, who we all know now as the Australian from the Subaru Outback car commercials returns to the role everyone knows him from originally.
With the 2001 return of this classic hero, we're met with typical modern cultural setbacks as well. Mick lives with Sue and has a child named Mikey, but he and Sue aren't married. Go figure. And when in L.A., Dundee comes in contact with a transvestite and an all-male gay bar. Although we never see the inside of it, and it's all played for laughs, it's interesting and a bit sad to see these all in place as culture-shock examples. It's also sad that they've become the norm for our society and things that we have come to all to often not think twice about.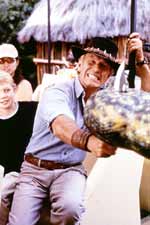 The movie itself disappointingly doesn't offer up as many laughs as you might hope and expect in a return after well over a decade. Of course it has its moments-- with it's best being the opening crocodile-hunting sequence, but it certainly falls short. In a way, the series probably was best off left at two, but this film was released at a time where watchable movie selections were scarce and near non-existent leaving this release to be a sunray in the midst of the theatrical darkness.
For those of you, like me, who freak out at even the thought of large spiders, there is a tarantula briefly scene in the beginning. While Sue is on the phone in their Australian home, Mick spots a large spider on the counter. To avoid her from seeing it, he throws his hat down over it. Although it is implied he it's still around even as he reacts to his surroundings (with it), we don't see it past the moment it's initially covered by the hat.
Fun, but not all it should be. This family film has some unnecessary and questionable material that should thin out some of the family-going audience. But if you need a matinee flick to quench your thirst for a widescreen gander, Crocodile Dundee in Los Angeles might be the one for you.
-
John DiBiase
,
(reviewed: 3/22/01)
Parental Guide: Content Summary

Sex/Nudity
: Mick and Jacko enter a gay bar thinking it's a normal pub (we see the doorman is a transvestite). We never follow them inside, and within seconds the guys rush out realizing where they were. A woman asks Mick if he's gay (sexually), but he thinks she means "happy" and agrees he is. Mikey inappropriately comments that she has a nice butt (using the "a" word), to which Mick agrees (but scolds his language choice).

Vulgarity/Language
: 5 "s" words, 6 "a" words, 7 h*lls, 1 d*mn, 1 "Oh my G-d," 1 "For G-d's sake"

Alcohol/Drugs
: Numerous people drink wine and beer throughout scenes in the film, specifically at parties and such.

Blood/Gore
: In a school classroom, Jacko shows off some scars he received from crocodile attacks in the past.

Violence
: A crocodile nearly kills 2 people, and various minor forms of violence used for comical effect.
Disclaimer: All reviews are based solely on the opinions of the reviewer. Most reviews are rated on how the reviewer enjoyed the film overall, not exclusively on content. However, if the content really affects the reviewer's opinion and experience of the film, it will definitely affect the reviewer's overall rating.
To find out why we don't typically review R-rated movies,
click here