Daredevil


- for action/violence and some sensuality.
Director:
Mark Steven Johnson
Starring:
Ben Affleck, Jennifer Garner
Running Time:
1 hour, 45 minutes
Official Site
Plot Summary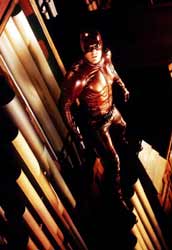 Marvel's legendary comic hero, Daredevil - known as The Man Without Fear - comes to the big screen. Attorney Matt Murdock (Ben Affleck) is blind, but his other four senses function with superhuman sharpness. By day, Murdock represents the downtrodden as a lawyer at the law firm Nelson and Murdock that he started with his friend Franklin "Foggy" Nelson (Jon Favreau). At night, he is Daredevil, a masked vigilante stalking the dark streets of the city, a relentless avenger of justice. Together with his love interest Elektra Natchios (Jennifer Garner), he must battle New York's crime Kingpin, Wilson Fisk (Michael Clarke Duncan) and his assassin with perfect aim, Bullseye (Colin Farrell).
Comic book films are a genre of their own. Last year they achieved a new status in Hollywood when Spider-Man became the highest grossing film of the year and the fifth highest of all time. Even the success of Spidey's feature helped raise the budget on this year's much darker superhero vehicle, Daredevil. More along the lines of the original Batman, Daredevil is a hero of the night with many internal struggles. The violence is grittier and the overall feel a lot less light-hearted than the fun of Spider-Man. So how was Daredevil?
I was really impressed by Ben Affleck's shot at the masked avenger. I thought he played the part well although I must admit I have no previous knowledge on the comic book version of Daredevil. The filmmakers did a good job fleshing out Murdock's character and history but fail in developing almost every other character. Farrell's Bullseye character was pretty fun to watch on the screen (when he wasn't impaling someone's head or throat with a random object), but you know nothing about who he is, where he came from or anything. Same goes for the completely cardboard Kingpin played by Michael Clarke Duncan. What made Spider-Man so successful was the well-rounded character development of all of the major characters. The Kingpin was so hollow in Daredevil, it was almost boring when he was on the screen. How did the Kingpin become the Kingpin? Why doed he do what he does? Why even bother making him a villain if he's so "ho-hum" to watch? They even cheese him out completely by inserting completely lame music during one of his intro moments to supposedly make him cooler or more menacing but instead it makes his introduction more laughable. By inserting such forgettable and downright pathetic music into the film's soundtrack, the film is not only severely dated but now aimed at the teen crowd with poor taste in musical preferences. It clashed with the movie and did nothing more than hurt it. Joe Pantoliano served as the reporter Ben Ulrich who has an interest in Daredevil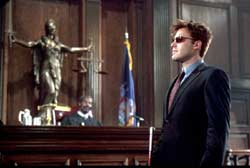 but suffers from occasional screentime and little to no development as well. Foggy, Matt's assistant, played by Jon Favreau, was great comic relief but wasn't around enough to lighten up the film as much as it needed to be.
Content-wise, the film is probably one of the most violent pop comic book films you'll see. Sure it's not Spawn or other darker comic book characters, but for the audience it's being pitched to (the same who saw Spidey, basically), it includes an excessive amount of graphic violence, an unnecessary implied sex scene and moderate but unnecessary language. So what in the world is redeemable about this would-be flop? Well, the movie wasn't a total loss. Affleck did turn in a great and believable performance as the blind hero, but he didn't exactly have Michael Keaton's charm as Batman or the almost-innocence of Tobey MacGuire's Peter Parker in Spider-Man. While the scenes of the younger Matt were not executed nearly as well, they were forgivable. The action sequences were interesting enough, specifically Matt and Elektra's scuffle in a playground and Daredevil's match with Bullseye (despite a potential reference to a battle of Christ vs. the devil, which in that case I would consider offensive). The concept of Daredevil was interesting as well as what drives him and his lifestyle, but just something overall in the picture lacked considerably.
Daredevil is a sure-fire film that misses its mark by quite a bit. While it has its redeemable moments and some great characters, it falls short. If the content below wouldn't bother you, you may want to catch a matinee or something, but otherwise look forward to the more promising X-Men 2 or hold out for next year's Spider-Man 2 if you need a comic flick fix. The decision's up to you.
-
John DiBiase
(reviewed: 2/16/03)
Parental Guide: Content Summary

Sex/Nudity
: Matt gets home from an outting fighting crime and hears a message on his answering machine from his girlfriend breaking up with him citing one of the reasons as "When we sleep together, I always wake up alone." Matt and Elektra are seen in several shirtless head and shoulders shots of them while they're apparently having sex. It's brief, but it is a sensual sequence. At a fancy party, Foggy is resting his hand on a statue while not paying attention to what he's doing and soon realizes he's unknowingly rubbing a statue's exaggerated bare chest. He then stops when he realizes what it was.

Vulgarity/Language
: What sounded like possibly 5 quick "f" words heard in background songs, 1 "g*dd*mn," 1 "J-sus," 4 "s" words, 4 "a" words, 2 "h*ll," 6 "G-d"

Alcohol/Drugs
: Several uses or references to beer and other forms of alcohol (i.e. champagne)

Blood/Gore
: Considerable. Daredevil is on top of a church building and we see a stream of blood dripping down the face of the building. Matt as a little boy has some blood on his lip after being punched. In a special effects shot, we take a trip through the inner workings of Matt's eyes. Matt's father has blood on his face during a boxing match and spits some out. A man is beaten to death and we see from an angle that their face is really bloody. We then see a person grab a rose and as they squeeze it a considerable amount of blood runs out onto their hand (we briefly see the shot again later). We see some photos of a woman with bruises on her face. We see a stretcher with a body covered by a sheet on it with the lower end of the sheet soaked in blood. Bullseye throws straightened paper clips into a man's throat to kill him (we see them sticking out of the man's neck). We see Matt's back is covered with old scars. After a fight, Matt pulls a tooth that had been loosened from his mouth (we hear it and it can be quite unsettling to some) and we see the tooth on the floor. Daredevil beats up a man leaving his face a little bloody. We see the face of a man as he falls to the ground dead in front of the screen with a knife sticking out of the middle of his forehead with some blood around the handle). Elektra's hands are covered in blood as she tends to a man who's just been stabbed with a staff (which protrudes from the person's chest) and there is some blood on the victim's chest as well. We see a dead guard lying on the ground with pencils sticking out of his throat (with some blood around them). A man is stabbed through the shoulder and we see blood smear down a window as the victim slides down it. A woman's hand is impaled by a dagger and we see it as she slowly pulls it from her hand (with bloody results). A man receives a slightly bloody cut to his face. A woman has a bloody slice on her neck from a playing card. A person is stabbed through the abdomen and we ever so slightly see the wound from a distance as they crawl across the ground. We see Daredevil with some blood on his face. We see a bullet go through a man's two hands and the bloody holes in them afterwards. Daredevil has some blood on his mouth during a fight. We hear the violent crunching sound of a man's knees breaking but don't see anything.

Violence
: Moderate. Among the blood/gore stuff, we see a character gets captured and tortured (beaten/punched and electrocuted -- the latter we don't see); a car drives recklessly and runs another car off the road; a person is shot to death, etc.
Disclaimer: All reviews are based solely on the opinions of the reviewer. Most reviews are rated on how the reviewer enjoyed the film overall, not exclusively on content. However, if the content really affects the reviewer's opinion and experience of the film, it will definitely affect the reviewer's overall rating.
To find out why we don't typically review R-rated movies,
click here