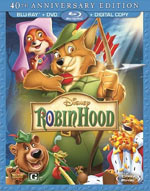 Robin Hood


Director:
Wolfgang Reitherman
Starring:
voices of Brian Bedford, Monica Evans, Phil Harris, Pat Buttram, Andy Devine
Running Time:
1 hour, 23 minutes
Theatrical Release Date:
November 8, 1973
Blu-Ray Release Date:
August 6, 2013 (
Amazon.com
)
Plot Summary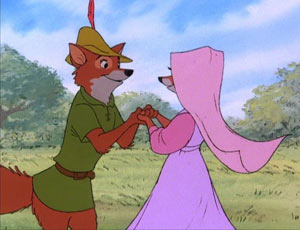 To commemorate its 40th anniversary, Disney proudly presents the unforgettable animated classic Robin Hood on Blu-ray for the first time ever. Experience all the fun, thrills and celebrated music (Academy AwardŽ Nominated Music for Best Original Song "Love" in 1973) of this legendary adventure with perfect picture and sound!

Join Robin Hood, his trusted companion Little John and his hilarious band of Merry Men as they outfox greedy Prince John to save the good people of Nottingham. Dashing from one daring deed to the next, Robin won't rest until he wins the hand of Maid Marian and restores King Richard to the throne. (from Click Communications)
Film Review
In 1973, Disney reimagined the classic Robin Hood tale for audiences everywhere by retelling the story with animated animals acting in the iconic roles. A fox was cast as the titular character while a bear (seemingly Baloo from Jungle Book) was placed as Little John. Being a child of the 80s, I grew up with this film myself and was interested in revisiting it with its debut on Blu-Ray disc now 40 years later.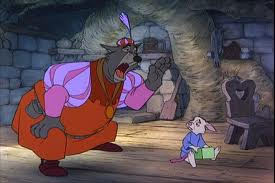 Disney's animated Robin Hood adventure holds up well as a classic Disney film, but I have to admit that it isn't one of the studio's best. The animation is good--a very stylized, sketchy kind of form of drawing--but the music is surprisingly dated with a late 60s, early 70s feel. In my youth, I seemed to have viewed anything from probably 1970 and before as this mysterious golden age of entertainment (It was tough for me not to just blanket the 70s with visions of bell bottoms, gold chains and disco music). So where I expected a more 40s or 50s feel to Robin Hood, I was really surprised to get a much later vibe from it (And I was surprised to learn that it was from 1973. I actually thought it was older than that). Still, the film definitely left an impression on me as a child. While watching it as an adult, I remembered bits and pieces of it, but for the most part, it was like seeing it for the first time.
The film's biggest problem is probably in its pacing. But, then again, audiences were very different 40 years ago. At not even an hour and a half running time, Robin Hood tends to plod along a little bit, but Disney wasn't utilizing the spastic, hyper storytelling that most animated films do presently. I'm not sure how gripping today's kids will find this movie, but some are still likely to enjoy the swashbuckling aspects of it. The villains in this story are good ones. Prince John is frequently amusing as this dopey, thumb-sucking wuss who is menacing enough to be a problem with Robin and his friends. Yes, it's true that the film does involve heroes who rob from the rich and give to the poor, but the "rich" in this case are vile, crooked royalty who even persecute Friar Tuck and his church during the story. The film isn't pro-anarchy, just anti-evil. Robin Hood here is an outlaw for good reason, and he puts his life on the line for his friends. The Sheriff of Nottingham is pretty amusing as well, and it's almost bittersweet that he leans much more toward evil than good.
The content of the movie is a little violent at times, but mostly in a slapstick kind of way. However, we see even little (animal) kids with bows and arrows and the guards at the castle wielding large axes and maces and such. However, no violence is lethal here, even though the story lets you believe for a brief moment that Robin Hood may have perished, but Prince John is one of the least menacing villains I can recall in Disney animated film history. The Blu-Ray set, however, includes an alternate, original ending, where we see in storyboard form a version where Robin Hood did get badly wounded and Prince John follows him to where he's being helped by Maid Marian and the Prince nearly kills Robin by his bedside. It's a nasty idea and definitely better left on the cutting room floor. There is a sequence in the finished film towards the finale that's surprisingly dark. Nottingham is oppressed by Prince John and his taxation, and we see a great deal of the townspeople in shackles and in prison. Friar Tuck even gets in a fight with the Sheriff of Nottingham and shackled into prison. And there's talk of a double hanging and we see a noose being prepared for the deed (but it never happens). It's kind of sad stuff for a kids movie.
Overall, though, Robin Hood is a fun look back into the legendary history of Disney entertainment. It's probably more of an acquired taste for the current generation, but there are enough fun, lighthearted moments herein to keep most entertained. It's a little dark at times, but there are enough songs and swashbuckling do-gooding to keep the young ones rooting for our furry heroes.
-
John DiBiase
(reviewed: 8/2/13)
Blu-Ray Special Features Review
The Blu-Ray debut of
Robin Hood
offers a DVD along with it, and a digital copy. The movie looks fantastic in Blu-Ray and Disney did a really fine job restoring it for new and original fans. Along with the feature film in multiple formats are the following extras:
Deleted Storyline "Love Letters" (7:33) - There's a deleted storyline that's presented here in animated storyboard form with scratch vocals used to tell the story. It's edited pretty fast-paced and doesn't even feel like it's from the same movie. The storyline involves Prince John and Hiss setting up another trap for Robin using fake love letters from Maid Marian.
Alternate Ending (4:34) - A narrator introduces the original ending for Robin Hood which begins after he falls off the tower into the moat below. We see storyboards continuing the story that shows the Prince following Robin to a church where we see him lying in bed injured. Prince John is about to kill him when King Richard comes back in the nick of time.
Disney Song Selection (7:43) lets you listen to songs from the film--"Oo-De-Lally," "Love," "The Phony King of England" and "Not in Nottingham"--individually or as a Play All option.
Robin Hood Art Gallery (8:50) is a video compilation of artwork created for the movie, from conceptualization to execution. The only downside is that it's narrated by a young girl for kids.
Robin Hood Story Book (14:21) - Someone reads a storybook version of the movie which looks like it might be the original storybook that probably released at the time of the film's original release. The artwork here is different than just still shots from the movie.
Sing-Along with the Movie - This one launches the full-length movie but provides subtitles for the song portions of the movie to sing-along to.
"Oo-De-Lally" Disney Sing-Along (2:08) is the old school video sing-along in standard definition (and full screen versus widescreen)
"Ye Olden Days" Bonus Short (8:18) is a wonderful additional treat that is a classic, vintage black and white Mickey and Minnie cartoon that features Mickey as a traveling minstrel.
-
John DiBiase
,
(reviewed: 8/2/13)
Parental Guide: Content Summary

Sex/Nudity
: Little John is dressed in drag as a gypsy as he and Robin Hood rob Prince John's carriage. We briefly see Little John holding his large clothed breasts that are actually all made of gold pieces. One of Prince John's guards thinks he really is a woman and whistles at him.

Vulgarity/Language
: None.

Alcohol/Drugs
: Hiss comes out of a barrel that says "ALE" on the side and he appears to be drunk; Prince John throws what appears to be a glass of wine at Hiss.

Blood/Gore
: None.

Violence
: The Sheriff of Nottingham's men shoot arrows at Robin and Little John; Robin playfully throws an arrow through Little John's hat; Prince John grabs Hiss by the throat and ties him in a knot at stuffs him in a basket; Robin smacks the Prince's hand when he reaches for a prop crystal ball while Robin is in disguise as a gypsy; The wheels fall off the coach and Prince John falls out and gets run over in the mud. He then smashes a mirror over Hiss; We see a couple men in stocks in town; The Sheriff smacks Otto's cast-covered foot and he groans in pain; Skippy fires an arrow into the air and it accidentally goes over the castle wall; Skippy swings a wooden sword around while talking of Robin Hood. He then playfully spars with Lady Kluck and smacks her leg with his wooden sword. She then pretends to get stabbed and plays dead; Robin shoots an arrow and bounces it off a pan and through his own hat; Prince John hits Hiss on the head; Friar Tuck stuffs Hiss into a barrel; We see Robin get tied up; Little John puts a knife up to Prince John's back to get him to release Robin. The Sheriff swings at Little John and he punched the Sheriff away. A sword fight breaks out involving Robin and Prince John; Little John fights a bunch of guys in a tent; Robin swordfights a crocodile guard; A crocodile is run over by the tent full of guards who keep crashing into people and even collapse a castle tower. Lady Kluck hits Prince John with arrow, and then dodges guards like in a football game; Hiss comes out of a barrel and Prince John ties him in knots to a pole; Prince John throws a glass of wine at Hiss and it smashes behind him; We see lots of townsfolk shackled as prisoners and chained up for not paying taxes; Friar Tuck bounces Sheriff out of church with his belly and then the two swordfight with a stick and a Sheriff's sword until the Sheriff puts a collar and shackles around Friar's neck and hauls him off to prison; Trigger accidentally fires an arrow and it bounces around him and Sheriff, so Sheriff hits him on the head; Trigger fires another arrow and Robin trips him; We see Friar Tuck chained up at the wrists and other prisoners in jail; We see a noose being prepared for a hanging; Prince John gets yanked out of bed and out of the castle by the foot. His guards crash him through the gate and a wall; There's a brief arrow fight that breaks out; They chase Robin Hood, throw spears at him and shoot arrows at him; Sheriff starts a fire with a torch inside the castle, cornering Robin on top of a tower, so he dives into the moat. They continue to shoot arrows into the moat and directly into the area where Robin disappeared under the water. Little John and his friends watch to see if he surfaces, but his hat with an arrow through it does instead (Robin ends up being fine); Prince John chases Hiss around with a wooden 2x4.
Disclaimer: All reviews are based solely on the opinions of the reviewer. Most reviews are rated on how the reviewer enjoyed the film overall, not exclusively on content. However, if the content really affects the reviewer's opinion and experience of the film, it will definitely affect the reviewer's overall rating.
To find out why we don't typically review R-rated movies,
click here