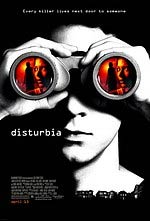 Disturbia


- on appeal for sequences of terror and violence, and some sensuality.
Director:
D.J. Caruso
Starring:
Shia LaBeouf, Sarah Roemer, Carrie-Anne Moss, David Morse
Running Time:
1 hour, 44 minutes
Theatrical Release Date:
April 13, 2007
Official Site
Plot Summary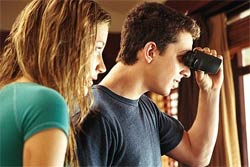 After his father's death, Kale Brecht (LaBeouf) becomes sullen, withdrawn, and troubled -- so much so that he finds himself under a court-ordered sentence of house arrest. His mother, Julie (Moss), works night and day to support herself and her son, only to be met with indifference and lethargy. The walls of his house begin to close in on Kale. He becomes a voyeur as his interests turn outside the windows of his suburban home towards those of his neighbors, one of which Kale begins to suspect is a serial killer. But, are his suspicions merely the product of cabin fever and his overactive imagination? (from IMDB.com)
Film Review
The last time I went to see a 'thrills and chills' movie it was the lame duck When a Stranger Calls, a 'scary' teen flick that brought more yawns than jolts. Few films have ever attempted to give me the desired mix of thrilling and entertaining at the same time; more often than not it's all too heavy on the former and nothing on the latter. However, in the upper-class, films like Frequency, Red Eye, and The Forgotten turn out to be some of my personal favorites, as well as the newest entry, Disturbia.
While it doesn't break any new ground, Disturbia manages to still aim high at entertainment. From the looks of the trailer, you could probably tell it is an obvious rip-off of the old Hitchcock classic Rear Window, whereas in that case Jimmy Stewart is confined to his apartment building with a broken leg. By comparing the two films, I run the risk of making a huge error, so by no means does Disturbia compare, but like I noted, it does have its moments.
Early on, the film sets the tone for the eerie and perverted voyeurism that Kale exploits himself in. Often gazing at his neighbor, Ashley, when she is either swimming, exercising, or merely changing her clothes, I as the viewer, didn't know whether I was supposed to be embarrassed or disgusted. There is no reason behind his actions (other than the fact that he's cooped up in his house for three months and has nothing else to do), and when friend Ronnie comes over, the ogling continues. I don't recall how many times the camera lingered over Ashley's figure and wanted to desperately not think our hero, Kale, was a pervert. Later in the film, Kale admits to Ashley that he has indeed been looking at her and appears nervous and embarrassed telling her that she is more than a physical object and retells of her many non-physical features. Still, while the idea behind the scene is nice, I can't help feel that Kale isn't truly remorseful- especially when the scene that follows is the two of them making out in his bedroom.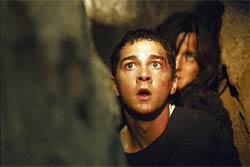 Another red flag is the naughty young neighbors that live across the street from Kale. These 10-something runts engage in watching -- you guessed it -- pornographic material. Though still seen through Kale's binoculars, you can still make out a few clips from softcore pornography (no outright nudity). Kale himself is not enjoying it, rather plotting the take-down of the kids after they prank him earlier in the film. Kale succeeds in doing so by film's end, but not without another run through of the sensual clips. The sum of this content ruins the film's overall quality and the shots (the kissing, the leering, the porn) are seen as useless sex-sellers.
Before the movie suffers from a total tackle, it still promises some menial thrills and chills that actually excite and become seat-jumpers. I was among the seat jumpers as the house-chase scenes reminded me of the Cillian Murphy stalker moments in Red Eye. Along with the spook-fest came hordes of gore though. For those of you who are perturbed about such things, this comes as a warning. Bodies are seen strewn in places as well as decomposed corpses. Blood is an active liquid that makes an appearance. Some characters are beaten and/or stabbed, and some even gagged. The opening sequence involves a rather jolting car accident. The violence plays along with the plot, but is intense nonetheless. While I didn't find it offensive, some viewers may. Also to note, is over 20 uses of the "s" word. Other minor obscenities are also used.
So what's to make of it? Disturbia presents itself at two major points. First point is the obvious thrill factor. It works well at achieving both a slight scare and some fun. Nothing you haven't seen before, but it works well as a mediocre modern adaptation to its Hitchcock counterpart of old. The second point is the slough of voyeurism. Several times Kale crosses the border of curious onlooker with a pair of binoculars to creepy pervert with a pair of binoculars. While the last thirty or so minutes works well as an edge-of-your seat thriller, it's the first sixty minutes that bother me the most.
- Zachary Anderson, (reviewed: 4/15/07)
Parental Guide: Content Summary

Sex/Nudity
: We see some women in revealing bikini's on TV; A masturbation joke is made when we see a hamper in a bathroom moving and Kale making pleasured sounds before it's revealed he's just scratching his ankle around the bracelet; Kale sees Ashley in tight, short shorts; While spying out the window, Kale sees Ashley's bare back as she undoes her bra and leaves her room; Kale points out a neighbor having an affair and we see a man and woman kissing; Kale spies on Ashley in her bikini as she's in and out of a pool (and then lying and sunbathing); Kale spies on Ashley as she practices yoga; Kale and Ronnie spy on Ashley as she strips down to a bikini, but she catches them and teases them on being caught; While the teens spy across the street, they watch as a woman dances sensually for Turner. It looks like he might kill her, and there's a struggle, but she ends up leaving his place calmly later on; While videotaping, Kale focuses on Ashley's clothed butt; There's a shot from a distance of young boys watching a porno, which gives us a glimpse of a naked woman with her arm over her chest. We later see this again when Kale calls their parents and rats them out; Kale and Ashley passionately kiss and he then lies on top of her on his bed before they're interrupted; Turner confronts Ashley and creepily comments on how he thinks she's coming on to him, and he touches her hair; Kale and Ashley passionately kiss again later before being interrupted by Ronnie and his camera

Vulgarity/Language
: 3 incomplete or bleeped "f" words, 28 "s" words, 8 "a" words, 3 "J-sus," 1 "d*mn," 7 "h*ll," 1 "p*ss," 1 "cr*p," 2 "S.O.B.," 1 "b*tch," 16 derivatives of "G-d" Kale gives someone the finger

Alcohol/Drugs
: Turner has wine with his date; there are unidentified beverages at Ashley's party

Blood/Gore
: After a car accident, we see blood on Kale's face and leg, as well as some on his dad; Kids leave a bag of poop on fire on Kale's front porch. After he puts it out, we see the excrement on his sock and front steps; Photos are seen on a computer monitor that show a dead woman with blood on her mouth; There's a brief shot of what appears to be blood splattering onto a plastic sheet covering a window, which we see Turner pull down; We briefly see a dead deer inside a bag from Turner's garage; Kale has a bloody lip; Ashley scrapes Turner's face and leaves bloody fingernail scratches on him; We see an old dead body when Kale turns and faces it; When Kale falls through a floor into water (or another liquid?), we see lots of dead bodies including some in different decomposing states

Violence
: There's a severe and fatal car crash; Kale punches a teacher; Lots of struggling violence with punching, hitting, etc. We see some characters bound and gagged, as well as a lot of other thriller-related, intense violence (see Blood/Gore for graphic details)
Disclaimer: All reviews are based solely on the opinions of the reviewer. Most reviews are rated on how the reviewer enjoyed the film overall, not exclusively on content. However, if the content really affects the reviewer's opinion and experience of the film, it will definitely affect the reviewer's overall rating.
To find out why we don't typically review R-rated movies,
click here