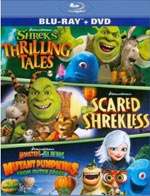 DreamWorks Spooky Stories

Starring:
voices of Mike Myers, Eddie Murphy, Cameron Diaz, Antonio Banderas, Reese Witherspoon, Kiefer Sutherland, Seth Rogen, Hugh Laurie, Will Arnett
Running Time:
1 hour, 16 minutes
Blu-Ray Release Date:
August 28, 2012 (
Amazon.com
)
Plot Summary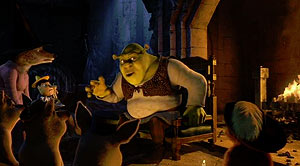 DreamWorks Spooky Stories is the ultimate Halloween compilation, featuring the spookiest and funniest characters from DreamWorks Animation's successful Shrek and Monsters vs. Aliens franchises. Join Shrek, Donkey, Puss and B.O.B. as they get the fright of their lives in six fun shorts, including two brand NEW titles: Shrek: The Pig Who Cried Wolf and Monsters vs. Aliens: Night of the Living Carrots. The collection also includes Scared Shrekless, Monsters vs. Aliens: Mutant Pumpkins from Outer Space, The Ghost of Lord Farquaad and the outrageously Shreked out parody of Michael Jackson's Thriller. (from M80 Services)
Film Review
When I was a kid, one of my favorite things about the holidays were TV specials. For my childhood, it was TV specials for popular shows and characters like Garfield ("Garfield In Disguise") and the Real Ghostbusters (like a prime time special) that come to mind when recalling the Halloween season. DreamWorks has been releasing holiday specials involving popular characters from their feature films for years now, and the Shrek and Monsters Vs Aliens crew are represented in the new Blu-Ray/DVD release, DreamWorks Spooky Stories.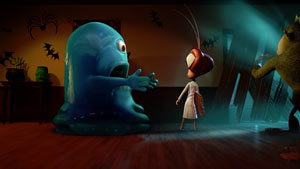 When you pop the disc for DreamWorks Spooky Stories in, you'll get the option to view each story individually or via a Play-All option. I chose the latter to get the full effect of watching each story as one lump feature. In doing so, the credits are held until the end of the feature and the disc serves as a nice, flowing compilation of Halloween-themed stories. To lead off is a Shrek'ed out version of Michael Jackson's "Thriller" song and music video. Here, Shrek dreams that characters who died throughout the four Shrek films pop out of the cemetery as zombies and start doing the "Thriller" dance. It's pretty creepy, however, so I can imagine that some kids will be disturbed by it, but it's super clever and a great way to tie in all the films. As a twist (before we realize Shrek is dreaming), all of the other characters are zombified and dance along to the song as well. It's all probably less creepy than Jackson's original video, but little kids will likely be terrified of it, so you should probably watch this before showing it to your kids (And as a side note, Shrek calls Donkey an "*ss" here as a play on him being a donkey and the word being a profanity). Following this song, we see the Shrek gang sitting around trying to out-scare each other by telling horror stories. The first is little Gingy, the Gingerbread Man, telling a Frankenstein-style story called "The Bride of Gingy" as he and the Muffin Man create a female gingerbread character for him. Donkey and Puss In Boots then tag-team on a story that serves as a spin on the film Psycho (including the shower scene, complete with cat hair running down the drain instead of blood). After that, Shrek tells the tale of the "Shrek-sorcist" as he meets Pinocchio to babysit him, but the toy puppet appears to be possessed. One moment even has Pinocchio spewing reddish vomit out at Shrek (like in the film it spoofs). This batch of stories is followed up with the Three Little Pigs in a spoof of Rear Window, called "The Pig Who Cried Werewolf." The stories are all very clever and fun, but I would just be cautious when showing them to younger kids given the intensity of their spookiness.
While there have been four Shrek films and a slew of additional cartoons like the ones seen here, we have not seen anything else from the Monsters VS Aliens gang, so it's a real treat to see them return here in a two-part animated special. Mutant Pumpkins From Outer Space leads off the Monsters VS Aliens segment where the monsters from the first film are called out to investigate a report of mutant pumpkins in Susan's hometown of Modesto. As such, we see the return of B.O.B, Dr. Cockroach, The Missing Link, and even Susan's parents. All of the original voices also return for this cartoon. The end of the tale actually causes an immediate continuation of the story in the sequel, Night of the Living Carrots, which finds zombified carrots wreaking havoc on the Monsters and Susan's parents' house. All of it is great fun and well worth getting this collection alone for.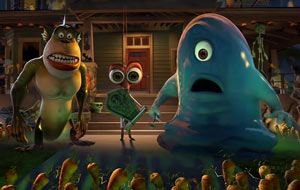 To wrap up this collection is a cartoon called The Ghost of Farquaad. As it begins, you may notice two things right off the bat. For starters, it looks much older in style and animation than the later Shrek films, but more importantly, it may seem quite familiar to you. The Ghost of Farquaad is actually the video that shows with Universal Studios Theme Park attraction Shrek 4-D. It was also released on DVD many years ago as a companion to one of the early Shrek films as Shrek 3-D. There are many gratuitous 3-D shots that are shown here in 2-D, but it's still fun to include this tale here on the DVD. It serves as a wonderful bridge between Shrek and Shrek 2, right after Shrek marries Fiona. Meanwhile, the tales at the beginning of this set follow Shrek Forever After, which makes it great to be able to see these characters again (and, arguably, these shorter tales are all better than Shrek Forever After was).
The only real bonus feature on the Blu-Ray disc is a pop-up facts track to watch with Night of the Living Carrots. They're part facts and part silly fictional anecdotes, but stuff like the "Carrot Counter" are cute as it follows along with the episode and counts just how many zombie carrots appear in the story. Otherwise, this collection is a straightforward compilation of Halloween stories that are perfect for fans of the films and older children who do well with these films and aren't spooked too easily. As for me, I think I've found a new annual Halloween entertainment favorite in DreamWorks Spooky Stories.
-
John DiBiase
(reviewed: 10/22/12)
Disclaimer: All reviews are based solely on the opinions of the reviewer. Most reviews are rated on how the reviewer enjoyed the film overall, not exclusively on content. However, if the content really affects the reviewer's opinion and experience of the film, it will definitely affect the reviewer's overall rating.
To find out why we don't typically review R-rated movies,
click here