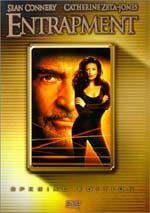 Entrapment


- for some language, sensuality, violence and drug content.
Director:
Jon Amiel
Starring:
Sean Connery, Catherine Zeta-Jones, Ving Rhames
Running Time:
1 hour, 53 minutes
Plot Summary
An insurance agent, Gin (played by Catherine Zeta-Jones) goes undercover to catch a world-renown jewel thief, Robert MacDougal (Sean Connery). They join forces to steal extremely valuable artifacts while learning to trust each other and not get caught during their high-tech heists.
Film Review
Entrapment is entertaining and disappointing at the same time. Although I like both Connery and Zeta-Jones, I wouldn't ever think of putting them together as a couple. I'm glad that it's only subtle, though... While last year's Six Days, Seven Nights was barely good, the pairing of Harrison Ford and Anne Heche clearly felt awkward and wrong. But it was more played-up and blatant (plus i can't stand Heche and her... "values"). Maybe if it were Pierece Brosnan instead or someone younger, it'd be better, but there was little chemistry there in the romance department.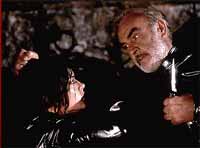 However, aside from relationships, there was a little chemistry. When the two were together, it was an interesting match (till they kissed). The movie was interesting as well. It had some rather suspenseful and intriguing heist scenes that basically made the movie. In between those scenes were some slow, more dramatic scenes that Connery and Zeta-Jones just barely held up.
As a whole, I liked the film. I could pick it apart for hours like some (or shall I say most) critics, but that wouldn't be necessary. It's interesting, full of twists and turns, and very entertaining.

As far as content goes: language is the key worst element here. There were 2 "f" words, both used by Ving Rhames in non-sexual ways; 8 "s" words, and so on... The violence was kept to a minimum. Thankfully no blood/gore was in the film, and no sex scenes (although some were filmed and left out due to Connery worrying about the controversy over the large age difference). There is slight nudity, but it was reduced to Zeta-Jones' bare back and hip.

Overall, the movie is pretty good, however, due to the language, and above-mentioned complaints, i can't grant this film more than somewhere between 2 & a half and 3 stars. If you have any questions about the film before you see it, feel free to contact me.

- John DiBiase, (reviewed: 5/1/99)
Parental Guide: Content Summary

Sex/Nudity: We see a Rembrandt painting of a nude woman several times; While sleeping in the nude, Gin sits up in bed upon hearing a sudden noise in her hotel room. We then see her bare back, as Mac is mostly blocking our view of more explicit nudity. Mac sees Gin sleeping in bed and her bare back is shown, as well as most of her side which he pulls the sheets over. While lying on the floor Gin and Mac kiss until he stops it as he realizes its wrong.


Vulgarity/Language: 2 "f" words, 8 "s" words, 5 "d*mn," 5 "h*ll," 1 "S.O.B.," 1 "b*tch," 1 "b*stard," 1 "J-sus," 1 "s*cks," 5 "G-d," 1 "Swear to God," 1 "Oh my G-d"


Alcohol/Drugs: Gin and Mac drink a lot of beer and various alcoholic beverages; one guy smokes a bong.


Blood/Gore: None.


Violence: Shooting, a knife into a car roof, people putting knives up to people's throats without cutting, a person starts to beat up another person but stops, etc...

Disclaimer: All reviews are based solely on the opinions of the reviewer. Most reviews are rated on how the reviewer enjoyed the film overall, not exclusively on content. However, if the content really affects the reviewer's opinion and experience of the film, it will definitely affect the reviewer's overall rating.

To find out why we don't typically review R-rated movies, click here