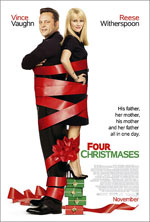 Four Christmases


- for some sexual humor and language.
Director:
Seth Gordon
Starring:
Vince Vaughn, Reese Witherspoon
Running Time:
1 hour 22 minutes
Theatrical Release Date:
November 26th, 2008
Official Site
Plot Summary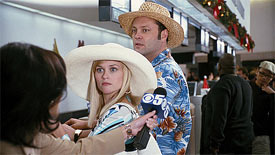 When upscale, happily unmarried San Francisco couple Kate and Brad find themselves socked in by fog on Christmas morning, their exotic vacation plans morph into the family-centric holiday they had, until now, gleefully avoided. Out of obligation--and unable to escape--they trudge to not one, not two, but four relative-choked festivities, increasingly mortified to find childhood fears raised, adolescent wounds reopened... and their very future together uncertain. As Brad counts the hours to when he can get away from their parents, step-parents, siblings and an assortment of nieces and nephews, Kate is starting to hear the ticking of a different kind of clock. And by the end of the day, she is beginning to wonder if their crazy families' choices are not so crazy after all... (from MovieWeb.com)
Film Review
One of the toughest things about holidays can be getting together with family. This concept is known all too well by Brad and Kate, a couple who've been avoiding their families at Christmastime since they started dating three years ago. But when their usual escape plan to avoid the holiday hooplah crashes and burns, they're forced to visit the four families of each of their divorced parents all on one Christmas day. This is the premise behind 2008's Christmas comedy, Four Christmases.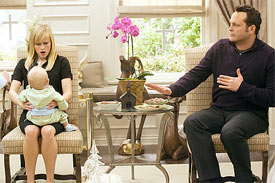 Vince Vaughn returns for a second Christmas outing two years in a row with Four Christmases, having starred as the title character in last year's Fred Claus. While the humor in the latter film had to be kept a little more in control under its PG rating, Four Christmases is given a much more adult approach under its PG-13 umbrella. And since Surviving Christmas was the most backwards (and obscene) Christmas movie I've ever seen (I have not seen Bad Santa nor ever intend to), I held some high hopes for this particular Vince Vaughn / Reese Witherspoon vehicle. Sadly, the end result was only slightly better.
It's a little ironic that a Christmas movie about families could be hardly suitable for families to see. About half of the film's jokes are sexual in nature -- from an awkward oral sex joke to innuendos and breast-feeding gags, it's all done to make the audience feel the pain and discomfort that the central characters are feeling. However, it feels forced and over the top. Family holiday awkwardness is probably seldom related to sexual situations, so instead of the audience nodding their heads being able to relate, they're likely to groan at distasteful jokes. This approach to comedy never feels festive, which is probably why the film over-compensates by incorporating pieces of Christmas carols into its score, and by frequently having familiar songs playing in the background. Then, when the filmmakers take a jab at a charismatic church and their showy nativity play, it just feels like the movie sinks to a whole new level. It probably shouldn't surprise anyone for a Hollywood production to make fun of the church and Christians, but it seems especially odd to do it in a Christmas movie.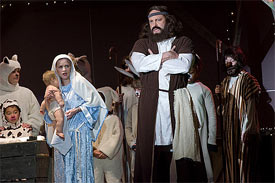 With that said, there is a mood shift towards the end of the film, where Four Christmases tries really hard to prove to the audience that somewhere underneath its profane surface, there exists a heart. The mood change doesn't feel very organic - almost as if they only do it because they feel they have to, but it probably explains why our main characters are written as dating and living together and not married yet. The first scene involves Brad and Kate roleplaying at a bar just for pleasure, and end up making out in public before it cuts to them walking out of a unisex bathroom together... not exactly what you'd expect to see in a Christmas movie (let alone its opening scene). We soon discover they did it all just for fun and that they live together - but aren't married - and even have a severely negative view of marriage. Maybe the insanely dysfunctional characteristics of both of their families is supposed to explain this, but it, again, it removes any classic holiday feel from the story. But this also makes it pliable for the filmmakers to separate the two of them at some point in that good ole' romantic comedy formula fashion. In the end, however (and after an oddly heartfelt grace prayer at the dinner table), there's a great deal of emphasis placed on family and having children - when almost everything we see before it feels like a protest against both.
So, as I've eluded to, the content is more on the heavy PG-13 side. Seems like everybody uses profanity, even the young children, while sex is something the characters aren't afraid of talking openly and flippantly about. Discretion and modesty seems to be far from everyone's minds, and as usual, the Christians in the film aren't painted in a very good light (I'll admit, that can be warranted sometimes, but I still hate seeing it portrayed in entertainment as such -- and in a film about a holiday that's based around Christ's birth, no less). There was a lot of potential for Four Christmases to be the kind of Christmas movie you'd want to revisit each season, based on its unique premise, but instead the movie goes for cheap laughs which aren't even that funny most of the time. It's appreciated that the film does even try at heart before the credits roll (and reinforce that the pursuit of a healthy family environment, despite your upbringing, is worth the effort), but I'm afraid it's a lost effort.
If you're looking for the perfect holiday comedy this Christmas season, you won't find it in Four Christmases. It's too vulgar to be a family film or a classic. It may have a couple good moments, but all in all, let's hope Hollywood won't keep making messes like this one. Skip this one and stay at home, out of the cold, and watch a real Christmas movie.
-
John DiBiase
(reviewed: 12/6/08)
Parental Guide: Content Summary

Sex/Nudity
: When we first see Brad and Kate, we don't know they're roleplaying right away, but Brad goes up to her and tries to strike up a conversation in a bar. She rejects him, making a comment about wanting a guy whose hand doesn't shake when he puts it under her shirt and makes a reference to "sexual pen pals." After she walks away, he calls out "B*tch, I'm talking to you!" and then calls her a "dirty slut." They end up making out in the bar (we see her legs around his waist and he pushes her against a wall and she rips open his shirt). We then see them walking out of a unisex bathroom together, implying they had sex in there; We find out that Brad and his brothers were named after the cities in which they were conceived in (his real name is Orlando); Denver's wife is pregnant, showing a lot of cleavage in her dress. At one point, after Kate asks if breast feeding hurts, she mentions to her that the nipples get hard after breast feeding and lose feeling. She then offers to let Kate flick her nipple, to which Kate declines; One of Brad's brother's kids gets upset and starts disrobing, as we learn he streaks when he's upset. He then jumps out the window in just his underwear and socks and then we see his underwear fly back in through the window; Howard makes a comment that he worries the installation man for a satellite dish could be a "sex predator" who wants to touch his underpants; Kate refers to her mom's house as a "cougar den," and when Brad meets her mom (who's now dating a preacher), she hugs him somewhat sensually and mutters, "Sh*t, that feels good!" while Kate's grandmother eyes him up after touching his belt; Kate's sister shows a lot of cleavage in her low-cut shirt and we see her breastfeeding (but it's covered up). Afterwards, she briefly adjusts herself; Kate's mother asks the family to share Christmas "spiritual goals" and her grandmother states she hopes to pleasure her husband more with her hand and her mouth; Courtney tells Kate that her husband knows she slept with the entire polo team and she knows that he once experimented with men; Kate's mom implies that Kate had a lesbian relationship in the past (which Kate later denies); Brad and Kate are forced to play Joseph and Mary in the church nativity play. While Brad tries to figure out how to play his character, he tells Kate that he's not sure Joseph would be cool with God getting Mary pregnant; Brad's mom, Paula, states that he was breast fed until he was 5, and then comments that only a man after her divorce was on her "t*ts" more than he was; We learn that Darryl, who is currently dating Paula, is a former friend of Brad's, and he comments on her intense sexuality and Brad is upset with the idea of Darryl sleeping with his mom; Later, during a game of Taboo, Paula asks Darryl what he dripped on her on a recent night and he guesses wax, chocolate, and syrup (the last was the answer, which he comments was too sticky); While Susie and Denver are playing Taboo, something about dry humping on the beach and guessing who the only man he's let her cheat on him with would be (it ends up being a celebrity author); When Kate is playing, she tries to get Brad to guess the word "peek-a-boo" by telling the story of when she was at a bar and her "stuff" fell out (meaning her chest) and that's why she temporarily had that nickname. (A few other suggestive or crude comments are made)

Vulgarity/Language
: 3 "s" words, 2 "S.O.B," 5 "d*mn," 3 "h*ll," 2 "a**h*le," 1 "a" word, 2 "cr*p," 2 "b*tch," 2 "t*ts," 9 derivatives of "G-d"

Alcohol/Drugs
: We see Kate drinking in a bar; Brad's dad is seen drinking several times, even mentioning his buzz, We see Brad's brothers drinking beer; Kate's mom tells her grandson not to eat any of "Grandma's special brownies" (implying they probably have weed in them)

Blood/Gore
: We see two instances with baby vomit, but nothing else remotely bloody or gory

Violence
: Brad's brothers wrestle him roughly and beat on him a bit a couple times; Brad falls off his Dad's roof, causing the cable wire inside the house to break several things around the room, including the TV (and Kate accidentally bumps a baby's head in the process); A bunch of kids in a bouncy castle play "keep away" with Kate, who eventually falls out. She then goes back inside and tosses around the children until she gets back the item they're keeping from her
Disclaimer: All reviews are based solely on the opinions of the reviewer. Most reviews are rated on how the reviewer enjoyed the film overall, not exclusively on content. However, if the content really affects the reviewer's opinion and experience of the film, it will definitely affect the reviewer's overall rating.
To find out why we don't typically review R-rated movies,
click here