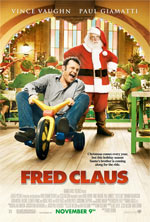 Fred Claus


- for mild language and some rude humor.
Director:
Simon J. Smith, Steve Hickner
Starring:
voices of Jerry Seinfeld, Renee Zellweger
Running Time:
1 hour, 38 minutes
Theatrical Release Date:
November 2, 2007
Official Site
Plot Summary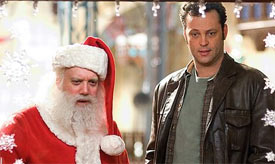 Fred Claus (Vince Vaughn) has lived almost his entire life in his little brother's very large shadow. Fred tried, but he could never live up to the example set by the younger Nicholas (Paul Giamatti), who was just a perfect... well... Saint. True to form, Nicholas grew up to be the model of giving, while Fred became the polar opposite: a repo man who then steals what he repossesses. Now Fred's dirty dealings have landed him in jail. Over Mrs. Claus's objections, Nicholas agrees to bail his big brother out on one condition: that he come to the North Pole and work off his debt making toys. The trouble is that Fred isn't exactly elf material and, with Christmas fast approaching, this one bad seed could jeopardize the jolliest holiday of the year... (from MovieWeb.com)
Film Review
One of the best things about the holiday season is digging out your favorite Christmas movies and revisiting films that put you in the holiday spirit. The latest Hollywood creation vying for a spot in your annual holiday rotation is Fred Claus, the "untold story" of Santa Claus' older brother.
Director David Dobkin is no stranger to comedy, having directed the 2003 Shanghai Noon sequel, Shanghai Knights, and two years later helming the crass, smash hit comedy Wedding Crashers. Dobkin is, however, new to the family and holiday genres as he reteams with his Crashers co-leading man, Vince Vaughn, in the titular role. Despite undoubtedly a holiday film, Fred Claus spends much of its time teetering in an almost bipolar nature between a family film and a more adult-oriented comedy. In the end, the family-friendly Christmas spirit wins out, but not before the film finds itself fighting a little too hard for the audience's heart.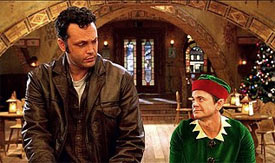 Fred Claus opens with a flashback to Fred and the birth of his saintly brother as he vows to be the best older brother in the world. As Nicholas earns the attention and affection of his mother and father, Fred gives himself over to bitterness and resentment, ultimately becoming the polar opposite of his younger brother. The film then flashes to present day where Fred is working for a repossession company and passionately hates anything that has to do with Santa Claus and Christmas. Fred is also currently dating a meter maid played by Rachel Weisz (who doesn't hide her genuine British accent this time around), and struggles with what prove to be tough lessons about being all too self-centered and self-absorbed. Being hard up for cash lands him in the position to call his famous brother, Nicholas, who makes a deal with Fred that if he visits the North Pole, he will give his big brother whatever money he needs. The movie really struggles to find its identity throughout the whole process, making Fred Claus a tough film to pinpoint exactly who its intended audience is meant to be.
Fred's wise-cracking cynical nature is obviously toned-down a bit for a primarily family-aimed film, but a few mild cuss words still slip out, as well as a few subtle sexual jokes. Also, even in the North Pole, "Santa's Little Helper," Charlene, is always seen in a tiny, cleavage-revealing outfit that seems rather racy for such a film (and Santa's character doesn't seem at all the kind of guy to encourage or allow that). And when the head elf Willie is revealed as being in love with her, it's a bit odd considering all she's presented as is sweetly-mannered eye candy and not anything much deeper than that. The film portrays our central character Fred as posing as a charity to take money from strangers, encouraging the elves to goof off instead of work, cold-heartedly telling off a young girl whose TV he repossesses, telling an orphan that he should look out for himself above all else, and taking his relationship with his girlfriend a bit too cavalier. While the film definitely shows a great deal of growth by story's end, it makes for a pretty dark first half of the movie. How does Dobkin attempt to relieve the darkness? By pulling the same awful tricks he used in Shanghai Knights, of course. For moments that are even filmed with a crisp, perhaps slightly gritty picture instead of with some kind of an overly colorful and fantastical look, Dobkin inserts cheesy, ridiculously goofy cartoon sound effects - like splats and whistles and "boings" and such - overtop of the action as if it would some how enhance the moment. Instead, it merely dumbs down the already silly scenes (like Fred being chased by a dozen Salvation Army Santa Claus's), and tries too hard to appeal to younger viewers who may otherwise be bored out of their minds with what's taking place on screen. Another problem is, while 2003's Elf chose the route of believable camera tricks to create the elves in the movie, Fred Claus does the nearly unthinkable -- filming the faces of regular-sized actors and pasting their faces onto littler people. Does it work? Not at all. Each scene that shows John Michael Higgins' faces pasted onto a smaller body is distracting to anyone who might realize "hey, not only does that look fake... but I've seen him taller in other films!" Would opting for camera tricks really have been more difficult than a poor cut and paste job?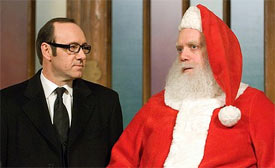 The acting is quite good for the film, despite the actors not having much of a script to roll with. Paul Giamatti in a fat suit as Santa Claus is inspired casting, while Vince Vaughn turning into an unlikely hero turns in a typically cynical fast-talker through most of the film before trying his hand at the sweet stuff. Weisz is reduced to cameo status while Elisabeth Banks is just walking scenery as Charlene. A nice treat for the film, however, is the delightful casting of the always reliable Kevin Spacey as the film's villain. It's great to see him slither his way through his scenes, even getting a few shining moments along the way. As I watched Fred Claus play out, I couldn't help but feel like movie was something that could have and should have been a lot better. But as it neared the end, the story began to pick up, and even some genuinely funny plot elements were starting to enter in. One particular scene - which I won't spoil here - has some really creative cameos in it that is undoubtedly silly, but a truly unique and near-brilliant way to squeeze some simple imagination into the mix. And when the story reaches its nicely upbeat climax, Fred Claus nearly redeems itself entirely. But to prove just how unbalanced the movie really is, at one key moment in this completely spiritually-empty film, a rendition of "Silent Night" prominently plays in the foreground. With such lyrics as "silent night, Holy night... round yon Virgin Mother and Child, Holy Infant so tender and mild," it seems strange for such a commercial story to make blatant references to Christmas' true meaning - even if only on its soundtrack. And it'll happen again during the credits before they finish rolling!
Fred Claus may not be as impossibly abysmal as something like Surviving Christmas, but the filmmakers seem to have trouble getting things started in the right direction. The film's finale saves the film from being a complete loss, but it doesn't excuse some mild language and crude humor. Fred Claus is a bit of a disappointment for this Christmas movie season, so you're probably better off renting Elf or picking up a copy of Bing Crosby's Holiday Inn and not waste the effort venturing out into the chilly night air to see this one.
-
John DiBiase
(reviewed: 11/14/07)
Parental Guide: Content Summary

Sex/Nudity
: Charlene wears a low cut, cleavage-bearing tiny outfit throughout the whole movie; Wanda complains to Fred that he doesn't want to move in with her; Fred sarcastically tell a little girl that TV is bad for her and that someday she'll get pregnant from a guy and drop out of school, etc; When talking of a naughty and nice list, Fred remarks that he hopes a womens' swim team is naughty; Fred shows Willie some dance lessons, and Willie puts his hands on Fred's back, but because of his height, places them on Fred's butt. Fred jokes that that's naughty and it's good thinking, but moves his hand up to Fred's lower back. He tells Willie to hold him closer, and after they separate, Willie dances around and smacks his own butt; During an intervention, Santa's wife says that his overweight physique gives him health problems as well as "other" problems in their marriage. Fred then jokingly asks if Nicholas is having trouble getting his "sleigh off the ground" (a double meaning joke); Willie walks up to Charlene and passionately kisses her; Fred eventually agrees to move in with Wanda (as if that's the right thing to do) and kisses her when he shows up at her place in her bedroom.

Vulgarity/Language
: 2 "h*ll," 1 "a" word, 1 "d*mmit," 2 "cr*p," 1 "Good Lord," 1 "G-d"

Alcohol/Drugs
: Some elves might be drunk leaving "Frosty's Tavern;" Fred has eggnog at the tavern.

Blood/Gore
: None, but we do hear Willie and Fred peeing in the bathroom

Violence
: Lots of comedic violence. As little kids, Fred hits Nic in the back of the head with an apple; Fred runs away from and then fights a series of Salvation Army Santas; Some of Santa's elves attack Fred to protect Santa; Fred is attacked again and wrapped up by the elves; Fred and Nick have a snowball fight that also ends with Santa trying to run over Fred with a snowmobile; Clyde is pushed out of the way by a sleigh; Slam pushes kids in an orphanage; Fred and DJ Donnie have a little scuffle and Fred locks him in a cabinet; Fred angrily decapitates a mechanical Santa lawn figurine; A little girl kicks Fred in the leg; On Christmas Eve, as Santa's sleigh races across the world, it clips cars and other property, causing damage.
Disclaimer: All reviews are based solely on the opinions of the reviewer. Most reviews are rated on how the reviewer enjoyed the film overall, not exclusively on content. However, if the content really affects the reviewer's opinion and experience of the film, it will definitely affect the reviewer's overall rating.
To find out why we don't typically review R-rated movies,
click here