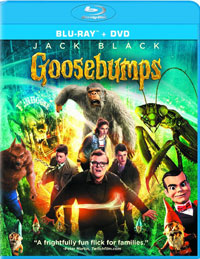 Goosebumps


- for scary and intense creature action and images, and for some rude humor.
Director:
Rob Letterman
Starring:
Jack Black, Dylan Minnette, Odeya Rush, Ryan Lee, Amy Ryan, Jillian Bell, Halston Sage
Running Time:
1 hour, 43 minutes
Theatrical Release Date:
October 16, 2015
Blu-Ray Release Date:
January 26, 2016 (
Amazon.com
)
Plot Summary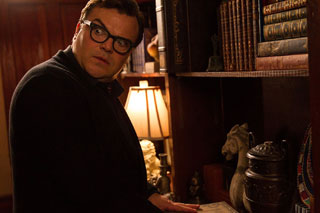 After moving to a small town, Zach Cooper (Minnette) finds a silver lining when he meets next-door neighbor Hannah (Rush), the daughter of best-selling Goosebumps series author R.L. Stine (Black). Stine is very mysterious and a prisoner of his own imagination - the monsters that his books made famous are real, and he protects his readers by keeping them locked up in their manuscripts. When the monsters are accidentally unleashed and begin to terrorize the town, it's up to Stine, Zach and Hannah to get them back in their books where they belong! (from Sony)
Film Review
When you hear the title "Goosebumps," the popular teen horror book series from the 90's is mostly likely what would first come to mind. While many studios -- especially Sony -- are interested in cashing in on popular franchises and brand names these days, it comes as a bit of a surprise still that it's taken this long to bring a film based on Goosebumps to the big screen. For this first big screen adaptation, comedian Jack Black embodies a fictional representation of Goosebumps author R.L. Stine as he tries to make a life for himself hiding under the name of "Mr. Shivers" (Although that's not the most subtle fake name for a horror book author to hide under). Like the family-friendly creature-driven adventure films before it, Jumanji and Zathura for example, Goosebumps aims to capture that kind of fun, thrilling and scary vibe--and succeeds.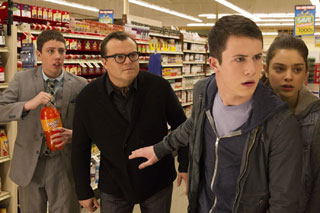 Most teenager-driven movies like these have a tendency to over stylize the real-life high school experience, or populate the world they exist in with youngsters who seem to know a lot more than the adults, who often get dumbed-down. Thankfully, Goosebumps strikes a fine balance, leaving the "dumb adults" kept to just a pair of quirky and genuinely funny smalltown police officers and Zach's kind-of-annoying weird aunt. Amy Ryan (who I loved as Holly Flax on The Office) is great as the school's new VP and Zach's mom. She brings a lot of the fun of that role to her character here and it works nicely. Zach is played by Dylan Minnette (who starred in 2014's Alexander and the Terrible, Horrible, No Good, Very Bad Day, and has also been seen in shows like the final season of LOST and Scandal), who is dealing with having recently lost his father and having to move from New York to a smalltown setting. Add "creepy neighbor" to the "new kid" status and Goosebumps begins to take shape. Mr. Shivers' daughter Hannah strikes up a friendship with Zach, while the dorky Champ at school latches on to this possible new friend, and the three band together once the mayhem ensues.
Like how the Jumanji board game would unleash monsters into the world, Stine's books are literally kept under lock and key to keep the horrors he had written from coming to life. But one of Stine's greatest adversaries in his literary works is a ventriloquist dummy named Slappy, and when the puppet accidentally gets free, he sets the other creatures free as well. Stine and the kids then must fight to round up and capture these creatures once again -- and survive in the process. The creatures are mostly pretty creepy, with Slappy, a werewolf and a graveyard of zombies being the more unnerving of the monsters. The Abominable Snowman is pretty cool, while an evil army of murderous garden gnomes is equal parts funny and sort of creepy. The foursome come across quite a few baddies throughout the story as well -- all inspired by things from the real R.L. Stine books -- and it's a fun ride to go on with them.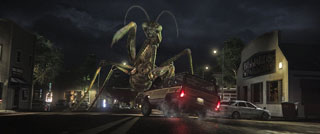 The content isn't too bad. Aside from the occasional "Oh my G-d" or "Oh G-d," the only real content to be concerned with is how intense the movie could be for younger viewers. The werewolf is pretty scary-looking and I'd imagine the ventriloquist dummy could disturb some folks. There are also quite a few jump moments, but they're minor and usually psych-out moments. But although it's relatively mild overall, I'd imagine the littler ones will be pretty creeped out by it.
I was surprised to find myself really enjoying Goosebumps. It's not perfect, and I actually liked it better than Jumanji (for several reasons), but it has a classic monster-movie feel, with the film even making a couple blatant nods to The Blob, and rightfully so. If you like your horror on the lighter side, Goosebumps is for you.
-
John DiBiase
(reviewed: 1/25/16)
Blu-Ray Special Features Review
Goosebumps
is available on DVD, Blu-Ray/DVD and in a 3D/Blu-Ray/DVD combo pack -- and through the regular digital providers. Along with the feature film in high definition are the following extras:
All About Slappy (4:44) - After the credits roll (or you can watch it separately via the bonus features menu), is this little video hosted by the puppet Slappy. It talks about his origin in the books and then shows how he was made as a prop for the film.
Cast Blooper Reel (3:08) - This amusing blooper reel consists mostly of the cast goofing around or messing up their lines. (1 "My G-d" and then at least 4 "d*mn" in a song playing as a soundtrack to the bloopers)
Alternate Opening (3:28) - In the alternate opening scene, we see two moving guys packing up stuff from what is clearly Stine's previous residence. As they drive away--at night--a box of Stine's books falls over in the truck and they hear a scary sound. They then go investigate and find Slappy in the back of the truck...
Deleted Scenes (12:39) - There are 7 deleted scenes. The first is a group of them that show Zach meeting Taylor and other kids on his first day of school. It's in his first meeting with Taylor that her jock boyfriend paints a proverbial target on Zach. In his next class where they're doing a science experiment, the jocks rig Zach's experiment to explode in his face. After that, the football coach tries to be friendly when he sees him in the bathroom and just asks him to talk him up to his mom for him. Later, as Zach sits and reads in the bleachers on the football field, some of the jocks try to pick a fight with him. Overall, it develops the other characters a bit more who randomly appear throughout the film. But it also feels a bit cliche too. Next is a short scene where Zach spazzes out to his mom while worrying about Hannah's safety. The third scene shows Stine going to the police station after a prank call. The fourth scene shows Lorraine finding Zach's room empty after he snuck out. We then have a cut scene of Stine driving with Champ, Hannah and Zach and we're given several outtakes as well of Jack Black delivering several improvised lines. Next we see the jock who picked on Zach getting cornered by The Abominable Snowman (with unfinished effects) and then an Alternate Ending with Zach meeting a girl named Anna and Stine finding the typewriter spelling out "Slappy's Revenge" instead of "The Invisible Boy..." Overall, they're worth watching to fill in a couple little insignificant gaps, but I see why all of this was cut.
Beginner's Guide to Surviving a Goosebumps Creature (5:47) - This featurette is a playful one that briefly covers the main creatures featured in the movie, with a quasi-"guide" on how to survive an encounter with gnomes, werewolves, a haunted car, the Abominable Snowman, and a giant praying mantis. They also give a little bit of history on some of the creatures.
Strange Things are Happening... On-Set (3:30) - A couple of the cast share how fun it was to be on set, and then Dylan pretends to get very serious and reveal that real unexplainable supernatural phenomena had started happening on-set. It's all a big joke, however, with elaborate pranks having been staged -- from vandalism in the hospitality tent to a make-up team member pretending to be a zombie.
Creaturefied! (8:56) is actually a pretty neat featurette where two of the film's make-up artists show how to make fake blood and then a mummy costume. They then bring in Dylan and Ryan and have Ryan sit in a chair so they can make a homemade mummy costume for him. It's pretty cool and great for Halloween ideas.
Screen Test Gallery (7:16) is a series of videos that feature Jack Black, Dylan and Odeya running through random scenes prior to filming.
-
John DiBiase
,
(reviewed: 1/25/16)
Parental Guide: Content Summary

Sex/Nudity
: Champ tells Zach they should go to the school dance together but not "together, together," and adds something about how that might actually be a good idea because they they could split off and find girls; Zach's mom tries to make a joke about twerking during a school meeting and it does go over well; The Principal then tells the kids that "anyone who dances with their butt facing their partner will go home"; Stine calls himself an audiophile for having a big surround sound setup with speakers, to which a female cop gets angry and responds, "A what-o-phile???"

Vulgarity/Language
: 6 "Oh my G-d," 2 "Oh G-d," 1 "My G-d," 2 "Sucks;" 1 "H*ll;" 1 "Good G-d"

Alcohol/Drugs
: None.

Blood/Gore
: As a book sucks in the Snowman, a hole appears in the middle of it with its body dissolving like blood into ink; We see a little blood on Zach's forehead (which Hannah teases him about)

Violence
: Zach sees silhouettes of Hannah and her dad with him yelling at her, followed by the sounds of her screaming and stuff breaking; Zach jumps when he walks into a cuckoo clock. We then see a shadowy figure coming up behind him and Zach jumps when Champ puts his hand on his shoulder; We see bear traps all over the cellar floor; Hannah swings a bat at them, thinking they're intruders; A book flies open and the Abominable Snowman jumps out. It charges at Champ and crashes through the side of the house; A bursting soda can rolls across the floor, causing the kids to jump; A large candy machine falls through the ceiling in a hockey rink; The Snowman beats on and smashes through the glass wall in the hockey rink; As a book sucks in the Snowman, a hole appears in the middle of it with its body dissolving like blood into ink; Stine throws a statue at the kids but it just hits a nearby wall; Garden gnomes attack Stine and the kids. One throws a knife into the wall near Zach and then others try to strangle him to death. One latches onto Stine's face, which Champ hits with a frying pan. They even put one of the gnomes in the garbage disposal. They smash others, including with a broom, and then put some in a burning stove, causing them to melt. They then come back to life and chase the gang through the house. The bear traps in the cellar crush some of the gnomes; We see people running and screaming through the town; Aliens shoot the two cops with a freeze ray; We see a cute poodle's face suddenly looks scary and ferocious; We see a lot of people in town who have been frozen, while many vehicles and buildings look destroyed; Champ is slapped in the face by The Invisible Boy; A giant praying mantis attacks their car and chases them. Their car then flips over. The giant bug then picks up the car and destroys it; We see a werewolf in a super market biting on a piece of steak. It chases them and blows the door off the back of the store. We then see it slowly walking towards them as it drags its claws against two trucks on either side of it. Suddenly, the werewolf is hit by a car, sending it into the dumpster; Zombies come out of the ground and grab Zach, causing him to fall over. The zombies then chase them; Aunt Lorraine gets frozen by the freeze ray; The giant praying mantis pulls a kid through a wall in the school (we later see he's alive); Zach swats smaller bugs with a baseball bat; We see little robots shooting lasers at people; Monsters in large numbers attack the school during the dance; The werewolf corners Taylor as her boyfriend runs away. Champ jumps on the werewolf and bites his neck, sending him retreating; Slappy closes Stine's typewriter on his hands, breaking his fingers; We see a large entanglement of venus fly traps biting at them; The praying mantis flips a bus over as the monsters catch up to them; We see a large explosion in the distance; A gigantic blob chases them and swallows up Stine up to his neck; The mantis dislodges the ferris wheel, which rolls and crashes as the kids on it scream; We see monsters get sucked by into a book.
Disclaimer: All reviews are based solely on the opinions of the reviewer. Most reviews are rated on how the reviewer enjoyed the film overall, not exclusively on content. However, if the content really affects the reviewer's opinion and experience of the film, it will definitely affect the reviewer's overall rating.
To find out why we don't typically review R-rated movies,
click here