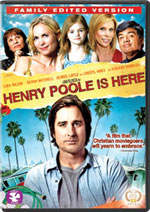 Henry Poole Is Here


(original rating) - This version has been edited from the theatrical version to remove language considered inappropriate for family audiences.
Director:
Mark Pellington
Starring:
Luke Wilson, Radha Mitchell, Adriana Barraza, George Lopez
Running Time:
1 hour, 39 minutes
Theatrical Release Date:
August 15, 2008
DVD Release Date:
September 8, 2009 (
ChristianBook.com
)
Website:
MySpace
Plot Summary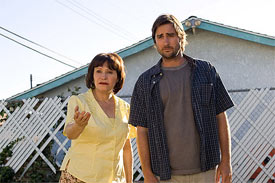 Luke Wilson ('The Royal Tenenbaums,' 'Old School'), Academy AwardŽ nominee Adriana Barraza ('Babel') and Radha Mitchell ('Finding Neverland') star in a modern day fable about the unexpected wonders of the everyday from director Mark Pellington ('U2 3D,' 'The Mothman Prophesies'). 'Henry Poole is Here' tells the funny, poignant and uplifting story of a disillusioned man who attempts to hide from life in a rundown suburban tract home only to discover he cannot escape the forces of hope. (from MovieWeb.com)
Film Review
Mark Pellington's Henry Poole Is Here is an emotional drama about a man named Henry Poole who has given up on life and moves into a new neighborhood, immediately attracting the attention of a few nosy neighbors. When a miracle happens in his own backyard, more attention is drawn to him, and he's reluctantly forced to face his life. Luke Wilson stars as Poole, a depressed man who eats poorly and drinks heavily in hopes to either forget life or perhaps even end it. This gives the film a very heavy feel from the start, and Pellington films it with a thoughtful, indie vibe to add to the dramatic tones.
It's difficult to discuss a film like Henry Poole Is Here without giving away some key plot points. So if you'd rather not know too much, don't read any further. It isn't too long after Poole moves into a dilapidated house that his neighbor Esperanza claims to see the face of Jesus in the newly stuccoed outside wall of Poole's home. The attention it brings to Poole's yard frustrates him to no end, but the hope it brings to Esperanza sparks the attention of neighbors, her local church group, and a priest who are all encouraged by the phenomenon. The only person resistant of this "miracle" is Poole himself, who refuses to believe it's a sign from God or anything remotely of the sort. The movie slowly gives us more and more little details about Poole's life, and finally the reason for his inner turmoil. The other characters surrounding Poole bring some light and hope to the story, and Henry feels it, but desperately tries to fight it. Every so often, you see his will starting to give, but he ultimately clings to his despair.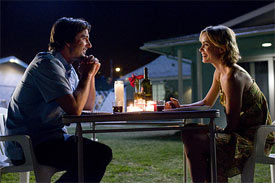 The "Family Edited" DVD version of Henry Poole Is Here edits out the use of some language that was included in the theatrical version. I haven't seen the unedited version, but according to some information on IMDB.com, the original version included at least one use of the "s" word and "g*dd*mn." Neither are present in the "Family Edited Version," however, there are several uses of "Oh God" and "Oh my God" as exclamations. There is no sexual content (aside from a passionate kiss, and Dawn shows some cleavage in several outfits she wears), but there is a little bit of blood. There are several times that we see a drop of blood on the face on Poole's wall, and in a flashback scene, we see a nurse shove a needle into a man's arm and then a brief glimpse of a vial filling with blood. Also, later after a roof collapses on a person, we see some bloody scrapes on their face and hand (nothing too graphic, however). I can understand why editing out the language might make the film more family friendly, but due to the thematic elements, drinking, and slow, dramatic story, I can't see this being a hit with too many families. It definitely is a good story to build a study around and to discuss in a small group, but parents shouldn't look at the "Family Edited Version" tag and assume it's perfect for a Saturday night family movie time.
Overall, the story offers plenty of food for thought about faith as well as meaning and purpose in life. There's an element to the story's development that kind of drives home the idea that there are no coincidences in life and that everything happens for a reason - whether good or bad. Much like how, in the Bible, Jesus states that a man was born blind just so Jesus could heal him and "God might be displayed in his life" (John 9:3), the occurences in the story in many ways validate Poole's suffering as well as give him purpose. Although most of the movie shows Poole wallowing in despair and being unkind to others around him, a few kind neighbors help spark some hope, and the end result is a good one.
Henry Poole Is Here is an enjoyable drama, particularly because of the lessons in faith and hope that the story encourages, and Luke Wilson's believable and emotional portrayal of the title character. Its slow pace and the dark feel that Poole's life displays make this a thematically weighty picture. It's definitely suitable for a small group (the edited DVD even comes with a downloadable Bible study), but it's probably not a film kids will enjoy too much.
-
John DiBiase
,
(reviewed: 10/28/09)
Parental Guide: Content Summary

Sex/Nudity
: Dawn shows some cleavage in some of her shirts and a couple of sun dresses

Vulgarity/Language
: 7 derivatives of "G-d" as exclamations

Alcohol/Drugs
: Henry drinks a great deal during the film - from vodka to beer, etc.

Blood/Gore
: Several times, we se a drop of blood on the outside wall of a house; In a flashback, we see a nurse shove a needle into Henry's arm and then briefly see a vial filling up with blood; a person has some slightly bloody abrasions on his face

Violence
: A person smashes a bunch of candles and such with a hammer and then uses it to break a hole in a wall; Part of a house roof collapses on a person; A person collapses in a hospital
Disclaimer: All reviews are based solely on the opinions of the reviewer. Most reviews are rated on how the reviewer enjoyed the film overall, not exclusively on content. However, if the content really affects the reviewer's opinion and experience of the film, it will definitely affect the reviewer's overall rating.
To find out why we don't typically review R-rated movies,
click here