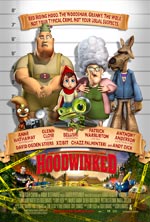 Hoodwinked


- for some mild action and thematic elements.
Director:
Cory Edwards
Starring:
voices of Glenn Close, Anne Hathaway, Jim Belushi, Patrick Warburton
Running Time:
1 hour, 21 minutes
Theatrical Release Date:
January 13, 2006
Official Site
Plot Summary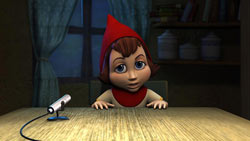 Little Red Riding Hood: A classic story, but there's more to every tale than meets the eye. Before you judge a book by its cover, you've got to flip through the pages. For this story, we begin at the end. Furry and feathered cops from the animal world investigate a domestic disturbance at Granny's cottage, involving a girl, a wolf, and an axe. The charges are many: breaking and entering, disturbing the peace, intent to eat, and wielding an axe without a license. Not to mention, this case might be tied to the elusive "Goody Bandit" who has been stealing the recipes of goody shops everywhere. (from MovieWeb.com)
Film Review
In the early nineties, before the web had become a prominent source of broadcasting information on the latest in Christian music, fans relied on printed sources and music video shows to discover new music. Signal Exchange was one of those shows, appearing on INSP, and featured host Cory Edwards who would make each episode well worth watching for more than just the videos. The show was quite popular at the time, and eventually became CCMtv in conjunction with the magazine. When I'd become a Christian and first started listening to Christian music, it was Cory's show that had introduced me to favorites like Audio Adrenaline, dc Talk, Newsboys and many others. When CCMtv ceased in the later nineties, Cory Edwards seemed to disappear from the Christian music scene along with it...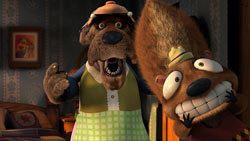 Hoodwinked is the brainchild of Cory and his brother Todd Edwards. Directed by Cory, and co-written by the brothers with Tony Leech, Hoodwinked gives the Little Red Riding Hood fairy tale a new spin, resulting in an original comedy and "whodunnit?" mystery. The film features a modest yet memorable voice cast of Anne Hathaway, Glenn Close, Patrick Warburton, Andy Dick and Jim Belushi who all turn in great performances. Warburton as The Wolf and Dick as the rabbit Boingo are among those that really stand out among the cast. Warburton had aided in making The Emperor's New Groove one of the funniest animated Disney comedies and even earned his character the title role in the film's follow-up Kronk's New Groove. Dick, whose often foul-mouthed approach to comedy is obviously suppressed here, is a delight as the cute-as-a-button bunny named Boingo. But one of the film's most memorable characters is Twitchy, who is brilliantly voiced by director Cory Edwards. The hyperactive squirrel is used sparingly throughout the film, stealing each scene he appears in.
Hoodwinked's writing is smart and clever from beginning to end. The film opens with the Little Red Riding Hood story (with a twist), and is broken down into four separate stories explaining how each character came to be in the original situation. The intertwining is genius and fun throughout. The humor is random in flavor, only occasionally spoofing popular action films (like XxX or M:I-2) and offers plenty of outrageous situations for many of the characters. Never once did I feel like Hoodwinked seemed recycled or typical in nature. It's a refreshing comedy that, when it ended, left me excited to know a sequel is already in the works. The music is a unique feature in the film as well, with most of the original songs penned by Todd Edwards himself. The score is also composed by John Mark Painter, who Christian music fans may remember from the husband/wife duo Fleming & John.
The film's only minor concern for parents may be violence. Although not too alarming, there's more action than one might expect from such a film, including Red fighting with a bit of martial arts and a group of The Bandit's goons using some foul play on Granny and her skiing companions on the slopes. Other than that, the film is quite squeaky clean. It's only real drawback back to Hoodwinked is the low quality in the film's CGI animation. The quality seems just a step above most big budget films' test animation, with some of the animation feeling chunky or slow. But part of this lends to the fantasy world of Hoodwinked, giving the film its own unique style. However, I can't help feeling like it would have felt richer throughout if it had the quality that Pixar animation offers.
Overall, I loved Hoodwinked. The clever and random humor that fills this film is further proof you don't have to be vulgar to be really funny. Here's to hoping for more collaborations from the Edwards brothers in the near future.
-
John DiBiase
,
(reviewed: 1/21/06)
Parental Guide: Content Summary

Sex/Nudity
: None.

Vulgarity/Language
: None.

Alcohol/Drugs
: None.

Blood/Gore
: One of The Bandit's goons has what appears to be a scrape on his arm and a black eye after being beaten up.

Violence
: We see Red throwing quite a few kicks and punches in self defense in several scenes, including one where she fights the film's villain; A European ski team tries to take out Granny and her team (who we find out are working for The Bandit); Some characters beat up some goons; A character is tied up around a lot of dynamite (with a fuse lit); We see The Woodsman wildly cutting down trees in the forest; We see a large explosion; Granny throws grenades that start an explosion, etc
Disclaimer: All reviews are based solely on the opinions of the reviewer. Most reviews are rated on how the reviewer enjoyed the film overall, not exclusively on content. However, if the content really affects the reviewer's opinion and experience of the film, it will definitely affect the reviewer's overall rating.
To find out why we don't typically review R-rated movies,
click here