I Spy


- for action violence, some sexual content and language.
Director:
Betty Thomas
Starring:
Owen Wilson, Eddie Murphy
Running Time:
1 hour, 36 minutes
Plot Summary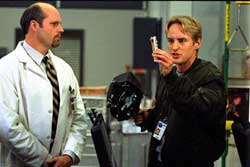 A covert U.S. plane named the Switchblade is stolen from the Government and spy Alex Scott (Owen Wilson) is given the job to find the man who stole it and return the plane back to the government. What he least expected, was to be teamed up with civilian, World Class Boxing Champion Kelly Robinson (Eddie Murphy) to help him find successful arms dealer Arnold Gundars before he sells the plane in a plot of mass destruction.
Film Review
Buddy comedies have been revived since the Chris Tucker / Jackie Chan hit Rush Hour in 1998. Since then, Jackie teamed with Owen Wilson in 2000 for Shanghai Noon and again with Tucker in 2001 for Rush Hour 2. And next year we'll see Wilson and Chan back together for the sequel Shanghai Knights. In 2002, Eddie Murphy and Wilson team up this time around for the TV-show-to-big-screen-adaptation I Spy. The show, which I don't believe I've ever seen, ran from 1965 to 1968 and featured Bill Cosby as Alexander Scott and Robert Culp as Kelly Robinson. In the film, the roles are reversed but the similarities to the show end there. I Spy the film is a funny action comedy with plenty of memorable moments but is also very problematic in the content department and contains several jokes that fall flat on their face.
My biggest beef with the film is the language. While rifled off at an irregularly fast pace by mainly Murphy himself, the "s" words are aplenty with at least 50 occurrences of the word, as well as at least 40 uses of the "a" word. After seeing plenty of comedies without any vulgarity at all, it's proven how unnecessary it is and is just a large hindrance here. Violence is present, but mostly in scattered explosions and punches and kicks, with only one instance of a character being beaten up do we some bloody cuts on their face and a small knife wound in their clothed leg. A few sexual comments are made, but nothing especially explicit, while one scene centers around Robinson coaching Scott in trying to win over a fellow agent named Rachel. In that scene, Kelly recites lines from the song "Sexual Healing" to Alex who repeats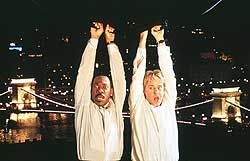 those to Rachel. In response, Rachel throws the covers back in the bed she's lying in and exposes that she's just wearing her underwear. At one point she climbs on top of him and starts to undo her shirt but is interrupted before anything further happens. The scene is played for laughs but is inappropriate and could have easily been left out.
The chemistry between Murphy and Wilson was surprisingly pretty strong. They fit well together and the boyish glee and fun they showed to have as they acted out certain moments was fun to watch as it was obvious the two of them had a lot of fun making this movie. That in itself made the film extra fun to watch. Highlight scenes included the sewer, the car chase, and the ending climactic sequence. Not all the jokes worked, though. The opening scene was a little weak as well as a couple of the running jokes, but they were forgivable. While the movie could have been a little stronger in ways of a plot, this is the type of film that one does not see for a plot and academy award winning performances. You come to be entertained and I Spy delivers.
What keeps me from recommending this film, however, is the excessive swearing and the scene with Alex trying to win over Rachel. It's an entertaining film and fun to watch, it's just sad it's spoiled by the vulgarities. It's the kind of film you may want to watch when it's on TV or edited via the DVD-editing program ClearPlay. I'd give it higher, but the language knocks my rating down, but I still can't give it any lower than a 3.5/5 since it has a better overall story/characters than I expected.
-
John DiBiase
,
(reviewed: 11/2/02)
Parental Guide: Content Summary

Sex/Nudity
: A few comments are made, including some innuendo from Kelly (including a scene where he repeatedly tells Alex to bite Rachel's "*ss" because "women like that"). In the scene where Kelly says that, we see Alex walk into a room where Rachel is lying down with her lower half under the covers and Kelly begins reciting lines from the song "Sexual Healing" into an earpiece for Alex to say to Rachel. Rachel soon throws the covers off to reveal that she's not wearing pants, just panties, and Kelly tells him to bite her there. Alex says no to Kelly, and she thinks he doesn't want her, and covers herself back up, to which Alex says yes (this happens several times). Finally, she comes on to him and throws him to the bed and starts to undo her top, but they're interrupted before anything happens. Earlier, Rachel pretends to be a native of Budapest and a fan of Kelly and the two flirt as she leads them off to find a hotel room (to have sex), but it turns out to be a test.

Vulgarity/Language
: 50 "s" words, 40 "a" words, 2 "g*dd*mn," 3 "b*tch," 16 "h*ll," 5 "d*mn," 3 "G*d"

Alcohol/Drugs
: Some people have champagne, etc during the course of the film.

Blood/Gore
: There is a tiny bit of blood on Alex's mouth after Kelly punches him there. A man is being interrogated and is kicked and punched in the face repeatedly, causing some bloody cuts on the side of his face. In another shot, he is stabbed in the leg and we briefly see blood on his leg where he was stabbed.

Violence
: Some non-graphic shooting, boxing-related violence, punching, kicking, explosions, a person is stabbed in the leg, etc.
Disclaimer: All reviews are based solely on the opinions of the reviewer. Most reviews are rated on how the reviewer enjoyed the film overall, not exclusively on content. However, if the content really affects the reviewer's opinion and experience of the film, it will definitely affect the reviewer's overall rating.
To find out why we don't typically review R-rated movies,
click here