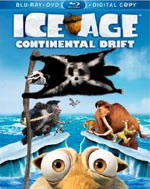 Ice Age: Continental Drift


- for mild rude humor and action/peril.
Director:
Steve Martino, Mike Thurmeier
Starring:
voices of Ray Romano, John Leguizamo, Denis Leary, Queen Latifah, Jennifer Lopez, Wanda Sykes
Running Time:
1 hour, 28 minutes
Theatrical Release Date:
July 13, 2012
Blu-Ray Release Date:
December 11, 2012 (
Amazon.com
)
Official Site
Plot Summary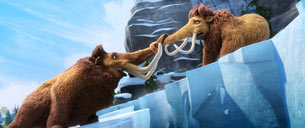 Manny, Diego, and Sid embark upon their greatest adventure after cataclysm sets an entire continent adrift. Separated from the rest of the herd, they use an iceberg as a makeshift ship, which launches them on an epic seafaring quest. Manny and the gang are challenged like never before to become heroes and do the impossible, as they encounter exotic sea creatures, explore a brave new world, and battle ruthless pirates. Scrat's reunion with his beloved but cursed acorn catapults him to places no prehistoric squirrel has gone before. (from MovieWeb.com)
Film Review
FOX Animation Studio struck gold with their first-ever computer animated feature,
Ice Age
, a decade ago in 2002. Since then, the film has expanded into a lucrative franchise that has generated three sequels and an ever-expanding cast of characters that have worked their way into countless hearts and homes. For 2012, Manny, Sid, Diego, Ellie and now Peaches return for the fourth film,
Ice Age: Continental Drift
. This is the second outing for
Ice Age
in 3D as our favorite prehistoric animals must face the sudden shifting and splitting of the Earth's continents.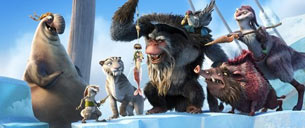 What's interesting about Continental Drift is that it follows a relatively similar basic idea to the first sequel, The Meltdown. In that film, the gang get separated from their kind when the icebergs begin to melt and things start shifting around them. It's also the film that introduces Manny's love interest, another mammoth named Ellie. In Drift, they're separated again--this time directly as families instead of just their "herds"--as the continents very quickly break up and move apart, and on their quest back to each other, Diego meets a love interest in Shira, a fellow sabertooth tiger (voiced by Jennifer Lopez). I felt that the third film, Dawn of the Dinosaurs, was the strongest in the series and had added enough new elements to the story to freshen things up. They had also introduced Simon Pegg's eccentric Buck, who unfortunately was written out of the principle gang by the end of the story (although he does still live) and, therefore, does not appear in this movie (although I did hope to see him beyond a very fleeting cameo as Scrat passes him at the start of the film). Continental Drift has too familiar a feel to it right off the bat, but the team does their best to change things up some. This time, Manny, Diego, Sid and Sid's Granny (voiced by Wanda Sykes) find themselves encountering, and at war with, pirates. While the whole pirates theme is getting a bit overdone at the cinemas -- from the Caribbean movies to even Aardman Studio's animated film this past spring -- it's something entirely new for Ice Age. In this world, the pirate ship is merely a sailable glacier that is helmed by a fearsome orangutan captain named Gutt. His band of misfits include all kinds of new creatures big and small, including Shira. And even much like the most recent Pirates of the Caribbean adventure, On Stranger Tides, our heroes find themselves encountering manipulative sirens who take on the appearances of loved ones in order to entice them. So, although this stuff is new to the Ice Age universe, it's not much we haven't all seen before.
The biggest turn-off for me with Continental Drift, actually, is with the subplot involving Manny, Ellie and their daughter, Peaches. We saw Peaches born at the end of the third film and now the little furrball is a feisty and angsty teenager. For a series that has involved predominently older main characters, this is really the first time the age group of teenagers has been tackled. Sadly, it's about as annoying as you can probably imagine. It's also a bit cliche, too, as Manny exercises his paranoia to be overprotective of Peaches, which just makes her mad and embarrasses her in front of a boy she likes (who's played by the popular mainstream rapper, Drake). And, of course, this causes a rift between Manny and his daughter a mere moment before the contintental break-up separates them. It's probably a little unnecessary added drama, and it's also nothing particularly unique to add in story-wise (albeit being "new" to this franchise).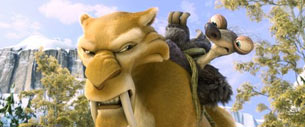 What worked in Ice Age: Continental Drift? Well, the thing that the film has going for it first and foremost is the return of characters we already have grown to love. It's fun to see Sid, Manny and Diego palling around again, and some neat little gags that haven't been addressed before are surprises here, including a gag about Sid finding his family (who were only mentioned by name in the very first film) only for them to ditch their wacky grandmother in his care before abandoning him once again (which, when you think about it, is quite sad, but it doesn't damper Sid's spirits). Also, while a little predictable, it was nice to see Diego meet his match with Shira. And, most of the new pirate characters were fun additions. Finally, while somewhat odd -- but not necessarily all that much given it's the Ice Age universe -- there are Ewok-like little creatures called the hyrax that are introduced into the fold that resemble, ultimately... guinea pigs. They end up banning together with the central heroes to fight the pirates in a somewhat Return of the Jedi fashion. They're pretty funny (despite the corny Braveheart painted-face gag), and just add a little something else new to the series. Oh, and of course, one of my favorite things about these movies continues wonderfully here, and that's Scrat's ongoing pursuit for acorns. The idea of Scrat finding a "treasure map" on an acorn shell, and what it leads to, is priceless.
Ice Age: Continental Drift is probably the most unnecessary of the three sequels, but it is a bit more enjoyable than the second film, The Meltdown. Thankfully, characters like Crash & Eddie, which were sorely overused in The Meltdown, are used much more sparingly here. You also probably don't have to see the other films to enjoy this one, but there are plenty of references to things in those other films that won't make sense here otherwise (like Ellie and Peaches wanting to sleep while hanging in trees since Ellie was raised by possums). The content in this one is intense at times, but not frequently. The most intense moment involves the aforementioned sirens. It's revealed that they're really these sharp-toothed, frightening-looking fish that just want to eat the other characters. As such, we see the hallucinations that our heroes see -- like Manny seeing Ellie, who isn't really there, for example -- and then their faces flash to reveal the downright creepy looking fish before eventually looking entirely like them. Near the end, we see a character get yanked into a clam shell and presumably eaten by one of the sirens. Other than that, there's some comic violence--like hitting and slapping--and some action violence, like Manny fighting Gutt or Shira chasing and tackling Diego (And Gutt even holds Shira by the throat before throwing her to the ground at one point).
Ice Age: Continental Drift certainly isn't the animated film of the year, but you could do a lot worse for sure (either of the Happy Feet movies, really). The animation is spectacular, especially compared to how bare bones the original film was, and it's great to see everything just looking better and better with each installment. It's also fun to see these guys again, but don't expect it to be the best entry in the series. If there is an Ice Age 5, which would probably be even more unnecessary than this one, hopefully FOX can find a plot and script that really will take the series to the heights it seems to always aim for but never quite achieves.
-
John DiBiase
(reviewed: 12/13/12)
Blu-Ray Special Features Review
Ice Age: Continental Drift
is available in a generous Blu-Ray/DVD/Digital Copy combo pack, a 3D Blu-Ray combo pack, and a single-disc DVD release -- as well as the usual digital formats. Among the feature film on the standard Blu-Ray release are the following extras...
Party With A Pirate Mode - This is a Blu-Ray exclusive pop-up track where Squint, the pirate rabbit from the movie, randomly pops up on your screen and interacts with or talks over the movie. I checked out chunks of the movie to see how it works and it seems rather pointless. Squint rarely does or says anything, and doesn't seem to even really do much until his character shows up in the movie (Maybe if he was actually providing commentary for the whole movie, it'd make sense, but it's pretty minimal here). You'll also periodically see a character "Color Me!" pop-up box, in which you'll need a mobile device with the Ice Age app to utilize.
Sign Along Mode - This is another feature-length Blu-Ray exclusive pop-up track like I've never seen before. Two kids - a boy and a girl - pop-up on your screen in the lower right-hand corner to provide sign language for the entire film (The boy makes a lot of weird faces to go along with what's happening in the movie, but the girl does a much nicer job). This is a pretty neat feature for any deaf children wanting to still watch the movie! (Oddly enough, there doesn't seem to be a subtitle track, however).
Ice Age: The Story So Far (9:29) - The first featurette is a montage of clips from all three previous movies that summarize the film plots that lead up to Continental Drift. It's a nice way of getting an abridged version of the overall story. What's also really intriguing is witnessing the technological progression and maturation from film to film. I forgot how primitive (no pun intended) the animation looked in the first film.
Missing Links (1:46) - These are two deleted scenes here shown entirely in animated storyboard form. The first is Granny trying to revive Sid after being knocked unconscious and the second is Scrat playing the shell game with a couple crabs while trying to retrieve an acorn. Given the brevity of both scenes, they probably should have just put them both in the film and given it a full running time of 90 minutes.
Through a Pirate's Spyglass - This is a pair of featurettes, "Voices Ahoy!" (11:22) and "Capturing the Crew!" (14:42). The first is devoted to the new pirate characters and covers each one and their respective voice actors, and includes footage of them recording their lines in the studio. It's a wonderful extra feature. Denis Leary even makes an appearance to reflect on how, when he did the first movie, he never would have dreamed Diego would have gotten a girlfriend, let alone Jennifer Lopez. "Capturing The Crew" has the animation team talking about designing the pirate characters and how they were derived from real natural animals. It goes to show how much thought and planning went into each character. They even reveal here that they considered making Squint, the rabbit, the captain at one point or Gutt as a bear, but they settled for an orangutan because they were able to make him more pirate-y. It's a great featurette.
Granny and the Stink of the Sloths (9:12) - This is devoted to Sid, his family, and his granny, which among his family is a new character for the series. Wanda Sykes talks about voicing Granny, while the rest of the production team discuss designing her and Sid's family, and finally debuting Sid's kin that were only mentioned by name in the very first film. They also explain here that the guinea-pig-looking animals are the hyrax, and they briefly talk about Sid's ability to communicate with them.
Whale of a Tale: Drifts, Rifts, Beasties and Myths (24:05) - This is a three-part segment that starts out by talking about the science of the film regarding the drift. In the "Beasties" segment, they cover the design of the huge crab that the gang encounters on the water, the narwhals, and the huge whale seen near the end. In "Myths," they address how there are several parallels worked into Continental Drift from Homer's "Odyssey" - from the theme to the usage of sirens and lotus berries.
Scrat Got Your Tongue? (7:04) - Original Ice Age director Chris Wedge has always done the Scrat voice and here, this short featurette is dedicated to Wedge's performance as Scrat, his voice, and what is new for him to do in this film. Wedge even tries to show us, the viewer, how to do the Scrat voice.
The Scratist (2:11) - This is a black and white, musical montage of Scrat moments from the four films. It's presented as a spoof of the film The Artist in a silent movie fashion. It's basically a mini-trailer for the new movie.
Shimmy Shake Music Section (10:53) is a collection of musical moments of the film divided into multiple sections with a Play All option: Gutt's Sing-Along Shanty Shimmy Shake, "We Are" Extended Music Video, "Chasing The Sun" by The Wanted, and The Sid Shuffle. The first is a sing-along version of the pirate song on Gutt's ship, followed by the over-rated pop anthem "We Are" which dominates the Blu-Ray disc's menu and gets old very, very, very, very fast. Here, it's playing over a montage of clips from the movie. The "Chasing The Sun" music video by boy band The Wanted has five dudes awkwardly singing to the camera intercut with scenes from the movie. Finally, "The Sid Shuffle" is shown being introduced by Sid to a rap beat and then we see shots of the dance being performed by people and flash mobs all across the world from Italy to England to Hungary, India and beyond! This last one is the only one really worth checking out.
To round out the extras, we have two theatrical trailers and standard "Sneak Peek" previews for other FOX films. Overall, there is a generous amount of bonus content here that should keep the kiddies and diehard fans happy for a couple hours.
-
John DiBiase
,
(reviewed: 12/15/12)
Parental Guide: Content Summary

Sex/Nudity
: While Granny is "bathing" in the water (she's just floating there), she calls the guys "Peeping Toms" just for looking at her.

Vulgarity/Language
: None, but in one scene, Sid exclaims when seeing a giant crab, "Holy crab!"

Alcohol/Drugs
: A comment is made by Manny, who's terrified of Peaches getting in with the wrong crowd, that she may someday be "addicted to berries."

Blood/Gore
: None. (Just some crude/gross stuff like puking up chewed food for others to eat, etc)

Violence
: Scrat tries to hide an acorn and inadvertently causes the continents to divide; Manny smacks Crash and Eddie; A sloth is seen burning ants with a shard of ice that acts as a magnifying glass and then the camera pans out so we see Granny trying to burn that sloth in a similar fashion; A deer's antlers burn off (it's a gag, nothing scary); Crash and Eddie slap each other; There's an intense scene where the continents dividing causes families to be physically separated as the ground shifts upward, breaks apart, etc; Granny hits Diego on the head and pokes him in the eye; When Granny jumps into the ocean, she makes a comment about not having had a bath in years and we see dead fish float to the surface around her; Granny hits Sid; Gutt throws a rodent and stomps on a Flynn's foot; Shira slaps Diego with a wire and then tackles him; An elephant seal bounces on top of Sid; Manny is knocked out by being hit in the head by a block of ice; Pirates throw starfish at tied-up "Scratfish" and Sid as if they were throwing stars or darts; Granny hits Sid repeatedly; The ice ship breaks apart and sinks; Granny hits Scrat; Diego chases down Shira; Gutt uses a whip on some enslaved hyrax; Manny slaps Sid; The rodents and pirates prepare for battle and charge each other. The rodents then evade them while Squint attacks what he thinks is Manny, but it turns out to be just a decoy, and he decapitates it. Part of the decoy's head, which is a watermelon, lands at Gutt's feet, so he smashes it; A limp Sid, who is paralyzed from eating lotus berries, is smacked against rocks and branches as Manny carries him; Shira trips Gutt and he falls a good distance onto a slab of ice; Gutt comes back and confronts Shira, grabs her by the throat and throws her down to the ground; Scrat tries to fly using a leaf like a glider, but the wind takes the leaf and smacks him against a rock face, before getting swallowed by a shark that leaps up out of the water to get him; The siren fish are terrifying looking and try to entice and ensnare the characters; Scrat pounces on an acorn that is really one of the sirens and then a horde of those fish -- as acorns -- attack him; Louis challenges Gutt (after the villain has captured and tied up Peaches and Ellie), who then throws a knife into the ground at Louis's feet to fight with. Louis ends up using a rock to smash Gutt's foot; Ellie stomps on Squint; There's an extended fight between Gutt and Manny that involves them hitting each other and fighting with sword-like weapons; We see Gutt get pulled into a clamshell, which then closes, and we hear him screaming as he's presumably eaten by a siren fish.
Disclaimer: All reviews are based solely on the opinions of the reviewer. Most reviews are rated on how the reviewer enjoyed the film overall, not exclusively on content. However, if the content really affects the reviewer's opinion and experience of the film, it will definitely affect the reviewer's overall rating.
To find out why we don't typically review R-rated movies,
click here