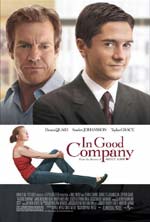 In Good Company


- for some sexual content and drug references.
Director:
Paul Weitz
Starring:
Dennis Quaid, Topher Grace, Scarlett Johansson
Running Time:
1 hour, 50 minutes
Theatrical Release Date:
January 14, 2005
Official Site
Plot Summary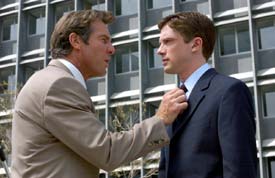 Dan Foreman (Dennis Quaid) is 51 and his life is good... on the whole. The long-term head of ad sales at the weekly Sports America has just celebrated the magazine's biggest year, thanks in large part to Dan's warm, honest, handshake deal style he fosters. Even the news of his wife's unexpected pregnancy and the acceptance of his eldest daughter, Alex (Scarlett Johansson), into NYU, leave Dan happy, though not entirely unconcerned about family finances - but he will, as he always has, manage. Carter Duryea (Topher Grace) is 26 and thinks his life is awesome, mostly. The whiz kid has been devoting himself single-mindedly to getting ahead at the multi-national conglomerat Globecom. When Globecom aquires Sports America, Carter assumes Dan's job, becoming his boss in the process. As Dan learns to cope with this and the major changes in the company to follow, he must also come to grips with the idea of his new boss falling for his daughter... (from InGoodCompany.com)
Film Review
In Good Company takes the viewer right on into "corporate America" and into the lives of the work ethics of the "old school" way that business is run successfully, along with the new way technology and the business world is effecting the next generations. Quaid, who perfectly embodied the great American dad in Frequency tackles this role impeccably again, from a new angle. While the idea of a 26-year-old becoming a 51-year-old's boss may seem odd or to some even farfetched, it's quite a common situation these days. Weitz does a fantastic job painting the pictures of the two different generations, the broken home, the seldomly functional family, the job mergers, the layoffs, etc. It's "corporate America" at its ugliest, yet Topher Grace presents the young and ambitious new generation with sensitivity and believability. You're made to hate him, yet love him and root for him, yet hope he fails.
Weitz's last picture, About A Boy was a drama sprinkled with some comedic moments and charm, but ultimately had a heavier, dismal feel. In Good Company faces the realism of many serious issues with charm and humor that make the film fun to watch even when situations are on anything but the light side. We're given plenty to like and care about the characters which helps add a lot of strength to the story.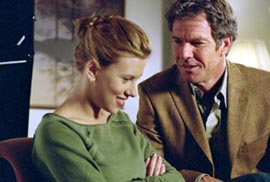 As usual, there's a good enough objectionable content to warrant a cautious consideration. While I'm giving the movie a high rating for solid performances and a winning story, it's by all means not perfect, with it's main problem lying almost exclusively in the content department. (**Some possible spoiler warnings ahead...**) My biggest beef is, in bringing Alex and Carter together, we witness her virtually seduce him in her dorm room. He doesn't put up much of a fight and the scene is rather sensuous. But beyond seeing Alex prep the room for a romantic setting as we see Carter mulling over what to do in the situation, none of the actual sexual encounter is seen. However, it's understood they sleep together and this is referenced later in the film. Language is also a problem with a handful of "s" words and other colorful phrases. With the competitive nature of the business world coupled with expected negative character responses to the news of being fired, insults and name-calling indeed abound. Finally, in a sequence where Dan realizes he's walking into a surprise party, we see him disappear for a minute and enter the party in just his boxers. To further shock the party goers, we see through the LCD screen on someone's camcorder that he drops his shorts and moons the guests. With all the above omitted, In Good Company would be a family-friendly flick and it's a shame Weitz & company couldn't trim it out. While some of the coarser language leant to the painting of a few characters as less than favorable, there are better ways of going about successfully achieving that.
The message of In Good Company is a good one and I was pleased with how the story resolved itself unpredictably. There's a lot to like about the film, but I suggest catching an edited version of it sometime (as usual, waiting for it on TV or renting an edited DVD version from a service is recommended). But content aside, the solid and convincing acting from Quaid, Grace, and Johansson and its well-written story are what earn it higher marks.
-
John DiBiase
,
(reviewed: 2/18/05)
Parental Guide: Content Summary

Sex/Nudity
: Dan finds a home pregancy test in the trash and assumes it's Alex's. He later finds out, to his relief, that it is his wife's; Carter asks Kimberly if she'd been sleeping with another man and she says she was but they broke up; Carter accidentally spills a drink in Dan's lap and begins to wipe it off. Frustrated, Dan rebukes Carter (who's only trying to help) and insists his wife is the only person who can touch him there; Alex passionately kisses Carter and invites him to her dorm room. He doesn't put up much of a fight and the scene is rather sensuous as Alex removes Carter's jacket and begins to unbutton his shirt before she starts setting up the room for a more romantic setting. The scene ends there but it's implied they sleep together; When Carter is complimented by Dan on a big sale, Carter's boss rudely tells the two to get a room and calls them "p*ssies." Dan tells Carter the secret to a happy marriage is to keep your "d*ck" in your pants when not being with your wife. In a sequence where Dan realizes he's walking into a surprise party, we see him disappear for a minute and enter the party in just his boxers (to fool the party crowd). To further shock the party goers, we see through the LCD screen on someone's camcorder that he drops his boxers and moons the guests. Dan asks Alex if she slept with Carter and she responds, "What do you want me to say?" (admitting she did)

Vulgarity/Language
: 11 "s" words, 2 "g*dd*mn," 1 "d*ck," 1 "t*ts," 5 "a" words, 3 "a**h*le," 7 "h*ll," 6 "cr*p," 1 "p*ssies," 2 "d*mn," 7 "Oh my G-d," 7 of "G-d"

Alcohol/Drugs
: Some people have drinks in the film; Dan threatens one of his daughter's boyfriends that if he ever gives her a drink or joint that he'll hunt him down; Dan sees a large poster for marijuana on Alex's dorm hallway wall; Carter tells Alex that his Dad was a druggie who left his family when he was young

Blood/Gore
: Carter has a black eye from being punched

Violence
: Dan throws a ball across his office in anger; Carter's new car is hit by a car in a sudden accident; Dan falls hard and hurts his arm while playing basketball with his coworkers; Carter is punched in the face.
Disclaimer: All reviews are based solely on the opinions of the reviewer. Most reviews are rated on how the reviewer enjoyed the film overall, not exclusively on content. However, if the content really affects the reviewer's opinion and experience of the film, it will definitely affect the reviewer's overall rating.
To find out why we don't typically review R-rated movies,
click here