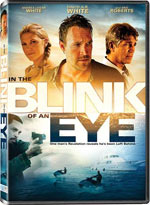 In The Blink Of An Eye


- Family Approved.
Director:
Michael Sinclair
Starring:
David A.R. White, Eric Roberts, Andrea Logan White, Jessica Magnuson
Running Time:
1 hours, 25 minutes
Theatrical Release Date:
November 17, 2009
Buy It:
Amazon.com
Official Site
Christian Film Database Page
Plot Summary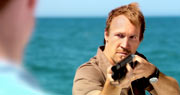 What was supposed to be the perfect vacation comes to a horrific crossroad for Detective David Ramsey (David A.R. White). Aboard a private yacht on the shimmering Sea of Cortez, his wife and friends suddenly disappear.
During the investigation Davidís Captain (Eric Roberts) discovers a link between underworld crime, the boat captain and its owner. Just as David begins to unravel the mystery, he is shocked to wake up and find out it was just a nightmare, or was it?
Film Review
So it's no secret that the Christian movie industry has been trying to figure out how to crawl before it can walk for many years now. While things are very slowly but surely improving in the quality of the film making, one of the biggest problems with Christian films usually lies within the acting. Sadly, Pure Flix Entertainment's latest installment, the pseudo-psychological evangelical thriller In The Blink Of An Eye suffers primarily from exactly that.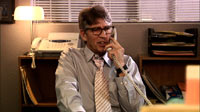 It took some time to get baited and reeled into the story of In The Blink Of An Eye, which revolves around a cop and his Christian partner who become guests on the yacht of a guy whose pop-diva-girlfriend they rescue in the film's opening scene. David, who is played by David A.R. White, is a little tired of his police buddy Larry taking every chance he can get to work God into their regular conversations (you can understand why as soon as Larry's reaction to finding David on the ground after being jumped by a criminal is "You praying?"). On this particular call to rescue a kidnapped pop singer from a crazy who lives in a trailer, David has a near-death experience. Larry calls it a miracle, but David isn't quick to believe the fact that his Blackberry somehow being strong enough to stop a speeding bullet from entering his heart would be anything of the sort. The prize for saving the singer's life is a trip on her shady boyfriend's yacht, and what unfolds is an admittedly clever spiritual mystery that bears sort of a Groundhog Day meets Vantage Point feel, mixed with elements from a classic Star Trek: The Next Generation episode (titled "Cause and Effect") that involved being stuck in some sort of time loop. It's difficult to discuss the plot of In The Blink Of An Eye without giving away interesting chunks of it, but David finds himself reliving the first day of their trip over and over again with memory of each experience carried over to the next, while no one else around him seems to be sharing the experience. It begins to drive him a little crazy, but with each repeated day, he draws closer to discovering the purpose for it.
Christian films have a tendency to view one coming to Christ a bit simplistically or idealistically. While another Pure Flix title, Sarah's Choice dealt with it much more subtly and maybe even a bit more realistically, In The Blink Of An Eye chooses to approach it in a very ham fisted way. For example, we know from the first scene that Larry is always bugging David to get to know God. We learn that David tends to put his job above his marriage and it's driven a bit of a wedge between him and his wife, Lori. When Larry and David bring their wives on this yacht vacation trip, it gives Larry's wife Suzette - who is also a strong believer - a chance to share the Gospel message with Lori. Naturally, Suzette is able to break the Gospel message down into a simple explanation and Lori is quickly receptive and accepts Jesus on the spot. And, of course, instantaneously, Lori seems to know all the Christianese that comes along with being a devout Christian. Now, I'm not saying Jesus doesn't instantly change a new believer, but the way it's done in In The Blink Of An Eye feels especially scripted and contrived. Even worse is that there isn't a strong acting performance in the bunch. The biggest name in the movie is Julia Roberts' brother, Eric Roberts (who is probably most recognizable for playing a mob boss in last year's smash hit, The Dark Knight) and not surprisingly, Roberts does the most convincing job. But Lori, played by Andrea Logan White (also known as just Logan White), only fairs a little better than her dismal performance in Sarah's Choice. Lori, Suzette, and Larry all seem flat and relatively wooden characters who seldom speak in a natural or convincing way and therefore aren't really all that interesting to watch when they're on the screen. The film's villains aren't much better either, offering scenes that range from passable to painful (towards the end, the ship's Captain just seems to say lines without a hint of effort in the delivery). The script is only part of the problem, which works enough to move the film's story along and get the message across, but it all leaves much too much riding on the shoulders of David A.R. White alone, who just really isn't that strong of an actor. Perhaps its partly due to the direction, as I haven't seen White in any other films he's been in, but in the end, you can understand why this is a straight-to-video release.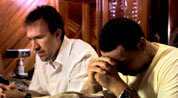 The story itself does offer a lot of promise. When it isn't being too preachy for its own good, it does become rather intriguing to try to figure out what in the world is happening around David. Any Christian who has seen other hit Christian films or who knows their Bible can figure out the basic idea of what's going on pretty quickly, but you do start to wonder how this all will play out. White does a decent job at times while seeming a bit too self aware or emotionally bland to bring out the best in some of the scenes that rely entirely on his performance. But all of the confusion in the story causes some violence to take place, so we see a few instances where people are punched or struck with the butt of a gun or even shot. The most violent scene is a bit shocking as it comes when two characters are struggling over a shotgun, which suddenly goes off and shoots someone nearby. We see a large spot of blood appear on their side (through their clothing) and then smeared across the wall behind them as they fall to the floor. It wasn't expected from a film like this, so those especially sensitive to blood and violence thinking this one's a safe bet will want to be cautious of this scene. But even with all of the violence and psychological mind play, In The Blink Of An Eye never feels too dark. This may be due in part to the fact that most of the film takes place in sunny paradise on a yacht or beach, and filmed with an amateurish feel, but it's all not likely to be too intense for most viewers.
Overall, In The Blink Of An Eye is a unique idea executed in a mediocre fashion. Its heart is certainly in the right place, but the production suffers from second-rate parts. Whether the Christian message is done heavy-handedly to the point of being cheesy or, for possibly some of the intended audience, overbearingly, I can't help but feel like I've seen it handled and done better before. With a stronger cast, direction, and script, In The Blink Of An Eye may certainly have had something there, but otherwise it ends up being your average Christian film with the occasional above-average moments, but not enough to elevate it high enough to be truly recommendable.
-
John DiBiase
,
(reviewed: 11/17/09)
Parental Guide: Content Summary

Sex/Nudity
: Lori and Suzette show cleavage in their dresses.

Vulgarity/Language
: None.

Alcohol/Drugs
: David uses painkillers several times after being beaten up

Blood/Gore
: David has some blood on his lip after a fight; We see dark bruises on David's side and chest when he removes his shirt (from the same fight); We later see the same ugly bruises a little bit longer after removing his shirt again (and later again several more times in varying degrees of healing); A shotgun goes off accidentally and we see spot of blood on a person's clothing and running down their side. As they slide down a wall, a large blood smear appears behind them. There's blood on their mouth too

Violence
: The movie opens with a woman tied up and then a piece of tape is put over her mouth; A kidnapper jumps on David and punches him several times, before opening fire on David and his partner. David is struck in the chest with a bullet and after the kidnapper is holding his victim at ransom, is shot down by David; A man lunges at David, who evades it and grabs him and throws him against a door. Another man tries to intervene, but David strikes him and then pulls out his gun, ending the fight; A man strikes David on the head from behind and throws him overboard a yacht; A man holds a shotgun on David and then hits him in the head with it. They then struggle with the shotgun and it goes off, accidentally striking someone nearby and they die; A man is hit in the face with a shotgun before being shot and falling into the ocean; We briefly hear pandemonium outside of the police station, including cars screeching and crashing
Disclaimer: All reviews are based solely on the opinions of the reviewer. Most reviews are rated on how the reviewer enjoyed the film overall, not exclusively on content. However, if the content really affects the reviewer's opinion and experience of the film, it will definitely affect the reviewer's overall rating.
To find out why we don't typically review R-rated movies,
click here