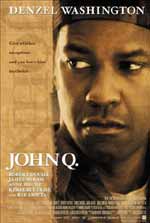 John Q.


- for violence, language and intense thematic elements.
Director:
Nick Cassavetes
Starring:
Denzel Washington, Robert Duvall, James Woods
Running Time:
1 hour, 58 minutes
Plot Summary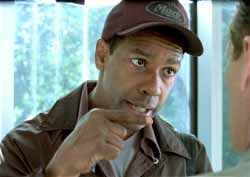 When a financially-troubled father named John Q. Archibald (Denzel Washington) is encountering one hardship after another, disaster strikes when his young son Mike collapses during a little league baseball game. Upon taking him to a local hospital, he and his wife are told his son needs a heart transplant or he will die. In the midst of trying everything John can to raise the large sum of money for the cost of the surgery, the hospital decides to cease treating Mike. In a fit of complete desperation, John takes over the hospital's E.R. room demanding treatment for his son. The rest is a suspense-filled fight for his son's life.
Film Review
Does it ever baffle you how a movie can look so good in a preview, and include such a promising cast and premise, but turn out being flawed beyond belief? Of course not much is worse than the last bomb Zoolander which had a promising cast, but John Q. will most likely make you wonder why it wasn't put together better. Denzel Washington delivers an exceptionally good performance here as a desperate father who will do anything to save the life of his young boy who's deathly ill. The film he's given to work with has a promising premise and cast, but is bogged down by an overbearing message against HMOs, poor script-writing, and poorly written supporting characters. James Woods' cardiologist character Dr. Turner is portrayed as too uncaring and cynical, as is Anne Heche's flat hospital administrator, Rebecca Payne. Robert Duvall's Lt. Frank Grimes who plays the hostage negotiator just isn't given much to work with. While a better-written film might allow the kind of relationship Tommy Lee Jones' character had to Harrison Ford's in The Fugitive, the filmmakers here just come up short on the strong support here. It's left up to Washington to carry the film himself, and he succeeds, but only as much as he possibly can with what he's been given. His scenes are enjoyable to watch, especially with the sufficient characters created to accompany him in the E.R. (with the exception of Mitch who is an irritating low-life). The most fun to watch is actually Eddie Griffin's character Lester who is there because of a hand injury. Another thing that failed to help the film was the horrible musical score which did nothing but detract from each scene it was used in. The film just felt cheapened by it as opposed to a really good

score usually enhancing the moments.
Content-wise the film could have fared better. Language was heavy including 2 "f" words, 1 being said in the background (for no apparent reason), 1 spoken by Dr. Turner. Violence is moderate. Being in the E.R., we briefly see a gunshot victim with a bloody chest. Lester's hand is pretty bloody when he's first shown. Also, we see some pretty graphic (but brief) shots of a surgery taking place.
The point the film tries to make about the nation's messed up HealthCare plans is a good one, but by the time you've finished watching the film, you're most-likely going to feel like you've just watched a CNN debate than a drama. It would have been more acceptable in smaller dosages or if it was handled in a more realistic and less preachy fashion. While I was annoyed by most reviews I read on the film picking on this issue, I couldn't help but see their point as I watched the movie.
One thing I was relatively content with, was the film's portrayal of Christianity. John and his wife attend an obviously Christian church, and his wife even refers to herself as "a Christian woman" while adequately living up to the label through the character she was portrayed as. Other references to God are made during the film in a positive light, including Lester suggesting to John that he "let go, and let God."
All in all the film is decent, but not one good enough to recommend. Washington's performance saved what otherwise might have been a waste of film. The sad part is, with better direction, writing, and music, this could have been a strong film.
-
John DiBiase
,
(reviewed: 2/16/02)
Parental Guide: Content Summary

Sex/Nudity
: Mitch's girlfriend wears really short shorts, but besides that, there isn't really anything.

Vulgarity/Language
: 2 "f" words, 9 "s" words, 4 "g*dd*mn," 3 "a-h*le," 6 "a" words, 9 d*mns, 5 h*lls, 2 S.O.B.s, 4 "Swear to G-d," 3 "Oh my G-d," 3 "J-sus," 2 "J-sus Chr-st" 2 "G-d" (there were also uses of "b*stard," "b*tch," and many uses of "fr*ggen")

Alcohol/Drugs
: Some characters drink beer at the little league game.

Blood/Gore
: Lester has blood all over his hand (we don't know what from, though). Mitch has scrapes on his arm. Mitch's girlfriend has a bruise on his face. A man with a really bloody gunshot wound to his chest is wheeled into the ER on a stretcher. Turner has blood on his clothes from working on the gunshot victim. John and Mitch struggle, and after John head-butts him numerous times, Mitch's face is very bloody. A man has has a large bloody bandage on him. John punches a man in the face various times (we see this from a distance). Later we see the man has some blood on his face because of this. During a the removal of a heart from a person's body, we see a surgical saw being put towards the subject for use. While we don't see the actual cutting, we do see some blood spray onto the doctor's surgical mask. During a heart transplant, we see a large bloody hole in a person's chest. We see a large and bloody hole in a person's chest during a heart transplant. We then see some glimpses of the new heart being brought to the patient and placed inside.

Violence
: We see a horrible fatal car accident; A man is stabbed, A man head-butts another; A man punches another man repeatedly; A man holds a gun to his own head, then puts it in his mouth (but doesn't do anything). SPOILER WARNING: Later he puts it to his temple again and pulls the trigger, but the safety is on. He proceeds to do so again (but doesn't go through with it)
Disclaimer: All reviews are based solely on the opinions of the reviewer. Most reviews are rated on how the reviewer enjoyed the film overall, not exclusively on content. However, if the content really affects the reviewer's opinion and experience of the film, it will definitely affect the reviewer's overall rating.
To find out why we don't typically review R-rated movies,
click here