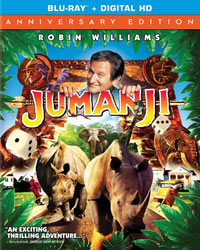 Jumanji


- for fantasy action and peril, and some language.
Director:
Joe Johnston
Starring:
Robin Williams, Jonathan Hyde, Kirsten Dunst, Bonnie Hunt, Bradley Pierce, Bebe Neuwirth, David Alan Grier
Running Time:
1 hour, 44 minutes
Theatrical Release Date:
December 15, 1995
Blu-Ray/DVD Release Date:
September 22, 2015 (
Amazon.com
)
Plot Summary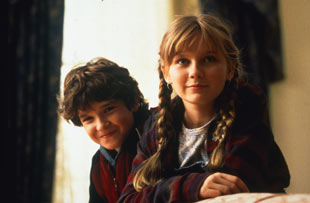 Robin Williams, Kirsten Dunst and Bonnie Hunt star in this phenomenal adaptation of the award-winning children's book. When young Alan Parrish discovers a mysterious board game, he doesn't realize its unimaginable powers, until he is magically transported before the startled eyes of his friend, Sarah, into the untamed jungles of Jumanji! There he remains for 26 years until he is freed from the game's spell by two unsuspecting children. Now a grown man, Alan (Williams) reunites with Sarah (Hunt) and together with Judy (Kirsten Dunst) and Peter (Bradley Pierce) tries to outwit the game's powerful forces in this imaginative adventure that combines breathtaking special effects with an enchanting mixture of comedy, magic and thrills. (from Sony Pictures)
Film Review
It still kind of surprises me to this day that I somehow missed out on the release of Jumanji 20 years ago in 1995. It actually wasn't until recently that I'd decided to check it out on NetFlix. But with Sony Pictures about to release another weird-things-magically-coming-to-life style movie to theaters next month with Goosebumps, they're celebrating the anniversaries of two famous childrens' books-to-movies with Jumanji and Zathura.
Until we were sent the Blu-Ray releases for both of these films, I had not realized that both stories were based off of books written by the same author, Chris Van Allsburg. I'd always assumed Zathura was some sort of a copy of or was inspired by Jumanji. The film version of the latter is the story of 12-year-old boy named Alan who, in 1969, discovers the Jumanji board game on what was already a pretty bad day. After an argument with his parents about being sent off to a private school, he sets up this strange new board game with a girl from his neighborhood named Sarah and the two roll the dice. Before long, bats suddenly appear and Alan is literally sucked into the board game--and is gone! 26 years later, a woman moves into Alan's family's old house with her orphaned niece and nephew, and it's these two who rediscover the board game in the house's attic. Once they start playing, unleashing monkeys and a lion in the process, they also free Alan from the board game, with a now adult version of the boy finally free from the confines of the game world. The siblings now must finish playing the game--with Alan and Sarah--if they ever want things to return to normal again.
The tone of Jumanji is a bit mixed. Directed by Joe Johnston (The Rocketeer, Jurassic Park III, Captain America: The First Avenger), the film mixes horror and adventure with some campy humor, making it slightly uneven at times. It's creepy enough at times--with animals and beasts chasing and attacking Alan and the kids--that the younger ones might find it a bit too scary. There's also a hunter that Alan rolls at one point, and the man--who is also played by the same actor who plays Alan's father--chases Alan for the rest of the film in hopes to shoot and kill him. Robin Williams plays adult Alan, and while it's kind of a strange casting for him, he does great as an adult who really is still kind of 12 years old at heart, since he spent the past quarter of a century alone in a jungle. Bonnie Hunt (who I loved in Return To Me) is great as adult Sarah, who clearly has spent the same amount of time dealing with the emotional trauma of having seen Alan sucked into a board game and no one believing her. She's very down-to-earth and brings a lot of believability to the role. The children--Judy and Peter--are good too, with Judy being played by Spider-Man alumnus Kirsten Dunst. However, Fraser's Nora Shepherd as the aunt and David Alan Grier as the policeman Carl add too much goofy humor to the proceedings. I get that they're there to make the horror elements light, but it doesn't seem to always work to the film's benefit.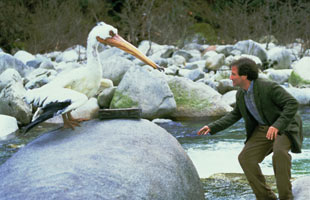 If I had to pick one, I think Zathura holds up better with time--even though it's only half as old. But Jumanji definitely still entertains. Its best moments are when all craziness is breaking loose and the unexpected happens. Whether it's a monsoon indoors, a stampede of rhinos or a quicksand wooden floor, there are plenty of cool moments in store. However, having been made in 1995, there are certainly still technological limits that are glaringly noticeable. The monkeys look unfinished at best, as their computer animation makes them look fake and wooden. The animatronic lion isn't very convincing either, and even the quicksand attic floor doesn't look very tangible. In the end, though, it's all forgivable given the time and limitations it was made in.
The content is intense for the younger viewers, with some scary imagery and life-threatening dangers being the most sensitive of content. There is some mild language, but it's mostly minor. But from swarms of bats to large spiders to man-eating lions and crocodiles, there's some creepy content for the little ones. Also, once the hunter comes out of the game, with his sole purpose being to shoot and kill Alan, he pursues him for the rest of the movie. It's pretty intense considering this is a family film, and one of the final scenes finds Alan staring down the hunter's gun barrel.
Overall, Jumanji is an entertaining adventure film that isn't quite for all ages, but should at least appeal to older kids and the young at heart. And if you remember what it was like to get excited to play a board game with friends and family (or still do), you'll find a lot to enjoy about Jumanji!
-
John DiBiase
,
(reviewed: 9/24/15)
Blu-Ray Special Features Review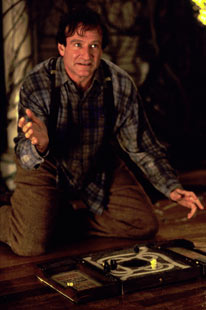 The Blu-Ray release of
Jumanji
is positioned to help promote the brand new Sony Pictures film,
Goosebumps
. As such,
Jumanji
gets a pretty decent Blu-Ray treatment (but isn't as clear as
Zathura
or newer films).
The "Anniversary Edition" Blu-Ray release takes the original DVD feaurettes and adds the following:
Jumanji Motion Storybook as Read by Author Chris Van Allsburg (8:59) - The original book is read to us here by the original author of Jumanji and Zathura, Chris Van Allsburg! The illustrations from the book are presented in motion form to add a little extra dynamic. It's pretty neat and a nice way to give fans of the movie the complete picture of the story all in one place.
Virtual Board Game - The virtual game is meant to look a little like Jumanji and presents trivia and riddles (for 2 to 4 players), but it isn't very fun to play.
The Cast of Goosebumps Reflects on Jumanji (5:19) - As part of the promo for Goosebumps, Dylan Minnette and Ryan Lee share their favorite scenes from Jumanji and then introduce a Goosebumps trailer. They mention the monsoon scene and the monkeys as among their favorite parts of the movie.
Goosebumps Sneak Peak (3:01) - The Goosebumps trailer from the above featurette is available to view by itself.
Storyboard Comparisons (3:41) - This montage shows storyboards for the scenes involving the bats, the rhino stampede, and the earthquake alongside footage from the finished film.
Jumanji The Animated Series (45:20) - I'd totally forgotten that they had made an animated series in 1996. This is a pair of episodes, including the pilot, titled "The Price" and another one called "Bargaining for Time." The animation is pretty stylized though, cut from the same cloth as Rugrats in its day.
In addition to a feature-length Special Effects Crew Commentary for the movie, there are the original Theatrical Teasers and Trailers, and the original Documentary and Featurettes (37:44) from the DVD release.
-
John DiBiase
,
(reviewed: 9/24/15)
Parental Guide: Content Summary

Sex/Nudity
: None.

Vulgarity/Language
: 2 "d*mn," 1 "J-sus," 1 "h*ll," 1 "Oh G-d," 5 "Oh my G-d"

Alcohol/Drugs
: None.

Blood/Gore
: Young Alan has a black eye and bloody lip after being picked on by a bunch of kids; We see a large red welt (mosquito bite) on a woman's forehead; Alan has tiny bloody pieces of paper stuck on his face after shaving for the first time

Violence
: Some young bullies chase down Alan and beat him up (just off camera). We then see him with a black eye and bloody lip; Alan gets sucked into the Jumanji game as Sarah screams. A swarm of bat then appear and chase Sarah out of the house; Peter runs screaming from seeing a bat; An exterminator talks about the rumors that Alan's dad had killed him as a kid and chopped him up (which isn't true); Large mosquitoes attack Peter and Judy. Judy swats at them with a tennis racket; Monkeys appear and start trashing the house (especially the kitchen); A lion appears and chases Judy and Peter. Its paws break through the door; Adult Alan is almost hit by a car and jumps on the hood; A monkey causes a shotgun to fire through a police car's roof; An ambulance runs into a car; A Large mosquito pokes its stinger through the car roof and windshield. Peter, Alan and Judy then speed down the road hitting trash cans and a mailbox; A vine grabs Peter and pulls him toward a large flower (to swallow him). Alan grabs a sword and cuts the vine; The hunter shows up and shoots at Alan repeatedly. Alan throws the sword at him and misses. The hunter then shoots up Carl's cop car; Rhinos stampede through the house, trashing everything in their path; The hunter shoots past Alan with a sniper scope; We see mass looting in town. Elephants and zebras stampede through the streets an crush a car that has Peter trapped inside; The hunter fires into a department store's ceiling. Peter bites his leg to distract him. The hunter then shoots at them as they flee; Peter strikes a pair of oxygen tanks, sending them at the hunter, knocking him back into a mess of debris and store merchandise. The hunter soon shoots at them again. They're all knocked over by tires; Carl's car crashes through the store and knocks over shelves which fall on top of the hunter; A vine grabs the cop car and pulls it away into the woods, folding it in half; A monsoon indoors washes everyone down the stairs to where a crocodile shows up. It tries to eat Sarah, so Alan jumps on top and wrestles it; Carl and their Aunt come to the front door and it bursts open, throwing them back and washing them down the street; The wooden floor sucks in Alan like quicksand. It soon solidifies around Alan's face and Sarah's arms as she tries to help him. Spiders then appear and attack them. Peter gets an ax and uses it on a plant before using it on the spiders; And earthquake splits the house; The hunter corners Alan. He shoots at Alan. Sarah jumps in the way and the bullet fades in front of them. Everything swirls around the room and back into the game.
Disclaimer: All reviews are based solely on the opinions of the reviewer. Most reviews are rated on how the reviewer enjoyed the film overall, not exclusively on content. However, if the content really affects the reviewer's opinion and experience of the film, it will definitely affect the reviewer's overall rating.
To find out why we don't typically review R-rated movies,
click here