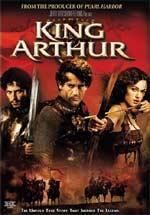 King Arthur


- for intense battle sequences, a scene of sensuality and some language.
Director:
Antoine Fuqua
Starring:
Clive Owen, Keira Knightley
Running Time:
2 hours, 10 minutes
Theatrical Release Date:
July 7, 2004
Official Site
Plot Summary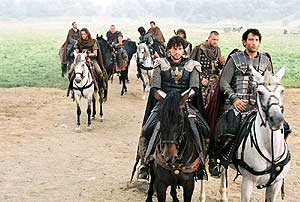 Historians have thought for centuries that King Arthur was only a myth, but the legend was based on a real hero, torn between his private ambitions and his public sense of duty. A reluctant leader, Arthur (Owen) wishes only to leave Britain and return to the peace and stability of Rome. Before he can, one final mission leads him and his Knights of the Round Table - Lancelot, Galahad, Bors, Tristan, and Gawain - to the conclusion that when Rome is gone, Britain will need a leader to fill the vacuum. Britain needs a king - someone not only to defend against the current threat of invading Saxons, but to lead the isle into a new age. Under the guidance of Merlin, a former enemy, and the beautiful, courageous Guinevere (Knightley) by his side, Arthur will have to find the strength within himself to change the course of history. (from MovieWeb.com)
Film Review
When I think of the legend of King Arthur, it's easy to imagine Monty Python's take on it from the seventies. Growing up, you hear a lot about Arthur and Merlin and his knights of the round table. But Antoine Fuqua's 2004 epic film King Arthur is an attempt to take a more historical approach to the story.
The gang's all here in King Arthur but their roles are considerably different from what we're accustomed to. Whether this story really is more accurate than the legend, who really knows, but many will be surprised by the changes here. Merlin, instead of being the classic wizard, is a warrior here as is Guenivere as well. These changes in the story we're familiar with make it harder to believe and accept at times. But this is no Monty Python film (or even First Knight for that matter) so we have a much more serious and overall realistic approach than usual. Clive Owen seemed like an unusual choice for Arthur but brings a lot of compassion and strength to the character. His knights were perfect but while Fuqua spent plenty of time developing the story and mission for the film, he didn't spend much time developing the characters' backgrounds and it seemed to jump from Arthur and Lancelot's origin swiftly into the film's main plot.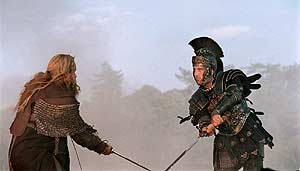 King Arthur is a little more violent than some might expect. Originally rated R and edited down to PG-13, the film's battle scenes are very violent with plenty of slicing, stabbing and the like. But the editing also makes several scenes feel edited. The first battle of the film is so choppy you may think you're watching the film edited for TV. While I'd rather have it edited like this than with all of the gratuitousness and dismemberments that were originally intended, it makes some scenes a little harder to decipher what's going on. Aside from the violence, the film does have some sexual content including a sex scene between Arthur and Guenivere that just seems to pop up out of the blue. Although no nudity is shown during the racy sequence, it's certainly unnecessary and it doesn't really fit in with the story. While romance can be expected from them given the legend, it's barely developed and almost seems forced here.
Fuqua does a fair job making us care about Arthur and his knights. He involves us in their personal lives, their faiths, and their friendships. King Arthur isn't all action, so by the time we are treated to some intense sequences, it doesn't just seem like brainless brawling. The main villain, Cedric and his son Cynric, are decent enemies but aren't really explained too well and don't possess any real charisma or intrigue. They're not quite cookie-cutter adversaries but they would have benefited considerably to have possessed more personality.
Complaints aside, I did enjoy King Arthur. While it has its problems and could use a toning-down further of the violence and could do without the sensuality, director Antoine Fuqua did a decent job offering a new angle to the popular legend. I enjoyed watching the characters interact and the film's final battle sequences are worth sitting through the sometimes slow-moving story building moments. This is one to exclude the younger viewers from, and some older ones may want to consider passing on it themselves. It's not quite the epic it tries to be, but it's a fair effort.
-
John DiBiase
,
(reviewed: 7/11/04)
Parental Guide: Content Summary

Sex/Nudity
: Bors describes the size of his genitals when talking about his drinking till he pees. Bors has about a dozen kids from a woman he's not married to (and Lancelot jokes that some of his kids might be his). Lancelot sees Guenivere bathing through a translucent screen but any nudity is covered (we just see her from the side with her bare back). Guenivere comes into Arthur's bedroom and straddles him. They passionately kiss, she lifts up her gown to expose her thigh and she takes off his shirt. We see them continue to passionately kiss and caress as they apparently have sex before the scene ends there. Guenivere wears a skimpy outfit during battle.

Vulgarity/Language
: 4 "a" word, 1 "d*mn", 3 "p*ss", 3 "b*stard"

Alcohol/Drugs
: We see some characters drinking and getting drunk at a party

Blood/Gore
: We see blood on some characters' faces, necks, etc after a fight. We see a man chained up with bloody marks and scars all over him. We briefly see several dead bodies in a torture chamber who appear to have been beaten and are quite gruesome. We see a large number of dead bodies on a field after a battle. A lot characters have varying degrees of scrapes and blood on their faces, body, and weapons during and after a major fight.

Violence
: Extreme battle violence. A lot of slicing, stabbing, etc. Mostly non-graphic but with lethal and violent aftermaths.
Disclaimer: All reviews are based solely on the opinions of the reviewer. Most reviews are rated on how the reviewer enjoyed the film overall, not exclusively on content. However, if the content really affects the reviewer's opinion and experience of the film, it will definitely affect the reviewer's overall rating.
To find out why we don't typically review R-rated movies,
click here