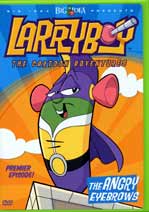 Larrboy: The Angry Eyebrows

Company:
Big Idea Productions
Release Date:
2002
Running Time:
60 minutes
Buy It:
Jesusfreakhideout Store
Official Site
Plot Summary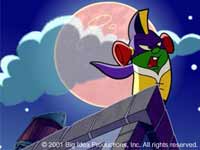 Working as the mild-mannered janitor at Bumblyburg's newspaper, The Daily Bumble, alongside editor-in-chief Bob the Tomato, cub reporter Junior Asparagus and a whole host of new veggie friends, Larry the Cucumber must put on his plungers and fly into action as super-villain Awful Alvin unleashes a swarm of Angry Eyebrows on this otherwise friendly hamlet! Can Larryboy convince the townsfolk to let go of their anger in time to stop this menace and his litany of lashes? And who will save Larryboy if he gets tangled up in Alvin's diabolical scheme?!?
Film Review
Some years ago, children everywhere were introduced to VeggieTales' Larry the Cucmber and his alter ego, Larryboy. Since his debut, Larryboy has battled and overcome the fib from outerspace and the rumor weed, but his crime fighting days are far from over. In 2002, Big Idea had the grand idea of putting together the first ever VeggieTales traditional cartoon. And who's better to debut this new format than Larryboy and his own series?
In a day in age where cartoons on TV are being reduced to low budget sore excuses for cartoons (yet super popular?), it's extremely refreshing to view Larryboy: The Cartoon Adventures. With a seemingly simple thick-outlined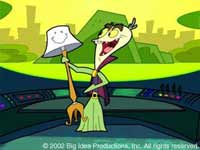 and flat animation style, Big Idea is able make everyone's favorite characters more expressive while introducing new characters into the mix, too. The premier episode, The Angry Eyebrows, is an incredibly clever show as it satirizes and pays homage to the classic super-hero like Batman. Angry Eyebrows introduces the diabolically scheming Awful Alvin and his hilariously "random" partner in crime Lampy (you gotta see it to believe it).
Angry Eyebrows is a great lesson for children in anger and forgiveness. It's fun, it's really enjoyable to watch, and it's something parents can easily watch with their kids and not feel it's too far below them to stomach. For those who pick up the DVD, you'll be treated to a bonus cartoon short featuring Larrboy, and a slew of bonus features that all add up to a great time. The Larryboy series is off to a great start and I look forward to viewing future adventures from our favorite pickle... er... I mean, cucumber!
-
John DiBiase
,
(reviewed: 4/16/03)
DVD Features
Bonus Animated Short - "Fly By Might"
Origins of Larryboy - Mike Nawrocki talks about Larry the Cucumber and the birth of his alter-ego
Animation Progression - Supervising Director Tom Bancroft talks about creating Larryboy's 2D world
Story Boards - Glimpse the original story boards for the show's opening sequence
Story Reel - Side-by-side comparison of a scene from the show and original concept sketches
Backgrounds and Sets - Slide show of Bumblyburg's hot spots
Characters - Slide show of the characters ... with original concept sketches!
Superheroes - Tom Bancroft talks about Larryboy's superhero classmates ... and the show's super villains!
Promo Materials - VeggieTales and Larryboy trailers, plus Larryboy printed material (including abandoned concepts)
Secret ROM Stuff - Original story treatment, script, and Web links (requires a PC with Windows and a DVD-ROM drive)
Bonus! - Original pencil test for Larryboy and the Angry Eyebrows
Easter Eggs - Bonus features hidden on the disc!
Scene Access - Jump straight to your favorite scenes in the show
5.1 Dobly Digital Surround
Top Swapper - Swap the tops of Bumblyburg's citizens in this DVD game!
Draw Larryboy - Tom Bancroft teaches you how to draw Larry, Larryboy and Awful Alvin!
Bok Choy's Pop Quiz - Watch the show, then take Bok Choy's trivia quiz!
Larry-Oke - Sing along to the new Larryboy theme song!
ROM Fun - Play the Larryboy game at BigIdeaFun.com!

Disclaimer: All reviews are based solely on the opinions of the reviewer. Most reviews are rated on how the reviewer enjoyed the film overall, not exclusively on content. However, if the content really affects the reviewer's opinion and experience of the film, it will definitely affect the reviewer's overall rating.

To find out why we don't typically review R-rated movies, click here